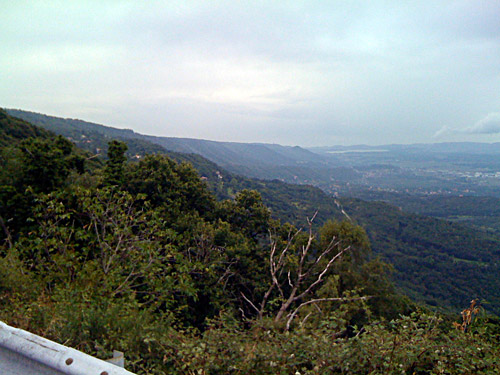 The day started a bit cloudy, but with perfect temperatures considering that I would not be high up in the mountains this last day. I stopped early on to put in some extra air in my tyres and, now when I think of it, this might be the reason I later on had a flat (it could have been slowly leaking air even before). I was going to take the first possible obviously asphalted road over the ridge eastward. The tiny road climbing over the ridge that is clearly visible on maps (apart from detailed Michelin maps of the area) starting in Séttimo Vittone (286m) is not so obvious. I think it might have been sign-posted for Nomáglio, but I am not sure. You should find it if you go up a road that climbs in the right direction.
This road is quite nice and varied. It is also has a bit steep ramps here and there. Above Nomáglio the road meets up with another road and now the road becomes wide, better and less steep. The road now sometimes goes through the woods. After a while you will reach Andrate which is located just below the ridge on the side you are climbing. In Andrate they had shops and I stopped for a somewhat early lunch at the most central grocery shop. I had a great sandwich and coke. The lady asked if I wanted a drinking straw for the soda! I did not dare to say yes as a young kid was waiting behind me ;-). The lunch was 3 euros or so – (my sister's boyfriend claimed they are so much cheaper in Italy only because they seldom pay taxes in shops, but I wonder if that is the whole truth).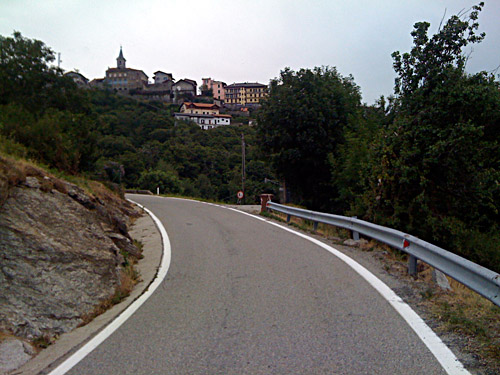 The road continues up a little bit more to Castello Rubino (850m) which marks the high point of the ridge here (this is also referred to as Croce Serra – George Rossini (in his book on the Italian road passes) claims this is a pass and the name is 'Valico di Croce Serra'). The road down to Biella via Netro is quite nice and very good. There should also be a higher road from Andrate, but it was not clear to me that it would be asphalted so I did not try it (I also missed it, I think). Just after Netro I sort of passed a very minor pass (really just a group of houses), called Colla di Netro (actually I think there are at least 2-3 places along the road that looks more like passes than this). The road goes a bit up and down lower down and you may start to wonder where Biella might be. I must say I was totally confused by the geography and after a while I had no clue of which direction Biella was in (apart from not being up the mountains).
Eventually I found the way into Biella (392m) and went through town on one of the long cobblestoned roads in the city. I went down the other side down to a river and then had to consult the map a couple of times in order to find the road out of town that I planned on taking (I think the road number (SP200) was helping here, but the road numbers later did not help me). I went up to Livero and Pettinengo on a road that is somewhat similar in having nice views over the Po plains, but only from a lower altitude than the wonderful road over Bochetta di Sessera/Bielmonte. There are some obvious passes along this road, but not clearly so named on maps or signs: (Sella di) Livera (798m) and (Sella di) Banchette (677m) (pass names from Rossini's book).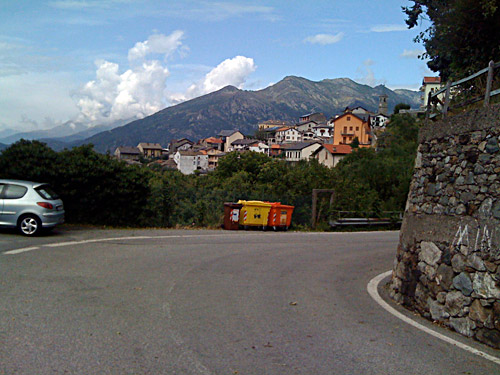 While the views up on this road was nice for a while, I soon got concerned about loosing air from my rear tire. I tried to get to a restaurant so that I could stop and eat something while fixing the flat or if possible find a gas station or bicycle shop. I went on for a long time with nearly no air hanging on my handle bars until I found a restaurant and next to it was a car repair garage. I was happy to get some help from the man there, who had to work hard to get one of his adapters for cars to work with my road bike, but finally came up with a solution (similar to the one they had already made at the previous gas station I had stopped at). It was well worth it as it is not so fun using my own little pump, which is good, but it is very hard to get some real pressure in the tyre that I can feel comfortable with going full speed on roads like these.
The restaurant was a sandwich place, so another sandwich for me. Here (I think this was at Mosso) I took the wrong road and continued up to where the Sessera mountain road comes down – Trivero (756m). From here I was on the same road as last year on my next to last day of that year's tour. A nice descent down to Coggiola with some deformities in the asphalt. I was thinking of taking another road over to Borgosesia, but it became just the same little road again, but now it was a bit better than last year and less traffic this time.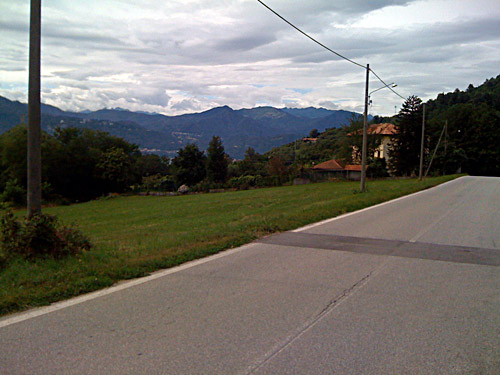 I thought I should take a chance on finding my way out of Borgosesia and up over the only well recognised pass this day, but I first came on a wrong little road before I asked someone and found the right road. I had originally thought to climb some lesser known minor passes in the area on some small roads, but I was a bit tired of this now and the countryside here is not very interesting. I had only in the back of my head that if there would be time over for anything than I would try and get up the Il Mottarone – a tough climb up to a mountain top overlooking Lago Maggiore and Lago di Orta (and a BIG climb). I had not noted that one had to go back a bit on the other side of the river through Borgosesia to get on the road up to Valduggia.
The climb up to the tunnel at Colle della Cremosina (535m) is very easy on a good road. As if I had not been getting lost a bit too much on this trip already, I now actually had no map with me for the rest of the day's trip (partly because I had planned a slightly different route back). My map ended at the height of this pass and thus when I was down at Pogno and wanted to get around the Lago di Orta on the south side I had no map to follow, but thought I could see the Mottarone mountain and thus guess my way in that direction. I continued to Gozzano and then Bolzano Novarese (not the Bolzano in the South Tyrol). Even though I knew approximately where I was heading, I could no longer quite see the Mottarone and when I came to Ameno I confused this with Armeno, which is a bit further along this road. I knew Armeno was the start of the climb up to the Mottarone and here also appears a sign for Il Mottarone ahead, combined with a steep ramp ahead, I thought this must be Armeno.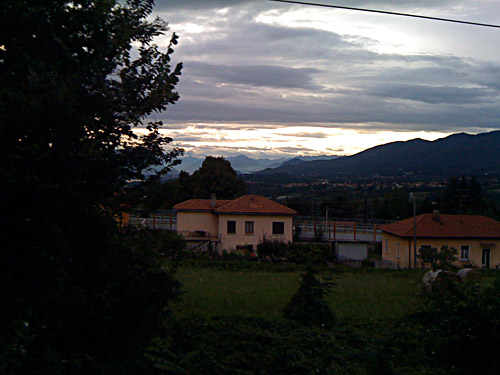 I had just decided that I probably would not really have time to climb the Mottarone if I wanted to get back to Bergamo before midnight and I really did not want to repeat my coming just after midnight back to the brothers Bed & Breakfast once again (even though they would probably not be surprised). I knew that one could turn east through Armeno and get down to Lago Maggiore and then have an easy road down to Varese where I could take the train back to Bergamo. I had first thought to take a ferry across Lago Maggiore after having climbed over Il Mottarone and take the train from the other side of the lake back to Bergamo.
I went up to Ameno, but something suggested this was not right – the roads where too narrow and it did not look as if there were any obvious road through the village. Still I decided to take my chance on a small narrow road descending on the back of the village. It went steeply down and then steeply up in serpentines – this was not the road. I stopped a man coming down in a jeep and asked if I could get over to the Lago Maggiore here and he said not with my bicycle and I took his advice and returned. As I was not too keen on taking the same road back I tried to descend the other side toward Armeno, but I still had no map and was now more confused than ever. I still had not really understood that Armeno was in front of me. Also, I knew the road via Armeno was not the fastest road to Varese. Now I was really beginning to understand that I was in a bit of a hurry to get to Varese to be sure to get on a suitable train back to Bergamo.
Finally I realised that it was not cheating to have a look on my iPhone! I had told myself not to use it for such things as consulting maps, as it could cost a lot of money with roaming charges, but now I really would be stupid not to use it and it proved to be very helpful as I could locate in less than a minute where I was and see the best (fastest) road to take to Varese. A Dutch couple stopped in a car also looking lost at the same roundabout where I had stopped and asked if I wanted to find the road up the Mottarone perhaps ;-).
I went back the same road to Bolzano and then took the small road over to Invorio (lots of ups and downs on a narrow road with many cars). I had to stop and pick out my iPhone perhaps 3 more times before I got to Arona, from where it is sign-posted to Varese and very easy to find the way. The stretch through Arona to Sesto Calende (10 km) is a flat road jammed with cars and lined with outlet stores. No cars could keep half my speed down here – I just had to be careful in passing by them.
I had no extra inner tube and was a bit worried to have yet another flat now, so I tried to be more careful than usual so that I would not run over stones etc. After a quick stop by a grocery store around Vergiate for a banana and coke, I had long sections where they had removed the asphalt from the road. Not just what I had asked for! I knew more or less the times for the trains from Varese so I hurried to get by a train that could take me to Bergamo so I could have dinner there. The distances are not consistently marked on the road to Varese and when I thought I had 9 km left, I was in fact only 1 km away from Varese. I had been going above 30 km/h on average from Arona. I had some luck in finding the way through the confusing town of Varese and got to the correct train station (one other is nearby). I had 20 minutes before the next train and got a ticket for me and the bicycle. Then I went out on town to try and find some water to have with me on the train ride and drink a coffee. I eventually found a coffee place and had a coffee and a dry cake, but I did not find any place that sold water at reasonable prices, so I gave up and returned to the train. I was just in time and jumped on the train forgetting to stamp my ticket. This time they were not just looking the other way, but anyway I did not have to pay 50 euro as could happen, but had to pay 5 euros. Maybe I should have bought the expensive water and stamped the ticket – so it goes when you want to save money.
I had a last photo from the train window over Varese. The train ride to Bergamo can be very slow at times and this was no exception – I almost wondered if the personnel had abandoned the train at one point and went to have a look out the station where we had stopped. I talked with some young guys on the way down to Venice to sell jewelry (sort of) to tourists. I had something simple to eat at a central bar in the Cittŕ Alta in Bergamo as much was closed down for some reason in Bergamo this day and some nice Belgian beers. The travel back home went reasonably well, though I had to wait half an hour at the central station for the bus to the airport as I had just missed the previous bus going straight to the airport when the ticket machine in Cittŕ Alta had not worked.
Later this year I went to take part of the Ötztaler Radmarathon and was shortly interviewed for the German Tour magazine (biggest bicycle magazine in Europe). Then I went down for a three day weekend in Liguria to take part in a BIG meeting between mountain cyclists, like myself.