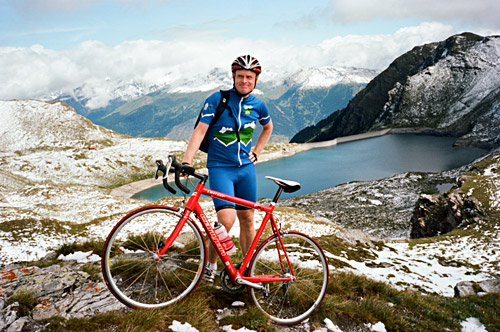 Note: I am not clear about the correctness of the height metres and length today, but the figures above was something I jotted down after looking at the cycle computer this night (I had just realised that somehow the computer had started to count measures for another "bicycle no. 2" for unknown reasons). According to the map it looks more like I climbed like 2800 metres or a bit more (but as it come across as little for all the climbing this day, I give the figure that I wrote down). (The length is 120 km or 136,5 km.)
The climb up to Chandolin was not so difficult now when I started more than half-way up there. The road was still wet after some rain during the night, but I guessed it might dry up until I came back down. I was going to go up a gravel road to Illpass (2482m) and as the weather was good I suspected to have no problem with the road being too wet higher up where there would be little trees. Chandolin (1938m) is a nicely located village popular with tourists. It overlooks the Valais and the mountains across Crans-Montana. The asphalt road descends a little on the other side before it stops. I saw a walker sign at the highest point for Illpass and thus decided to get up there as it looked cyclable at first. I cycled a little, but then it looked like walkers should follow a path straight up and I thought that maybe I should do so too and walked up a steep stretch until I came to the gravel road to Illpass. If I had started out some hundred metres after the highest point in Chandolin, I could have cycled this road from the asphalt end, I noticed on the return.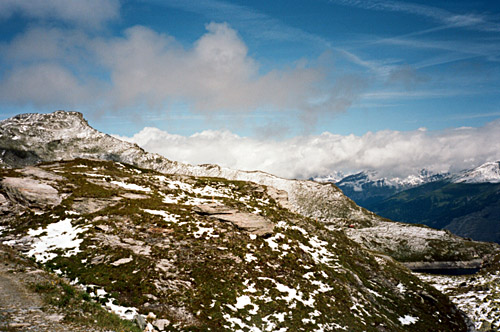 Some mountain bikers took the same way as me up (also missing the other approach), they never managed to catch up with me on the gravel road though. This road soon gets out of the last trees and becomes steeper. It is only very steep in a short ramp high up, but even there it is possible to use a road bike. It is hard going with a road bike, but not harder than a really hard asphalt climb, so most should be able to get here in good weather on a road bike and I think this is one example of a gravel pass road climb that is very well worth climbing even with a road bike. I think it was only like 4-5 km each way.
There was quite nice views from the pass area and I had a couple of photos and even managed to find some walkers to take a photo of me. They were on the way to Illhorn (seen to the left in some photos here). Illhorn should have even better view, of course. The gravel road continues somewhere, but seems like it will stop up the mountain on the other side somewhere (by a ski station probably). The last bit to the pass is flat and it was a little more rough at the end, but not very bad. There were still some snow lingering up here (looked like some of the rain from the night had come as snow up here, but the road was clear).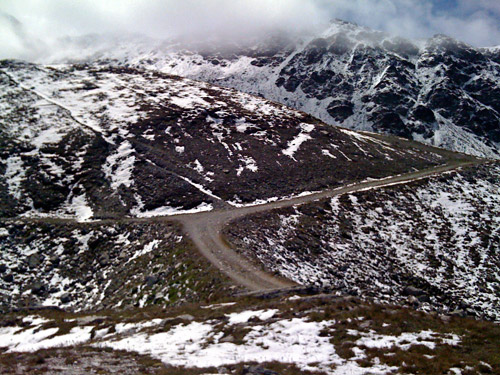 I went back down and for once it was not really difficult to get down, but still you cannot look around much of the time, which is good as one does not get tired of the very nice views! I met some walkers who asked me about the way to Illhorn, and since I met the walkers at the pass, I now knew what road to recommend. It's fun to give advice on road choices to walkers!
Down at Chandolin the road had just dried up so I could have a nice descent back to St. Luc. I stopped just before St. Luc for another photo (not included). At St. Luc, I was to take a small road directly to Ayer (higher up the Val d'Annivers), but tried first with a road that had no connection to this road and then descended another hairpin to get on the proper road. This road is going through the forest, but is quite nice and with almost no traffic and it is also nearly flat. The idea was get over to the other side of the Val d'Annivers at Mayoux, but via Grimentz. I had thought to maybe have lunch in Ayer, but the restaurant there did not seem to be open, so I got the idea to continue up Val de Zinal to the end at Zinal (1683m) and have lunch there instead. I was curious if I could get even nicer views of the Zinalrothhorn and Dent Blanche from there.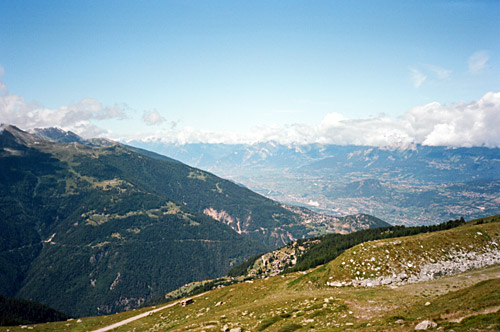 The views improved a bit up the Zinal valley and I continued to the end of the asphalt and thought a bit about continuing on the gravel road to see if that would give even better views, but there was a lot of walkers on the road and I decided that it would not be worth much to get an extra 1-2 kilometres from there. (The Michelin map suggests one has to go on paths higher up to get to some good viewpoints.) I stopped at the restaurant just after the asphalt ends (the one with cattle) and had a good lunch there. I saw the nicely hair-pinned road going up to Col de Sorebois, where mountain bikers came down, but the road seemed like it was too rough for a road bike.
I went back down to Grimentz, where one could go up Val de Moiry to Lac de Moiry, but that's for another time. Then it was a lot downhill to Mayoux (1200m). From here and up to Vercorin, I was going in the other direction in 2002 and had remembered the road as somewhat flat, which is not the case. It is a good climb up to 1469 metres before the short descent Vercorin (1320m). Vercorin is an obvious mountain pass, but lacks a pass name (just like Moosalp, Lac de Champex, and others in Valais). I stopped at the same pastry shop as in 2002. A man asked me if I knew why his pump for his mountain bike did not work (could not understand it either) and I got to know that the Tour de France was heading toward Verbier, just like me.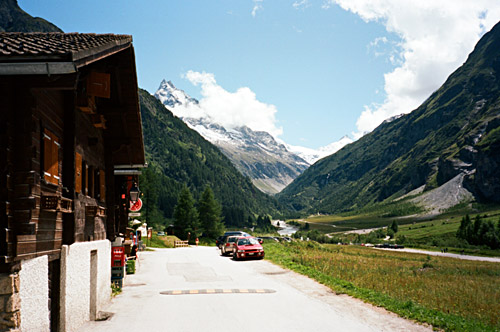 I had decided to go back the same way as I travelled in the other direction on that record day (in height metres) back in 2002, which I remember well since it was such a wonderful road choice. I was planning minor variations, but mostly I went the same way in the end. First there is a steep descent from Vercorin until Loye/Itravers (892m) and then a long climb up to Nax (1297m), where one has great views. Then a short descent (1226m) where I had thought to get down a bit more in order to take a more flat and easy road over to Suen/St. Martin, but again I took the hard and high alternative road over Vernamiège (1558m). I stopped for a Coke and pastry in St. Martin before descending fast to Vex (939m) in Val d'Hérens.
Yet again it was time to climb (a bit up and down) to Veysonnaz (1240m) (here I took a little lower and easier road than in 2002). Then it was down steeply to Basse Nendaz/Beuson (972m). Then a somewhat steep climb up through Haute Nendaz (with many boring hotels) and further to the high point of the asphalt road at 1517m (where a nice gravel road continues up on a route recommended for mountain bikers, but which probably could be ridden with a road bike). I descended a little the others side until the first little hotel at Les Crêtaux (1463m), where I stopped for the night.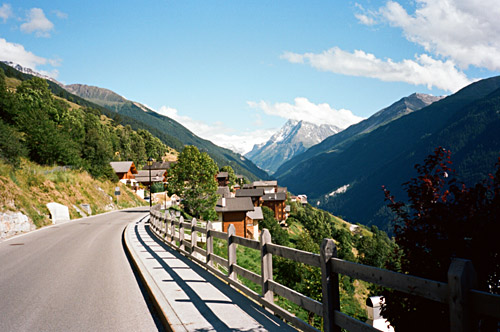 For once I stopped a little before it was starting to get dark. It was not very cheap, but the place was very nice with super views from the room and I got a very good dinner there. Sitting drinking a beer on the terrace while watching the sun descend behind the mountains across the Valais valley – quite nice! I took a photo in the morning from my room, se next page.