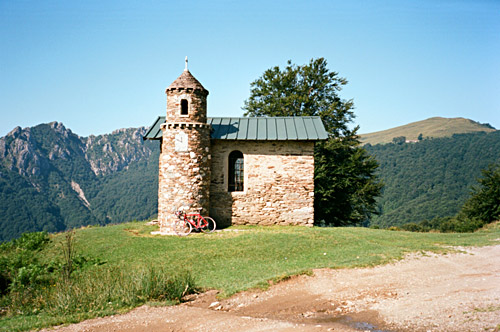 The second day started with really nice weather in Cavargna in the valley with the same name. Now I had to climb back up Passo della Cava (1142m) that I had went over the evening before. The climb only starts at 995m but it is somewhat steep up to the pass. Just on the other side of the pass there is a small road taking off to Passo San Lucio (1542m) (I think it was signposted). This becomes gravel almost right away, but there are some funny concrete paved sections which are not much easier to handle than the gravel sections (see photo below). I think I decided to walk some parts and I did not feel like I was in a hurry. I had (again) hoped the gravel road would be a bit more easy with a road bike, but it turned out to be very much a borderline case most of the time and maybe I cycled 60% of the way to the pass. (Thus perfect for a mountainbike.) It is however a very nice road for the views in good weather.
After the concrete sections you come to the little sanctuary in my first photo here (changed order of them here). Then comes a cyclable gravel section through the last woods up here. (You should take left and then finally right at the road choices, which are somewhat obvious.) The last stretch was fairly good but a bit steep. At the pass there is a church and a rifugio and another house on the Swiss side. Food could probably be gotten here. The views from the pass are far reaching and quite nice.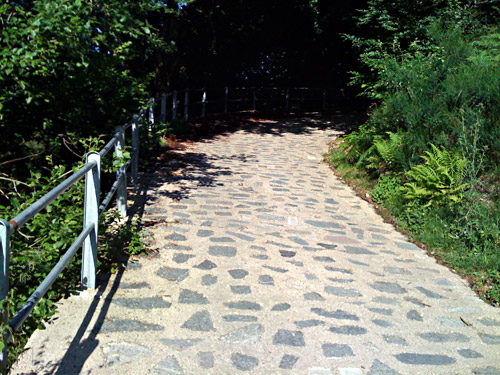 The road down into Switzerland is at first so steep that I doubt even mountainbikers could go up here easily (as I suggested to a mountainbiker I met lower down). When you come down near Alpe Cottino (1462m) – a short and quick walk – there is a really good and almost flat gravel road. But later on where one could make a road choice between continuing on the rather flat road and descending more directly to Bogno, I choose the road descending which at first was of varying quality but eventually got worse and this road ends up as a path with water that you have to ford, so clearly you should NOT go down here! But I was a bit worried that I could encounter water on the other road and that it would be longer (which is not so clear from looking at the map – you could probably go to Certara (1001m)). After crossing the water I came to an asphalt road just above Bogno (961m) and now there was no more gravel for the day thankfully.
I had originally planned to go straight down the valley to Tesserete (522m), but it looked more fun to take the high road to Tesserete via Cozzo (1040m) and Colla (1011m), after which the valley is named. I met a couple of cyclist on the way here and it is an obvious road to go cycling on if you live in the Lugano area – very nice and away from the traffic. After the final quick descent through hairpins to Tesserete, I stopped for a quick lunch and when I set off I forgot my backpack outside the grocery store. As I stopped to look on the map soon hereafter I noticed it and returned – nice to go light, but unfortunately I needed the stuff! ;-)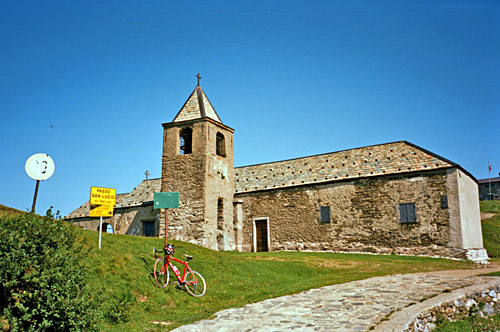 After some confusion I think I actually found the most direct road down and up to the main road going toward Bellinzona. Down here it was very hot and you bicycle through an industrial area, which is why I wanted to get out on the main road as far up as possible. There is an asphalted pass above Tesserete – Gola di Lago (972m) – which I would have happily used if there had been an asphalt road on the other side too (there is not even an obvious gravel road down that side). Then it would have been nice if there had been a more direct route to Bellinzona (for mountainbikers there are choices) bypassing the Passo Monte Ceneri (554m).
I stopped at the restaurant at Passo Monte Ceneri as it was too hot for me right then and ordered a big beer and ice cream. From Passo Monte Ceneri it is nice to roll down in high speed toward Bellinzona, but the stretch between the bottom and Bellinzona (and Locarno for that matter) is a nightmare. As a cyclist you are supposed to follow cycle lanes that are not marked properly and will land every cyclist who does not know the area in cul-de-sacs or simply back to the road where you are not allowed to cycle. This time (as I had been there once before) I thought I could find the road through, but it turned out they had dug up the whole damned road that I thought I should use (unclear) so I went out on the cyclist forbidden road again and continued on that until Bellinzona (which is surely the quickest and safest choice anyway). The road planners in that area should be ridiculed in public (one could almost suspect they have been recruited from Sweden …)!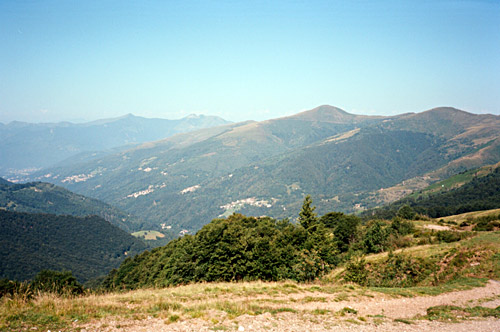 At Bellinzona (242m) I went over the valley to the other side at Carasso and followed the much nicer road going up here. It is a little up and down, but it is not much slower than following the more traffic crammed main road up toward Biasca. Also, I got a little shade on this road, which was welcome as it was terribly hot now. It is a little over 20 km to Biasca on this road and it took a little while before I got there. In Biasca, I stopped again to buy some water and coca-cola.
I was really tired, but it is usually the first two days which can be really hard from my prior experience, so I just decided to take things easy and go on. Biasca (303m) is the start for the climb up to St. Gotthardpass/Passo del S. Gottardo (2106m) (and also for Nufenenpass/Passo della Novena (2478m) and Passo del Lucomagno/Cuolm Lucmagn/Lukmanierpass (1916m)). I had originally planned to go quite another way up to Passo San Giacomo (2313m) from the south side of the Simplonpass and then walked down on a path toward Val Bedretto and then climbed over the St. Gotthardpass, but decided against it because it would probably be too much for me this early on and that I would likely had been there rather late in the day, which is not a good idea if I would have had to walk for long.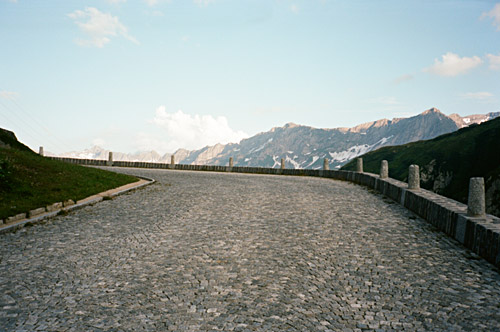 I have climbed over the St. Gotthardpass from the south before, but then starting in Airolo (1141m). It turned out that a lot of climbing is necessary to reach Airolo and I got very tired on this stretch mostly because of the heat. I stopped again in Piotta (992m) (where it flattens out) for another ice cream, chocolate bar and coca-cola. This is the place for the start of the steep climb up to Lago Ritom, which would have been nice to see, but I had to leave it for some other time.
As I dragged out on time it got rather nice on the final climb up from Airolo when the temperature was going down. Still I had sun when I reached the pass. The old cobblestone road to St. Gotthardpass is quite nice and not very steep. It is a bit steep at first from Airolo and I had forgotten, but here there are concrete stretches instead of cobblestones part of the time. There is some asphalt patchings on the cobblestoned road too. It might not be fun to go down this road in wet conditions and even if not wet it would be a shaky descent. As there is a new road to the pass, there are only occasional motorcycles and sports cars going on this old road and some other tourists.
It was quite nice this evening at the pass and I took a couple of photos. I knew it would be a bit more chilly down the other side as the sun had disappeared there some time ago now. One could use the old cobblestoned road for a while down that side too, but it is less interesting and it is of course much quicker and more fun to wheel down the very fast descent to Hospental (1495m) on the main road.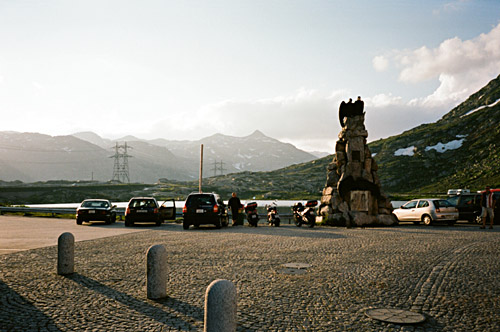 I had thought to stay in Hospental for the night and asked at the hotel at the road junction for the Furkapass about the price, but thought it was a bit high, so I decided to continue to Realp, just where the real climb to Furkapass starts. I found a cheap hotel here (Alpenhof) and had dinner in another hotel next by. They made the biggest wienerschnitzel dish I have ever had (two big and fat pieces of meat). I also ordered breakfast for the morning at that hotel as they did not serve it at the Alpenhof (as the nice old lady there had informed me about). Even though they speak German here they seem to refer to the St. Gotthardpass with the Italian name 'Passo del S. Gottardo' (calling it 'Gottardo' simply), so maybe I should have really defaulted to that name instead … .