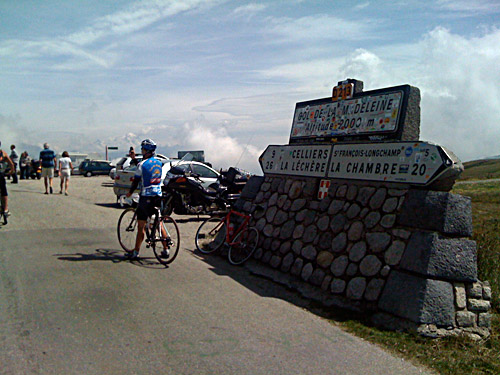 Last day in France, which I was partly thankful for, but there are also so many nice things about France and the atmosphere while cycling up in the French mountains seems quite different from when being up in mountains in the other countries sharing a part of the Alps. It feels like you are cycling on more classic ground when being in France. In Italy it feels like you are exploring much more wild and interesting roads, while the cycling culture is more alive, even among younger people, than in France. In Switzerland it always feels like you are a tourist more than elsewhere and all seems slightly "germanic" even in the French, Italian and Rumantsch speaking parts of the country. In Austria things always feels a little remote and even more so in Slovenia. But this is obviously partly relative/subjective and depends on where you come from, I am sure. Taking all things in consideration, my favourite parts of the Alps is first the Italian Alps (incl. the Dolomites) and then part of Switzerland (esp. the Graubünden, Rumantsch part), only the comes the French Alps and other Swiss parts and the small nice part of Slovenia and the part of Tyrol in Austria bordering to Italy. The best part of the Alps with lower mountains is in France. The lower Austrian mountain parts are not that fun, but maybe I have to go and have another look. I have not visited the Jura mountains or the tiny German part of the Alps yet.
Now on to what happened this day. I had decided to try out a partly different road up to Col de la Madeleine (1993m) to make it a bit more interesting. This pass is one of the most classic Tour de France passes in the Alps. The most demanding climb to the pass should be via Montgellafrey and that is a road I had wanted to climb before. Now it was time for this climb! Since it was early in the day it did not feel too difficult. I think this might be the nicest climb up to this pass and there is almost no traffic on this road. I did not see any cyclist at all on the road.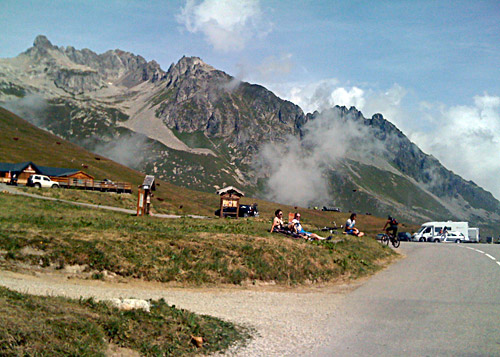 Actually I wanted to stop on the way up for a coffee break at Montgellafrey that I had expected to have at least a café open, but the little village had nothing more than water to offer. I refilled my bottle and continued up. After a while the climb is less steep and becomes even lesser steep as you get closer to meeting up the main road from La Chambre at Longchamp. Just before reaching the main road, there is a small road between the hotels climbing up to meet the main road up at 1690 metres.
The road via Montgellafrey is nicest before this village, then it runs through a forest (it is mainly a forestry road). The road quality is good. An old man collecting woods cheered my on higher up. (Older people in France are usually the easiest to deal with (even if they do not understand english) and the nicest.) I had noticed another cyclist coming up on the main road in a good speed, but realised he would be up at where I joined the main road faster than me. When I reached the main road I went in a quite high speed to see if I could catch up with this guy and maybe overtake him before the pass height. It turned out to be a bit longer up to the pass than what I first thought. I thought it would be less than 3 km, but it is actually ca. 4.5 km to the top from here. I was closing in and around 150 metres behind him when I had to slow down a little. He was looking back and had raised his speed a little too. I started to regain some more power just before reaching the pass, but I was too far behind and was again like 150 metres behind him at the finish. He is one of the guys laying on his back in the grass in the second photo here. This was the last time (and one of the very few times this Summer) I was racing with my bicycle. I was a bit worn down and I had to stand up bicycling much more this Summer than before and especially at the end of this Tour.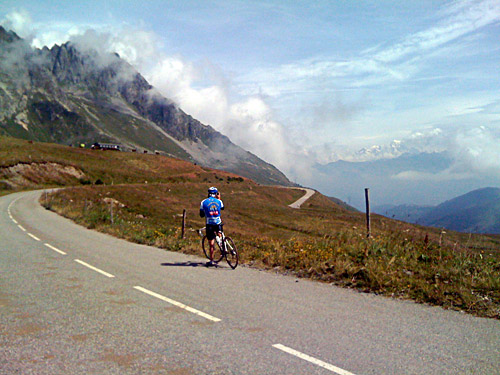 I was not into picnicking at Col de la Madeleine and only stopped for three photos and some water and then continued down the nice opposite side. The pavement is pretty harsh/bad down much of this side! Much lower down a very odd thing happened: I was not going at very high speed as I was trying to be generally very careful this Summer and because the road was a bit bad, but I was at least descending in 40 km/h or so when I had a big insect attacking me and stinging me really bad in my left leg lower down. It hurt, but then I forgot it until almost two days later when I noticed that not only did it still hurt, but half the leg was swollen. It took one month! before this totally went away and it drained me on some more power at the end of this trip.
I tried to hurry on a bit when I came down the valley to see if I could get to an open grocery before they close at around 13 o'clock. I later found a supermarket in the area of Aigueblanche where I had a stop before I continued to Moûtiers (481m). I spent some time at the supermarket deciding whether or not I would try and get up to Val Thorens (and beyond on some gravel roads) that I had planned. It was with much mixed feelings that I decided to cut out this of my plan, but I had to choose between doing different things and one thing is that I wanted to get on my way and not stop at every valley to explore it. Gravel pass roads could be skipped on my plan and neither me, nor the bicycle, would be up to do all of the possible gravel road passes I had added to my plan. The Polish guy earlier mentioned here which is a member of BIG club (just like me) had shown some very inspiring photos from above Val Thorens and suggested that I could get up on some of the roads here with my road bike during good weather conditions. I decided to also skip going up to La Plagne and some gravel passes above there.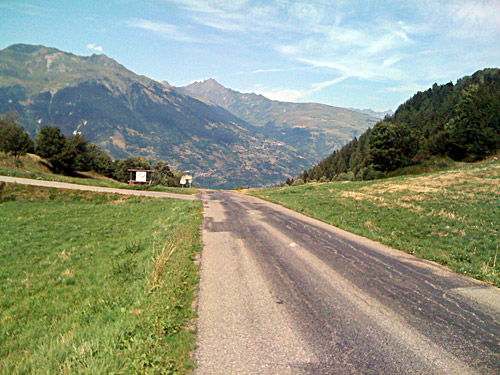 So what was the plan then? Well, there are still plenty of roads to climb not far from here (some of which I never considered). First I took a nice "alternative" to the main road up the valley toward Bourg St. Maurice. After the dusty area of Pomblière, I took off the main road to Les Plaines. (Actually, I think I could have taken off earlier at the beginning of Pombliére and taken a very tiny surfaced road up to Les Plaines on the other side of the Mont de Maille along the river.) From Pont des Plaines (535m) there is a quite long serpentine climb up to N.D.-du-Pré and just above the unsigned Col du Tra (1308m). This climb comes across as a big Alps pass climb from this side! The views on the other side are quite nice and you only descend gradually here at first. The climb was quite hard and I went at a good speed here also. The road does not look so good in the only photo here (taken at the pass), but the road is close to perfect (esp. on the side I was descending where the road is much wider).
This was a hot climb, but now I was happy being up high above the valley with perfect temperatures. Unfortunately I was on my way down again. I was again on the lookout for something to eat. I stopped at a pastry shop in Longefoy and went inside, but no one was there and I decided to continue. Down at the crossing at Bonnegarde (717m) I wrongly went down to the river and railway near Aime. I soon noticed I should have continued up here instead, so I turned around and climbed up Mâcot-la-Plagne. Here was also a pastry shop, but for some reason I went on. I continued until Landry (778m) where I decided that I should find a place to buy something to eat. I found an old bar just at the start of the road up toward Nancroix, where I was heading, and stopped for a sandwich and coke.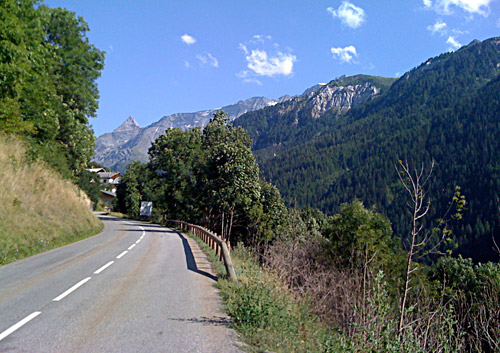 I had thought that the climb up this road to Nancroix (1460m) would be on a close to traffic free road as it looked very obscure on the map and the places up the road looked very small. I have seldom had so much traffic on a small mountain road as here though. Still the climb was somewhat nice and there are very nice views higher up. I did not realise that many seem to use this road for getting up to Les Arcs when coming up from Moûtiers. After the turn-off for Plan Peisey and Les Arcs, the traffic was more normal again and here the views get really good ahead.
I stopped just above Nancroix and looked at the map and could somewhat easily figure out the way I intended to continue on from here. A walkers sign says something that I thought was about Col de la Chal (but it could have been la Chail, that I see on the map), but anyway I believe they referred to Col de la Chal as Le Grand Chal or something like that. At first there is a small asphalt road climbing up to some houses at La Chénarie (1497m). Now that I come to think of it, it was here I stopped and filled my water bottle from a water tube, but it had very high pressure so I managed to clean a car nearby in the process … before I regained control of the tube. From here you have a choice of two gravel roads forking here. As I had studied the maps rather carefully not long before leaving of this area and found one account of some mountain bikers who had gone up here, I thought I knew which road to take and thankfully I was right here. It is the one continuing on the right hand side of the small river down here.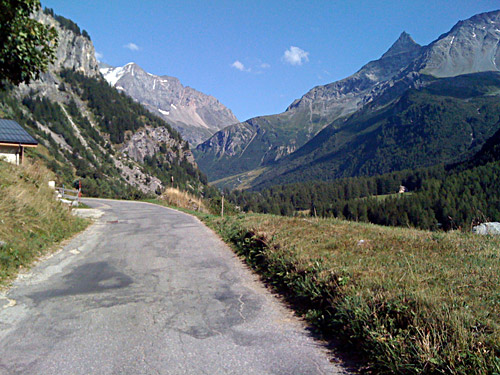 The road had looked somewhat okay in the photos on the web by the mountain bikers, but then roads always looks better and flatter in photos than in reality. The gravel road was just about good enough for using a road bike on. Quite some smaller loose stones, but basically with a hard ground. I was just hoping it might improve a little or at least not get worse, which is rather optimistic thinking, I must say. But I had counted on what time it could possibly take to get up to the pass and down the other side and it looked like I should have no big problem with getting down the other side before it got dark even if I would have had to walk for long. Well, it did take a long time, but not so much because I could not bicycle. The road was just about cyclable until I got up to Chalets des Rossets and I actually managed to cycle all the way until there, which I guess most would find a bit hard to believe if they would have tried it themselves. The road up until my first photo up here toward these chalets was very steep and hard going – it was very much similar to the very hard Furrge/Breithorn climb in Switzerland (maybe even steeper in places).
Just where I stopped to take the photo of the chalets ahead was by the small gravel road going up to La Chail (see the IGN map for all these details), not that I can remember that road, but I am sure the road ahead looked better here as it was very good for some hundred metres ahead and I was optimistically thinking that now the road will be better overall up to the pass. Right at the chalets the road got so bad that I simply had to pick out my Lunarlite shoes and walk. There were some people up here and it was very nice this late afternoon (it was now around 18:30 pm or a little more). I had some photos and it felt relaxing and wonderful to walk up here with quite beautiful views all around. It was one of the nicest places during my whole tour this year. When I came up to Entre Deux Nants after some walking on the ancient road, I met a little pickup truck coming down to the house here. Apparently this was the only normally inhabited house in this area and they seem to rather use the road coming up from the other side.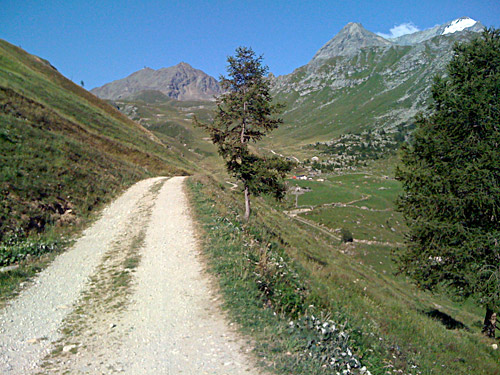 The road got a little better again and I could bicycle more and more often until I eventually reached the pass which was a bit higher up and away than it looked like from below (as usual). It was getting close to 20 pm now, I think, but it was of course still sunny high up here. I was not sure if I should take right and descend as quickly as possible to Arc 2000 or if I could try and get to at least some of the other passes up here which should not be far away and there is a somewhat circular road going up here visiting at least one other pass. The road looked as good, if not better, to the left where the passes were located and as I had originally thought to collect three or four passes up here, I thought that I must be able to get at least one more pass before going down. As long as I would be down on asphalt before it got dark I should be able to get to some place for the night (somewhat) safely.
The place was deserted and looked very nice in the evening sun, even though this is probably a busy area in daytime and less nice. It is a site filled of ski lifts. First I had to climb a little more, but then the road started to descend in stages. I had some really great views before I got down in the shadows and had one of the nicest photos during the tour here, I think – a view of many mountain tops starting just ahead of me and everywhere in front ending up with Mont Blanc at the end of the skyline. It is easy to forget about getting down to civilisation when you are at places like this.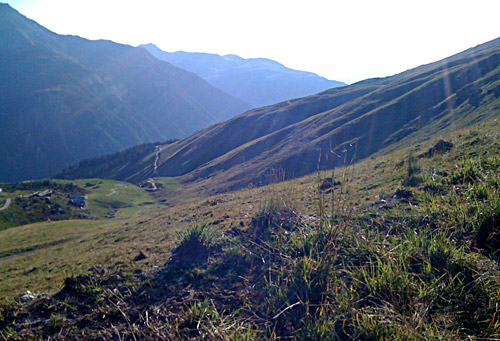 After a while of cycling (maybe a little walking as the road turned a little less good and steep at some places) I arrived at Col du Grand Renard (2425m). As there were no obviously good and quick road from here, I decided to try and get down the quickest possible to Arc 2000, which basically meant walking down the ski slope here (I saw no obvious other road here and even if there was one, this was probably as fast anyway). The road down the other side of Col du Grand Renard would probably have been quicker and good enough, but I was not as sure on this road, so I took the one I did because I know I would get down for sure to Arc 2000 (or almost for sure) while it was light. There were a big sign for skiers saying Arc 2000, so okay I thought and followed it. It is not sloping so steeply down here and after some time I got down to a gravel road where I believe I could start to bicycle again. I noticed that it was now quite cold down at Arc 2000 and had to put on the wind jacket only now when I got down from the mountains.
There are some gigantic hotels here, but there was simply no way I would have wanted to stay up here at these depressing hotels. I hurried down and try to go as fast as I could in order to get down to the valley before it got totally dark as I had no front light with me. Unfortunately the road is pretty flat here for long stretches before it finally starts to go down at Arc 1600, which took almost half an hour to get down to. I had originally thought to try the small road via Courbaton down, but as twilight was upon me it would be safer with the big road, I thought. One or two cars wanted to point out that it was starting to get dark by honking, but what could I do and what did I indeed care? Just as I reached the valley floor it was almost dark, so I was a bit lucky in that could keep as good speed down as I could. Otherwise I would have had to descend very slowly and be even later looking for a hotel room and possible dinner.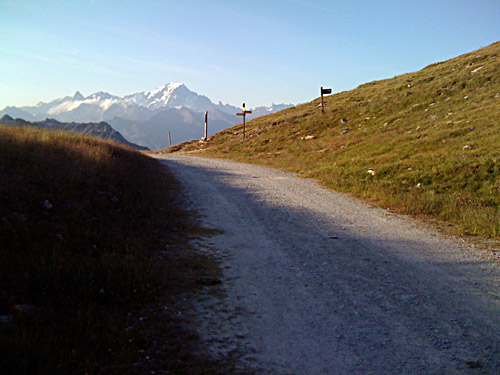 As I was planning to get over the Col du Petit St. Bernard (2188m) in the morning, I thought it would be a good idea to stay at Séez (891m) just at the start of this climb where I remember having seen some hotel when passing by another year. When I came there it got totally dark. I stopped at a hotel and asked, but they were not interested in having a cyclist stay there for the night and the other hotel was not open as far as I could make out. After asking someone, they told me to go to Bourg St. Maurice (813m) and so I had to do. I first tried at one hotel, but it also seemed to be closed. Then I asked someone across the road and they suggested another nearby hotel while wondering if I did not know that it was illegal in France to bicycle without lights. Thanks for enlightening me! Just to be clear: it is a good idea to bring a front light if you might end up late as me as it tends to get pretty dark down in Europe (contrary to Sweden) during summertime and you could avoid annoying comments, honking and possible difficulties with the police! I always bring a rear light at least, to be sure not being run over from behind, but should probably consider always bringing a front light too. (In some cases one could cause problems by oncoming cars not seeing you in time while meeting with other cars if you do not have a front light, so a front light is occasionally good for security even if you think you see the road good enough for yourself.)
The next place was the Hostellerie du Petit Saint Bernard, which I decided to stay at even if it was not very cheap as it was tired of fooling around in the dark now. It is a charming old hotel and the lady at the reception was very nice. I had a good dinner, wine and was served cheese from a cheese wagon afterwards, so all ended fine again.