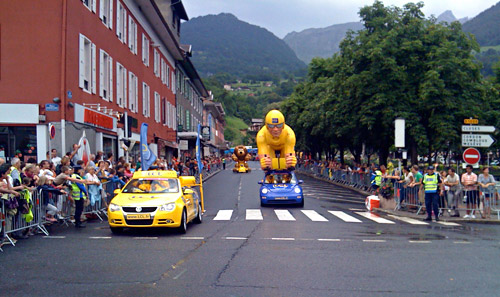 I woke up and had breakfast while watching cyclists already on the way to watch Tour de France today at nearby locations. The weather was not perfect, but it did not rain. I took off up the short climb to Col de Chatillon (738m), where the TdF would pass by many hours later, but here were already some cyclists hanging around.
One could descend straight to Cluses on a fast road here, but I turned off this road very soon down to Marignier instead. From there I crossed the railroad and went over to the other side of the main valley going up to Sallanches and Chamonix. I had decided to meet my sister and her boyfriend to watch the TdF together at Sallanches later, but I thought that should do at least one climb today, but there were not many interesting passes nearby that I had not already climbed, besides possibly the Romme pass (which has no pass name). The best choice was the Col de Solaizon (1502m), which was a pass I had considered for my tour, but had decided to leave out of the plan. This pass is actually one of the harder passes in France, but I thought I could possibly do it and still maybe be able to get up from Cluses to Sallanches before they closed the road up there for the day. This was, as usual, far too optimistic.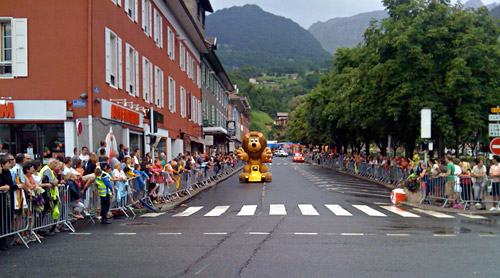 I found the road choice for the regular climb up this pass (one could go via some other village and make it a bit longer, but it would include going up and down over Mont-Saxonnex). The road is quite good all the way up and it is somewhat spectacular in the middle where the road is cut into the mountainside and is very narrow. The climb is steep, but I went up in a quite good speed as it was anyway the only climb for the day and since I hoped to be able to cycle all the way to Sallanches.
Before I reached the top I had already realised that there was no chance I could manage to get back to Cluses in time before the road closed sometime around 12. Just before I reached the top it started to rain. And just as I reached the top it started to rain heavily. Still I took a photo, but only with the stolen camera, so no photo, but the view was also not very good. Maybe If I had went over to the very end of the road I might have found a place for a nicer photo. Solaizon is a flat area with some cross country skiing in the Winter and a general recreation area in the Summer (according to the German wikipedia).
I was not in a mood to cycle down in rain on a wet road now as I was supposed to be standing outdoor for many hours later watching the TdF, so I tried to get a ride down the mountain and actually managed to stop a car driver going down. The "laughing frenchman" I call him. French people are not always the ones to drive most careful on dangerous mountain roads. This man also laughed while driving down! ;-) He was very good at driving apparently – Savoldelli would have lost half an hour down the pass to this man. Well, not quite, but it could not have been more than 10 minutes before we had descended 1000 height metres on this quite dangerous road. We avoided a crash once were he managed to stop the car with 10 cm of clearance to the front of an oncoming car. But all went fine and he was nice and drove me to the train station in Bonneville as I did not believe the road up to Sallanches would be open when I got there even if we came down the pass quickly.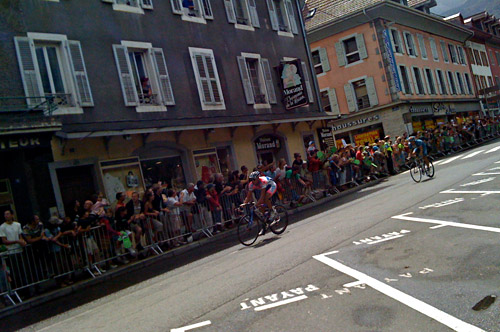 No more cycling now until one and a half day later. I really felt worn down after the opening of my tour with no preparations beforehand. I had quite some ache in my knees after the Rionda climb. I really need a little rest if the remainder of the holiday should be somewhat enjoyable.
I arrived in Sallanches around the same time as my sister (they came down in their car from Chamonix) and eventually found them. As usual the TdF is as much an event for the children as for the adults, with a long procession of cars and other vehicles from which they constantly throw out a lot of things like candy and toys, but also caps and shampoo (and all kind of commercial crap). Anyway, it is fun to try and snatch some candy from the kids, but they are quick! My sister had not bothered to catch things they throw out as she was a bit tired after having had some stomach ache for a few days, but she eventually got a lot of things anyway as they enjoyed throwing things on her (she had bought an official yellow rain poncho – that is an inside tip for those of you planning to attend a TdF event!).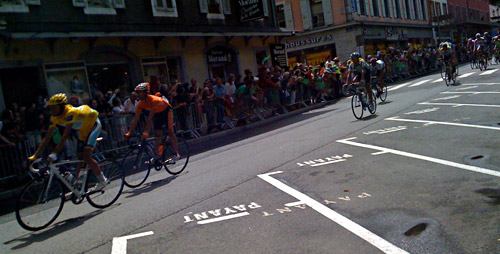 Eventually the cyclists came (much later than we had thought, but maybe they had stopped for a coffee somewhere along the way …). I was a bit surprised at how drawn out the cyclist were – there were more small groups than there were cyclists in the biggest of the groups. Many cyclists came alone. But I understand the descent before had been tricky/wet and that there had been some attacks on the downhill. I do not remember who was first here, I am afraid. But I think I later read a little bit on the stage and it had been one of the more dramatic during this year's TdF. I got a photo (all with bad light) of Contador when he eventually turned up (last photo here) – he looked very tense and one could see they were all pretty tired here (and still they had two medium long climbs to do before they would finish). A guy also fell at the entrance of the road I was standing by (the corner at the end of the road nearly seen in the photos).
Fortunately we did not get so much rain. It had been raining sand as there were a lot of dust on all the cars in Chamonix (I first thought it was only our car that had not been washed for a long time). Sand sometimes comes with the rain all the way from Sahara up all the way here, which I did not know before. We later had some decent somewhat local food at a restaurant in Chamonix, which was good (I do not remember now exactly what I had).