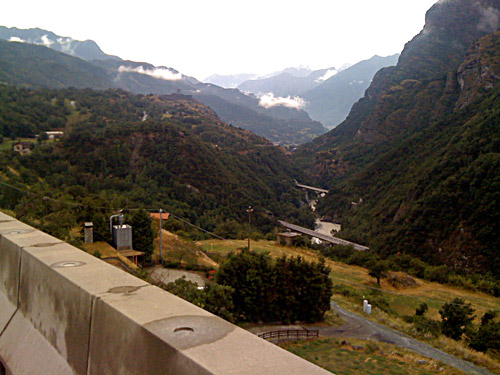 The day started fine, even if was rather cloudy. I went down the main road in the Aosta valley and stopped for one photo along the way somewhere after St. Vincent as it looked pretty nice even here with the motorway and all. I just lost my notes from the Summer tour when I started to write down the account for this day, so now I only have approximate figures for length, height metres and temperatures for the last two days (I remember them approximately and I know it was 170-171 km the last day). I usually write them down the results on the computer right away when I get home, but this time I did not have exact figures for some of the days in Switzerland and relied on keeping track of the two sheets of paper.
It is not easy to find good maps of roads in Aosta unless you get maps locally or try to order some of the IGC maps of the area, which I did. (See Stella Alpina in Florence/Firenze.) For the next planned passes I had made photocopies of one of these maps and it was helpful. Most other things I had made photocopies of was climbs that I skipped over in the end, apart from the Bettmeralp.
When I came down to Monjovet, I turned off on a road that I am not sure exactly what it was signed for, but I believe it had a long list of names, some of which I remembered, like Grand Hoel. The climb up here to Col d'Arlaz (1031m) is pretty steep just as I had figured that it ought to be looking at the map. It is like 10% on average for the first 5.5 km and then a little less steep the last 2 km to the pass. There were good views at the pass, but nothing much to see along the way there. The road is good and there is a very smooth better asphalt road going south from the pass, which came across as if it were the main access road to the pass, but it is nearly not marked in any map at all. Even satellite photos suggests there are no asphalt roads up here (but it is always a bit difficult to determine in the photos). Remember that maps can often rely on very old information and can sometimes simply be wrong. Best maps for accuracy and especially when it comes to how far a road is asphalted are the Tabacco maps, but they only cover a "small" area of the eastern Italian Alps.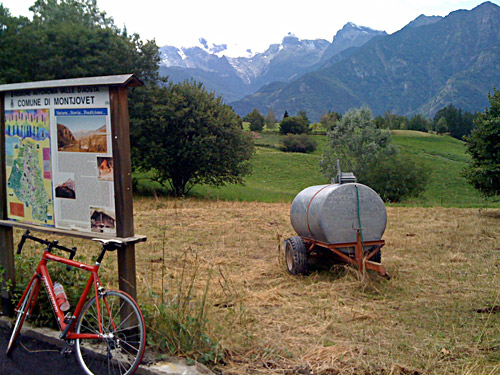 I talked a little with a local man stopping his car up here about possible road choice from this pass over to the road leading to the next pass north up this ridge – Col Tzecore (which may have at least 3-4 different names depending on which sources you consult). I asked a bout the road that I saw both on my map and just in front of me going off the road just after the pass coming from the west. Even though he seemed to know the area better than most locals, he could not tell for sure whether that road would be okay or not.
I had seen the road going off up north on the other side of the ridge just before the pass and which I had planned to take, but I noticed that although it seemed like a proper road, it was indeed a gravel road from start. This road was also gravel from start and looked about as good, but the map suggested it was a minor forestry road of some sort. I took a chance even though the man recommended me to go down the other side of the pass and then up again to Orbeillaz, which in retrospect might be what I would do. I was curious though and the day was early and I had decided to skip all thoughts of getting over a spectacular pass that I had originally thought to walk over – the Colle d'Olen/Alencoll (2871m) at the foot of the Monte Rosa mountains as it should be a very beautiful pass, even if nearly not cyclable at all (I had counted with 5-6 hours of walking). The road was good for a kilometre or so, then it got less good. Then I came to the place of the photo of the long water pipelines and thought the slope up there looked intriguing! I had to walk under the pipes in a small underpass, not possible to use with cars, so you could only go here with a car from both sides and turn around here. On the other side the road was a little wet and slightly bad, but before I got too frustrated over the road I came to Orbeillaz and an asphalt road.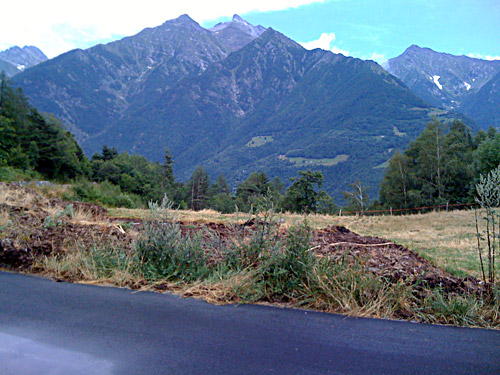 Here was a water pipe and I filled my water bottle and cleaned my bicycle a bit before I went up the road, but it soon turned out to be the wrong road, so I returned back and found the proper road up to the next pass. I had thought that maybe I would have saved myself part of the climb up to the next pass, which I only had remembered as being a bit tough. It turned out that the toughness only started in Orbeillaz and that the main part of the climb started here. So I would probably have been here as quickly by descending Col d'Arlaz and then climbing up here. The first 3 km was like 11.5 % on average and the last 2.5 km from Arbaz are a little easier. It is very nice between Arbaz and Col Tzecore/Tse Core/Colle di Zuccore/Col du Mont Tseuc (1607m)!
The road down the other side was a bit nice too with views of the Aosta valley. The descent was pretty fast on a good road, which widens when one goes down to meet the road going up to the next pass, which is Col de/Colle di Joux (1640m). The climb up to this pass (from 1166 metres height) is easier and on a wide and good road. This pass is less nice than the Tzecore pass. The east side down to Brusson (1294m) is all wooded.
At Brusson I started up on the road toward Estoul and Col de/Colle Ranzola/Arescoll (2171m). I had also thought about getting over this somewhat famous walking pass, but it was already getting a bit late and I had more less agreed with myself to not try out more walking passes and dubious gravel roads this Summer. Anyway I wanted to get up here as I believe the place called La Croix (1700m) is pass and maybe someone would find out about a real pass name here too eventually. Since it is 1700m and I had all other asphalted passes climbed up to this height, I found it prudent to collect this too and it fitted well with my ambitions for the day, which were not so high. Another more ambitious alternative that I had clearly in mind was to climb up to Col de Courtil (1511m), which counts as one of the hardest climbs in Aosta (though there seems to be more hard climbs around here than are commonly known). (Search for 'Echallogne' and 'Herin' at salite.ch for examples of hard Aosta climbs.)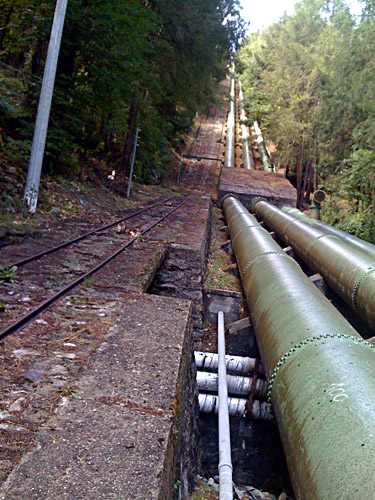 I had some great views from up here and maybe I should have climbed up to Estoul (just a few height meres above where I took one of the photos here) and a little further too as I might have had some other slightly better views there as well. The road up here is good and as wide as the Col de Joux road. I was tired going up and really wondered if it was worth the trouble, but it was quite nice and I was happy I did go up here.
I returned back the same way (there is no road down the other side at La Croix, it stops further down at Fenillaz). I stopped in Brusson and had coffee and cake at a café. Something happened outside and I went out to have a look. People had spotted a nice rainbow as there were rain showers coming down now. I also took a photo (see below).
The road down the lower part of the Val d'Ayas is quite nice too. I continued down the lower Aosta valley and stopped to take a photo of the big Bard fort that is placed at a narrow passage in the valley. After this fort the valley opens up and you are really almost down on the Po plain.
I stopped for the night at Pont St. Martin which is the first town in Aosta (if coming here from Piemonte). This is also the start of the Val di Gressoney where they have some German speaking people and German village names as some people in the past centuries has been coming down over the Monto Moro and Turlo passes from Switzerland to settle here.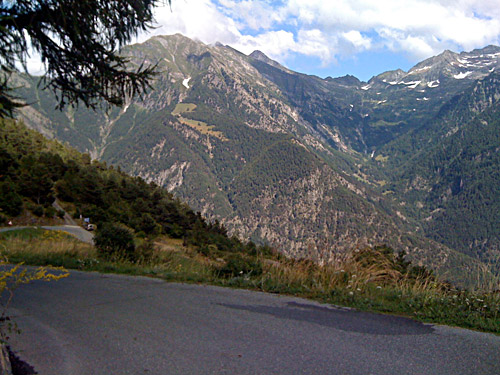 I had a big pizza on the town, which was not so good. Afterwards I found a place to get some good ice cream though. It seems like I got the last room free in the town that night. It was August now and a lot of tourists starts to come down this way from France. There were a big bus for a Russian karate team at the other hotel I found and guessed I might be better of by not staying there … .