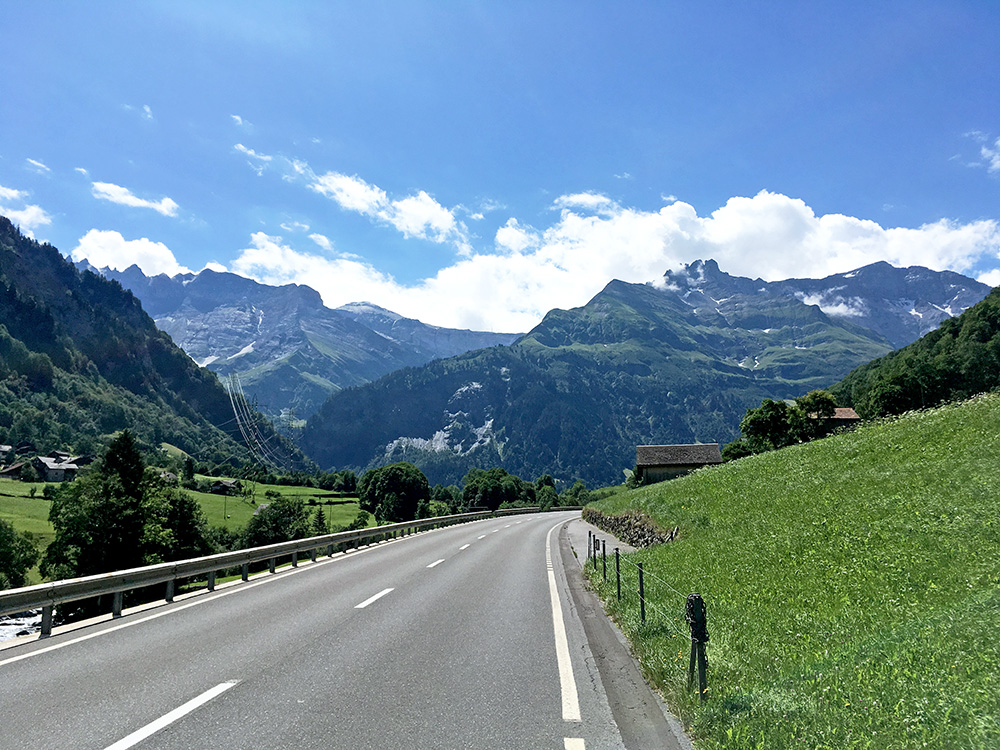 I was very organised on this day and maybe a bit relieved as I was now over with this Summer tour in the Alps and the broken rib was starting to feel less during the nights. I had a lovely breakfast, but apparently mistook something they gave me for salt to put on the egg, to their amusement (guess I was a little tired in the morning). Put up things I had washed to dry outside and got on my way eventually (before midday).
I still had thought then that maybe then today I could do the Pragelpass (1550m), which is not so far from Bilten and the weather was nice. I stopped at the (last) turn-off for Pragelpass and think I stood there for at least 15 minutes before I could decide on what to do. It looked lovely up Pragelpass, but I had been there before and I found there was one more +1000m climb in the area I could possibly do and that I had not been to at all before, Obererbs/Sernftal (1702m). I forgot to look up the height and thought it was 100m lower though, but I then decided to do the new climb as it was slightly more interesting.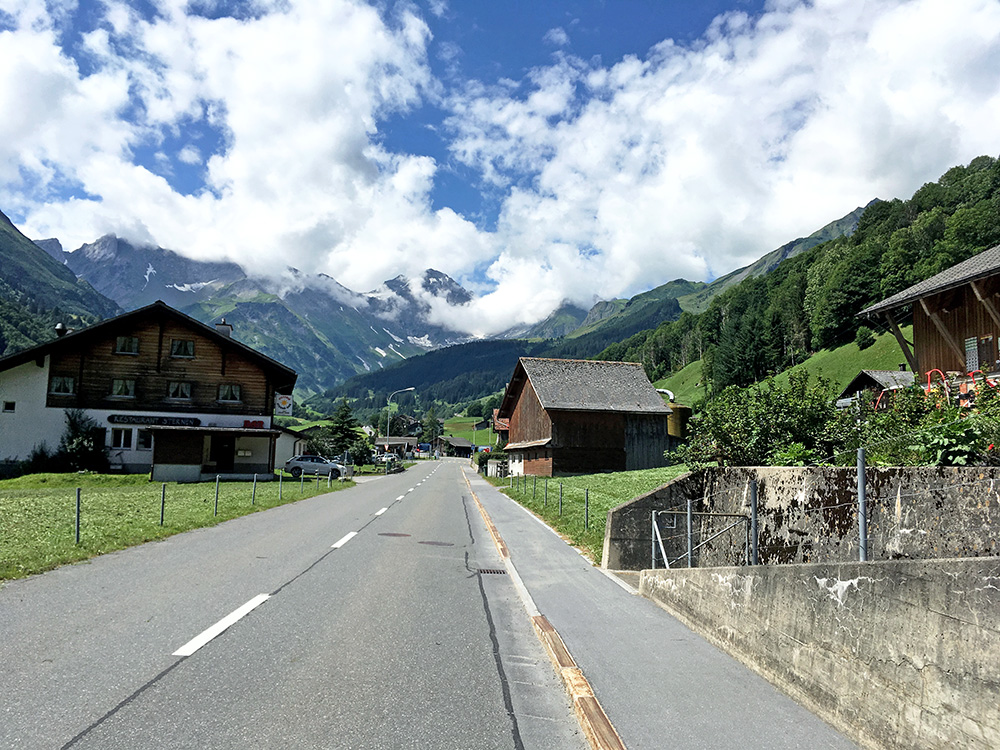 Above in the photo I am far up the Sernftal just before Elm from Schwanden (512m). In the photo here I am just above Elm looking up the end of the valley. The Sernftal is very nice with nice side valleys, but it also has military presence with tanks and signs on the road in Elm showing speed limits for tanks! (Should have taken a photo of one of them.) It was beautiful weather today and I felt happy I did this ending ride and it made for a much sweeter end of the little tour.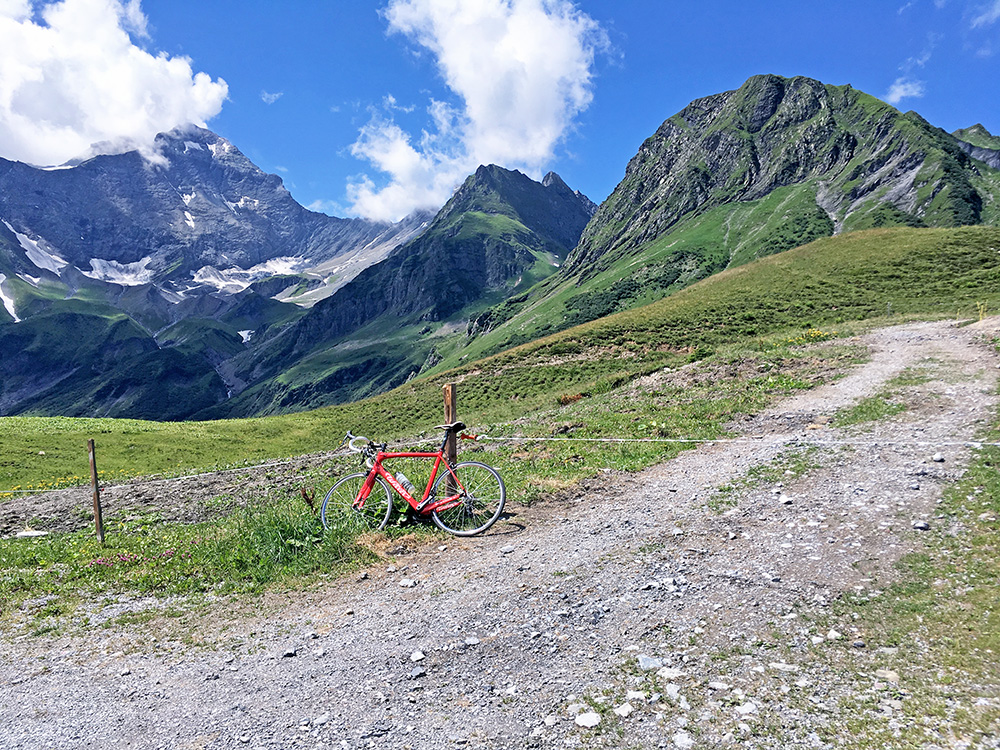 However, as I continued up the Sernftal I could not help of thinking of the horror movie (A Nightmare on Elm Street), but cannot remember if I have seen it, but the name is famous and stuck in my head with tanks presence and all (and a bit fun as it was so sweet and sunny here). I found the little turn-off after a steep ramp near the end of the valley road that goes in serpentines up the mountainside to Obererbs (1702m) and as I started the climbing here, they started training with the tanks that they apparently do at the big area at the very end of the road down the valley (never saw it and not visible on the road up here, but maybe when their are no leaves on the trees).
They were shooting a lot with the tanks and it sounded like the third world war had just started and I was in the centre. The sound were very impressive with the giant mountain walls surrounding the end of the valley and I realised I was ducking a little to avoid getting blasted at. I now realised that maybe I did not see a lot of animals around here was to spare them from this training (must be hard for animals). The Elm street reference made some sense after all … .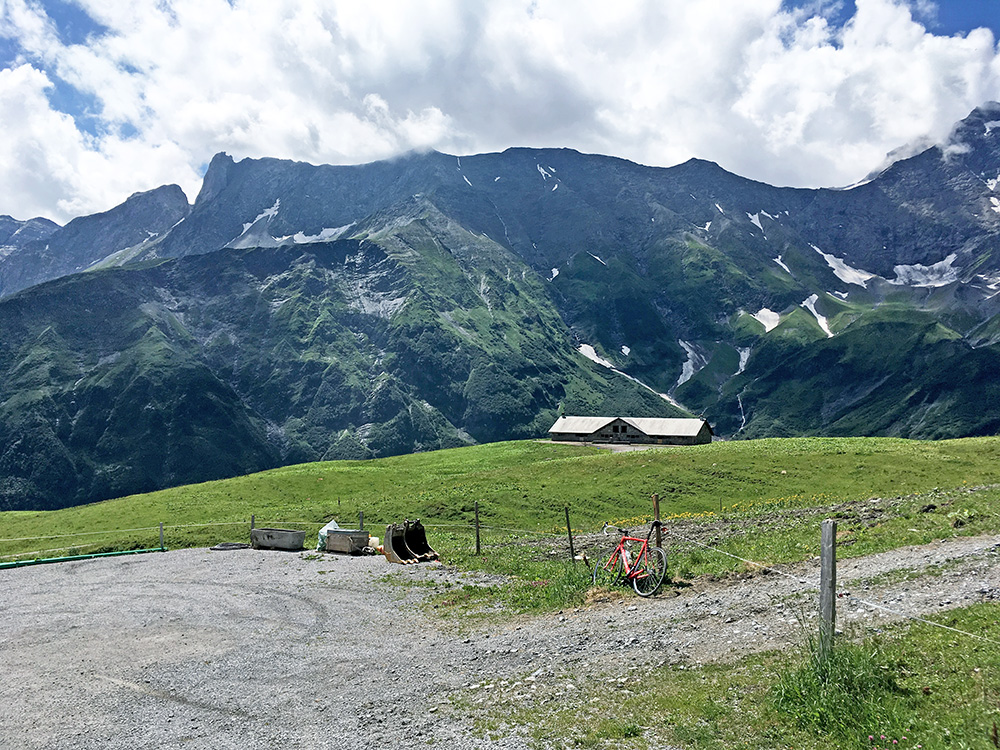 I finally reached the end of the road and the training had stopped by then (thankfully). Lovely views up here too and the restaurant was open, so had a big elderberry soda a last time on this tour.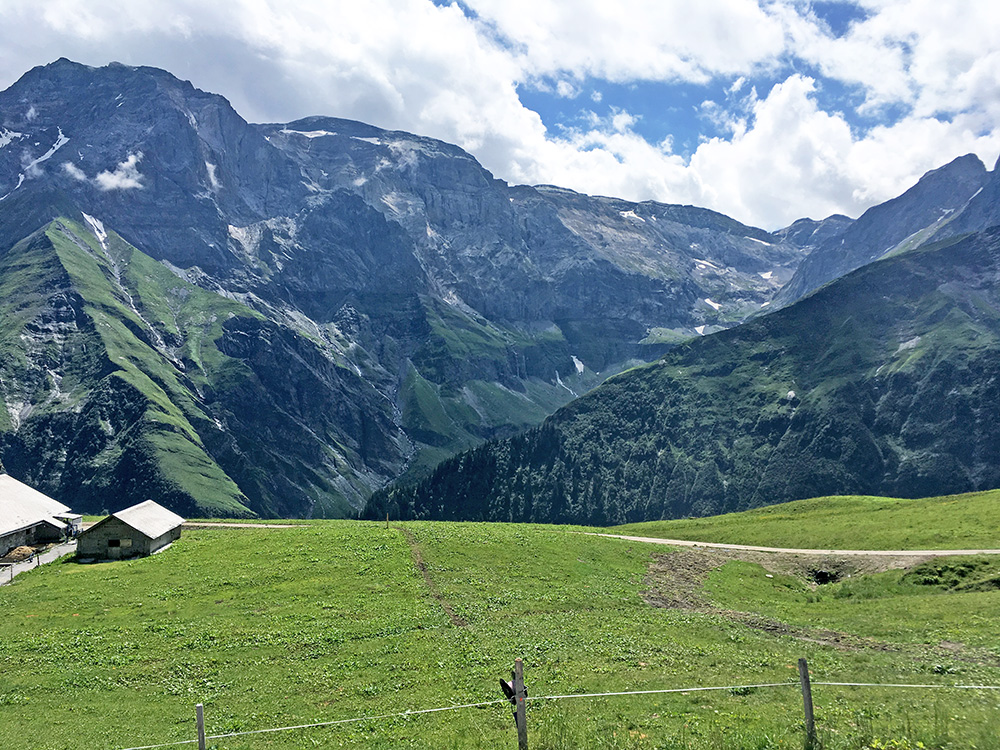 This is the end of the Sernftal and below there was the training ground.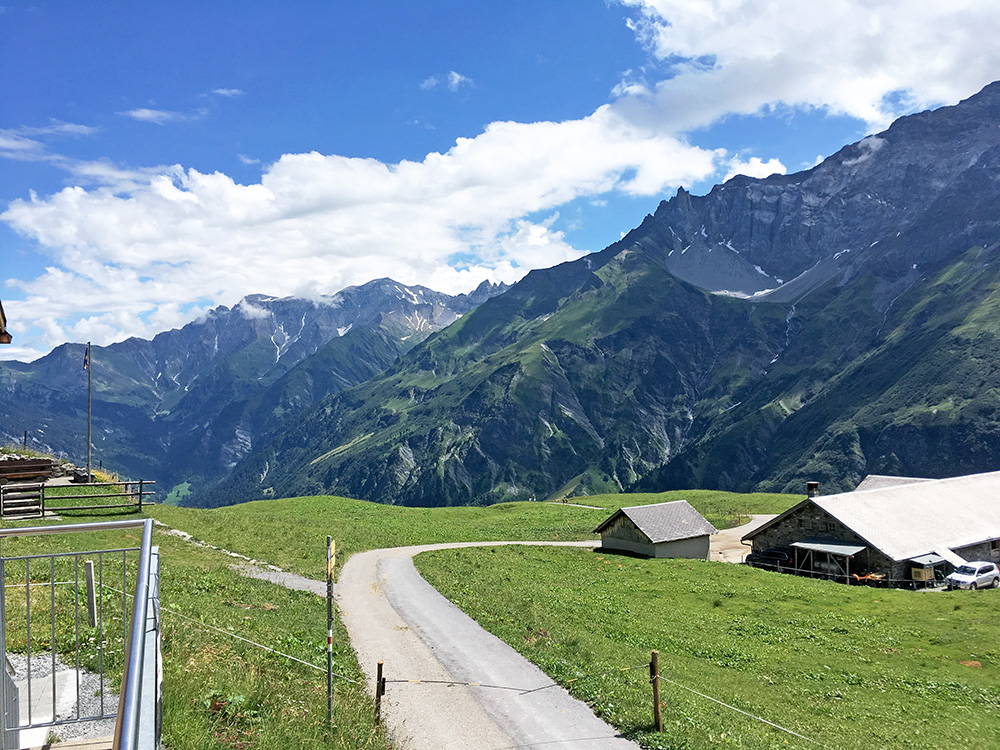 Great views looking back also!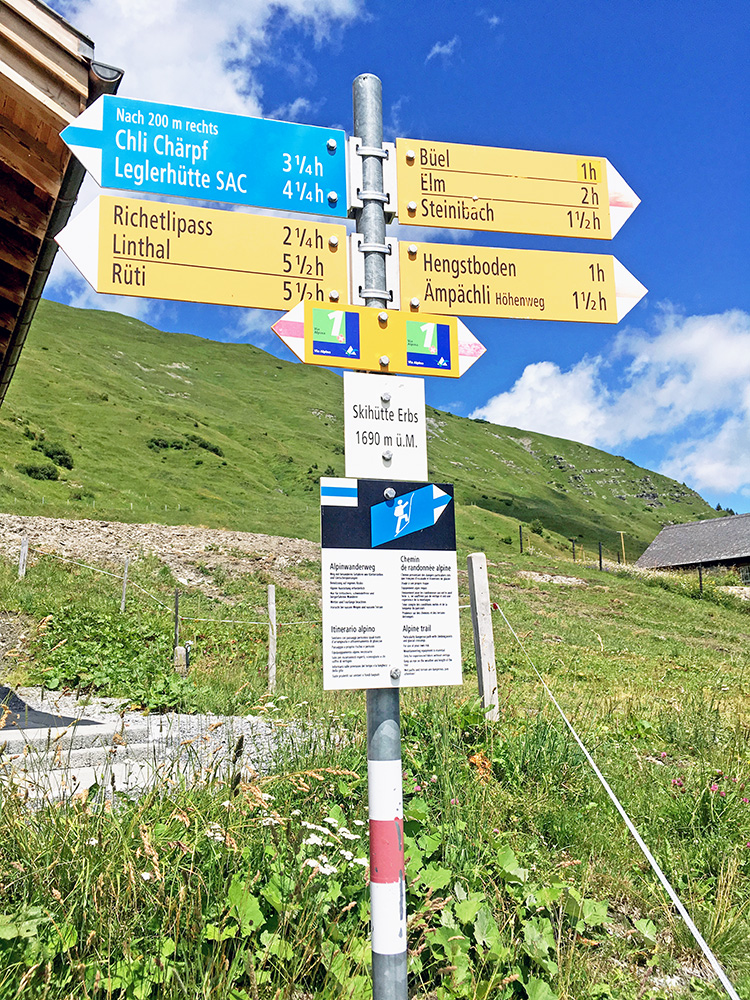 The sign says Skihütte Erbs and maybe it the restaurant was mostly built for the Winter skiing season.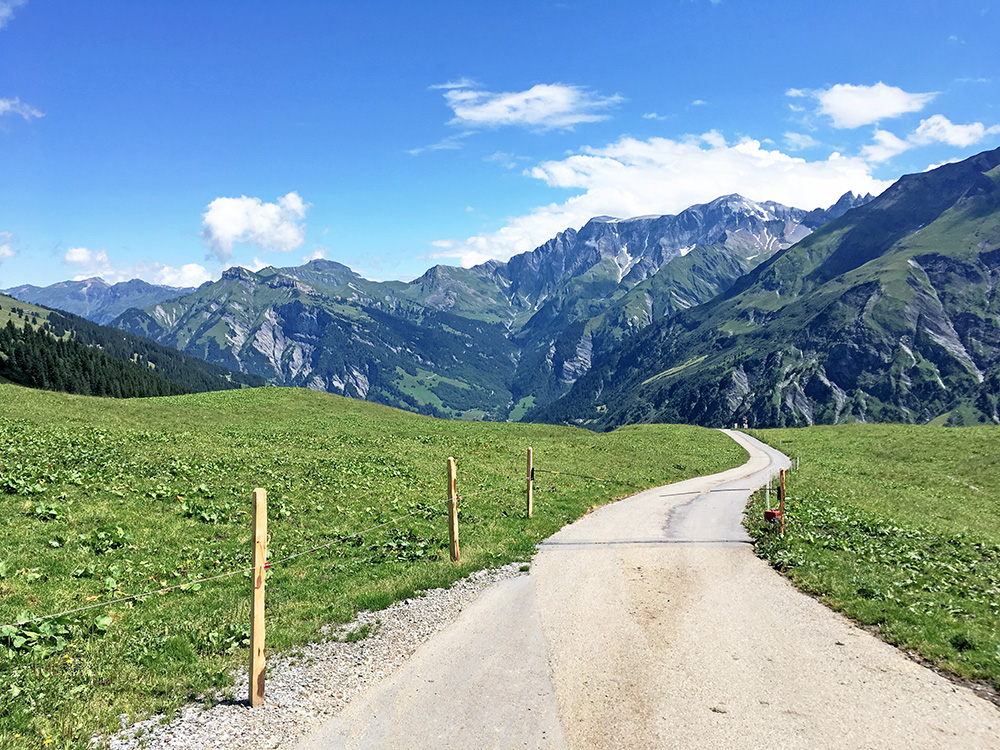 One more photo looking back. A very good road up all the valley to here.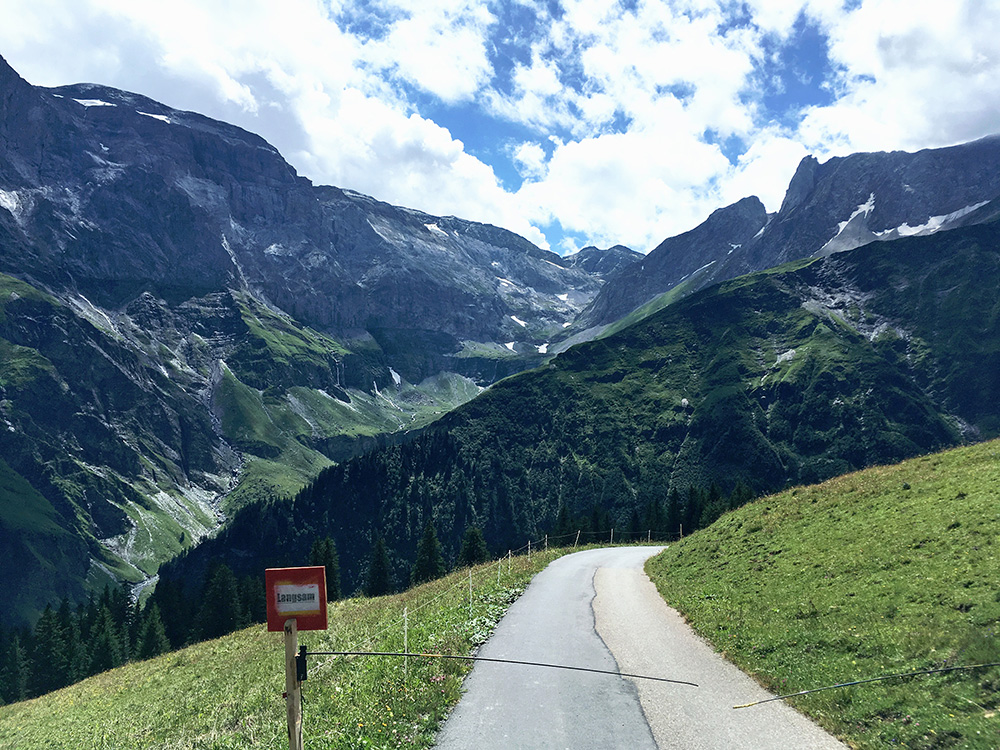 Maybe the best photo and next to last on this day.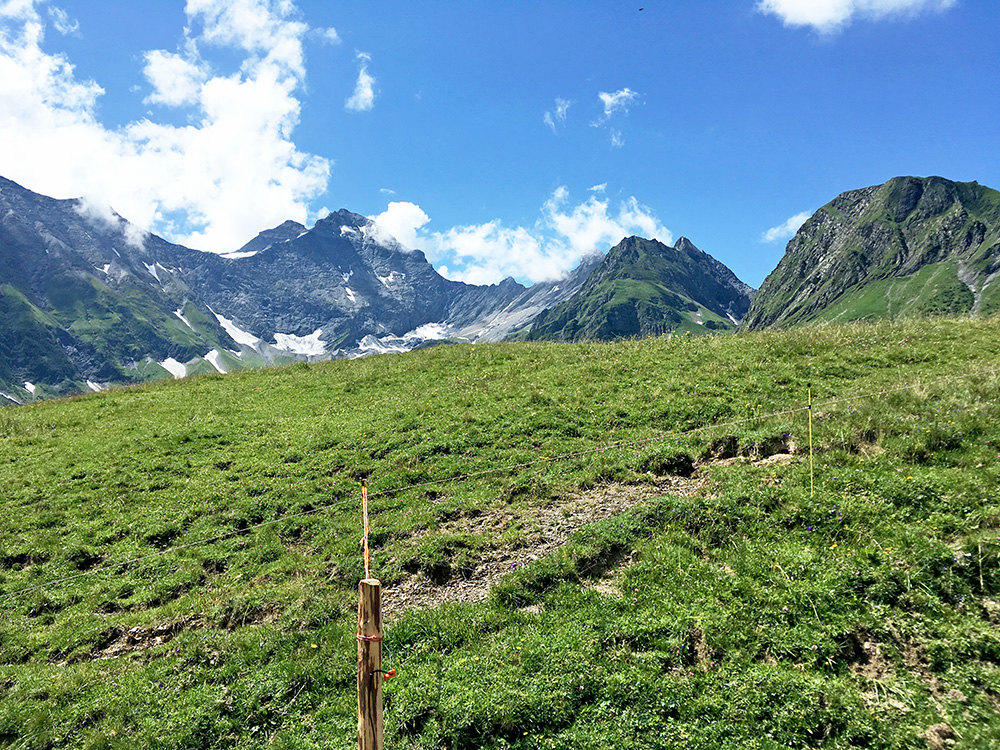 Just looking back up again from my last stop before Bilten. I was almost having an accident on the steep ramp on the main road as I did some odd movement to avoid a military vehicle while there were also cattle gullies, but all went fine and then it was a nice long way back with just a little cycling around Engi (the first village up the valley) before coming down to Schwanden again. Down through Glarus and Netstal and back to Bilten.
I was getting a bit nervous about the time I had on my way back and decided just to pack and do everything very carefully, but efficiently and never to look up any time tables. I quickly checked what trains I should try and get and aimed for the next to last possible one that should get me in good enough time for baggage handling and security. I got out and down to the bus stop and 1 minute later the bus arrived (30 mins between them and I did not look it up as I dared not to spend time on it if that meant I missed a bus and in this case it could have been so). That meant that I was in time for just the planned departure of the train from Ziegelbrücke to Zürich airport. All went fine (think I changed some euro cash too expensively at the airport (not the best place for that)). I was flying off with Eurowings and had never used them before, so just hoped things would go well with the bike and so it did.
After some confusion in Düsseldorf, Dirk & Petra came to meet me eventually found me. We went to a night-open good restaurant that Petra remembered and I was happy to have something to eat and drink. Then of to my little hotel in Heiligenhaus where they left me. Next day I would go cycling with Dirk. A nice day with a bit of everything.