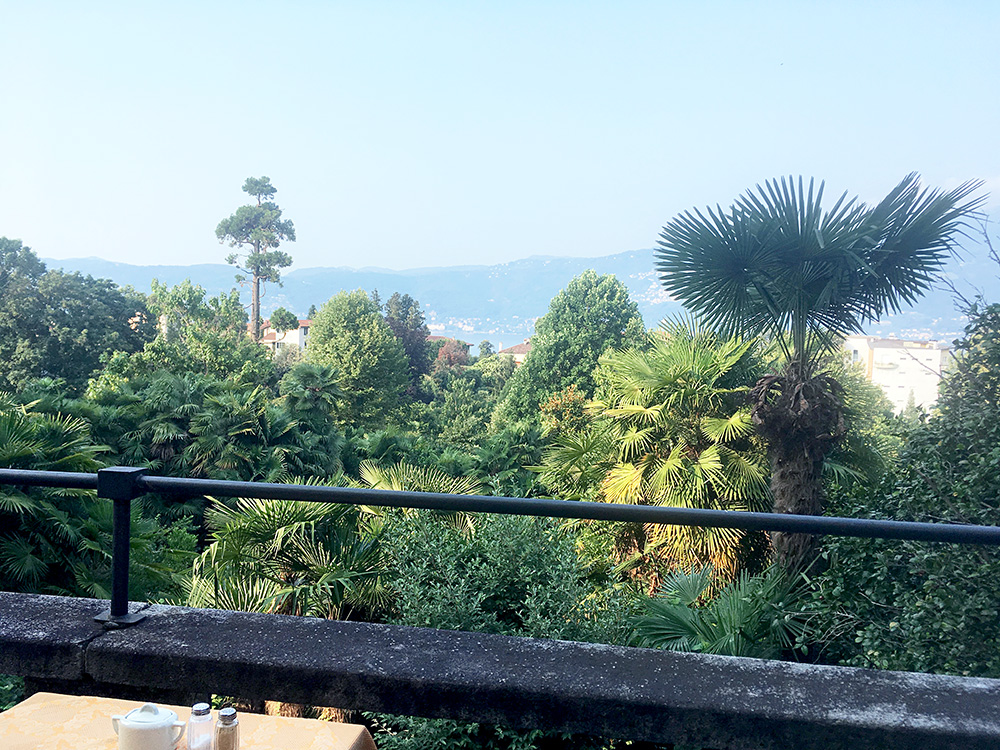 Today started with a nice breakfast (better breakfast up in the mountains) and a some view over the Lago Maggiore. Then off to the train station for Verbania-Pallanza (204m), which took some time to figure out just where to take off the road to get to the station even though it is very close to the road. Now, as I wrote of Facebook: "The lady at the train station said there is a strike on the trains today – so nothing out of the ordinary, that is. The first train will run, but then there are 2-3 connections. As usual it seems that only the people driving the trains have an idea of when and where the trains go. No one in the operating centres have a clue and it is always obvious."
I had planned to take the train all the way to Aosta in the Aosta valley, which is as far as you can by train in that direction. The connections all worked fine, with some delays, and the train Chivasso waited. So even if the lady in Verbania didn't want to sell me a ticket (that I already had bought) as she thought there was no point in trying to get to Aosta this day, I was still luckily that not much was affected by the strike (it could be much worse when there are no strikes, in the rare periods that happens).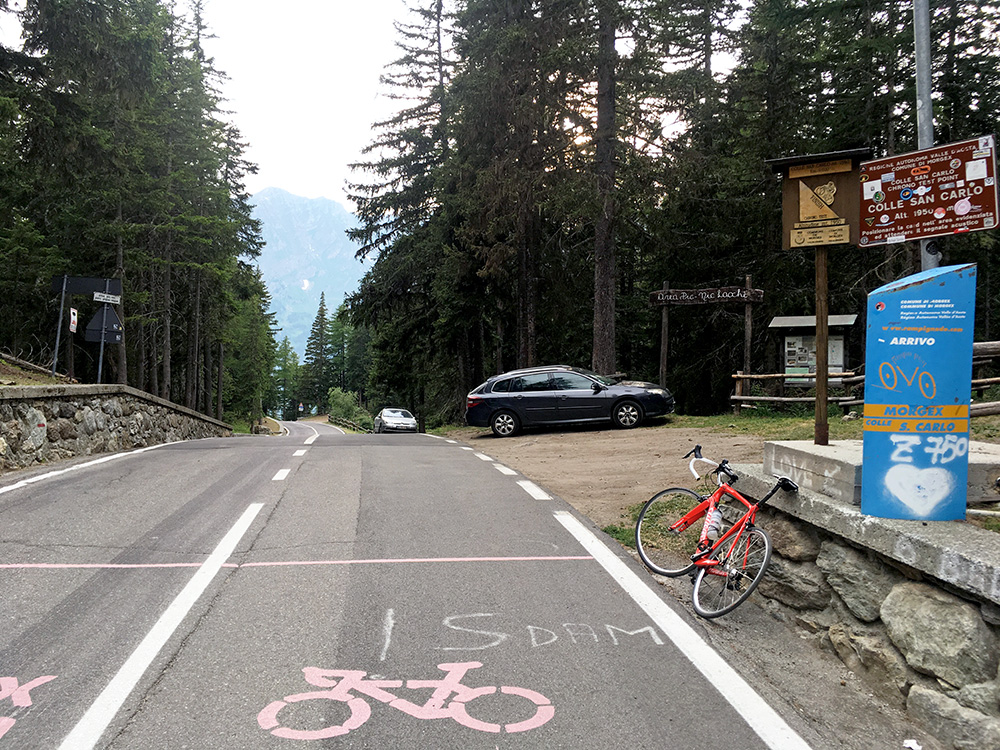 I arrived more or less on schedule in Aosta, but a bit late in the afternoon and tired. Now I just wanted to get out of the city to find a place to stop at to get something to eat, visit a toilet, put on sun cream and fixing my cycle computer. I did not find any nice café or gelateria on the way out though, but eventually stopped at Saint-Maurice, where they had a perfect café/bar for the occasion and even got my bike computer working again.
Now I felt better and continued the main road up the valley. After just a short while a cyclist in a Tinkoff jersey overtook me in good speed with some other local cyclist hanging on to him. I decided it was time for a little speed and managed to bridge the gap and hang on to him while the other cyclist gave up. It was first at the tunnel around Avise that I slowed down and let him go away (there had been some traffic jam earlier to, which partly has helped him and partly me). Anyway nice to get help to get up from the lower valley.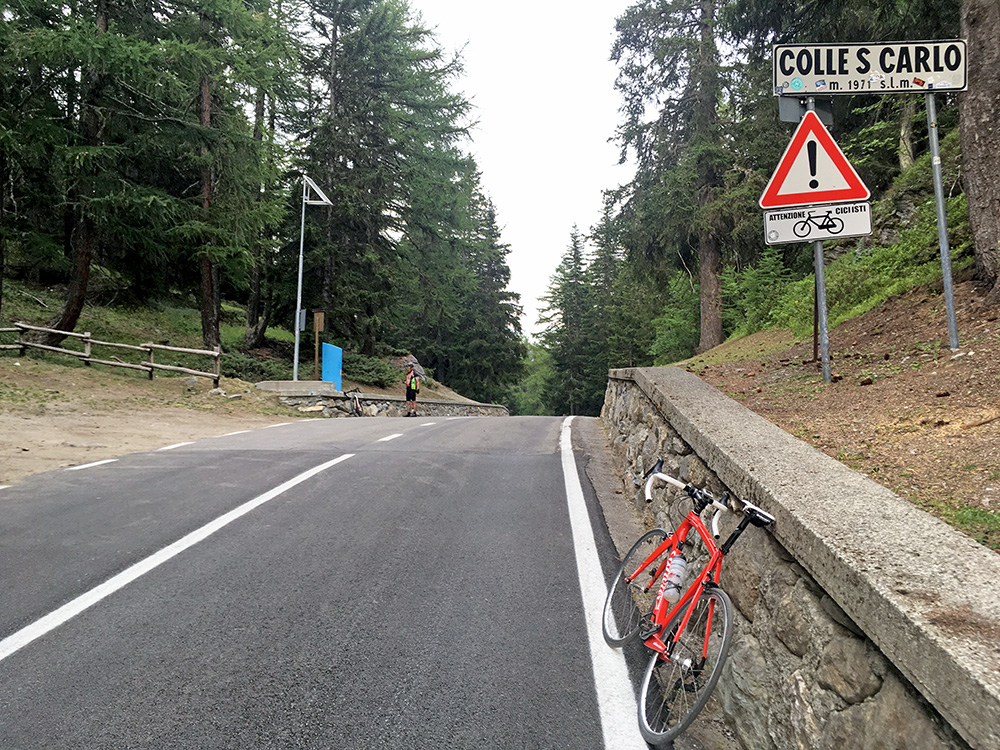 I stopped again in Morgex, partly because I had good memories from staying a night there many years ago (esp. they had a very nice candy store, but it looked like it was gone now, but generally the place still looked nicer though), but also to prepare myself for the next and only climb today. The old grocery might have been charming, but I had to wait a quite long time before I got to buy two biscuits, a coca-cola and sparkling water (a bit too much drinking before the next climb). Eventually it was over 18:00 before I got started on the climb from Morgex (922m) to Colle San Carlo/Col Saint-Charles/Jean (1953m), which I climbed only once before.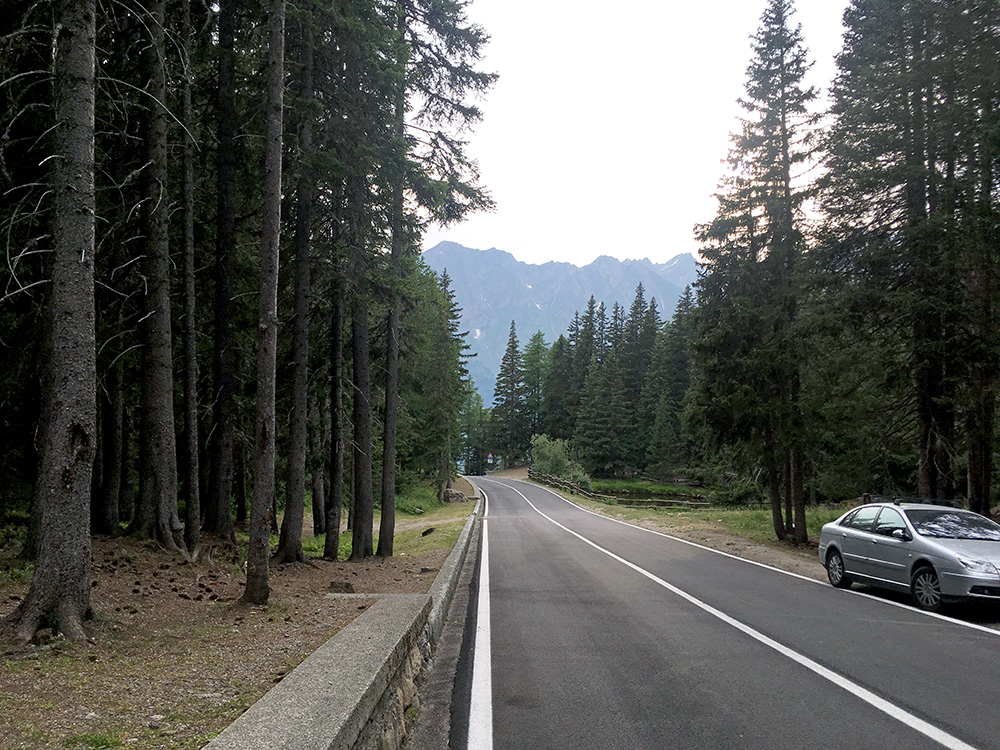 The climb is famous for being a quite hard climb so near France (where there exist barely any climb as hard as this). It is quite steep from thee start, but then becomes more regular at around 10%. By surprise I met Daniel Gobert (founder of the BIG challenge) half-way up and he recognised me and stopped soon after, while I wondered if it was a car driver getting angry at me for something or who wanted to cheer me on maybe, but I soon realised it was Daniel who was in the area to see the Tour de France at Col de l'Iseran (which they never got over because of the weather). We talked for a while and he was planning to do the same climb the next day.
There are fine views on the La Thuile side as seen here and below, but it is not one of the nicest climbs in the area.
I tried to stay at a place I had actually looked up before just as one arrives at La Thuile from the pass, but it was fully booked, just like the places they asked me to try as well. The lady at the next place recommended a place in the centre of the village where her daughter worked, but it also turned out to be fully booked and I got further advice there and the first I never found and the second was difficult to find, but luckily had a room (some related person helped me find the host for that place – Affittacamere Entreves).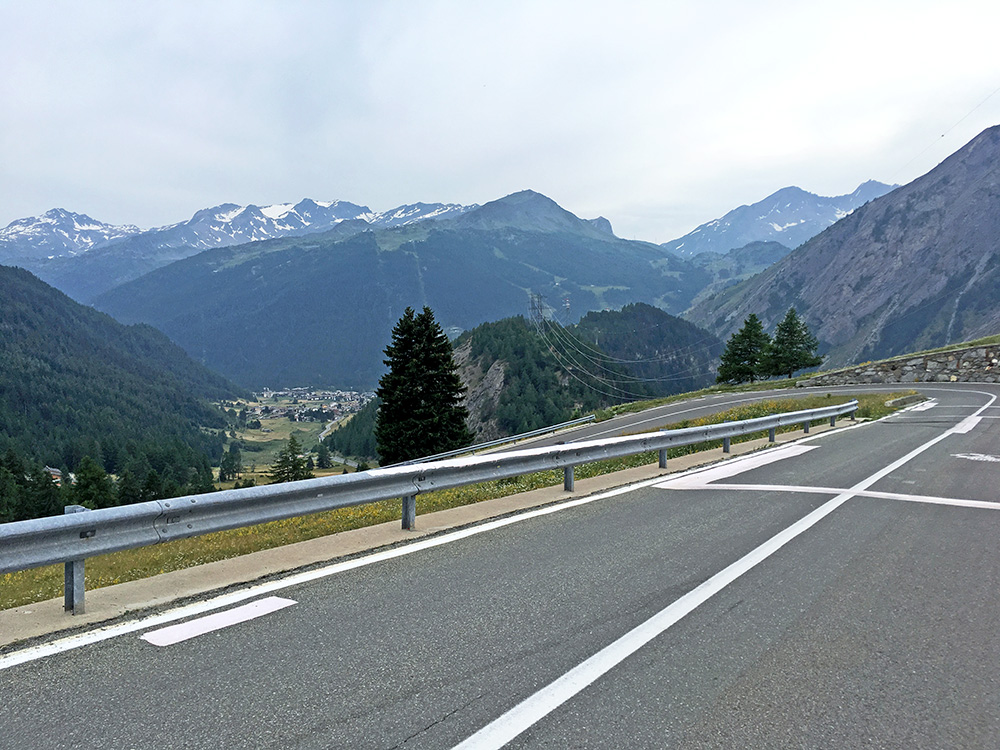 It was good simple guesthouse or bed&breakfast. I had a good bresaola pizza and a local red beer at the restaurant just by the bridge. (Still clicking from my rib when straightening my body, but tried mostly not to think of it.)