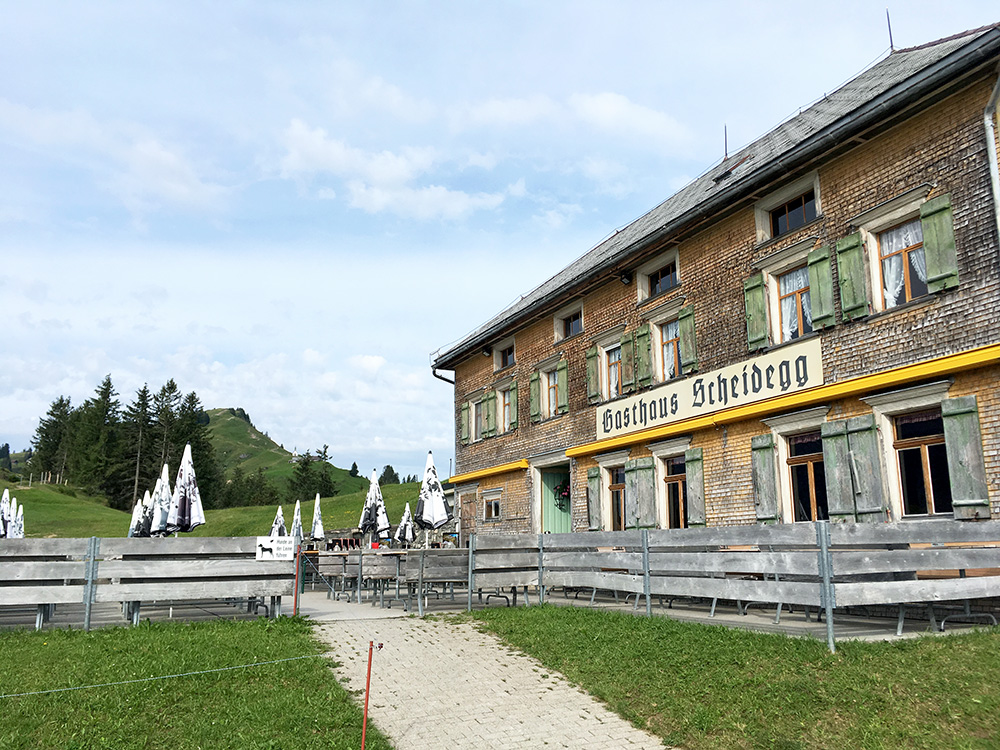 All worked fine in the morning, but guess it might be a little chaotic there if the massenlager would have a lot of guests (typically those walkers tend to be up much earlier than me also, and to bed earlier too). The Gasthaus almost looks on the outside without people like an abandoned building, but it quite modern and fine inside.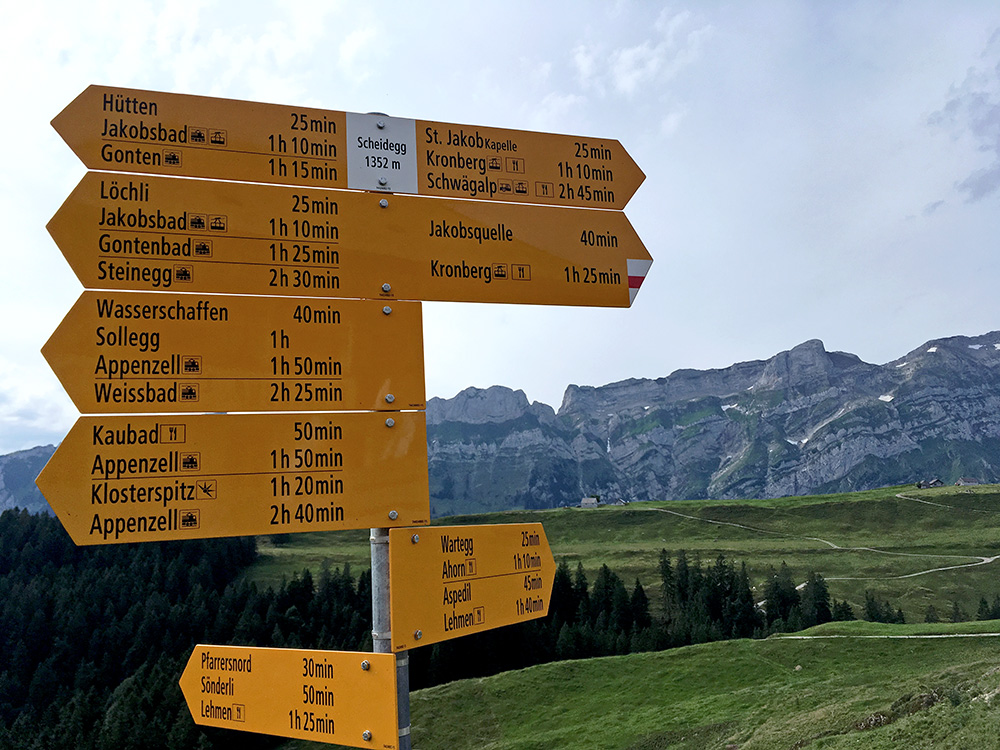 The pass sign and the nice mountains behind.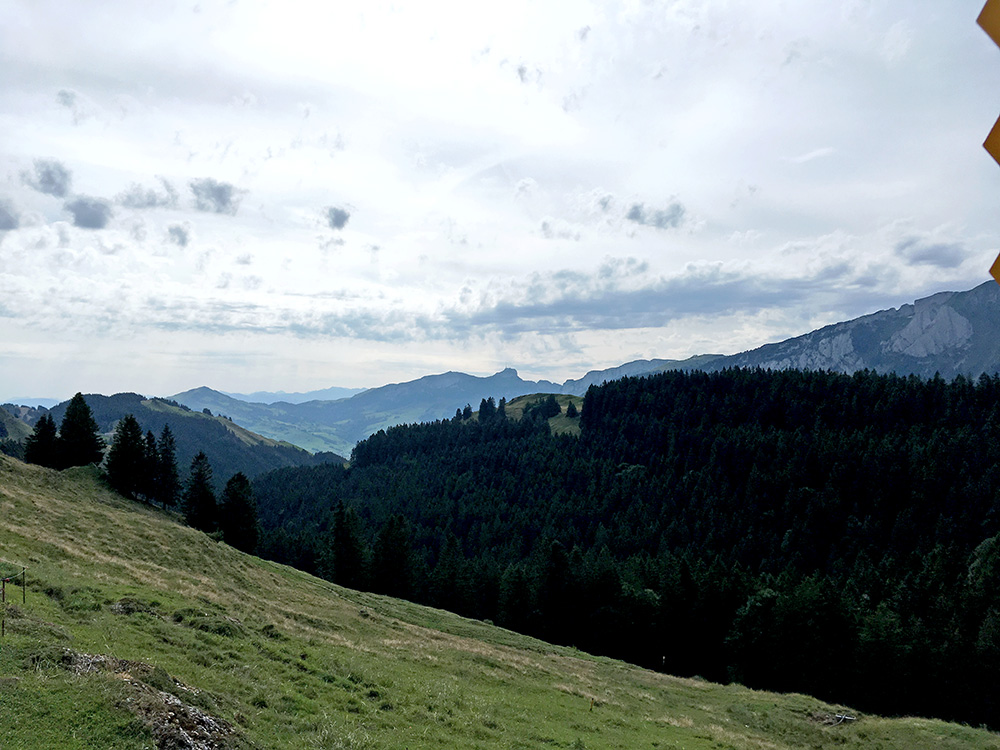 This is the direction I was going in, but in the valley on to the left (not seen here). The weather looks a bit cloudy, but it was sunnier than the photos let you know, but also some clouds, but those were going away.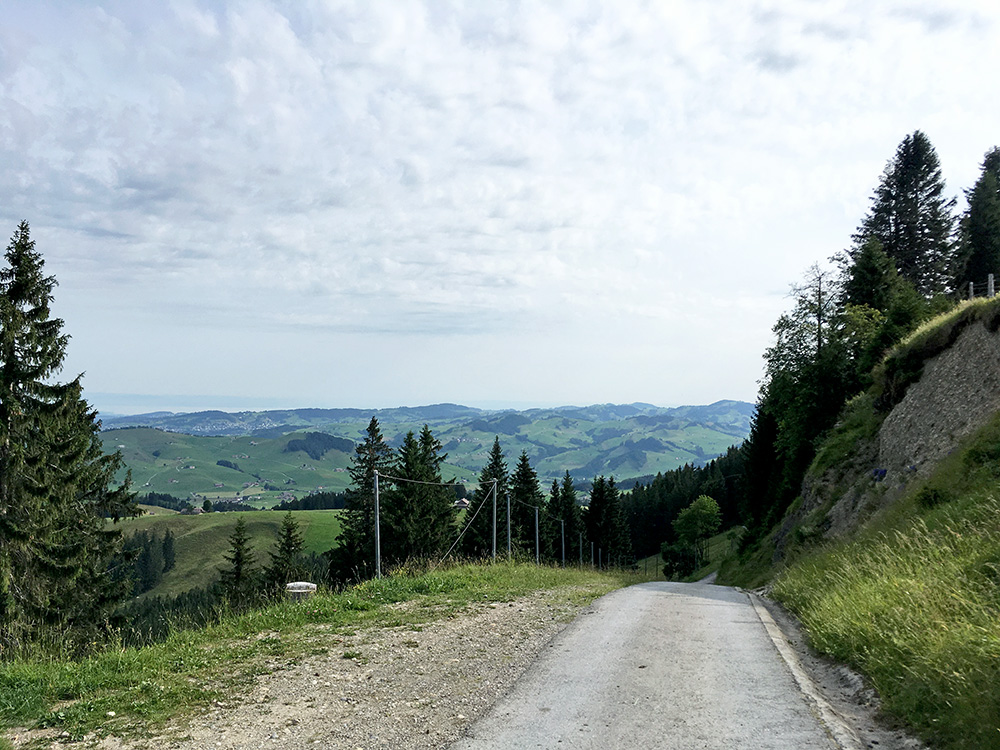 Here is the steep asphalt ramp separating the two stretches of gravel up here.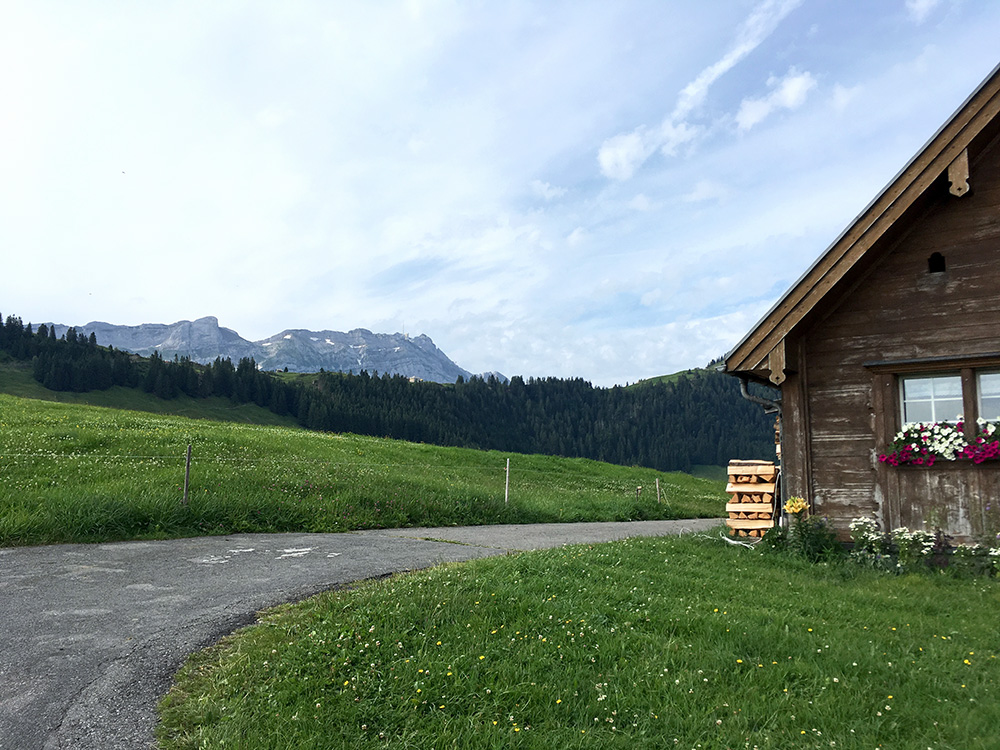 Stopping to look back up while I had good sights still. Then down over the Gonten zollhaus/pass (905m) to Appenzell (775m).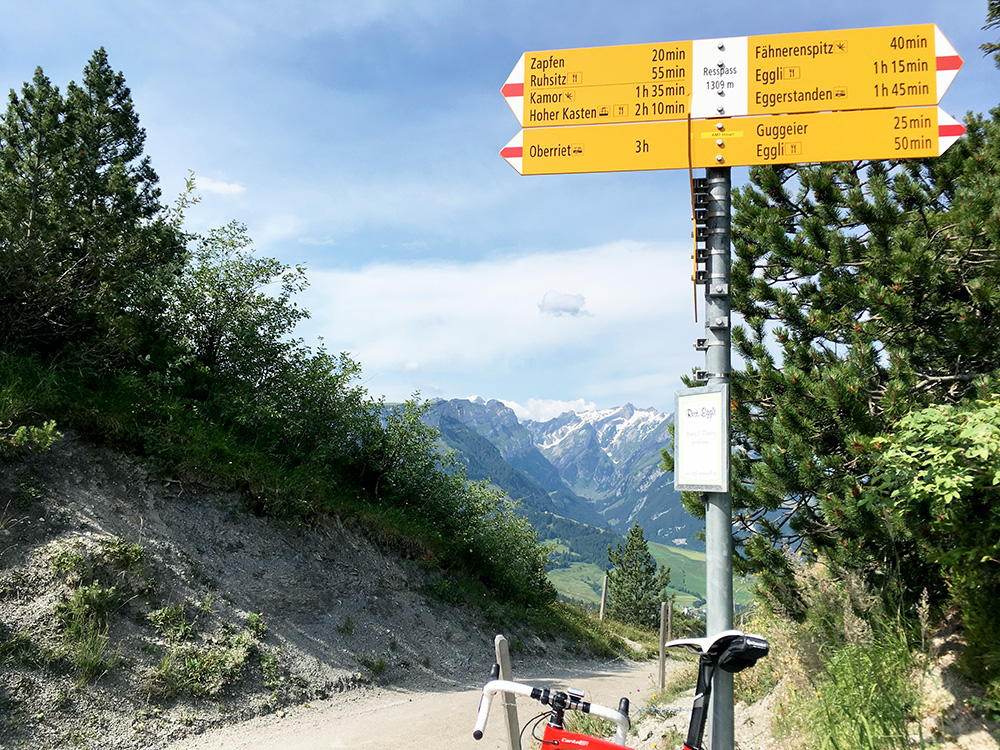 I actually did not decide until I got down there to climb the next pass according to the plan. The road up to Resspass (1309m) was a nice start of the day. Not so easy as one might think, but also not so long, but most of all it was very nice up there. I had read that unfortunately the road was not paved to the pas itself and that one could not take a road bike up there, but this turned out to be mostly false. It is indeed asphalted to the top, but for ca. 25m the asphalt is missing shortly before the end, but it was not so bad one could not cycle up there with a road bike.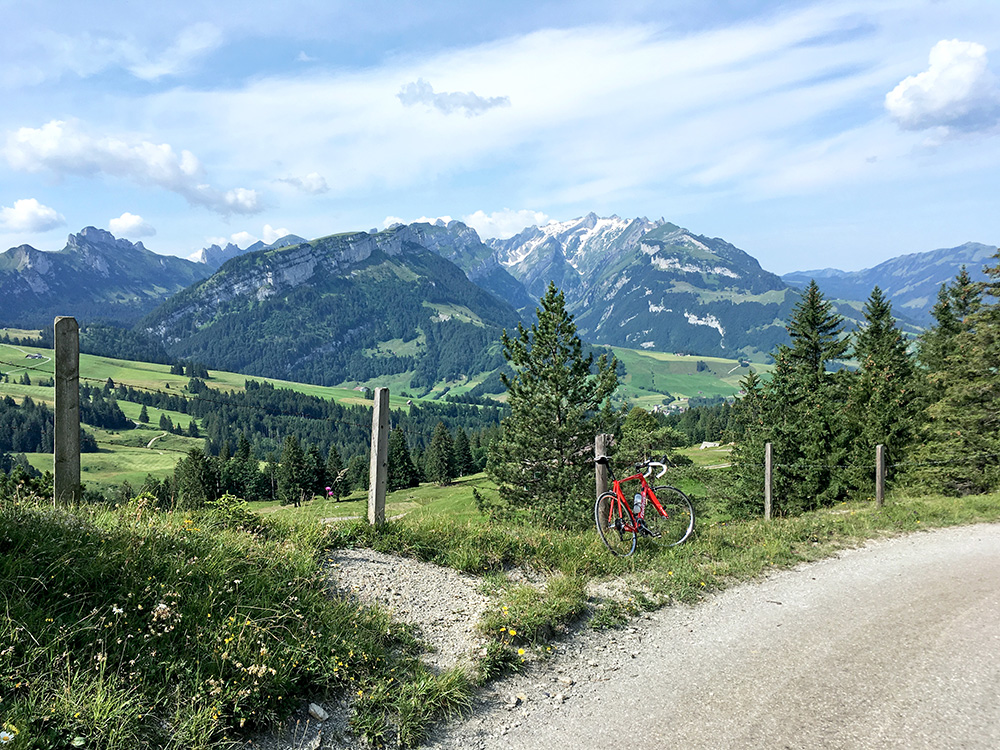 The views back from the pass above and here were also quite fine. The views in the other direction was not good (so skipped the photo of the trees here). When going up there I noticed shortly before the end another asphalted road that seemed to go higher and decided I could check it out as it likely was not going so far.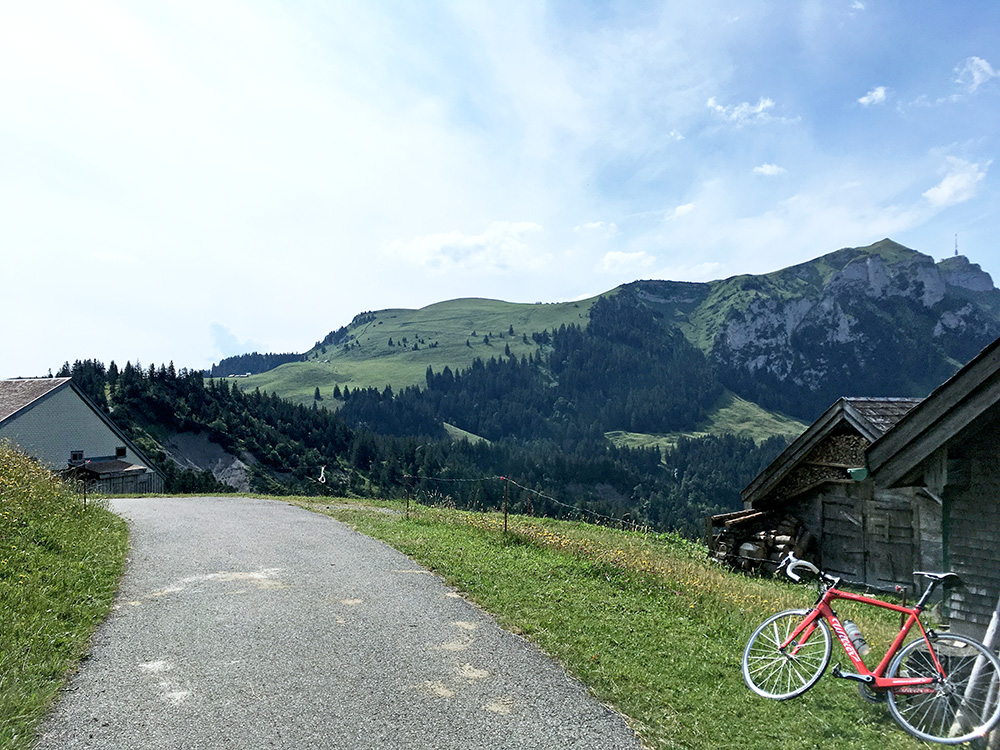 The road is higher but one reaches the asphalt high point within a short while at Gross Sütteren (1331m). Here I am looking from Gross Sütteren up the Kamor (1721m) road I had hoped a few times to climb (should be partly gravel) and behind you see the Hoher Kasten. One cannot reach that road from this side with a road bike, so no option this time either.
There is a walking path, likely popular, up the Hoher Kasten up ahead here.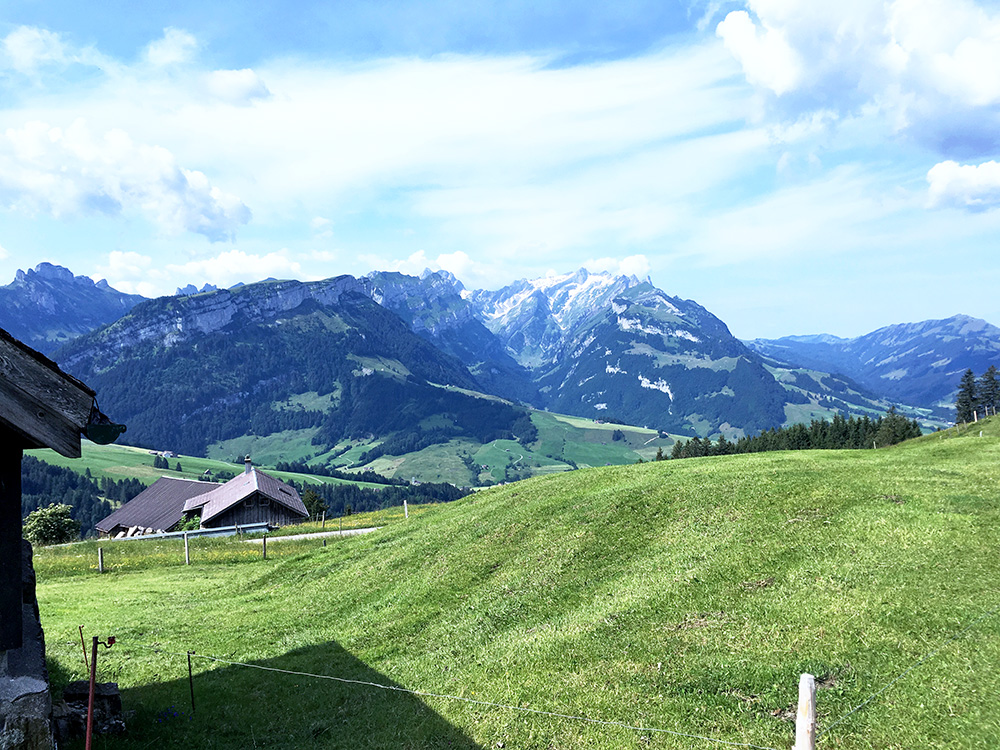 In the photo to the right at the low point is where I started the day.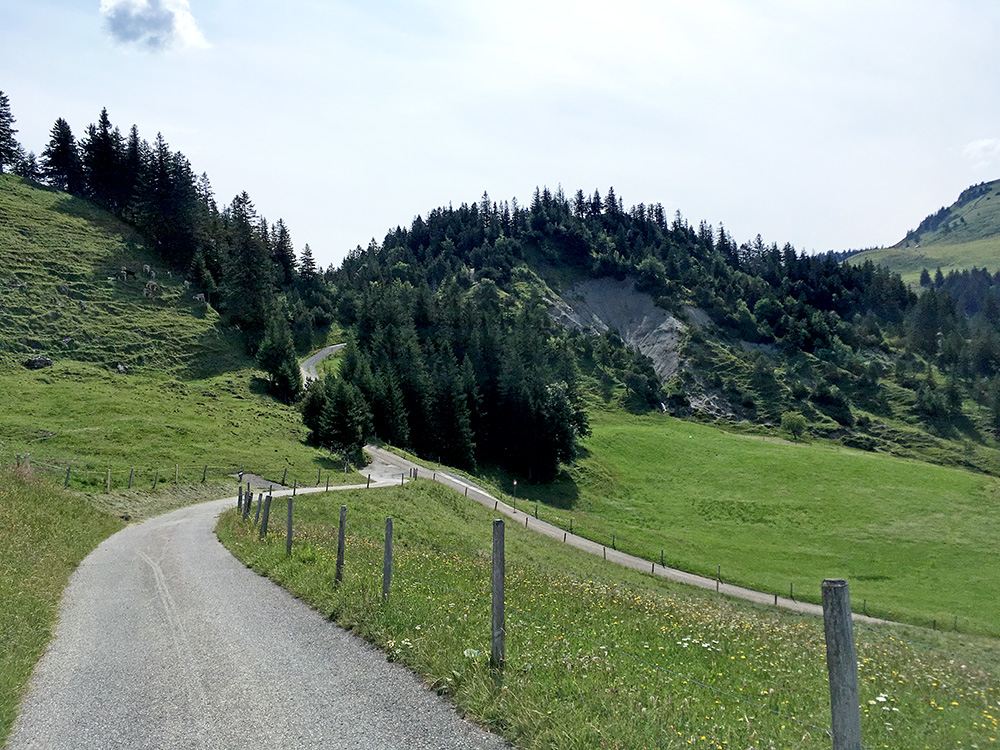 In this photo one can see the gravel section up to Resspass (I had a photo right there too, but not so interesting). It would be fairly easy to build a connecting rod to the Kamor road from up there as far as I can make out.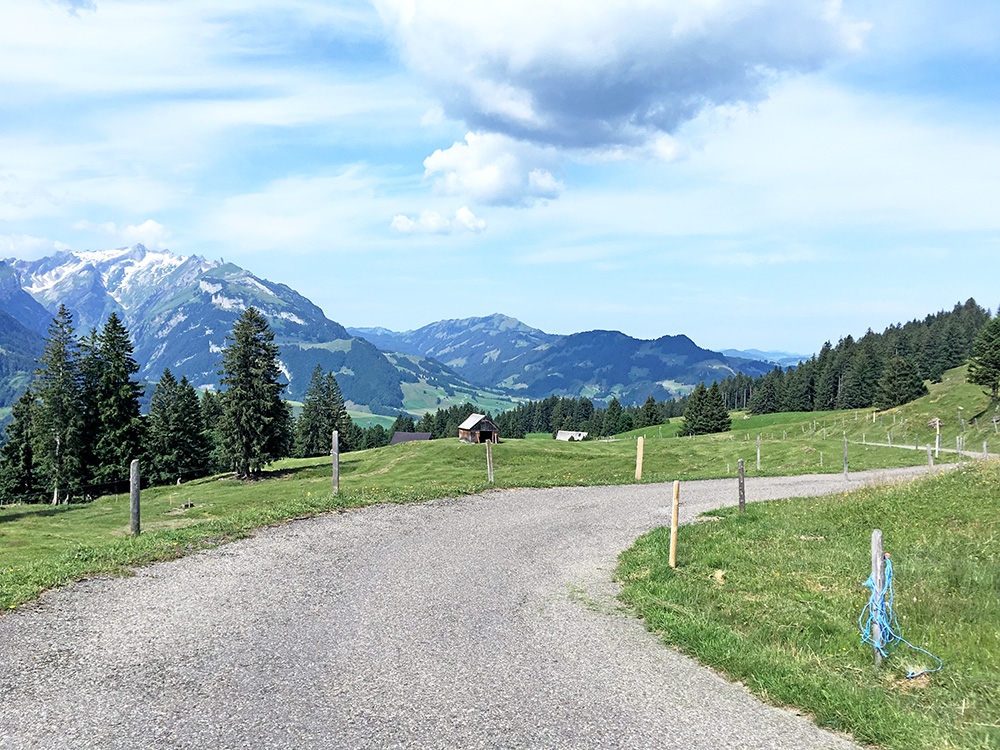 I just had to stop a couple of times on the way down as it now looked even better than when I climbed up as the sun took over more and more.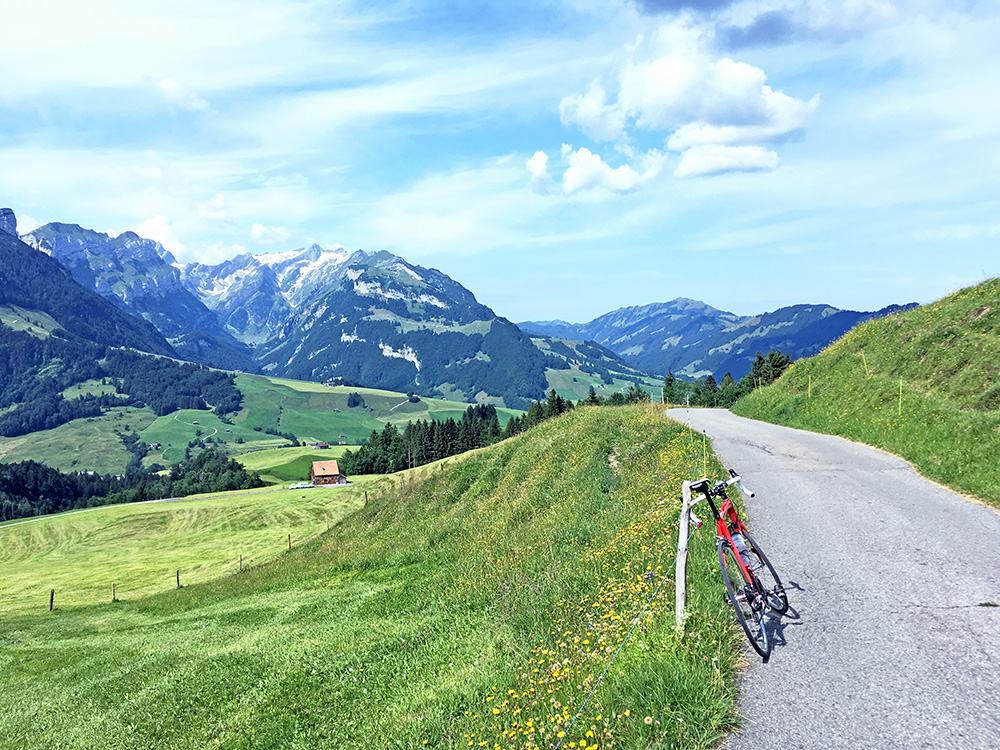 Clearly a place to climb up in good weather.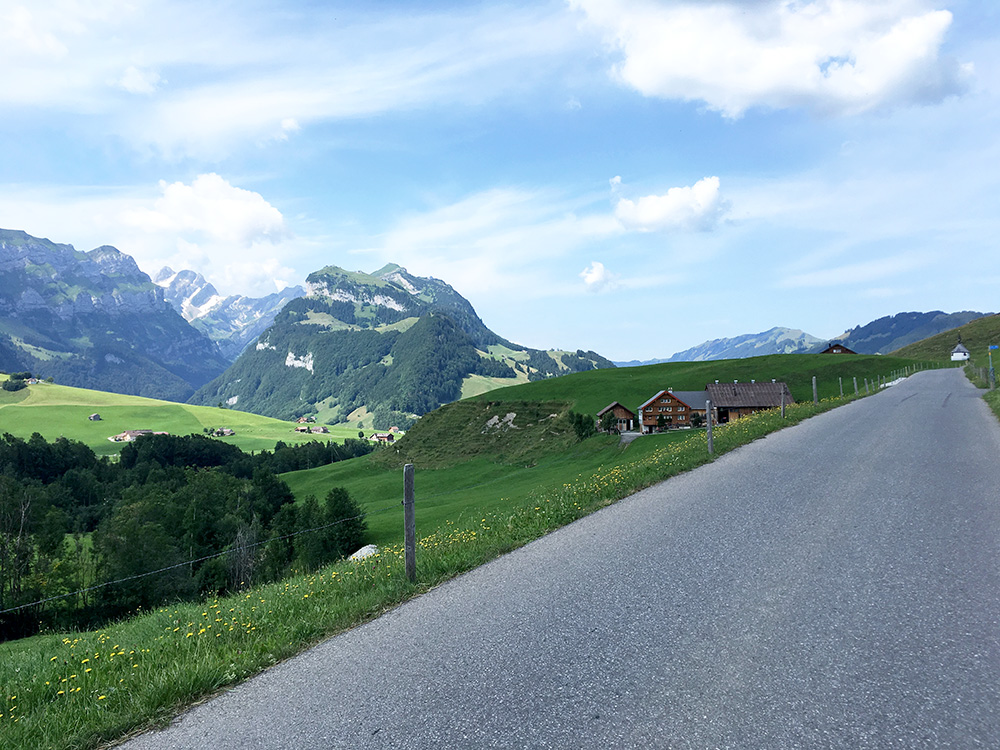 Here the road goes up slightly on the way down and it was the last photo before coming back down to Appenzell Steinegg (796m). There I followed another road (the main road) up to Gais, where I stopped to buy some Diklofenak pills for the ribs. I also stopped by a grocery for coca-cola and yoghurt in the centre.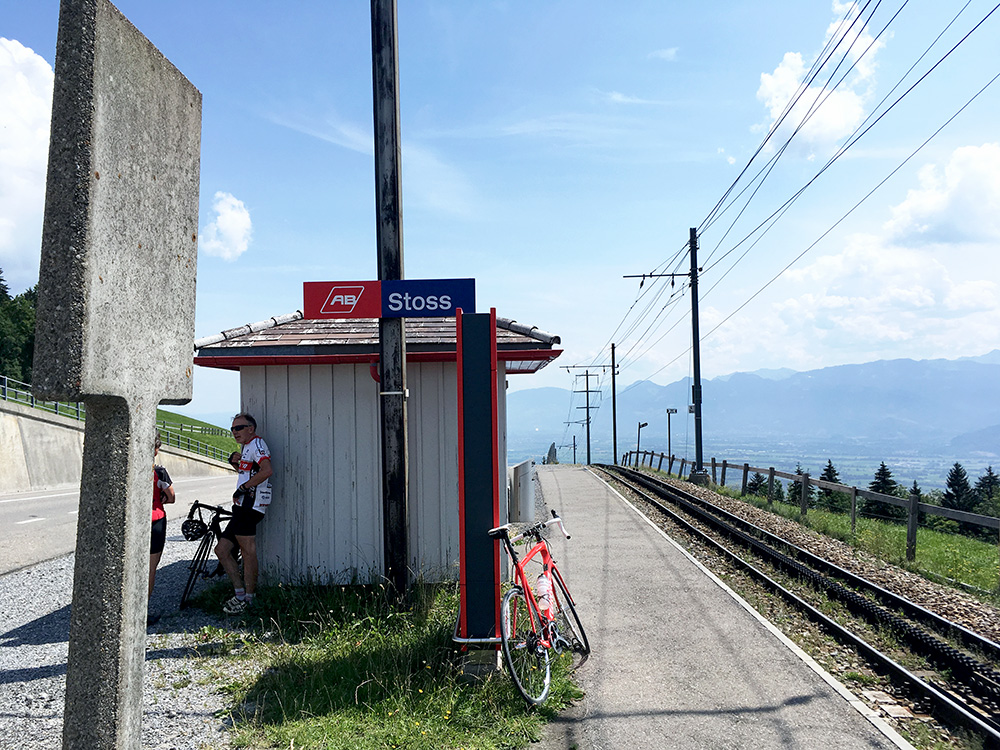 From Gais it is very short up to Pass Stoss/Stoos Passhöhe (971m). The place most often thought of as the end of the climb is ahead lower down by the Stoss railway stop. Two other cyclists had stopped there and likely were coming from below at Altstätten (454m), which is the proper climb up here, but hard to plan that way for me and I had more interesting climbs ahead.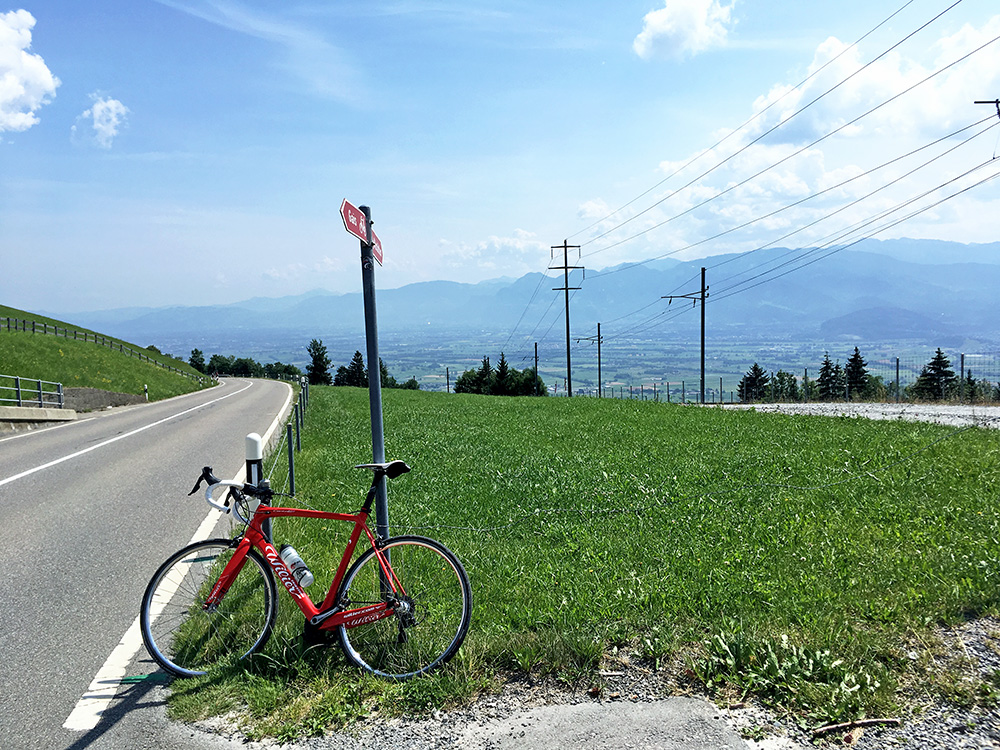 It was nice down the big road from Stoss and I was quickly down in Altstätten. Good views up here across to Austria.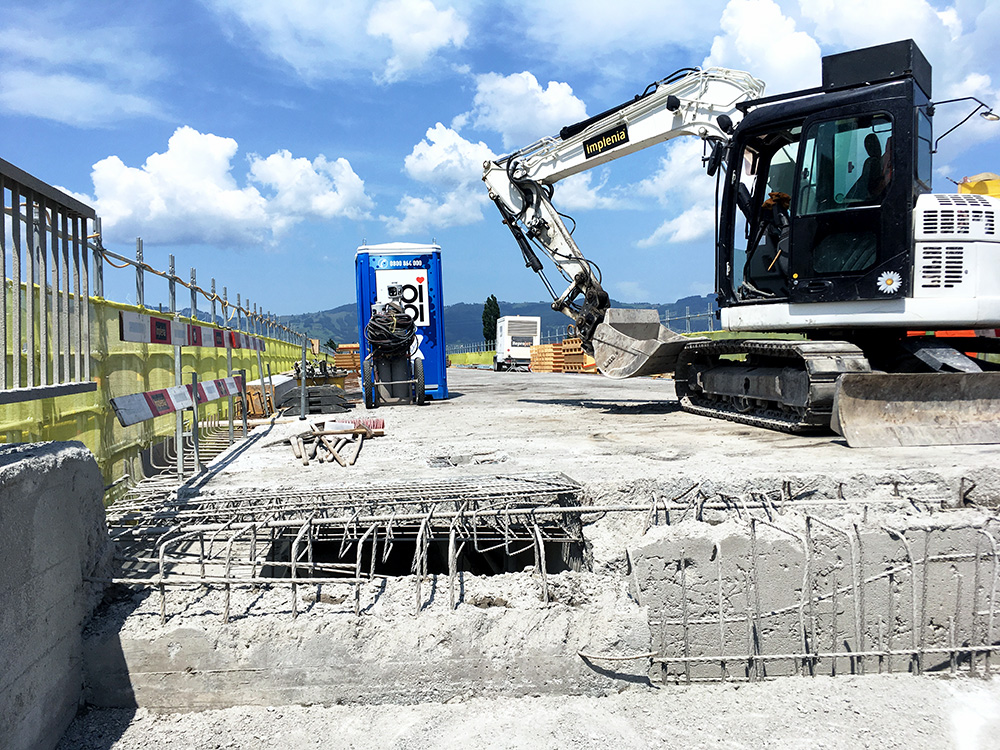 Looked on the map and was happy I found the correct road rather quickly down to the crossing of Rhine to Austria. Just when I got there it became obvious there was a problem crossing it as it was closed for repair. I knew it was not close to the next bridge (and at least I could not see to the next crossing in either direction), so I continued ahead and expected to be stopped. I asked if it was possible to cross and they said no with a bicycle. Not at all, I asked. Well you have to get over some fence at the end they said. Ok, I try it, I said and continued. Luckily it was not so difficult.
After the bridge (412m) it was a short way up to Götzis (448m). I filled up with water, and as I found no good place to buy something else, I just started out on the climb up to Millrütte (1105m).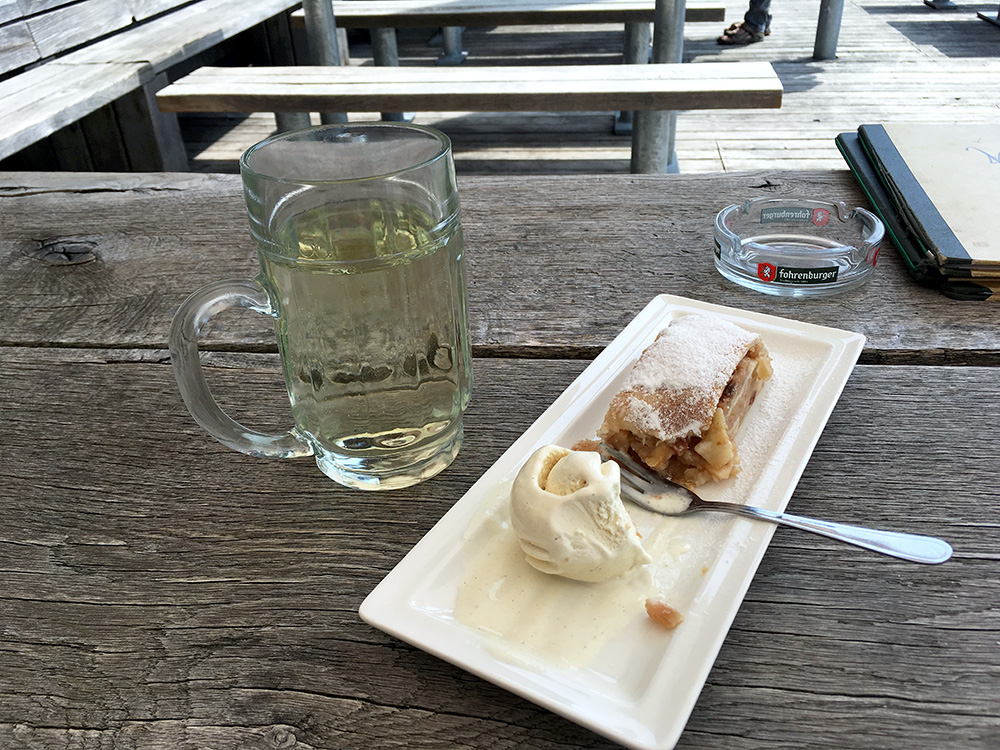 Just like Stoss, Millrütte is also a BIG climb (see the BIG challenge). Despite being a BIG climb this is no more than 657hm of climbing (Stoss is only 517hm). This road is quite a hard climb though (contrary to Stoss). It was hot and it soon becomes very steep as one leaves the Götznerberg. First when reaching Meschach it gets a little less steep, but then steepness returns and ontinues so to the end of the road.
Very tired I reached Millrütte and stopped for a holundersoda (elderberrysoda) and apfelstrudel with ice cream (we are in Austria now after all).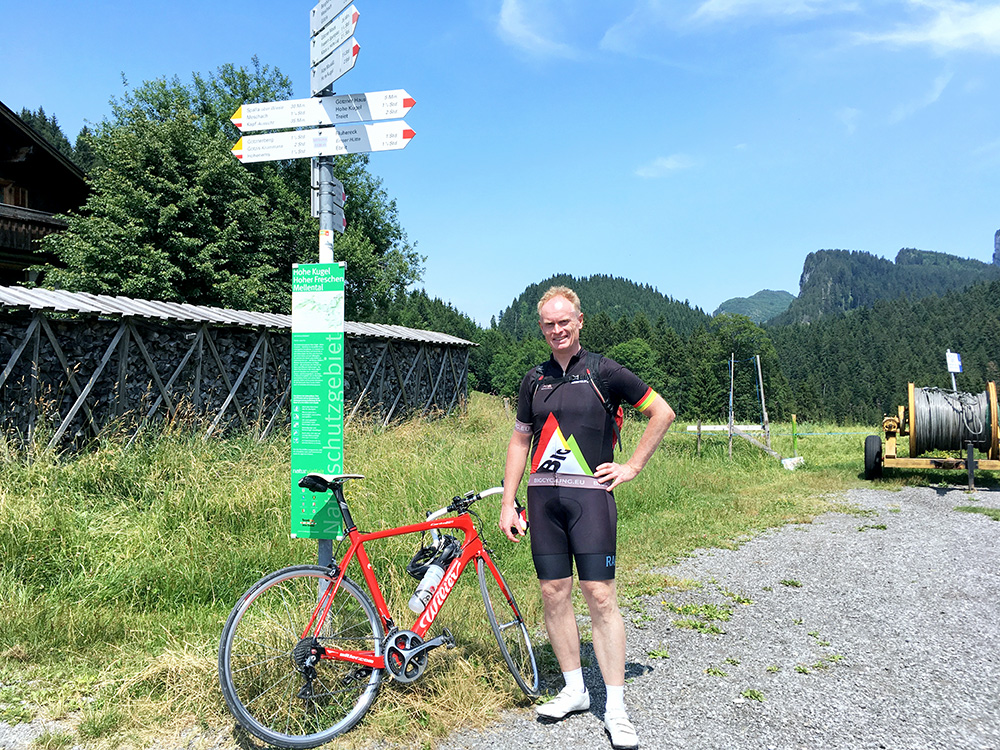 I talked a little with two other guests who have gone up by electric bikes, I think, but they assured me they had been up here before on real bikes too. And of course it is a good choice on this narrow road instead of a car. They snapped aphoto of me at the pass (yes, this is clearly a pass also, but only a path down the other side and some gravel roads mountain bikers use that continues up the mountainside to the right here (no good photo in that direction) – a mountain biker coming down as I prepared to descend also confirmed to me that a road bike would be no good idea on that road ahead there (otherwise it looked a bit exciting further ahead).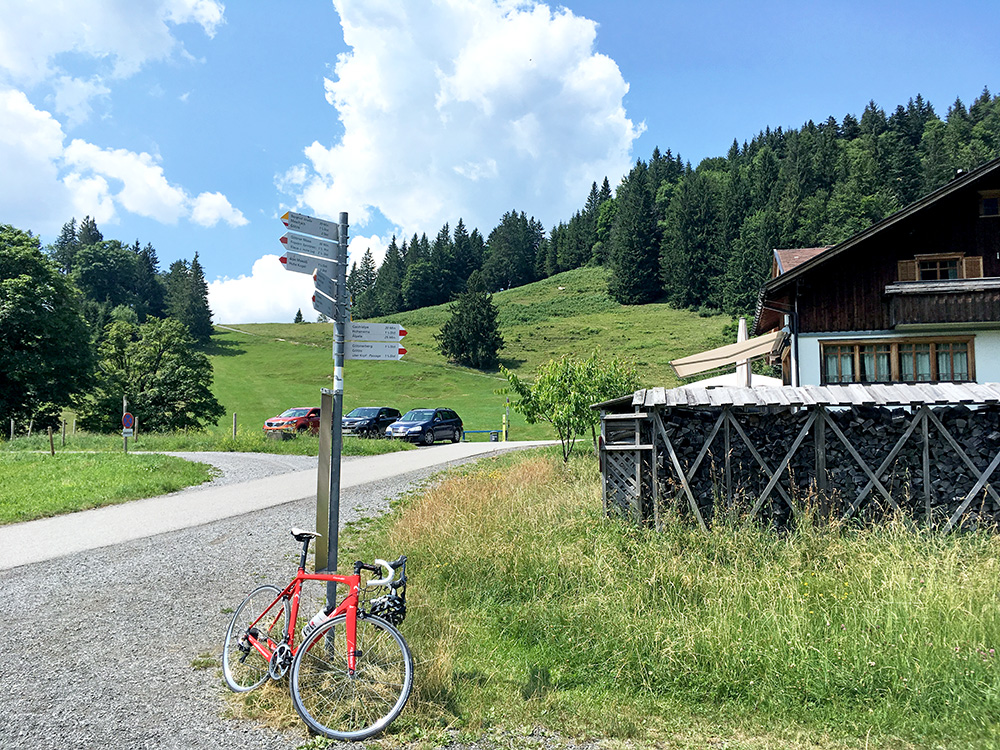 The restaurant and the mountain separating me from Götzis and views down to Bodensee.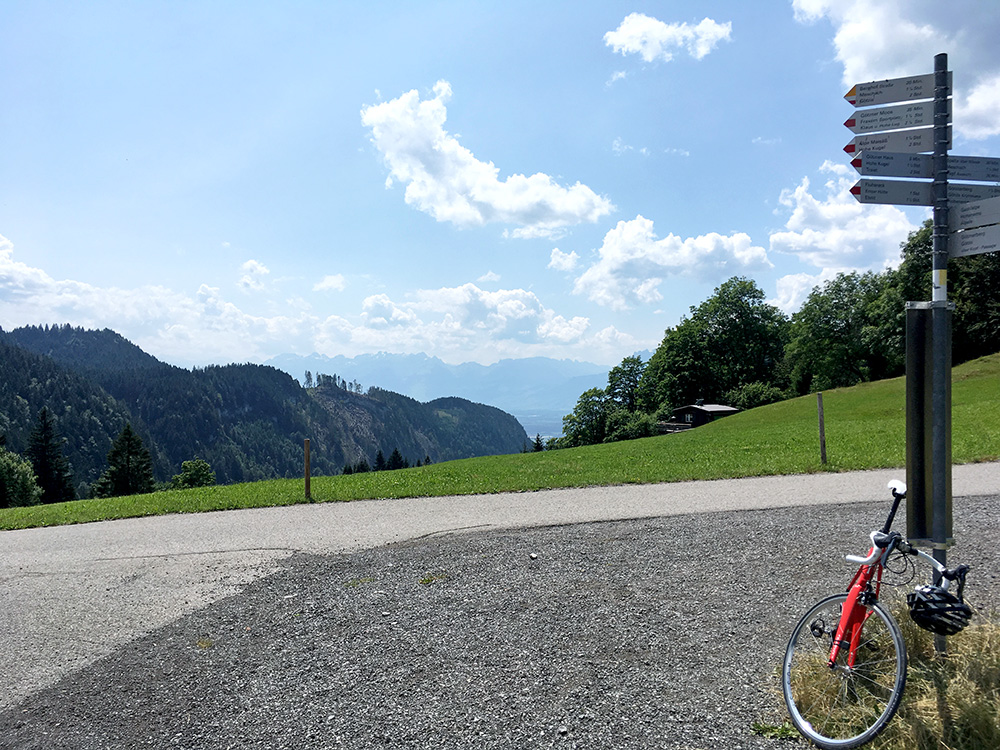 The view back down and over to Switzerland in the direction of Hoher Kasten.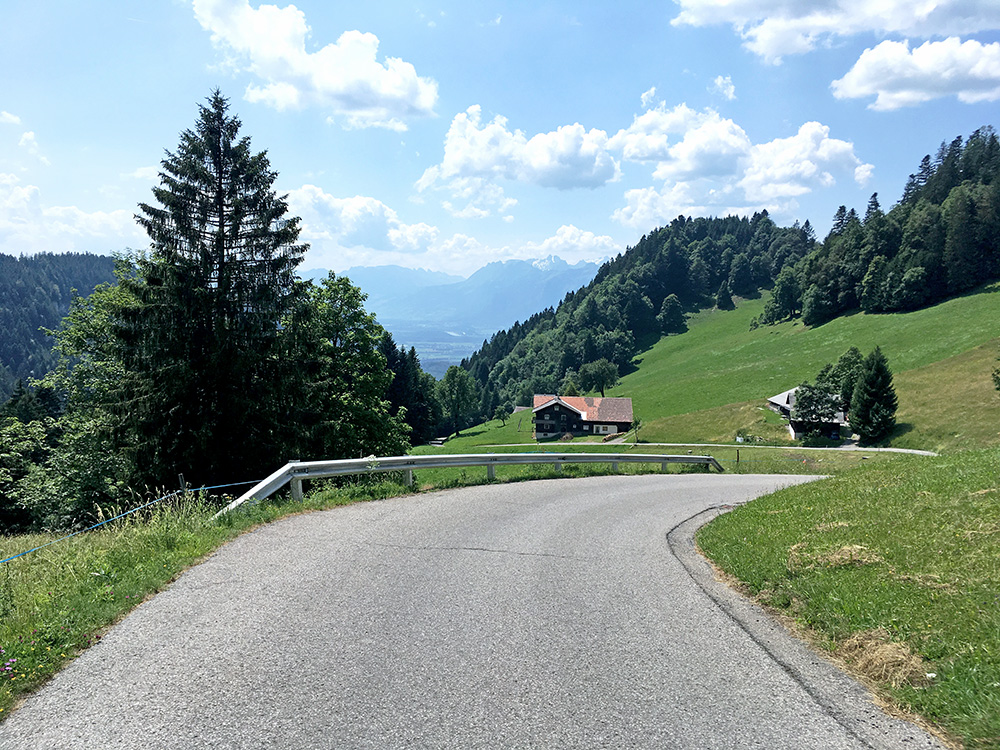 Another view further down. A very nice climb! (Much better than Stoss for sure.)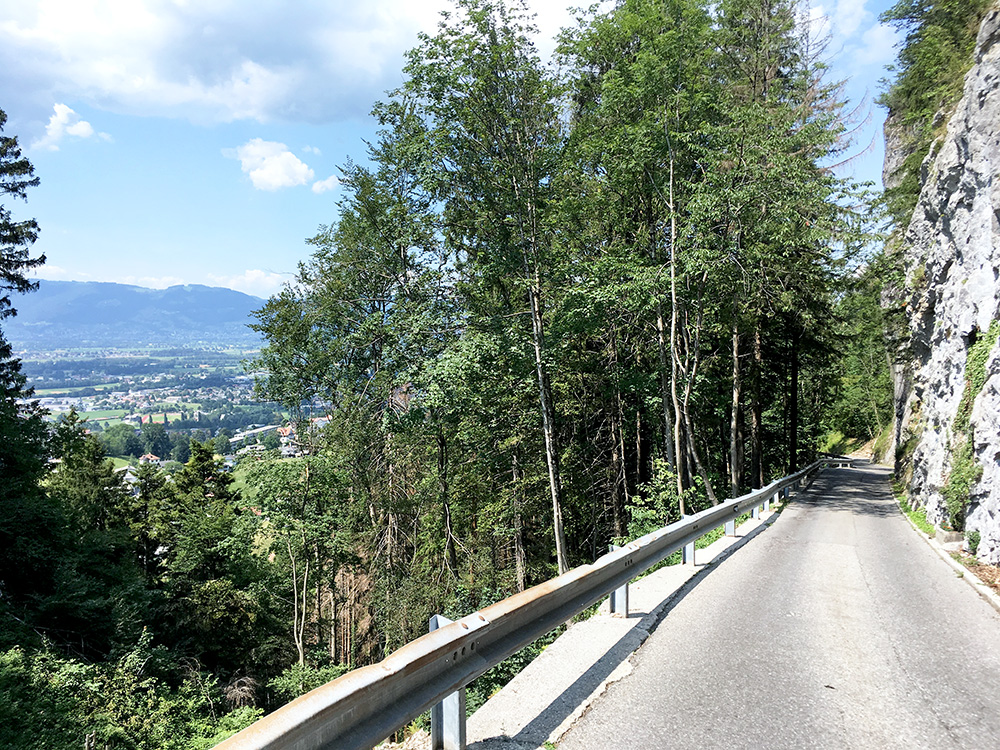 Here is the most exciting part lower down at the Örflaschlucht and one hope to avoid meeting big cars here.
Now it was a long ride taking a short-cut via Klaus to Rankweil and then over the Schwarzer See (564m) (a mini-pass) to Satteins (481m). I stopped for coca-cola and likely a sandwich at a grocery in Satteins. I continued over the Ill river at Schlins (490m). Then I continued up toward Bludenz, but after crossing Ill again twice I took off up the Brandnertal. The climb starts just as you pass under the motorway (552m).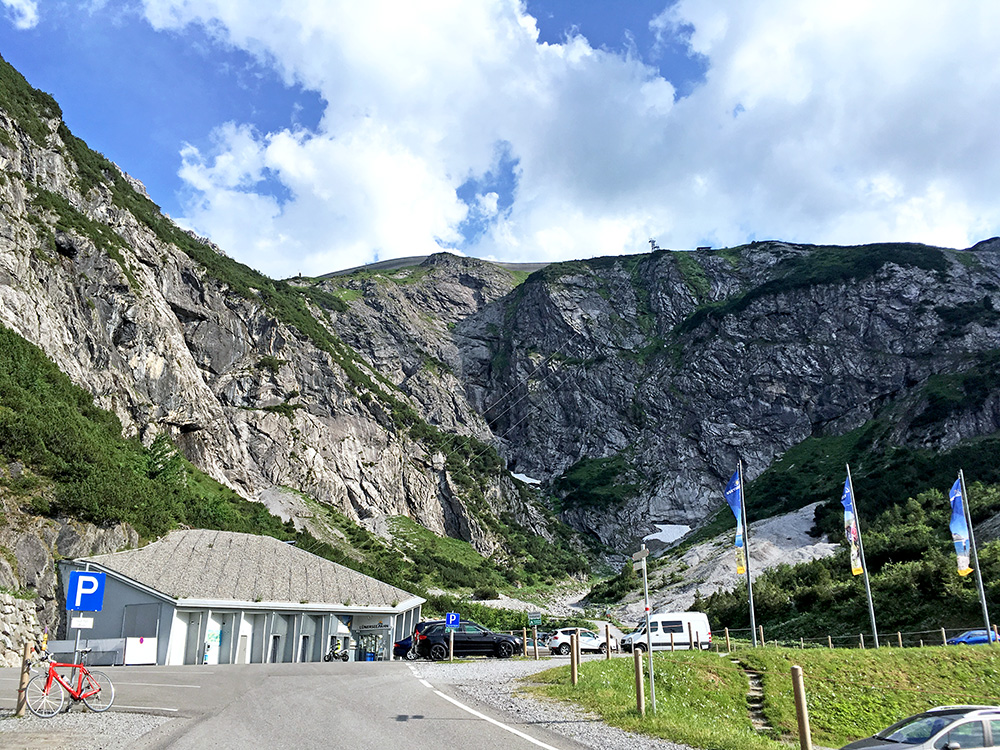 I just kept going up the long valley and was almost feeling like stopping a bit before the end, but continued and got to the third BIG climb for the day at Schattenlagant/Brandnertal (1566m). Unfortunately there are no way up the mountain to the lake above except on foot or via the cable car.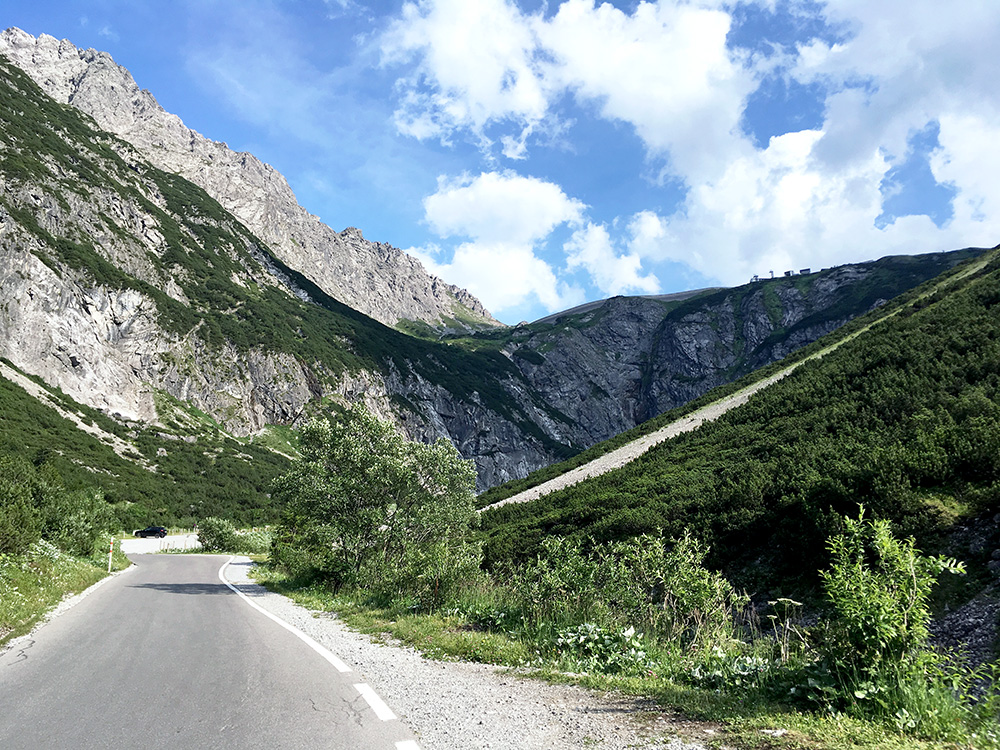 This was still a nice climb and I could enjoy it a bit more on the way down.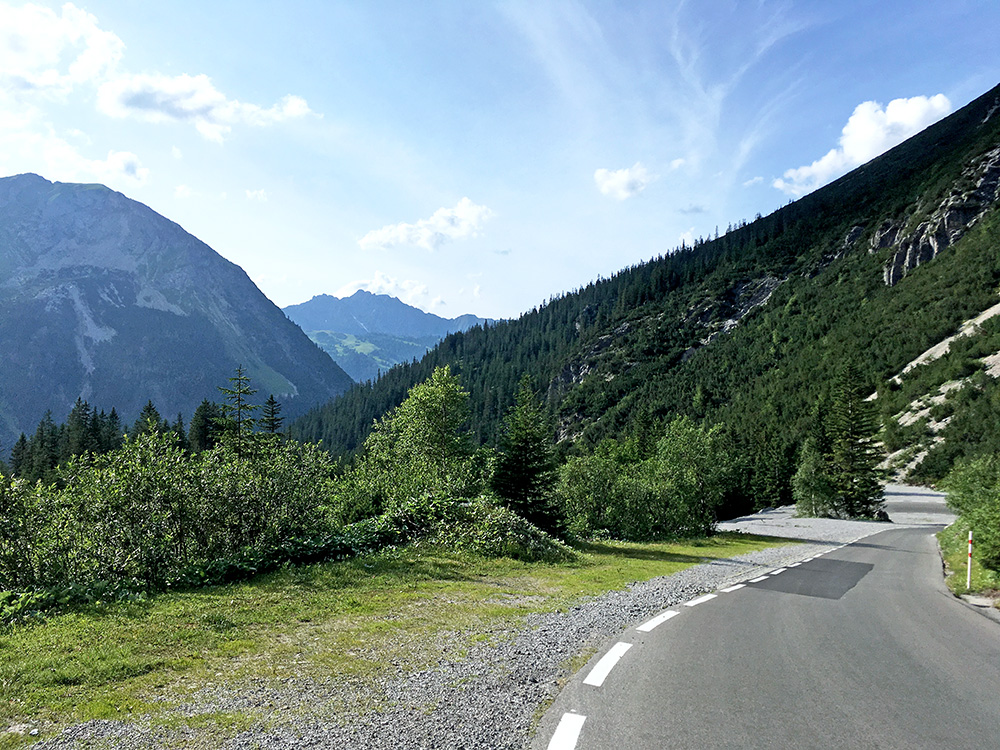 I stopped by the only open place near the end – a bit below here in the photo is the Schattenlaganthütte. I had something to drink and then continued back down the same way to where I crossed Ill from Schlins.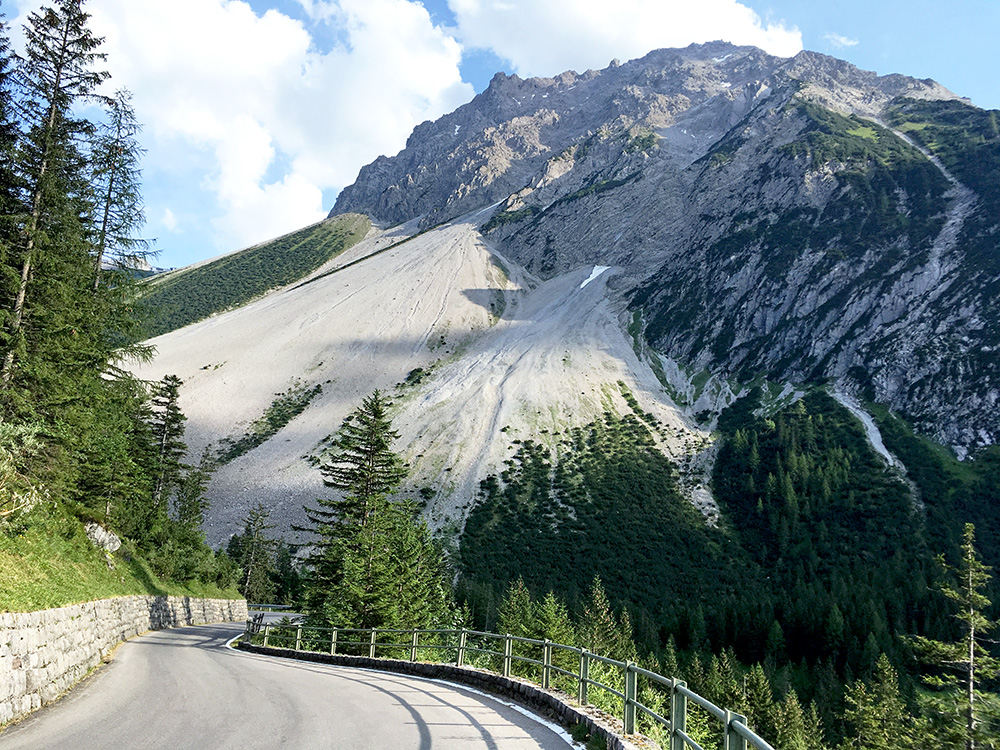 Here is one of the nicest places on the climb.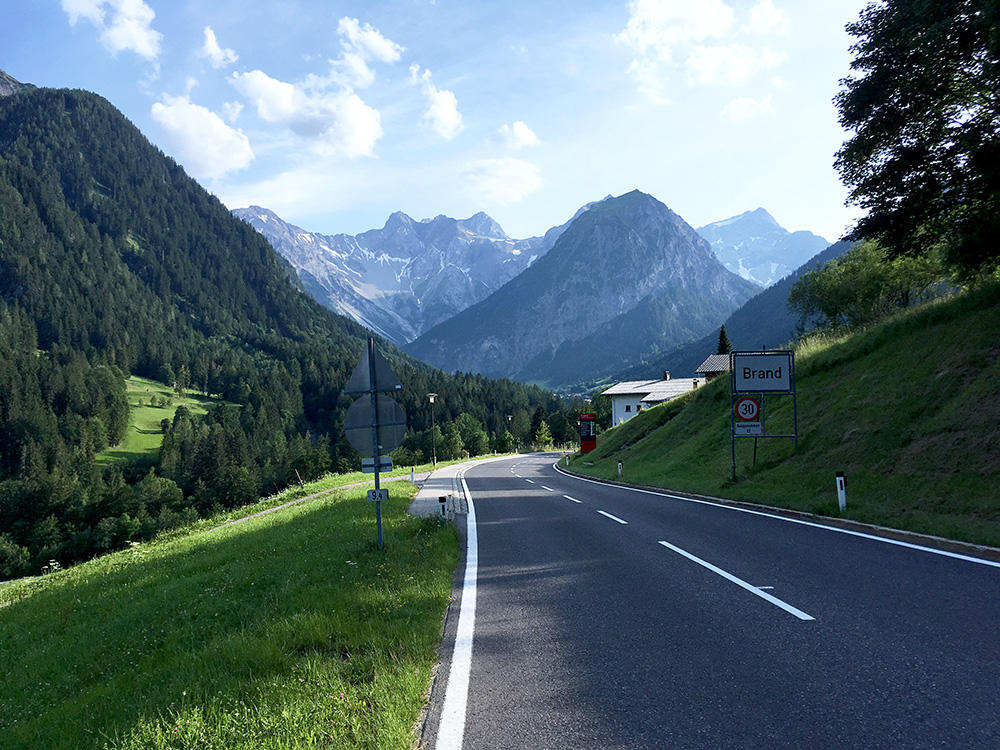 The view when arriving at Brand (where the road descends a little) is also quite nice. The climb continues up to the left in the photo.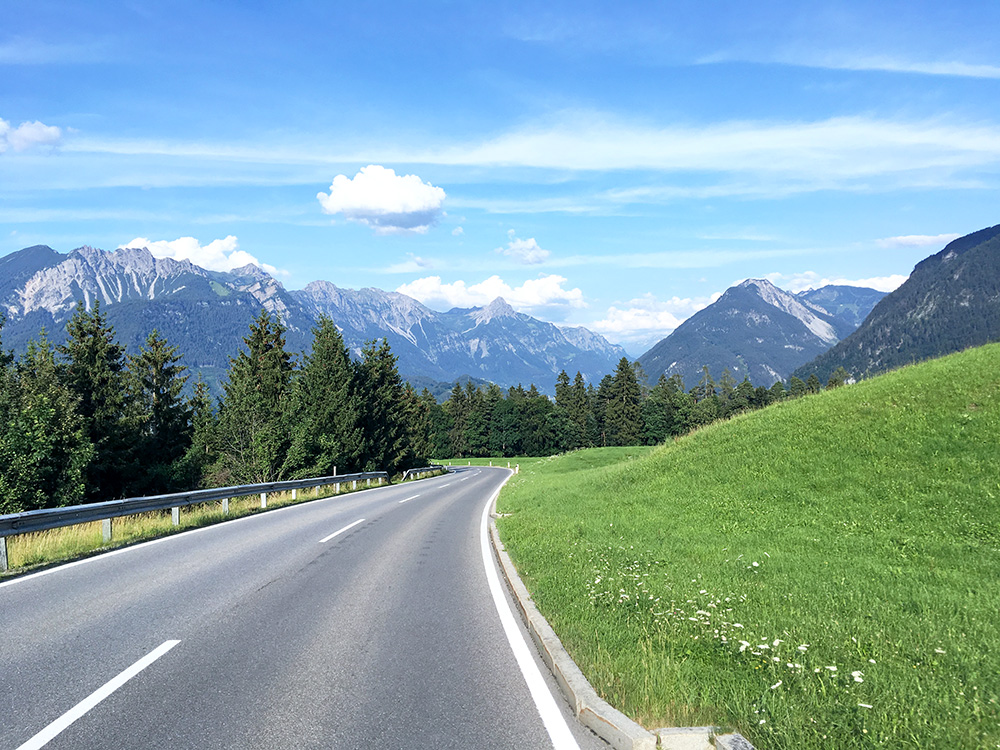 Looking eastward on the somewhat long and curvy final section down from the Brandnertal. That was the last photo for the day, but hardly the end of the day.
I continued on the main road down to Feldkirch (455m) and found the little turn-off I noticed when planning just before the tunnel down into the city. Then the same way as usual now right into Liechtenstein and at Nendeln I took the road down over Rhine to Haag in Switzerland again. Now I wanted to stay near Buchs for the night and continued up there, but could not find any place to stay at. The Landgasthof just were I came up, might have been an idea, but it looked overcrowded with people and I was not sure they had lodging (could have asked). after fooling around there for a while I went up to Gams, asking on the way in Grabs for a place. In Gams there were seemingly two places to stay at, but both of them referred me to the other place (close by) as they apparently was not aware that the other place was closed for lodging. So after still some more time I had to go back down to Haag (439m) where I started around an hour earlier and there was an obvious hotel by the roundabout. It was a simple hotel, simple food & room, but nice people and a fair price (Hotel Kreuz).