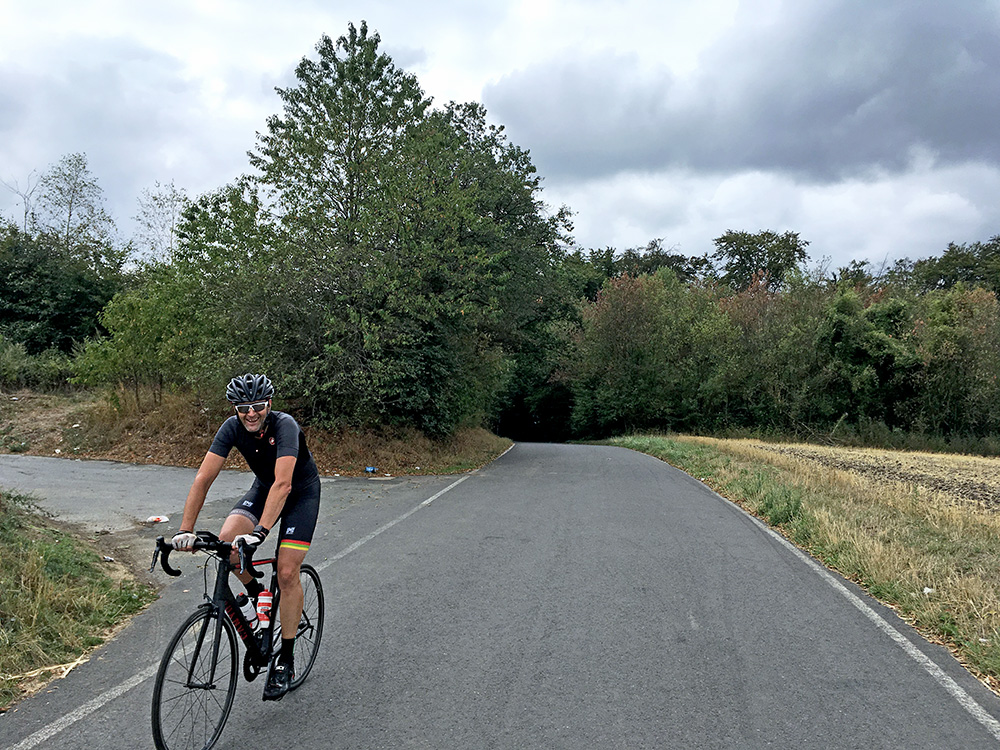 We started this day down from Heiligenhaus to follow the river Ruhr to Baldeneysee and cycled around this lake (a big swelling of the river). Apparently one of the big houses overlooking the see was the house of a prominent nazi. We stopped for coffee before starting out on a round climbing almost all the hills around Velbert (well, not all, but several ones). On the one in the photo (Langenberg?) Dirk was really going hard. I started out a little slow after Dirk, but had a tough time overtaking him, but thought he aksed me for a photo of him at the top, so of course I had to push on and deliver! (Apparently he had asked for something else I later learned.)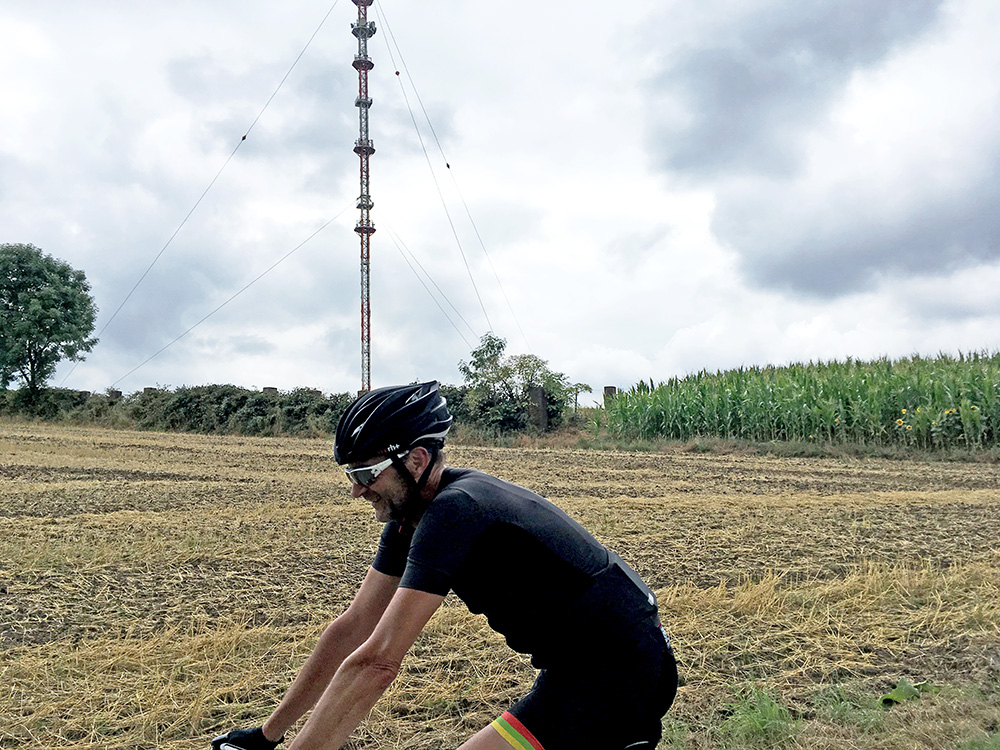 Another of those many sender masts at the top here – always a good sign you are relatively high up for the area. There were many more hills and we mostly went in good speed, so it was all leisure cycling.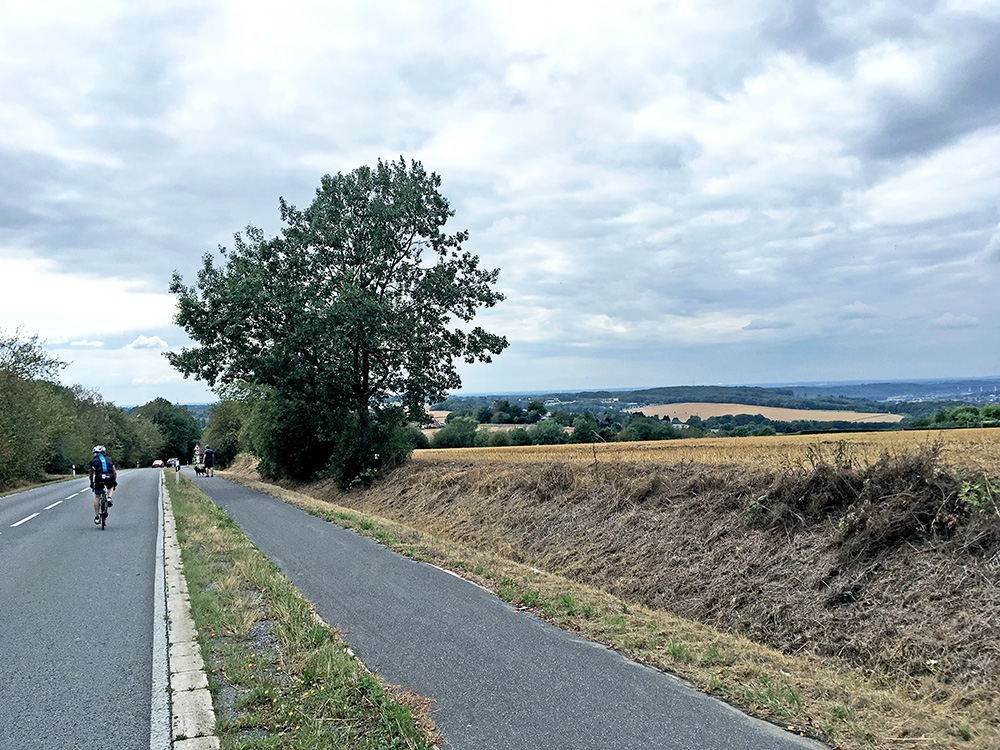 A final photo for the day when we split up toward the end of the day (not using the bicycle lane for a change!). This is on the road between Heiligenhaus and Velbert (I joined Dirk most of the way there as I had waited for him in Heiligenhaus at the start, so we made a similar distance). Another cyclist passed me by after leaving Dirk and is looking to the side of the road and being worried because he heard someone shooting with a gun. I saw a man standing just behind the trees along the road with a gun shooting and not sure in which direction. I got back without accident though.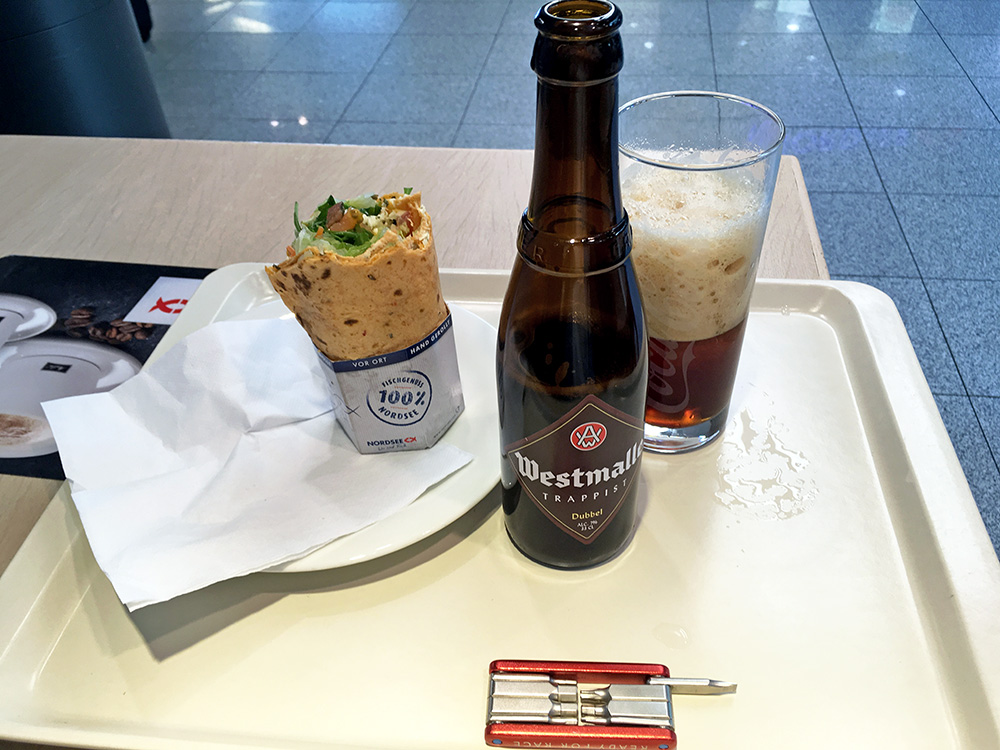 Dinner in the evening in Solingen (remember the good steel scissors!) at a good Italian pizzeria near where Petra had lived long before and knew the owner well. The next day there were some time before I needed to go to the airport and we played mini-golf, where I was about to win the second round, but failed on the last hole where I had a hole in one on the first round, but this was Petra's game and apparently she had been one of the best players there ever, so just to congratulate her on winning both rounds!
Got a few Belgian beers from Dirk that he promised me when leaving Belgium and managed to find a place at the airport where I could get a plastic mug with some ice to cool the beer a little (not perfect maybe for this fine beer, but good enough). A nice visit where all went quite well. I was going back home for close to 7 days before a final 9 days of cycling in the very Eastern Alps. That story I decided to just ad on this one as it continued straight on, but not quite so.