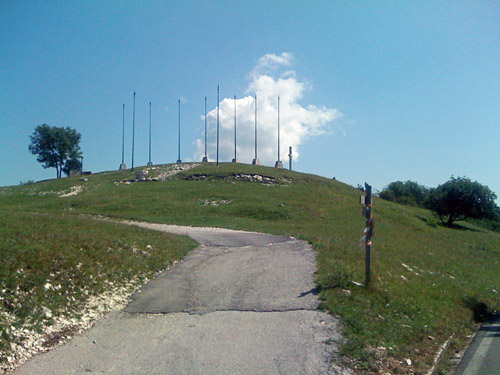 Now the weather was better and more hot again. The day before I had perfect cycling temperatures at around 17-18 degrees Celsius but thought it was cold as I had gotten a bit used to the heat in the previous weeks, but now the heat was back. It was a nice start up the road to Cavaso del Tomba this morning. Soon after Cavaso you see a road called Via Monte Tomba and could guess, correctly, that is the one to take up to Monte Tomba. It is the steepest and shortest of the three roads up there (the one from Pederobba has two variations where one is deemed harder than this by salite.ch), but I did not find it so very steep as I had thought it should be – maybe because it was the first climb in the day and having climbed the steep sides of Monte Grappa made me used to steepness. The climb starts at 259m and first when you enter the woods will the steep climb start up to Monte Tomba (869m). You can cycle up to 860m, but the last little bit you will have to lead the bicycle up to the monument from where you have splendid views in every direction and I took many photos here.
Then I continued over Passo del Tomba (864m) (only sometimes referred to as a pass) down to Alano di Piave on the other side of the mountain. I stopped lower down to fill up with water and exchanged a few words with some locals there. Then I managed to take the wrong road, but quickly realised I was going the wrong way and turned around to cross a second bridge and then soon found the smaller road to San Vito and Valdobbiadene. I stopped by a grocery between these villages and had a sandwich and coca-cola. This was one of those perfect stops that are so great when cycling in Italy. Small shop with quick service and the man knew at once what I wanted and I could pick a nice local cheese. It costed like 2 euros and tasted great.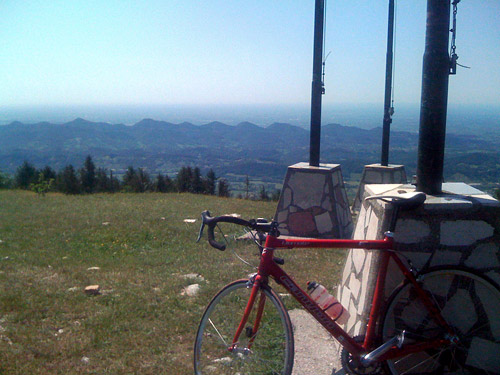 In Valdobbiadene there was a market making it difficult to get through the village, but I wanted to stay on the right road so I would not get lost and went through the market. Then there was a nice road that climbs and descends between the villages along the road. I stopped to take a photo before Santo Stefano (I think). The high point (411m) is just before Combai. (Down at the bridge before turning off on this road it was 178m.) I continued until Follina (214m), where I turned off to Valmareno and asked a man about the road to Passo Praderadego (very difficult to pronounce like the locals, apparently – I tried to practise it on the climb). It was not difficult to find the road as it is the only one continuing straight up the valley here.
It was so hot that I felt like I was melting away, but big parts of this climb is in the woods. When the road started to climb there was a sign saying the road was closed (or at least during work days). I saw no work going on and continued. Not many maps show this road as a through road, but oddly enough the Michelin maps shows it (but gives no indication of any names along the road or if there is a pass here). This is a much more fun climb than the nearby and very popular Passo San Boldo climb and here there are many real serpentines on a lonely road. This is also much steeper and higher. Eventually one comes to a gravel section where the road is sometimes cut into the rock wall, but here the road is almost flat for a kilometre and quite easy to use with a road bike. I had thought before that there would be a long and difficult gravel stretch based on the little information I had found, but this road is absolutely no problem in dry conditions with a road bike, apart from the steepness and heat.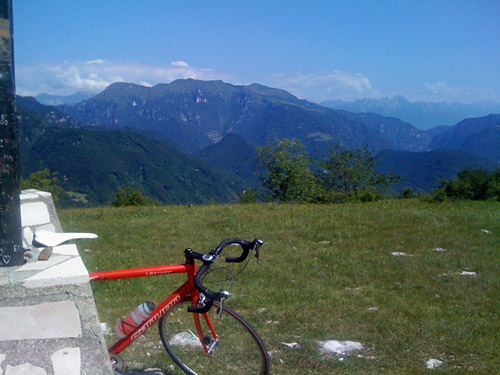 Before one reaches Passo Praderadego (914m) the asphalt returns in the woods and it is very good as seen in a photo here. At the pass the landscape opens up a bit and a bit below one has nice views ahead. There is a restaurant at the top, where I stopped for an ice cream and to look on the map and ask about a possible short cut to Passo San Boldo, which apparently is only a gravel road that did not come across as if it would be faster, so I decided to descend and start the climb to Passo San Boldo from below as it is anyway an easy pass.
The first part of the descent, I had forgotten, has a very steep long section. This climb is hard from both sides. At the bridge at Valmaor (474m) the road starts to climb up to Carve (544m), where I stopped for a nice photo. Then I took right and got down to Trichiana at Ponte Ardo (337m). In Trichiana it was still hot and I stopped by a grocery that had just opened after the lunch break and had a coca-cola and maybe a banana.
The road up to Passo di San Boldo (704m) is, like I said, very easy. This is really a minor pass, but it has become quite famous for the quite extraordinary serpentines with the curves in tunnels on the south side. This side is also more like a regular pass in terms of steepness at 7.5% on average. There are 18 bends on the short climb. I stopped for a few photos and went through some of the tunnels against the red light as I could see from above which tunnels had cars and which had not on my descent, but it may still be prudent to obey the lights (as things could change while you are in one of the tunnels). Soon I was down in Tovena (238m), where I continued eastward on the same road as I turned off at Follina just some kilometres west, hours earlier this day.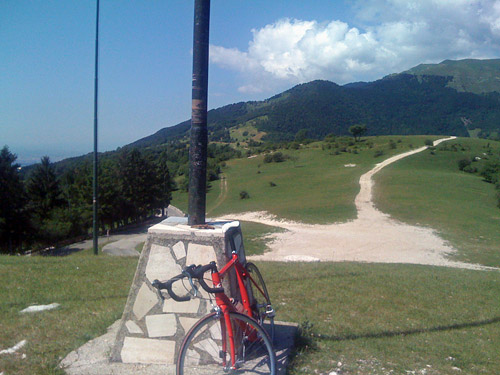 Now I was going down even lower to the base of the plain on the south side of the Alps, as it is. Luckily it was now getting later in the day and the heat was not such a problem any longer. Vittorio Veneto looked nice, but has a very trafficated narrow road through the city centre that more or less cannot be avoided as it runs through a gorge at the start (there are apparently two roads through). I had remembered the road and had looked a lot on alternative roads down here, but had come to the conclusion that I could as well use the main roads to get through the area most quickly. So I guessed my way (not too much guessing really) down to Cordignano (56m) on a busy road with houses and businesses almost along the whole stretch.
At Cordignano I escaped this boring road when I turned to the east to follow the foot of the mountains again. I stopped after a short distance to visit a grocery before they all closed for the day, then I continued toward Aviano. The road here was nice and I saw some other cyclists here. I noticed some roads up the mountains and I had originally planned to also visit the Piano del Cansiglio via Passo La Crosetta (1120m) and had spent more time on planning this part than any other on my tour as it was difficult to get all the places I wanted to visit this time into a good tour, but now had redesigned the tour quite a lot and decided to go over Passo della Mauria once again, which I had not really wanted to do (the reasons for this will not be very obvious for anyone even looking on the maps, but read on … ).
There were not many places to stop at along this road and even though I was late, I thought I really had to do one more climb this day and just crossed my fingers that there would be a place to stay at for he night up at Piancavallo, where I was heading (or possibly I could continue down to Barcis on the other side, if there would be time). I turned off the road at Pedemonte (158m) and here the climb starts up an amazingly wide and good road, which was quite unexpected. Obviously they had got a lot of money for building a road up to the ski resort location of Piancavallo.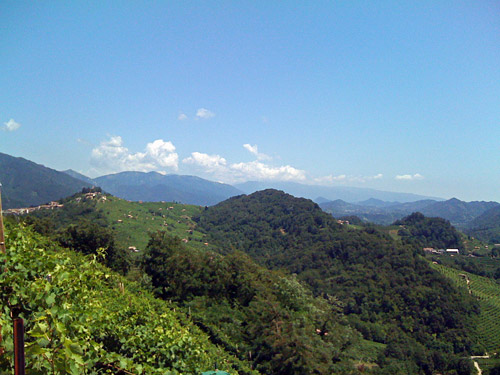 There are also at least one more asphalted road up here, but that is actually easier than this climb and makes more sense taking if coming from the east. I met several cyclists descending at first and they looked a bit curious at the guy going up this late as it was not likely that I would be able to get back down while it was still light outside. But I tried not to think so much of the lateness and enjoy the road instead. It was quite nice going up here this late with so little traffic. The road is a bit steep, but as it is such a good road it was not too problematic. Near the top there are two alternative roads where the right-hand alternative goes higher and has better views, so I intended to take that one. Now, I was looking for this road and thought I had been climbing for long when I came to a hotel and a road going right.
Now, this road started to go down, but I could not quite see where it was going so I kept going on for some time to see if it wold continue to go down. I thought I had already seen the other road coming up at an earlier place, but now eventually realised that this was the the alternative climb up here. So I had to climb back up again and lost another 15-20 minutes. When I eventually came to the next crossroad, there were no doubt that it was the right road to take off on. The road over Collalto (1367m) was not a very good road though, but it was clearly nicer than the alternative. I had no good views for a photo this late in the evening though as it would be too hazy and difficult to discern much in a photo.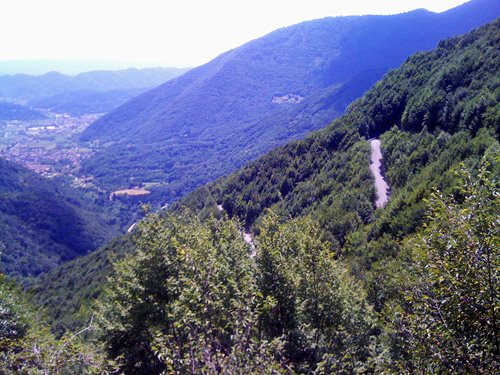 It started to get a little chilly and I really hoped to find a place to stay at now. It all looked very quiet up here among the houses even if I met a couple out walking up at Collalto, who also looked surprised at seeing me in the late twilight. There was a little slope down to Piancavallo (1290m) and just before getting down there I saw a sign for a restaurant and thought that I better start asking for a bed at once and turned off here. The nice guy there told me I could sleep there and even though I seemed like maybe the only guest for the night, he made me a very good dinner with wine and everything for a good price. Perfect!