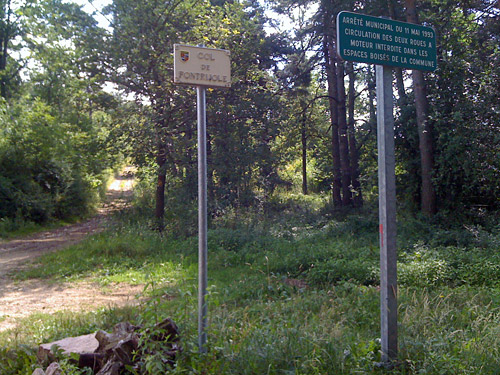 So this was the last day and Philippe had been very nice and prepared detailed notes for me so I could find the different minor cols in the area, which might have been a bit difficult otherwise (esp. the first Fontrijole pass). This was mostly a day of just taking things easy without stopping to bicycle totally. The roads are moderately nice out west from Lyon. The views are far reaching, but most things are too far away to make the views interesting. Toward the west there are many nice and less busy areas in hilly landscape far away from any touristic areas.
I had asked Philippe if he knew of any restaurant along the road for lunch and he knew there were one above Col de la Luère, but he had never been eating there. I did find the very small one-way road to Col de Fontrijole (501m), which is found by noting an electric pillar almost on the main road just before one should turn. Then I returned and went back for a while to Pollionnay, where I had a coca-cola, before climbing the good road to Col de la Croix du Ban (604m). On a gravel road one reaches very easily the nearby Ancien col de la Croix du Ban (605m), which had a proper pass sign (like the Fontriole one in the photo here) even though on a track in the middle of the forest. (Two pass signs indeed.)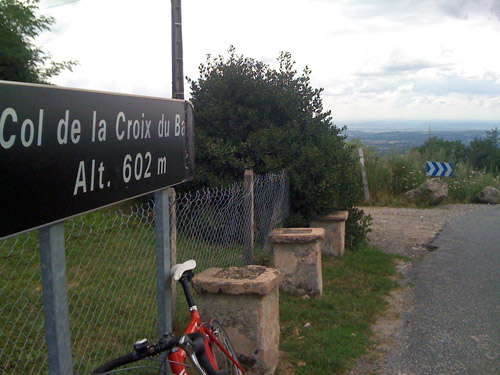 Then finally over the mountain and down the west side to St. Pierre-la-Palud, where I turned off to Chevinay to climb up from the west to Col de la Luère (715m). Here followed the ridge road to the restaurant at St. Bonnet, which turned out to be quite a nice restaurant. I decided to have a lunch here anyway as a celebration of the completion of the tour. I had a menu which was quite good (I think it was rabbit for the main course) in the nice restaurant (only slightly chilly sitting there even inside, but superb in every other way). I had parked my bicycle in a nice way outside. Eventually I got out the the chilly weather, but soon got warm again. It got a little bit more sunny too eventually.
Next up on the ridge was Col de Malval (732m). Soon thereafter were good views down toward the Lyon area. I came down just above Yzeron and turned up on a small road to Col de la Croix de Pars (812m), which was the second highest pass for the day. Here Philippe had suggested that I returned back to climb up to the last pass for the day and in retrospect that would have saved me a lot of time, but I had thought I had seen a different road going back up from the other side of this pass on the map and descended, looking for an asphalt road going up the mountains, but never really got sure on which it could be – I think I saw it, but for some reason got unsure (maybe it was not asphalted) and decided I could as well descend all the way to Ste-Foy l'Argentière (447m), which was quite a descent.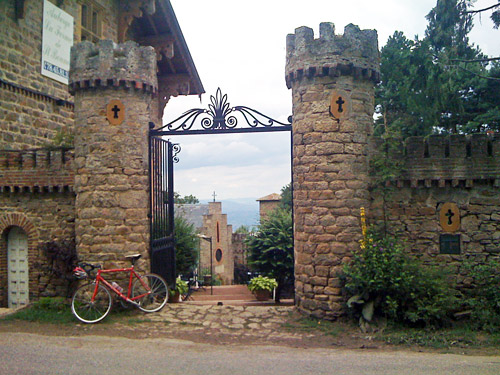 The climb up from Ste-Foy turned out to be anything but easy. It was quite a climb to Col des Brosses (866m) via Duerne (ca. 800m) (which also seems like a pass) from there or so it seemed this day. It looked like and easy ride back down to Messimy and this I surely hoped as I was getting late. There was one more pass on a partly gravel road that I had thought to do on this descent, but it was too late to look for that now. Well, now the road below Yzeron turned out to be quite bad and there were road works and the road was long and winding. Thus it took quite some time before getting back to Messimy. It was getting hot and the traffic started to be frequent as I approached Messimy as the work day was coming to an end. I got back too late to Messimy, but I thought we had extra time enough to get down to the airport in good time.
Philippe was calm, but I was hurried to get going just in case. If I had known just how difficult it could be to reach the airport at this time in Lyon I would never have believed we could have made it down there in time, but I had thought it could not be so long as it does not look so very far away on the map. But the airport is on the opposite side of Lyon and the roads are jammed at this time on a friday (esp. so in the Summer). Luckily, Philippe being a cyclist and good driver, knew many alternative roads and thanks to this knowledge we managed to get to the airport just in time (only had 5 minutes extra when arriving at the check-in). Then, as usual, many French people are always keen on trying to find problems where there are none and the lady at the check-in made no exception to this golden French rule.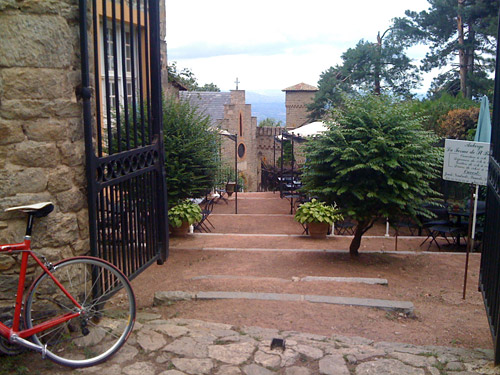 She suggested I had no ticket for the bicycle and would have to pay a lot extra and that she had no time for this now, so I could forget about travel home this day etc. Being a bit used to obnoxious french people, I proceeded to get out my iPhone to show her my ticket that I had saved as a PDF in Dropbox and before I managed to get it to show on my slow iPhone 3G, she had made a call and suddenly it was all fine. Then we got to the security and I said goodbye to the very helpful and nice Philippe! I found the right queue and luckily there were almost no one before me. Still the guy here wanted to show he was a real French too and suggested that I would not get on my plane as I was too late (which is kind of strange given that I had kept the deadline at the check in and there was no queue at the security, then one wonders … ). I said something to the effect that he was a funny frenchman and that I had no time listening to him. Right after another man oddly showed up and told me which gate to go to. It was the usual wait before the plane left. Not sure what the hurry was about – I have been terribly much later than this on many occasions without problems. It all ended well though and I was home safe according to the plan.