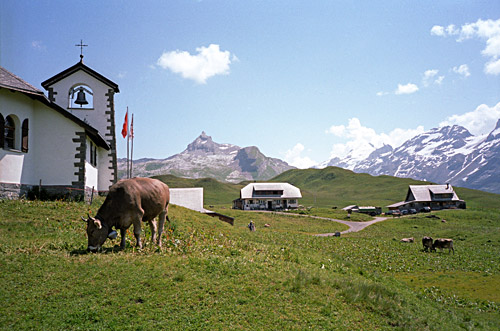 Lovely start of the day (again). The road from above Flüeli into Melchtal is a quite nice little road. It is flat or slightly downhill until it meets the main road up the Melchtal. Once on the main road in Melchtal it got hot already this early (Well, I guess it was around 9 am.) The road climbs a little here and there until I reached Stöckalp (1073m), where the toll road up to Melchsee-Frutt starts. The road is open the first 40 mins every even hour going up and every first 40 mins odd hours going down. I was coming up apparently while it was open and went ahead. It is a very narrow road and found it difficult to keep on the asphalt while the many cars passed by. It is not a good idea to try this climb on a sunny Sunday in the Summer.
The climb is sustained and quite steep at 11% on average for 7.5 km. (Profile at Salite.ch) I had most cars overtake me on the steepest part a little after the toll station. I usually think the first climb of the day is not so difficult even if steep, but this was hard and it was quite hot as well. I was not going to take a rest on the climb though and with a little determination I got up just fine. At the top the climb continues a bit up and down on a road not allowed to visitors with motorised vehicles, which was great, but even so there were a lot of people walking all around.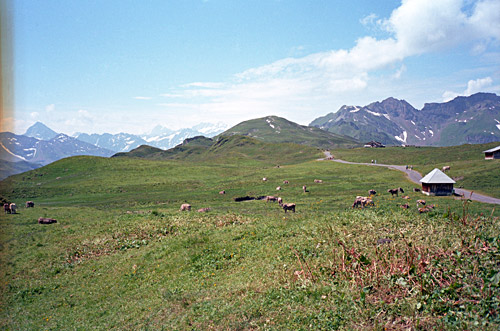 All the cars, somewhat unfriendly, busy people was however easy to tolerate given how nice it is up here. It is great being up here in good weather. I continued by the Tannensee to the end of the asphalt road by a big restaurant at Tannalp and treated myself to a big coca-cola and ice cream there. there is no marked pass up here, but looking closely on the map makes it clear where the pass is located. As you can pass (walking) on paths from the Melchtal down to Gental, clearly this must be a pass, even if not so well defined in the geography. The pass location is found at the end of the lake (marked as 'Fachshubel' on the Swiss national map) and the height is 1980m. From here the road goes down to Tannalp from where a path continues down to Engstlenalp (1834m) by the end of the Gental road. One could conceivably walk down with the road bike (might take half an hour or so), but I was not heading this way, so I returned back down to Melchsee-Frutt.
When I was about to start the descent I remembered the regulations and I had lost all idea of what the clock was or what the times was for getting down. A man told me that I could not go down for quite some time and that I would have to wait. But I was getting very impatient as I thought I had spent all too much time up here already and really need to get going in order to get a bit further this day. I said I could not wait and he just told me I was not allowed to go down. I went down any saying I would go slowly and hope he would not call for guards (or police) to take me off the road. But he looked kind of nice.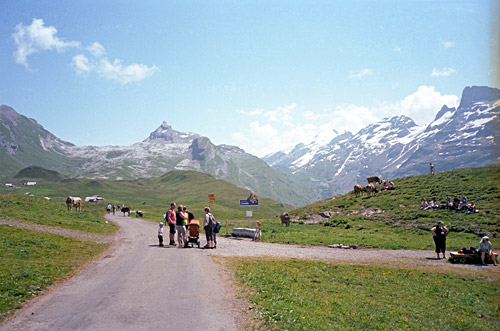 However, I must say that you should not go down on this road against the traffic unless you are really desperate. I read somewhere else that they thought this road was wide enough for cyclists and cars. It is more dangerous to descend than you can imagine! Car drivers going up are also not happy about seeing someone coming down when they do not expect this. I was not far from being hit by a car even though I think I basically had stopped by the road side (as I did a few times when I saw that I would meet someone at a bad place). At least one car driver got angry at seeing me, but on the whole it all went well as I was indeed extremely cautious. So try and check the times for going down when coming up.
It was a sigh of relief when I got down after Stöckalp without any problem. From here there it is a very comfortable ride down the Melchtal to Kerns (564m). Soon thereafter the next climb starts up the reputable Ächerlipass (1398m) (the high point is at 1458m on the west side before the pass). This is somewhat similar to the climb up the Melchsee-Frutt. It is 10 km, but it is during 5.5 km that you have the hardest part, which is slightly steeper than the Melchsee road, but it is also a bit wider and with much less traffic. It was not less warm as it was now in the middle of the day and the climb was truly hard – it is hard to claim that this is not a difficult pass in any weather.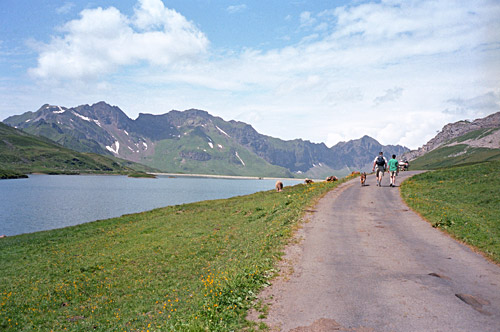 It is a rather wooded climb, but with some views here and there over the valley below. Not particularly nice, but a classic climb nonetheless that I now finally got around to do. At the top and the higher section on the east side is quite nice with open views to the northeast. It did not feel so very steep on the other side, which is usually rated as the more difficult side. There is only a shorter stretch far below that is a little steeper and apparently that is what should make this side harder, but to me the sides looked about similar and the west side is at least as hard as the east one.
It was a quick descent to Dallenwil (485m). After a little wind against me in the descent I could cope with the heat down in the valley again and continued to Beckenried and the ferry there. I had not decided until there whether to take the ferry in Beckenried or continue over Seelisberg to Treib to take the ferry to Brunnen in the opposite direction that I travelled in there in 2008. It was not a long wait for the ferry in Beckenried (a bit before in Niederdorf, actually). The ticket office did not open until the ferry was about to leave (a bit confusing). I had a little ice cream by a bar nearby while waiting. I had hurried not to miss the ferry down there, which can be a bit dangerous, I noticed, as people keep running around on the road by the sea there.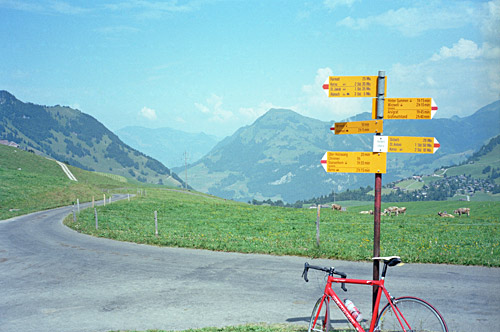 The ride over the Vierwaldstättersee was nice again even in this more humbly looking ferry. I talked a little with a man also out bicycling (on a regular bicycle) and took some photos. The ferry arrives a little outside Gersau (435m) by the big Rigi mountain that I keep looking into climbing up one day (there is one possible road from the other side with only a short gravel passage that should be fine for road bikes apart from the very steep finish (and there could also be a lot of tourists here). But I am looking into trying a climb from this side (mountain bikers have some options here and I believe I have found a way up here that might not involve too much walking even with a road bike).
There were rain in the vicinity, so I was trying to hurry on as it seemed to be coming from where I had come. I followed a younger couple riding on normal bikes in quite a good speed into Brunnen as I felt a bit lazy. Waved at them when they turned off toward Zugersee. I continued on my way up to Schwyz. Again I had planned to do some short and hard climbs around here, but as the time was going and the weather looked ominous, I was mostly looking for a place for a coffee or possibly getting out of the area before the rain arrived. I was on my way to Ibergeregg (1406m). I went through Schwyz, but found no place to stop at. I was thinking of taking the less known road over Huserenberg, but missed it. (I asked a man, but apparently he did not understand why I would want to take that road or something such). Just out of Schwyz it looked like chances to get up to Ibergeregg without any rain was less than 1% or so. I asked the man for a restaurant and he said there was one on the way and indeed, just at the end of the houses there was a little restaurant where I decided to have dinner.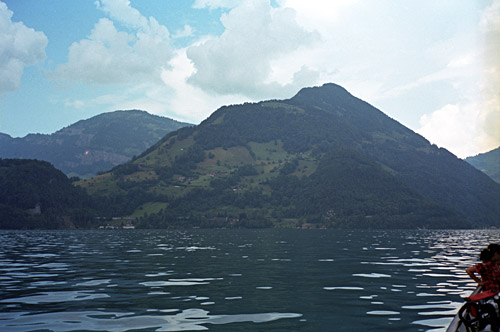 The chief was from Sri Lanka (Ceylon), I think, and he had some specialities from there on the menu, so it was nice to escape the wienerschnitzel variants for once. It did rain some, but not for long fortunately. As it was uphill now, it was no big deal if the surface was wet. It is on the descents where I hate to go down when it is wet (I often go very slowly down to try and keep as clean and dry as possible and having the bicycle somewhat clean too, but that is both hard (for the hands) and boring). So after a good dinner I went off again and now it started to be a bit late already, but I surely was not going to stay here for the night.
The lonely road up to Ibergeregg was nice and even said his to some locals on the way as this was not the time when you see a lot of cyclists around (pretty much like always where I show up, I guess). Iberegeregg has some views of the Mythen mountains above Schwyz, but it is a rather surprisingly boring pass in itself. I had thought it should be a quite steep pass, but it was rather moderate. Even though the evening was coming in and twilight was soon on its way, I was looking to find a little road to another pass that would be a cul-de-sac as well. I knew there was two roads up here to the west going to different passes and that I should not take the first. The first looked like it was hardly asphalted and I guess that was the one to Sternenegg (1499m), which was correct.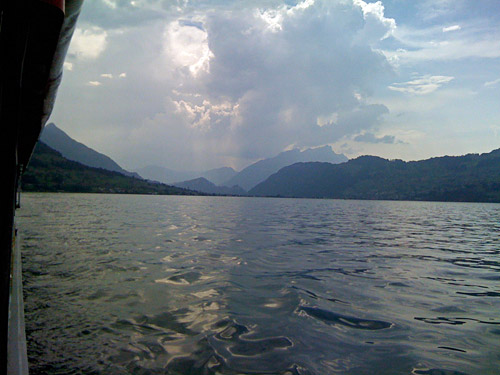 But then I was basically getting all the way down to the next village Oberiberg. Just upon reaching sight of Oberiberg on the last ramp down there, there is a good asphalt road going off to the right at Laburg (ca. 1125m). It was lighter now and the road was almost totally dry. The evening was here, but I thought that I would always be able to get back down to the villages down here even if it got a bit late and I was curious to get up on this road as it was going to one of those few +1600m passes I still had left to do in the Alps. One also get a bonus pass on the way up here, so how could I resist it?
Actually it was quite nice going up this late on a lonely road like this. The climb up to Fuederegg (1482m), might not be so long, but the climb here is quite steep on a very narrow road and I had to sit down a lot as the road was still a little wet in the woods. Fuederegg was the least pleasing place on this road, with some ugly houses and lots of construction work going on. After a short descent there is a road crossing and it all gets a little confusing, but I know that I should continue ahead and up here. After a short initial stretch in the woods one soon can see the area better and views are getting good. There were signs on an asphalt road for another pass – maybe Trittlipass (though this does not look like a real pass on the map), but that road goes only to a restaurant or hotel. It was quite obvious where I was heading and I continued in the direction of going back toward the same ridge which I crossed when getting over the Ibergeregg pass.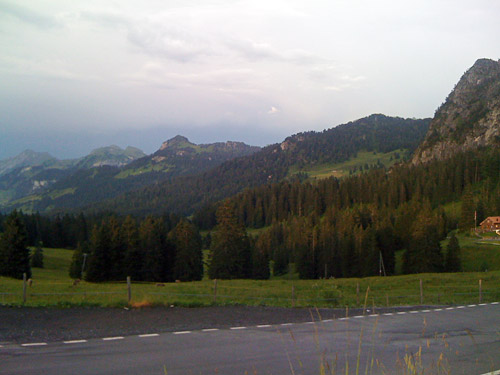 Now the twilight was coming in and now I also faced some more obstacles, but I was not going to go back now when I was so close. There were electric cattle bars across the road and grids on the ground and on at least place there was a rope tied across the road that I had to go over. I had to remember to go slowly on the way back so that I would not run into the rope that could be hard to see in the bad light. The road looked longer than it should be, but finally I was up at Nühüttli (1662m), which has no proper pass name that I know of. I was rewarded by a fantastic evening view over the Vierwaldstättersee before returning back. I almost did not want to get back and if there would have been a place to stay here for the night, I would surely had stopped here.
Navigating through cow dung, I was almost driving into the rope even though I was looking for it. Luckily it all went well. I was a bit worried as it was very lonely up here this late. But soon on the descent I saw there were people sitting eating in the first (or second) little house up here. They had the door open and saw me coming down so we waved at each others. The last bit down from Fuederegg in the woods was almost a little scary, but I had just enough light to find the road down. Mostly it was animals in the woods that made me wary. I wondered it the dog that had followed me into the woods would come and meet me on the way back.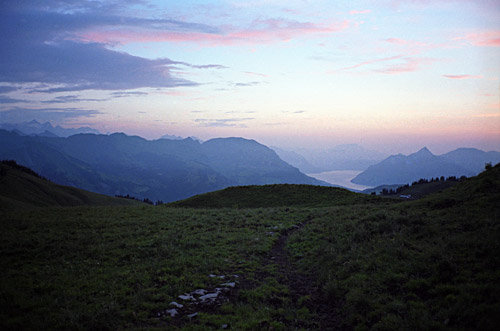 I did not find any obvious place to stay at in Oberiberg and the place looked a bit boring as they had a camping here and it also seemed to be a bit cold up here, so I continued down in the dark to Unteriberg (925m), where I noticed the obvious hotel at the crossing. Tried to look around a little, but found no other place and reluctantly went into the hotel and got a bed. Kind of odd locals running the place (maybe that is just the way they are like here), but all was ok. I cannot remember if I got anything to eat, but maybe I did not ask for it as I had a dinner earlier.