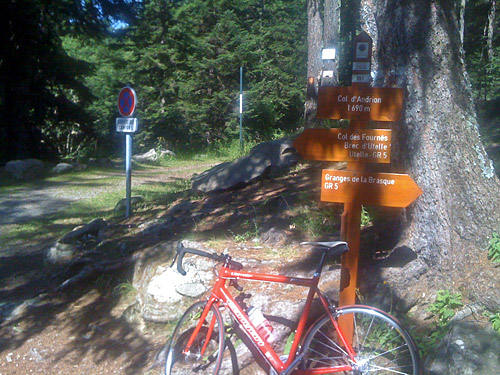 The Belgian guy and me was up at around the same time in the morning. We went down to see if the lady running the place was there so that I could pay my 8 euros, but there was no one there again. I did not want to spend precious time in the morning for her to eventually show up and there were no place to leave money, so I decided I just go ahead and since I would go back the same way later, I could stop by and give her the money then. I took off down the lower Tinée valley in nice weather again. It is a nice valley.
I stopped for a quick breakfast at shop/café by the road at Pont de Clans (301m). They had nice pastries there (at least judging by the amount of flies there), but it was good. From here it is almost flat down the last part of the valley. Just a little before the end of the valley I turned off the road at Pont de la Lune (233m). Here a nice road climbs evenly up to La Tour (647m) (as mentioned as a possible destination for yesterday, but that was a bit much of wishful thinking (that was the original plan, when the idea was to start the day in Mondovi and not in Milano). From La Tour one could go to the popular Madone d'Utelle, where I have not yet been. Instead I continued up here to Col d'Andrion (1681m), which was the pass I most wanted to have visited this Summer as it was the highest asphalted pass in all of the Alps that I knew of that I had not been to previously. (During this tour, I also came to decide that Gestelenpass, Melchsee-Frutt and Les Rodomonts also merits being included in the list, but apart from them this was still the highest.)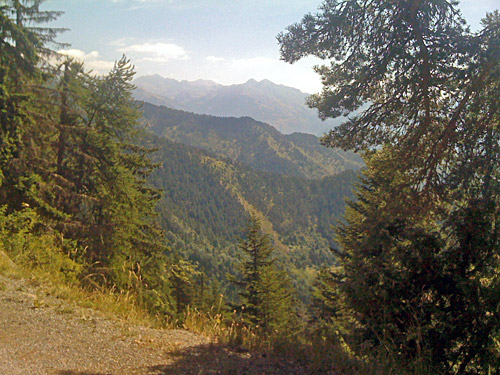 The problem with my planning was that I needed to be in Châteauroux-les-Alpes by this evening and therefore I needed to get as close to the start of this climb as possible, if I should have a chance of reaching my destination. I had promised to finally visit Roland Grimaud after he had asked me several times before and when I had not been able to successfully plan an end of a day at his place (even though I stopped in nearby Guillestre one year). Now I received an SMS from his daughter that Roland would not be there when I arrived as he had to go to the hospital and I felt a bit unsure about whether it would then be a good idea to go there, but she insisted I should come and since I had been planning toward it so much, I thought I better go there anyway and maybe I could talk to Roland later and come by another time again. I think I received the SMS on the way back up to St. Saveur.
Anyway I was going to try and climb Col d'Andrion this day. I was lucky I was starting relatively early as this is a climb exposed to the sun for a good while. The road is sign-posted for Les Granges, which is at the end of the asphalt road, which then continues as a gravel road down the other side. I had originally planned to climb this road from the other side or possibly descend the other side and go over Col St. Martin in a loop as it looked somewhat ok on the Michelin map, but then learned that the gravel road part is really too bad for road bikes and it seems like at best that it would slow me down horribly as the stretch is somewhat long. Also this climb should really be done from the Tinée side as that is the nicest side and the most demanding. This is not just an average climb, but it is actually one of the harder climbs in France (see the Salite.ch profile). It may not look very steep, but then it is worth noting that it is 25 km from the start to finish.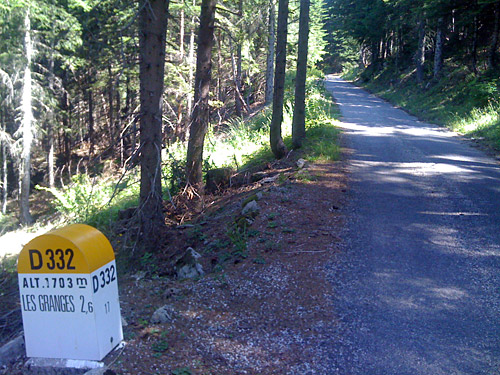 The climb above La Tour is quite nice and a bit steeper than before. The road is cut into the mountain as it gains height through a couple of serpentines. One passes by another irrelevant pass called Col de l'Abeille (922m). Then one reaches a flat stretch where the road runs in ways that makes one wonders where the road really is heading, which is far from obvious when climbing up here. It even descends slightly as it enters the woods, then after a curve it starts to climb abruptly again and now continues steeply up to the pass. The milestones actually suggests the pass height is well over 1700m, but the maps shows otherwise. I just went a little further to see how the views were on the other side, took a photo (2nd one here) and returned back down again. I stopped for water in La Tour and a lady there suggested that maybe it was not good taking the water that ran over the rock surface, but I thought it would not make much difference and decided to use it and not drink too much (I drink too little as it is anyway).
The views on the part above La Tour are quite good and typical for the Alpes Maritimes. It would have been much more fun if this road could be used on both sides with a road bike and it would surely have seen more cyclists there then. I did not meet any cyclists at all on the road up from the Tinée valley and not too many cars either. The road down from La Tour is very good and quick. So this little detour took a few hours. Now I was going to climb back and continue all the way from Pont de la Lune (233m) to Cime de la Bonette (2802m) (the second highest asphalted road in the Alps), which means a climb of more than 2569m (a little descent at St. Etienne). Such a climb over a stretch of ca. 73 km is not an easy matter for anyone.
I tried to relax and keep a decent speed on the climb which is fairly flat at first. I stopped for a photo of the purple mountains down at the early part. When I got back to St. Sauveur-sur-Tinée (504m), I went to the camping to again see if the lady running the place could be found, but apparently now it was too late. I just gave up and she could e-mail me if she reads this and wants her 8 euros. From here (a bit before really) it is a little steeper up to Isola (861m) and then slightly easier again up to St. Etienne-de-Tinée (1144m), which I thought I had reached without getting much tired, but decided to make a stop for lunch (late lunch now, I guess) and got a sandwich and coca-cola. I sent another SMS telling the Grimaud family that I did indeed thought I would be arriving this evening, but that it could possibly be a bit late.
From St. Etienne, the "real" climb starts up to the Bonette. From here on it is like any other really long and hard mountain pass in the Alps, the difference is only that one has already been climbing for long before. I had remembered the pass as not being so very hard, but I really got that memory challenged on this climb. When I reached Bousiéyas (1883m), I started to feel tired and no wonder as I could see the hard climb above. I was reminded than and again about what Michel Mathieu had told me when visiting him at the first stop on my tour: "I guess you will get used to the daily challenge after 4-5 days" (similar things to what I often tell myself), but it had been hard getting used to the daily challenges on this tour. It was still present, the two months without training and recovery from the accident I had. I continued up to Camp des Fourches, where I turned off the road to get to collect a pass I never went to on my only previous visit in 2002, when it rained. Here a track, which is partly cyclable with a road bike goes in less than a km to Col des Fourches (2261m). A pass well worth visiting on a nice day like this as the views from there are quite fine!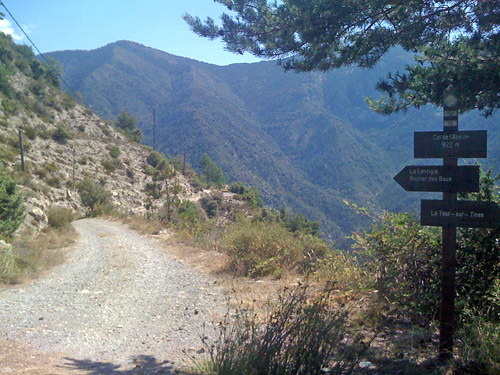 I was thinking I would have got a little rest when stopping by here, but that did not really felt so when I continued. It was still long to go and the closer I got to the top, the further away it felt like it was in terms of my strengths. First I came to Col des Granges Communes/Col du Raspaillon (2513m), where the views opens up to the north for the first time and a track goes to Col de Restefond (2680m), which I could have visited from the other side, but it is not really allowed as being part of the Mercantour park and it is also not possible to use the road bike at all there, so I never went there and one sees the same thing there as at this pass, but in the other direction. This is the original road – the Col de Bonette road was built later. A stopped for a photo and continued. I was getting short on time and strength, but the weather was perfect and it felt like cheating to simply pass over the Col de la Bonette (2715m) and descend the other side without doing the nice loop road to Cime de la Bonette (2802m).
This time, I did not really cross the Bonette pass and went up the south side on the loop road (not sure if that was allowed, but maybe). This last stretch is quite steep and especially feel that way given that one is close to 2800m here. I only got a rainy photo here in 2002, when it was terribly windy and raining heavily up here and I tried to take cover by the monument, which meant I nearly dropped down the steep side and nearly shivered to pieces on the eventual descent to Jausiers in 7 degrees. (Climbing in rain is no big deal, the problem is getting down.) It was just so nice up here now and I had photos in every direction (if only I have had a better camera). One could climb up to the actual mountain top also, but there was no time for that and the views are really good are from the monument area.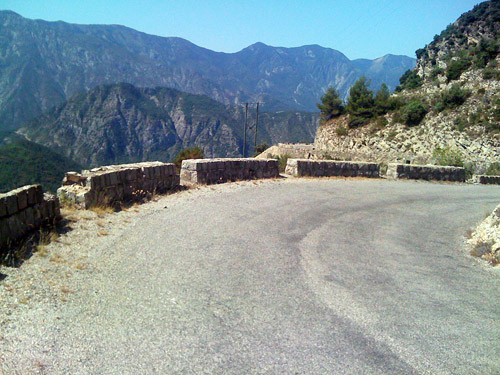 The road was quite good down to Jausiers. One passes by Faux Col de Restefond (2639m) (using this pass as a passage, would entail going over a gravel road here and down toward Bayasse, but you will visit the same pass opening on the asphalt road). It was a lovely and long descent. Down in Jausiers (1221m), I stopped to try and get into the shop there to get something to eat before the shops closed for the day, but the shop was so crowded that I decided it was not worth the trouble and hoped I would find something more before the next pass. I did indeed find a little pastry shop that was still open in La Condamine-Châtelard and here there were no other customers than me. I got a cake and a coca-cola and realised even more now that I was in a hurry as the clock was now almost 19 and I had another big Alps pass to do. This was the last stop for the day. I sent a new SMS saying I would likely be in Châteauroux-les-Alpes around 21 and that it might just start to get dark when I arrive.
I hurriedly started out on the climb up to Col de Vars (2108m), thinking this would be relatively easy as it is just 800 height metres up from the start of the specific climb where one leaves the road to Col de Larche/Colle della Maddalena (1991m). The climbing really starts first at nicely situated St. Paul (1466m). Then it is still pretty easy to Mélezen (1663m), but then when I also was starting to get tired again, as I had hurried on in good speed to here, it starts to get really steep. I had not remembered quite well how hard the last part was of this climb and was indeed a bit surprised now. I tried to do my best telling myself that it would only be downhill from the top, so I could as well spend what I had left of energy here. I did so, but I was still tired and it is five kilometres at ca. 9% on average.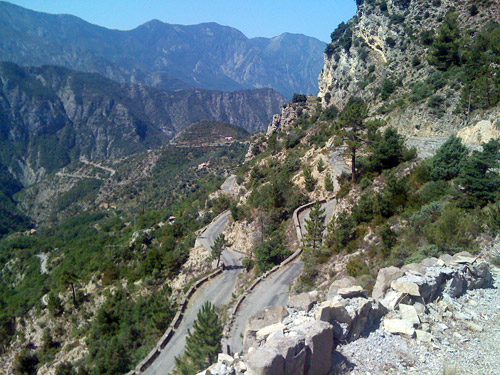 I took a quick photo at the top and then tried to get down as speedily as possible. The road is not very quick down on the north side of Col de Vars and it is a bit flat in the middle – there are even a few metres to climb before the eventual last steeper section down to Guillestre (1037m) starts. From the start of the descent I stopped for a last photo as it was much nice here than I had remember from my previous visit, but maybe because it was late now. I continued down, not looking at maps as I somewhat well knew the road down toward Embrun and intended to take the main road until I had to turn off as it is not allowed to cyclists for the whole stretch (which is somewhat silly). Just when I came to the turn-off, which also happens to be the turn-off (883m) for Châteauroux-les-Alpes (990m), I turned rather dark, but I believe I stopped just out of Guillestre to put on the rear light I had with me.
I called the family just when I reached Châteauroux-les-Alpes as I was not totally sure I would find the way to their house. They walked out to meet me and we managed to see each other in the dark and we walked back to the house. The family had other friends for visit, but were all quite friendly and nice and offered me a lot of good food and even belgian beer and delicious ice cream (that I had the nerve to ask for – well they asked me what I wanted, which is dangerous to do with a hungry cyclist). I guess I talked a lot and the daughter translated from english for the others (as I only found a few french words at occasions). They seemed to knew quite well where I had been on my travel as they had studied my travel plan that I had sent a copy of to Roland. I had passed by the Swiss town where the daughter and her husband lived. The friends lived in Sallanches (where I met my sister and her boyfriend the year before to watch the Tour de France). I only missed Roland and was very sorry to only a 2-3 weeks later learn that things had gone bad at the hospital and that he had passed away. I did not really know what to say, but eventually (after several more weeks) at least got a postcard in the mail to the family. I had really thought I would talk again to Roland via e-mail on my return home, but no – so it goes when one waits to visit someone … . Roland was an old and cherished member of the Club des Cent Cols.