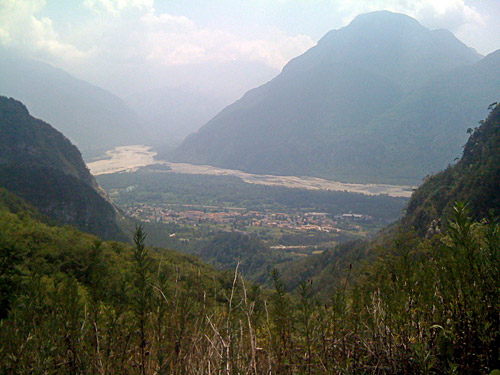 After breakfast I took off, but stopped to have a coca-cola even before leaving Venzone in order to get a little extra energy. I headed straight north toward the fork at the Monte Amariana, where the village of Amaro (288m) is located. There is a very little known climb starting right in Amaro, that I suspected would be surfaced from some comments I found on the Internet and from satellite photos and it looked like it could be a really nice climb with many serpentines (20) and seemingly steep too.
The road goes over a little pass with many name variations Cristo di Forca/Crist di Forcje (983m) (also Forca del Cristo/Forca Cristeit). (Cristo di Forca is the Tabacco map name, which was taken from the IGM map. Crist di Forcje is probably a local name given on the regional technical map and does not appear anywhere else on the web, until know, according to Google. Forca del Cristo is a popular variation. Forca Cristeit has been used and makes sense given that the valley on the other side is called Cristeit, so it may be an older local name variation.)
It was warm and the sun is blazing on this side of the mountain. One is really exposed here. Luckily it was not yet in the middle of the day. It would have been easy to jump over this climb, but I was curious about the road. It is indeed a fully surfaced road even if there are some stretches with only concrete pavement (a bit like on Monte San Simone the day before. Monte San Simone is also what I had in view all the time when looking back. The mountain is really very close on the road here and it looks like chances for rock falls are ample. The climb is indeed somewhat steep although not as steep as some comment I had read suggested. Later this year this climb also was added to the salite.ch site, so you can now see the profile here. The profile suggests it was slightly over 20% at one place, which I cannot quite remember, but it was surely steep here and there (10.4% on average for 6.8 km).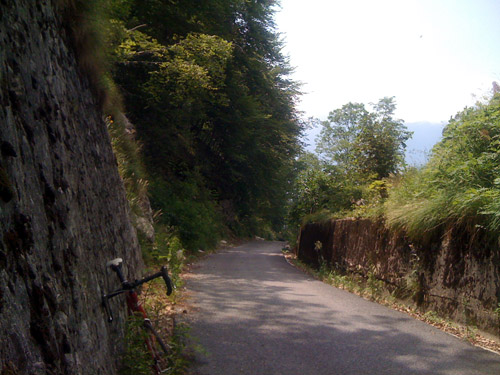 I really liked the road, which was much better than I had hoped and I had it all for myself as there were no one else there at all. There are a few houses on the other side of the pass, but not a single one along the climb (when Amaro has been left behind). This road is often used by people wishing to climb the Monte Amariana and a path up there starts from the pass. It is a little difficult to see exactly where the pass is located while climbing as you are so near the mountain, but you see it approximately all the time. The road is well surfaced on the other side down a steep ramp that I descended as I was a bit unsure as to whether the historical pass might be at the point one descends to here (but that is not the case). The steep ramp (ca. 17%) ends abruptly with a last drainage gully that is pretty bad and I had to brake as hard as I could in order to stop before hitting it. From here a bad gravel road descends further to a house lower down and from there it is only a path going down this side.
I climbed back up to the pass and then a car driver (some kind of worker) had stopped with his car near the pass and wondered if I did not enjoy the nice road (which was kind of an odd comment when coming up this hopelessly dead-end steep ramp), but I guess he understood the main climb and I of course thought that was a nice road. I wondered if he maybe had helped it become surfaced in the first place. This is surely going to be a popular climb when the locals find out more about it (I would suspect few cyclists, even around Tolmezzo, would know that this is a nice and possible climb). Photos could have been nicer in another weather and it was a bit difficult to find great views for photos.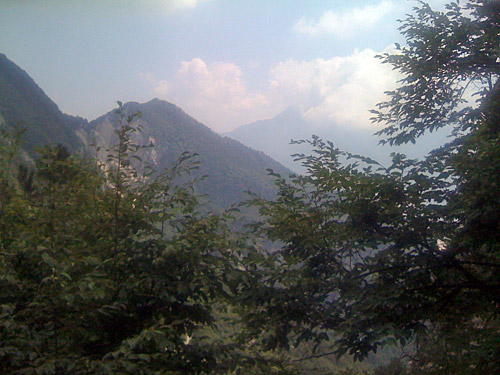 I stopped in Amaro to get something to eat on the way back (by a grocery). Then I continued east to Valle di Resia, where it quickly becomes quite nice as one leaves the busy main valley up to Austria. The road here is pretty flat. At the turn-off for Sella Carnizza (1099m) I instead followed an ice cream delivery truck up to San Giorgio (424m), where I ordered a pasta for lunch and had an ice cream afterwards in a nice restaurant with interesting instruments hanging on the walls.
Then back down the steep slope from San Giorgo and off I went toward the Sella Carnizza (1099m). I had heard that it was a steep climb up there, but had thought the steepness should start right away (at 378m), which it did not really do. It was only a bit after the village one passes through up here that the climb started to get steep. The last 4 km is something like 13% on average and often it is quite steep at 18-20%. I had not remembered it would be quite this steep up here. The road was also in a quite poor state and it was hard to think of this road as a popular through road to Slovenia. It is amazing that this road has been left in such a poor state as it seems like it is a rather popular road, contrary to some much better more obscure roads that I have travelled. There were a short section of new asphalt, but that was all. The climb is not so long and I could get up without getting totally exhausted. Just after the pass are two restaurants to choose between in the small saddle up here. I did not stop and instead continued down the narrow and rough road to Uccea (606m) which is long and winding and not very steep.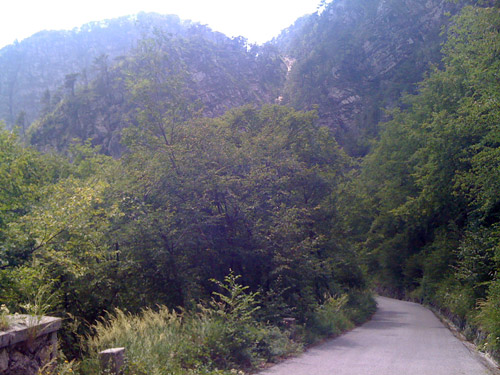 At Uccea one is only metres away from the border to Slovenia that runs through the river below and the border crosses the road a bit further east. But I turned around here and went west again over the next pass, the Passo di Tanamea (848m) which I have heard should be a bit boring, but I found some parts of it quite nice. Especially the higher parts on the west side have unusual views of the wild mountains to the north here. The climb to this pass is easy from both sides and the road is here very good. For some strange reason the pass sign is not placed at the actual pass (848m), nor exactly at the highest point of the road (869m), but shortly after at 867m. The regional map notes the pass here, but also notes Loc. Passo di Tanamea at the actual pass, which is also the place for the bar here (IGM locates the pass where it is). I stopped for a photo at the pass sign.
A bus with tourists from Slovenia (probably) passed me by on the way up here, but not many more cars. The road continues west for some time before it suddenly turns to the south and goes through a tunnel. Just before the tunnel (543m) I had originally planned to try and get up to Forcella Tacia (1087m) and back again, which may be gravel for the last part, but looks like it is a road possible for road bicycles from photos I have seen on the Internet. The continuation to Venzone from here should be something only for mountain bicyclists, even though there have been plans on building a proper road all the way here. I still had plans for the day for yet another bigger climb, however, and could not take the risk at getting too late by trying this minor climb. I continued south down to Tarcento (226m).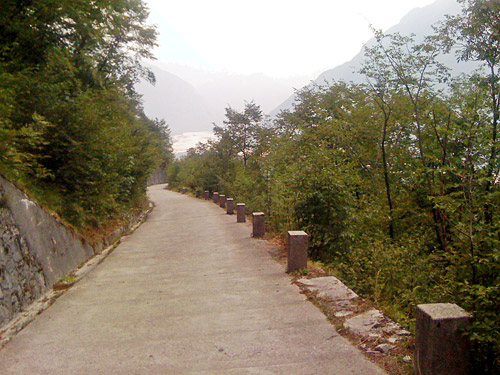 I stopped and had a coca-cola and yoghurt (should have continued to a proper grocery). It was slightly confusing getting out on the right way from here to Nimis (202m). I continued here on the SS 356 road over the easy Passo di Monte Croce (258m) to Attimis. Soon I got company on my way down to Cividale as an older man passed me by I tried to stay with him for a while, but later let him go ahead as he cycled so fast through a small village with bends around houses with no views so I did not dare follow him there (also as I had not been here before). He was probably a decent Gran Fondo rider and had a jersey for such a race.
I had anticipated that there might be problem finding my way through the town of Cividale (132m), but it was apparently a rather small town and I did not even get into the town itself. I was on my way to Monte Mataiur/Matajur, but the time was running away from me and I was quite worried I would not be able to get there this evening and I also was not sure if I could find lodging up there. I decided to forget about taking the safe and easy approach by finding a place for the night as quickly as possible and continued. I followed the SS 54 into the mountains and then turned off toward Savogna (216m below at the bridge at the crossroad). Here I thought that maybe it would be best to stay for the night as it was now close to 20:00 in the evening. I did not see any signs for lodging since I started on the road to Savogna. I went into a bar here and asked if they knew about a place to stay for the night or if they thought that the rifugio at the top of the mountain road would be open.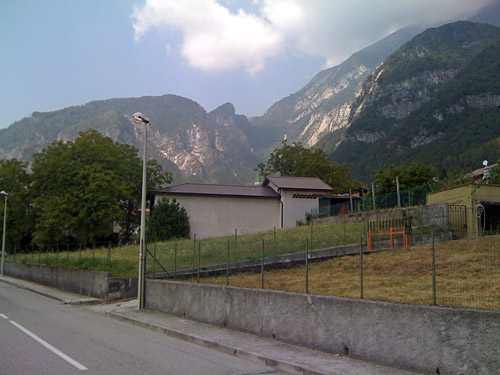 One man there understood what I asked about and told me that there were no lodging anywhere near around here. When I asked about the rifugio, he said it would likely be open and have place for me, but then he looked again at his watch on his arm and wondered if I thought I would get up there this evening. I asked if they knew the number to the rifugio so I could call and make them aware that I planned to get there. After long searching through catalogues and discussion, the number was found and the man called for me, which I was very happy for given how difficult it can be to talk on the phone when not knowing the language (unless they happen to know some english).
Apparently they would wait and it should be possible for me to get something to eat when I arrived there. So after a short enquiry about the best road up there, which wold be the less steep one over Masseris, but which is also a little longer, I said that the steep one would surely be fine with me. I hurriedly took off and was a bit wondering if I had really taken the right road as this one was pretty flat for long. Eventually it started to get steeper though after Ieronizza (360m). I kept a very high speed up as I wanted to get up before it got all dark and I was also worried that they would not want to make any dinner if I arrived too late.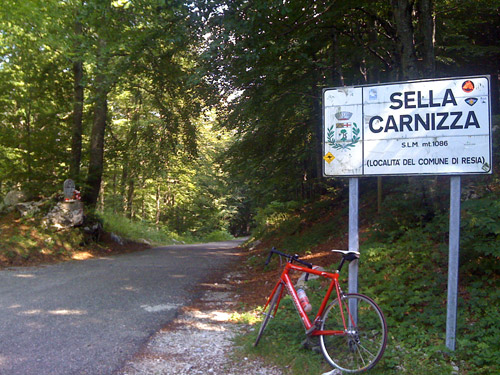 The stretch up on the short cut road through Montemaggiore (956m) to meet the road from Masseris is the steepest part up to Monte Mataiur (1326m) with an inclination at around 16%. When I was up here the twilight was upon me (actually already before reaching Montemaggiore). But now the landscape opens up and thus it got slightly less dark. I continued at a good speed, but now the road, even if quite good and wide up here, is also rather steep. First now I realised that this indeed was a hard climb as it had not made much of an impression on me before Montemaggiore. I had thought it should not be so far up to the rifugio from above this village, but the last 350 height metres took some time to conquer. Almost totally exhausted I eventually reached the rifugio Pelizzo (1326m) below the real Monte Mataiur (1641m).
The views were nice in the late evening, but I was mostly thinking of getting a room and dinner. The guys up here were quite nice and I think I had a shower while they prepared something to eat. It all worked out fine in the end and I was happy to have done this interesting climb, which is the highest in the Alps this far to the south-east. I sat talking and planning for quite some time before going to bed. (The last photo was taken in the morning when leaving.)