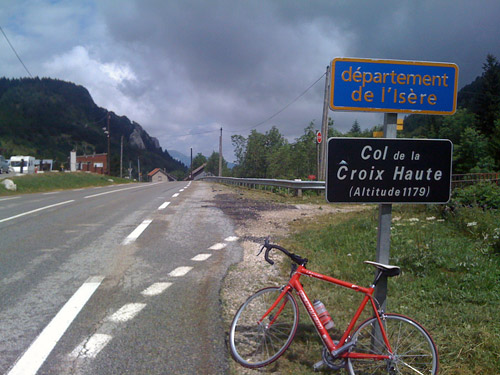 Roland's wife, Françoise, followed me for the first stretch toward Embrun in the morning on her ordinary bicycle and even though her bicycle was heavy I was the one slowing us down. It takes a little while to warm up the legs in the morning after a day like the one before. She is obviously an avid cyclist herself. The weather was perfect as always this Summer this morning. I had not quite decided the final route for the one and a half days left. I had originally made a totally fantastic plan which was simply too long to be possible for anyone to do in a day, so I had an idea of stopping on the way and completing the day plan the last day before leaving from Lyon. I changed my mind later on as we shall come to.
It is always a bad idea to only have a sketchy plan of what to do, and you will quickly find out about this if you try it on your own, trust me! Even with a good plan, things can upset the plans and today I had a little bit of both plus hard decisions to make. I had decided to start with taking the train from Embrun to Veynes Dévoluy (822m), which was part of the plan as adjusted just before leaving (one of two options). This was to shorten the ride a little. The train was almost on schedule, but I had not taken a very early train and I got away from Veynes Dévoluy first at around 11 am, I think. The idea was that I anyway was going to stop and make the last cycling to Lyon in the day after (including a train ride from west of Grenoble (Voiron) to Lyon). I went over Col des Eygaux (914m) on a minor road to meet the road up to Col de la Croix Haute (1176m).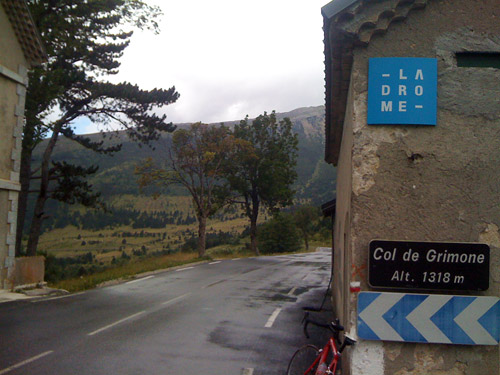 Just as I started out on the road up to Col de la Croix Haute, the weather started to get worse quite rapidly. I had also got some words from the Grimaud family about less good weather in the next two days, which added to my indecision about the plan ahead. I thought I should stop early for lunch, but did not see any place at first and continued up and then saw a lunch place just after the turn-off for the Col de Grimone (1318m). I continued up to the Col de la Croix Haute (1176m) and the rain was in the air. One more pass collected. I turned around and went back to the lunch place and had lunch. I discussed what to get and pointed to someone else's lunch and thought that looked good, but then instead got the other alternative plat du jour with only a salad, which was also good, but not really what I had wanted (so it goes). I reluctantly went out to continue up to Col de Grimone (1318m), and I was happy that it still was dry on the road and no real rain and hoped that maybe I could escape the rain if quickly getting over the Grimone pass, but I was not so fortunate.
I got rain and found no place to shelter, so I simply continued up in good speed as long as it was not too wet on the ground to get dirty and got quite far. Then I slowed down a bit and when I reached the pass it sort of stopped raining. Then it was wet on the downhill and I just hate to get wet by driving fast down on wet roads if there is a chance to keep dry and clean and that roads later might be dry, so I continued down at very slow speed and after I was beginning to think it was futile it all of a sudden got dry again on the road a little after the Grimone village. Down at Glandage (858m), the rain was a thing of the past and it was now sunny and nice weather again. This was lucky as the road here is very nice and the Grimone pass is really one of the highlights of this area! This was the nicest pass this day.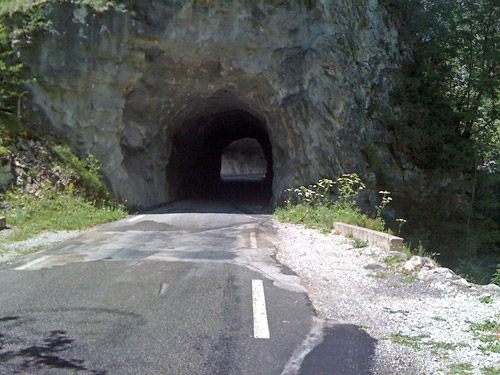 I took the little short-cut over to Mensac (599m) at the start of the climb to the next pass. There are so many passes all around in this area. I continued up the road to Les Nonnières (858m) where I stopped for a coffee and ice cream, before continuing to the Col de Menée (tunnel) (1402m). This is a moderately nice pass which is also not so hard to climb. On the other side of the tunnel I stopped for a photo and a another (Dutch) cyclist that had caught up with me near the pass also stopped and had a photo of me, which he later sent to me (thanks!). You can see that it looks like I have a size to big of the jersey – "body-shaping" as I call it. A nurse I once talked to at work suggested I sent my cycling trip as a suggestion to ladies magazines as a tip on getting slimmer! We talked a little of cycling in mountains, but it was slightly chilly up here so we soon got on our way again (he was returning back down the south side). It was very unstable weather and I did not know what to make out of the forecast for the day.
On the downhill north, one passes by Col du Prayer (1197m). The descent is quick and also has some nice views up the Vercors mountains. Quite obvious is the famous Mont Aiguille (2087m) that sits there much higher than the mountains around it. For some reason I felt like I had lost a little interest in doing more crazy climbs on this tour, which was in part due to the weather that looked ominous up the Vercors, where I had planned to go. I did not want to take chances now that I would need to catch a plane the next day and I frankly felt a little like I had done enough for this tour as it was. More inspirational weather, higher mountains etc. might have changed the story. Anyway, I knew I had to cut out plans to do some minor climbs in this area like Col de l'Allimas (1352m), Col des Deux (1222m), and Col de l'Arzelier (1154m). This made the trip through the area less interesting too. I did however then pass over another smaller pass Col de Fau (899m), before descending to Monestier-de-Clermont, where I had another short stop at a pastry shop.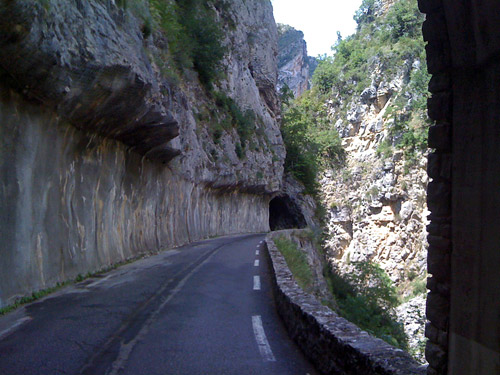 Soon thereafter I had to decide what to do and at the beginning on the long descent to Vif (311m), I stopped to give Philippe Chazottier a call telling him I was going up to the Vercors for the night and would arrive only a while before I needed to go to the airport, which was ok with him. But then I looked again at the clouds up the Vercors and stopped only 200 metres later and called him again saying I was coming to his house this evening. In retrospect, I might have been able to have descent weather by my original choice of going up to the Vercors, but if I would have done all I had planned to do for the last day, the chances of missing the plane at the Lyon airport would have been very high. It was a bit sad as I thus missed out on one more +1600m pass I had hoped to visit and also missed to see the famous Mortier tunnel. Most of all I had wanted to visit the Col de la Charmette (1261m), which is a quite nice and interesting climb not far west of Grenoble that I had read about.
I did a last little pass climb to by-pass the main road to Grenoble and went over Col de Cossey/Comboire (430m) from Claix (254m), which is actually a bit steep up the direct road that I found. The views were quite nice up this minor pass and the road was nice to descend to the (not so nice) west area of Grenoble. From here I continued on the flat roads out west and hoped to catch a train first at Voreppe, where I crossed over to the sunny side of the valley, but did not find the station, so decided to continue to Voiron as originally planned. Here I got on a train sometime after arriving and just before it started to get dark. The ticket machines did not work, but I had no problems buying a ticket on the train.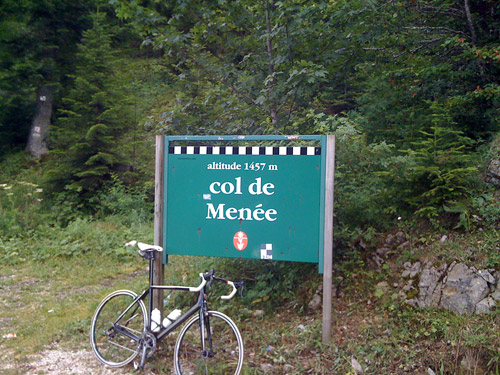 Philippe came and picked me up and I was back safely in Messimy again. Philippe had made detailed notes for me for the next day as I said I might instead want to simply visit some of the smaller local passes in his area, which is just out of the Alps. I had hoped he might want to join me, but he was apparently busy with work (as it was a friday after all). The Alps is east of Lyon and west of Lyon starts the Massif Central.