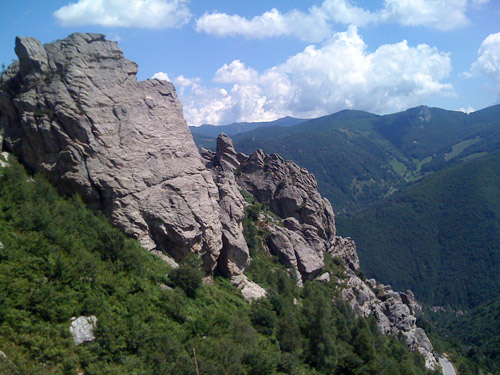 After a quick breakfast in the early morning with Gabriele, he took me down to the train station so I could catch a quite early train south (around 7 am) to Mondovi, via Savona. Even though I would have to cross the Ligurian mountains twice it was faster than waiting for a more direct train to Mondovi (or maybe it was simply cheaper, I do not remember, but it does not make much sense given the alternatives when looking now). After this quite long ride that went quite well (only a little late) I was in Mondovi in the middle of the day when it was quite hot there. But even if it was now sometime after 11 in the morning, I still had a lot of time left of the day and had decided to try and do a decent amount of cycling this day.
I tried to guess my way out of Mondovi, which should not be so hard, but ultimately I had to stop and look on the map, but then I was actually already on the right road. The landscape around the city is a bit confusing even if it is clear where the mountains south are. I tried to find a place early on for lunch. I searched in Vasco, but not find a restaurant and maybe I was a little early for lunch this day. I must have been close to Vasco when I got a little lost here in the area some years ago. I continued on the minor road to Valle Corsaglia. At the top of this road I found two restaurants, the first looked a bit closed and I stopped by the second that looked a bit older and nicer. Apparently they had not quite opened yet, but they could make me a pasta that I wanted. While I was waiting for the pasta other guests already arrived, so apparently they were just about opening anyway.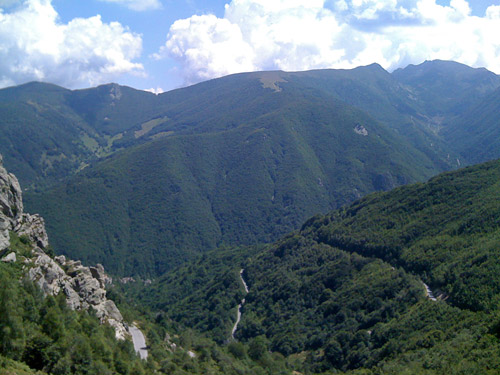 It was breathable up in the Valle Corsaglia and the road was narrow and the valley quite nice. The idea was to get up to Prato Nevoso and Colla del Prel (1615m) from the east side, which I did not know was possible until the day before when I learned of this from Gabriele in Milano. Apparently there has even been cyclosportives arranged up this side. I had indeed studied maps and even satellite views of the area, but this did not make clear if there was a good road on this side but I had seen that it seemed like a new road had been built here, even though it looked like gravel on the satellite views, but possibly those satellite photos are not up to date or I saw another road (satellite photos at bikemap.net on the map at the bottom suggests it is asphalted, but not others that I had looked at). So I had planned taking the well-known regular road to Prato Nevoso until yesterday evening. I must say that I was very lucky to hear about this alternative as it is so much nicer to get up on this side and so much more fun.
Eventually one reaches the end of the asphalt road up this valley and it starts to climb up the mountainside where it first arrives at Fontane, which I think the road is sign-posted for (at the crossroad for Frabosa). One continues up a serpentine road via Vinè and higher up in very long serpentines that makes you wonder if you really are on the right road. Gabriele had told me this road was steep, but thought that maybe these Italians exaggerate a little as it looked rather normally steep at first and for a long time. However, some real steepness appeared when one is starting to get tired already and I can imagine how hard it would be in a race to get to steeper parts when already perhaps going at high speed before. (Profile at Salite.ch.) Then one thinks one is reaching the pass, but something is wrong. Just before here are the best views. Now the road descends again and the starts to climb yet again to the real pass quite a bit away. Prato Nevoso is the ski resort just up on the west side of the top, which has served as a finish in the Giro d'Italia a few times. One could climb a hundred metres higher on the Galassia road here to the top of the mountain, but I did not do it.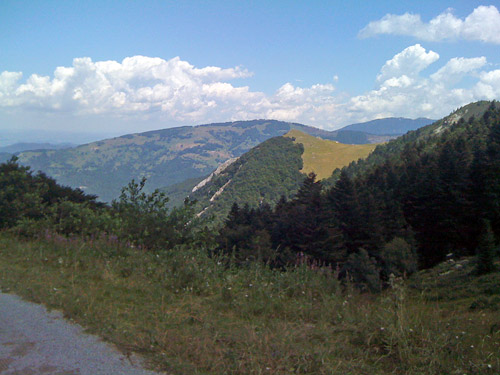 I stopped by a café in Prato Nevoso for a coffee and ice cream and to look over my maps and plan. The road down from Prato Nevoso was good, wide and evenly steep, so it is perfect to descend this way. It is decently nice even on this side and lower down it was nice in the valley also. A recommended climb in this direction. Now, I knew I had some cycling to do before getting to the next climb for the day. I passed over, once again, the Colle del Mortè (709m) near the Lurisia water source and it is a nice alternative to the main road north to Chiusa di Pesio (575m). I tried to find my way over yet another small pass, but also failed to locate it properly (just like last time) as I thought it seemed like I was going through a minor pass, but there is a road still south from here (SP 307 instead of SP5 out of Peveragno).
Then there was the slightly boring road to Borgo S. Dalmazzo (646m), which is the village at the foot of the Colle di Tenda pass. Here I stopped for a sandwich and 1.5 litre soda. The grocery was out of bread, but advised me to get over to the bread shop and have the bread sliced and come back again and so I did. I got some nice local cheese in the grocery and the soda and was sitting outside eating as usual (so much better than visiting a bar or café – I feel sorry for those poor souls that only stays at such places!). It was a lovely day and people were nice here (I had thought it was a bit busy place the last time I passed by). Now it was already ca. 16 in the afternoon and what I was about to do next would be best to not tell anyone about, or they would have thought that I was crazy.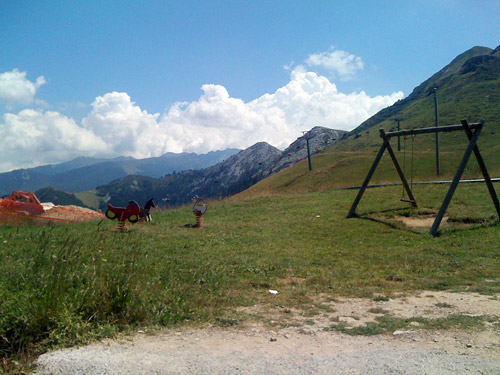 I went up the main road in Valle Stura, the one that goes up to Col de Larche/Colle della Maddalena (1991m). This road is a bit busy up to Demonte at least. I had thought about taking a smaller alternative road on the south side of the valley (that I travelled part of back in 2002) and wondered if I would find it and if it would slow me down. The turn-off seemed too obvious even if there were no special sign for anything and the road very narrow. Given the traffic and how nice the road looked, I could not resist it and I turned off according to the plan. It is indeed quite a nice road in the first part that I had not travelled before. It is perhaps also not so very good and has a few slightly dangerous places (if going in a good speed like me). The traffic is very sparse here though and I met almost as many people walking and cycling as driving a car, and there were not many of either.
This road, which I suspected, would not be all flat. I had remembered something about it going a bit up and down seeming a bit longer than on the map. It almost passes a little pass-like spur in the mountain at one place where it goes up and then down rapidly again. Eventually I reached the main road at Vinádio and had escaped like 25 km of the main road through the valley. At Vinádio (876m), I decided I had to fill up a little bit more as I would not get anything more to eat before the late evening. I decided to get an ice cream and coca-cola at a grocery there. Now it was close to 18, I think, before I took off to get on my last climb for the day up the giant Col de la Lombarde/Colle della Lombarda (2350m), but figured I should be up there before it got dark, and thus it could be done. It seemed as if the few car drivers I met early on up on the climb to the pass sometimes looked as if they wondered a little about what I was up to this late in the day.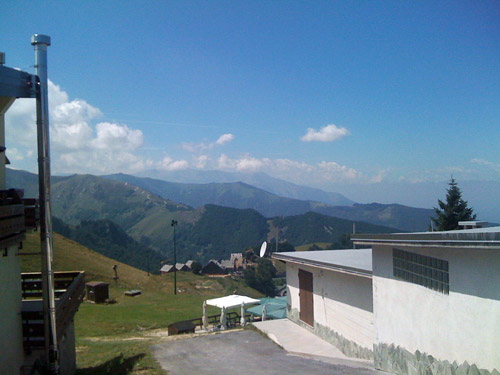 I was going up here also in 2002, but then had rain and horrible weather and thus never got a photo or any good views, so I hoped to get a better experience this time around. It was very good evening weather and I went up in a good spirit and kept a decent speed. I thought I was making progress fast up the mountain, but I had remembered that it was a giant climb. It felt good that I was feeling fine through the first long steepish section where there is no sun (only early in the day, I would guess). Later on I was trying to catch up with the sun subsiding higher and higher up the mountains. First after the crossroad for Sta. Anna (the monastery up here), I finally reached a little sun, which I had just thought I would not do this evening.
It was such a nice evening up here that I felt very fine when closing in on the pass and the views and solitude were great (only an occasional car and also a local farming guy on a vespa?). There are very few houses along this road (must be less than 5?). At the pass there were some other tourists who had stopped (maybe some had been out walking here). I took some photos and even got a photo of me by some which I spoke to. They asked if I had a place to stay for the night and told me that lodging might not be so easy to find below the Isola 2000 skiing resort just down the France side here. I told them that I had no plans to stay in Isola and should be going quickly down so I could get to the Tinée valley before the dark came and I am sure I would find something down there I said. They did not think there was anything in Isola (861m), but I thought there was. He probably knows what he does the man said (yes probably, I mumbled for myself).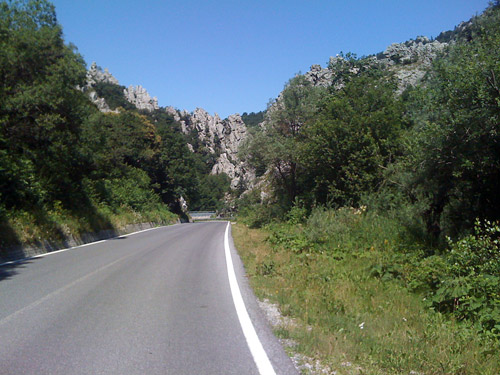 I said goodbye and just as I started down the French side some guys were rolling down on skateboards here (probably staying in Isola 2000). They did not catch up with me though (a bit too small wheels). Now the French side (even if being on the south side) was decidedly colder and more so when descending. The sun had not been around here for long and the weather was not that good here. No rain and the roads were dry at least. I absolutely would not stop up in cold Isola 2000. I hurried down as fast as I could to Isola and when I eventually got down there it was still not dark. I went into the centre of the village, but it looked scarily closed down. I got the the main place and where I had seen a hotel before. There were two hotel signs here and one was decidedly closed. The other looked closed, but the door was open, so I went in to ask if they maybe know of some other place nearby.
A man that looked tired told me that I could find a place to sleep at the camping site just north of the village. I went there, but saw nothing more than a usual camping place. Nothing about lodging in proper beds there that I could see. Well, the next plan was to go down south, even if the man otherwise suggested to get up to St. Etienne, but I had planned to go down the valley the next day before going back up, so that was no good idea. I hurried down to St. Sauveur-s-Tinée (504m), which seemed like it took forever to get down to through the extremely lonely and empty Tinée valley. It got dark just as I reached the village. Now I had to find something. Well, there was a sign about a gîte d'etape (I believe) in the village and I found one little hotel in the main street, but it looked a little closed. I knocked on the closed door and eventually another sour and tired looking man came and told me that it was fully booked (sounded not quite true) and he told me there were no other place in the village to stay (the other place was apparently closed).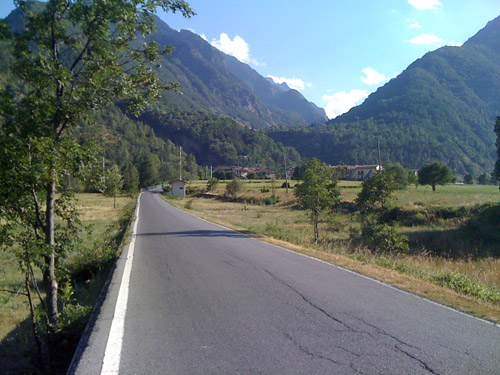 I thought I must ask someone else here about where to try next. Some older people sat on a bench talking and I asked them. They told me that the camping site there had lodging. All right, I went to the camping site and thought they must have something there. All I found were a house that was locked and with no personnel. A few people borrowed a toilet in the building, and a guy was sitting nearby and told me I could sleep in the room next to the toilets, but there were nothing there (no beds or showers or anything besides tree benches and a dirty floor). No, I rather go cycling all night than try and sleep there I thought and took off again. I came back to the old people still sitting talking and told them that they had no lodging at the camping site.
But they insisted that there are real beds there and explained that even if the lady keeping the place was not there it should be possible to get in and sleep in a real bed. They decided to follow with me there to show me (maybe I did not quite understand their explanations, but thought I did so just before we left, but then they insisted to walk with me anyway). We had a little nice walk through the village in the night all five of us. Eventually we got back to the building and they explained I had to walk up a staircase on the back of the house. Indeed there were two rooms with simple beds. A bit too simple to my taste and no food to get anywhere in the village this evening made me wish to go on. But they had been kind to show me the place and it turned out that there was one more guest there who also was a cyclist (from Belgium), so I decided that I better stay and get some sleep as I knew it would not be too easy to find another place this night further down the valley (the old people had no good suggestion in this regard and my thought of getting down and then up to La Tour (647m) was not seen as a very realistic idea on my part (and they were right).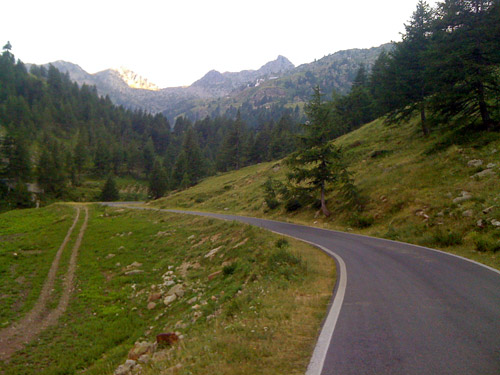 I talked a little with the nice Belgian guy on his first cycling trip in the Alps. He was going to finish the next day down in Nice. I got a little piece of white bread from him, which was the dinner for tonight. I have no towel or anything to sleep in with me, so I had to improvise. I did not worry about sleeping on the dirty bed as I could shower in the morning, but it was difficult to wash my clothes and get them a bit dry, but washed them anyway and did a decent job using some dirty sheet, but better than not washing at all, I thought. I also had to use a dirty pillow cover as a towel after the shower, but it worked. I was lucky there were not more people staying there. I tried to hang the pillow covers so they would dry and put things back fine in the morning.