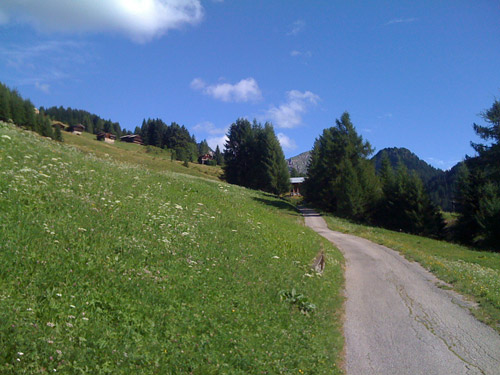 After breakfast I was on my way in the best of weathers. The climb really started just before San Pietro (1039m) down on the main road at Campolongo (955m), so now it was just to continue up among the houses here and it was fairly easy to guess the way through Valle. At a bend it started to get steeper and then there were mostly farm houses. Soon thereafter I stopped for the photo here. Later the road enters the forest above and becomes less good, but still quite steep and asphalted. There were a short stretch that was rather flat before meeting the other road up here and then a short pull up to the pass height of Forcella Zovo (1609m). The other side of this pass is partly gravel road, which should be okay with a road bike, but I planned to go back the other asphalted road up here. So already had I reached one of the +1600m asphalted passes that I have left to do.
The other road is only a bit steep for the last stretch and maybe a bit earlier on also. After getting down again through the forest it got really beautiful up here and this must be one of the nicest roads anywhere in the Alps. Costalta is really very nicely located and I had some photos before and after the village. The village was a bit confusing and I went up more than I had to and then down again. The roads here were very narrow on the steep slope. I continued on the high balcony road toward Costa, but half-way at a bend with a restaurant (La Baita) (1300m), I had planned to get up to Monte Zovo on the less obvious road up there. I had tried to determine beforehand how far the gravel stretch on the top was and had clearly gotten the wrong impression from online accounts and the Tabacco map.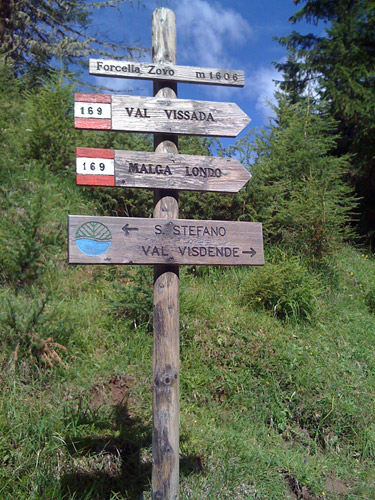 There was a bar across the road that I had to go over before continuing up the nicely serpentine road up the woods, which was quite steep, but somewhat regularly so. I met some mountain bikers coming down looking curiously at me and I also passed by another on his way up (and at least he never caught up with me). I think there is some well known mountain bike event up this mountain as I have seen cyclists with the Monte Zovo name on them several times and this is a nice climb for them.
The asphalt lasted quite a bit, but eventually gave way to a gravel road that was almost just as steep, but it was ok and I managed to continue on the bicycle. But then it started to get less good an eventually it became a dirt road and then merely a track and then simply a path (that was not what I had read or seen in the map). I could cycle part of this also with much determination, but eventually I found it made more sense to walk and had to do so for nearly 2 km before I came to the top of the Monte Zovo (1900m) (the actual top is at 1944m and one could walk up there). Here I could carefully handle the trail again on the bicycle. I stopped at the trail crossing with the sign and here are the best views. Quite outstanding views!! It is really worth getting up here even if you only have a road bike, but you should take the normal road from Costa. The road from Costa is wide and good (mostly), but also quite steep. Down to the asphalt here from the top it is less than a kilometre and it should be possible to cycle this part with a road bike (at least I cycled down here). It is really important not to turn around at where the asphalt ends as the views there are quite poor (relatively speaking).
At Costa (1345m), I followed the same road as before (the balcony road), that was here noted as panoramic route, but that was kind of funny as there were no good views of anything further along this road, apart from trees. Eventually one reaches the road that goes to Casera Silvella (and a rough road continues to Passo Silvella, which should be only for mountain bikers). I went down to meet the road (1130m) up to the next pass, the Kreuzbergpass/Passo di Monte Croce di Comélico (1636m) that I have been to before recently, but then came from the other side. This pass is also nicer than what people usually say, but there are of course higher and still nicer passes in the Dolomites.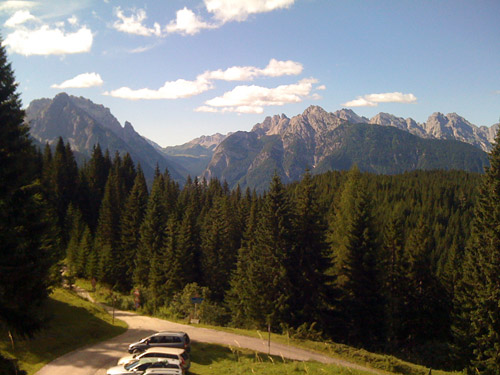 I cannot remember stopping and eating anything this morning or at lunch. Maybe because it was Sunday and shops are closed. I do know that I looked for a place to stop and buy something to eat down in Innichen/San Candino (1174m), but I believe I just continued on the main road to Austria here (there is a cycle path here, but I was not sure if it would be a good alternative, which it might be). The main road is a bit busy and not so wide around Innichen, but poses no special problem and cycling is thankfully allowed. The road only descends imperceptibly to Tassenbach (1072m) and then a little later descends a bit more obviously. When I reached Thal, I started to look for the Thal Römerweg road and stopped to ask a man by a train station waiting for his son to come from the train and the son knew that it was just the next road up the mountain from there, so I was already practically there.
The Thal Römerweg road up to Bannberg and then further up to Hochsteinhütte is the one to take! It is the most direct climb up there and consequently the hardest. All variations goes via Bannberg though, but oddly enough there are only public profiles for the other climbs (that I know of). The climbs starts to get steep long before Bannberg and continues so through Bannberg and then past the toll booth (no toll for cyclists) to the top by the parking place. By lifting the bicycle over a bar across the gravel road that continues, one could somewhat easily after 500m reach the Hochsteinhütte (2023m). I went in an had an apfelstrudel and tea inside (some other guests where there too, but typically were sitting outside). I went outside later and took some photos and looked around. The views are magnificent up here and it is a very good idea to get up the gravel road if climbing the asphalt road as there is not much to see at the parking lot.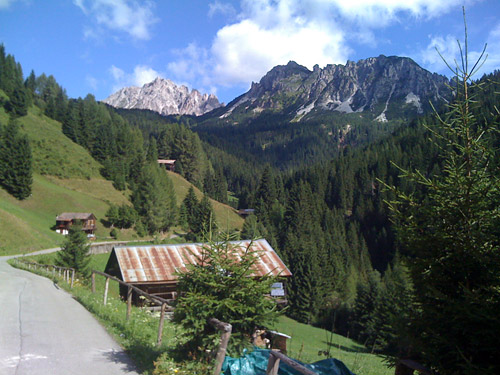 There is no real pass anywhere near up on the ridge of this mountain. There is a rough gravel road going down somewhere on the other side, but it was not too clear where one should start down that side to Lienz, but with a mountain bike I guess it could have been fun going down that side. On the way back I nearly crashed with a car that drove very aggressively up the road (I had forgotten that I was in Austria now … ). All went well and I got down to Bannberg to take a photo just above the village where the views are also great. Then, just as I had planned, I took the Pustertaler Höhenstraße back toward Italy again. The reason for this detour was that I had thought so many times to get up to Hochstein and thought that I better do it now or never.
I had thought that the Pustertaler Höhenstraße (that was part of a stage in the Giro d'Italia this year) would have been rather easy as I was coming down from the mountain and was already starting on a high point in Bannberg. However, I soon discovered hat there was a big descent (I had known there should be two descents and then ascents again but did not remember or looked up the details now). The ascent thereafter was almost from down at Thal (1035m) and was much longer than I had thought up to the highest point of the road at Kosten (1441m), before the road descended again for the second time and then a final climb of 115m or so before the final descent to Abfaltersbach (999m). This road was harder than the numbers tell and also after already doing some climbing before in the day.
I did feel happy about having a really full day of serious climbing again though and had another of those nice days with more than 4000m of climbing. All days with more than ca. 3500m are really all you can ask for cycling in the way I do. Such days are the hard days that makes it feels like one is really doing something great, but it is very hard to keep up this for many days in a row due to various reasons like the weather, bad road choices and lack of determination perhaps.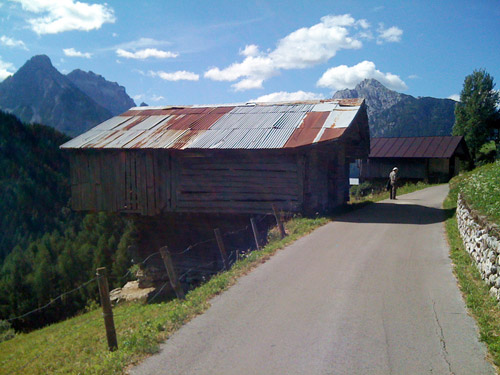 Now it was starting to get late, but I was determined to get back to Italy before stopping for the day. The road there seemed endlessly long on this return trip, but I just kept and crossed the border just before twilight started to slowly fall. It felt kind of wrong to stay in Innichen that I had passed by earlier in the day and felt that I really wanted to get a bit further to Toblach/Dobbiaco (1221m) at least. I managed to get there just before it was getting dark and was confident to find a place to stay at there as it seems like a place with many lodging possibilities, which is true. However, there were no room available anywhere now and even asked at their most expensive hotel, but all they could offer was some kind of luxury suite for astronomical sums, so after some quick asking around I eventually had to leave Toblach, which was filled with people everywhere (for some strange reason). I took a minor road out of the village west and prepared to continue a bit further in the dark. Just as I was about to turn out on the main road again, I saw another fancy looking hotel (never noticed before that they had so many upscale lodging possibilities here) and thought that I just had to ask even though it did not look like the typical place for a touring cyclists to drop by.
I leaned my bicycle against the nice bush by the entrance and entered. I asked whether they possibly had a room for me and for some reason they turned out to be quite nice here even though looking rather fine in ways. They had no single room but could give me a double room for a special price if I also promised to have dinner there, which was not exactly a difficult decision to make as eating was almost more important than sleeping. The price was not cheap, but something like 85-95 euros or so (the ordinary price was much higher though). So yet another expensive night, but the last such, so it was nice after all. The food was great and I had some quite nice wine (from not so far away). I took some photos of the dishes … . I mostly remembered that I got a lot of candies from a nice girl there that I saved some of in my bag for later and they also had wi-fi access (in parts of the hotel). It is easy to please a tired cyclist, but I was very pleased by the nice place and friendliness which is not always to be found at 'finer' hotels. I had a lot of photos this day (only some here and still page is long).