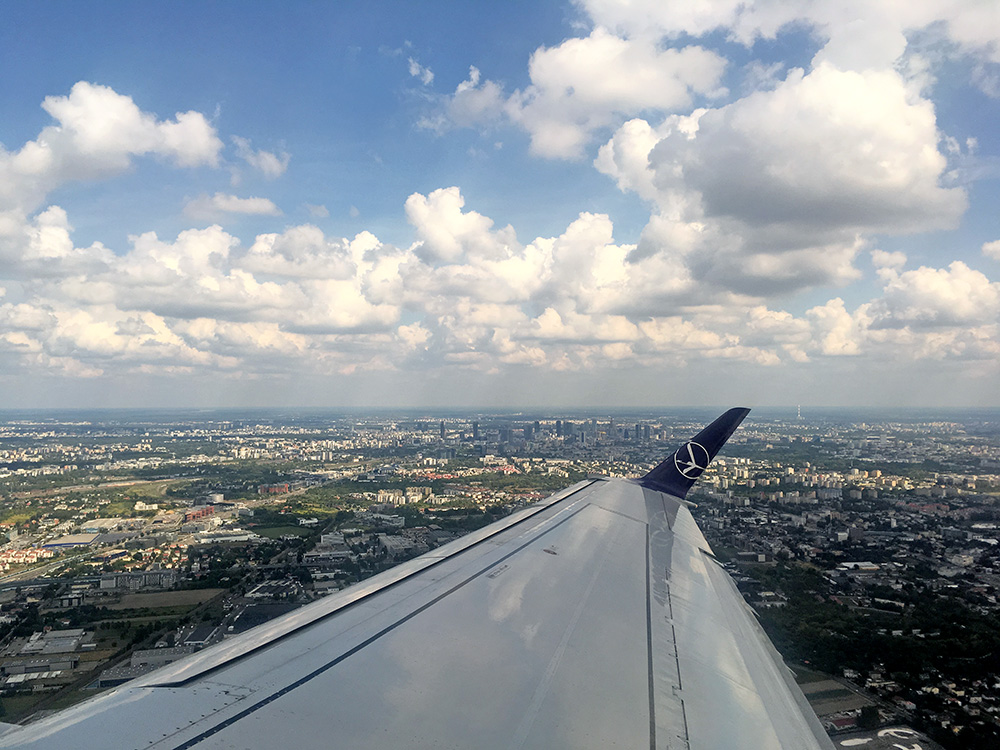 A last return to the Alps for the year for another 9 days of cycling (not the whole day on the first and last day though). I went down with the Polish LOT airlines after cancelling the ticket I bought from the shady Austrian Airlines – the most unserious and fraudulent airline in Europe (even the totally unscroupulous Ryanair are better – at least they do not lie to you, they simply do not talk to you when they break regulations). Austrian airlines basically fooled me and stole money from me, but apart from complaining, it would take too much work to bring them to court over this, where I am fairly confident I would win though, so I just threw my tickets away. LOT was a good alternative and I will never fly with Austrian airlines in my life. (I later heard from others that had stopped flying with Austrian because of very bad experiences too, but too late for me.)
Flying into Vienna/Wien in the photo and here it was still great Summer weather.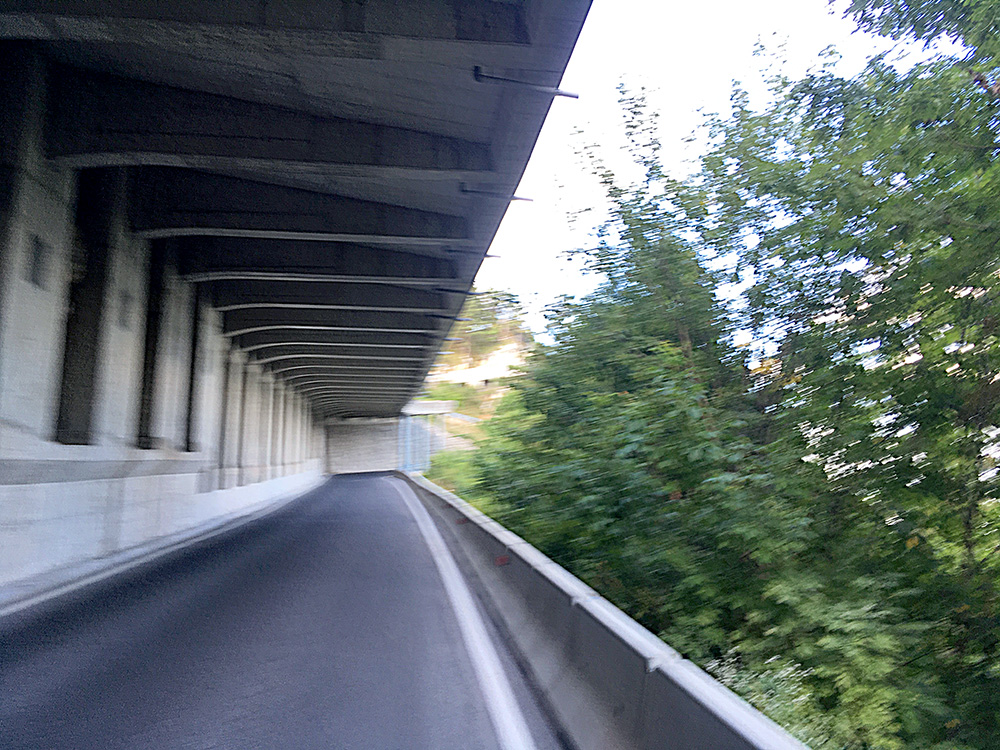 I had joined a BIG challenge meeting here and thought it was a good opportunity for me to get a bit more acquainted with the very eastern part of the Alps that I had neglected a lot before.
I got on fairly well to the hotel in Wiener Neustadt and as the day was not over yet, I decided I had time to do a little ride and do the most local climb here before the evening. So got my bicycle together and went off as soon as I could. It felt really nice to be out cycling the same day already as I had left from home. Here I am early on the first climb where it starts getting steep up the Hohe Wand (not quite holding the camera still).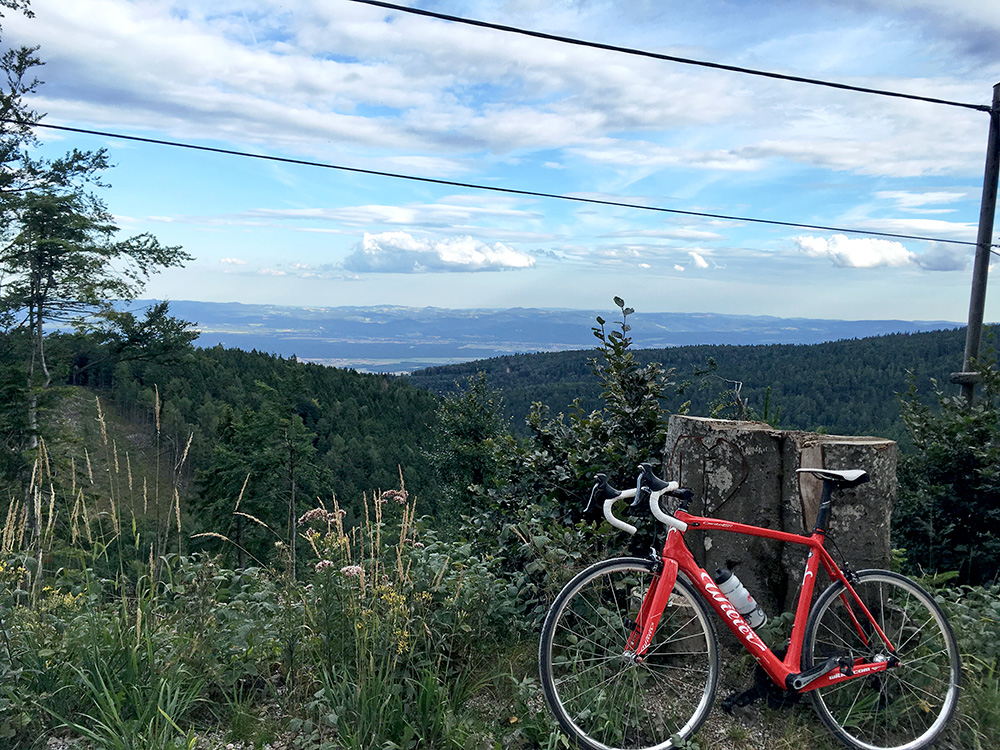 The photo here (east) is from the highest point of the road to Kleine Kanzel (forbidden on the last easy bit on the gravel even for cyclists, but I turned around soon here).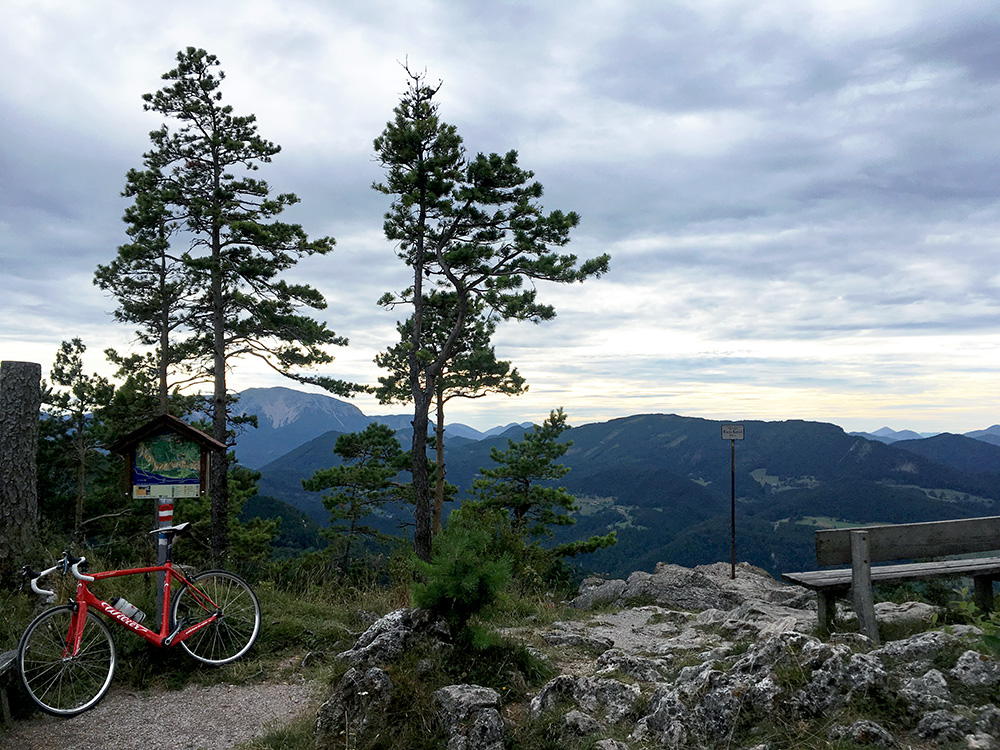 Here is the viewpoint area at Kleine Kanzel and it was very nice here in the evening looking in the west direction.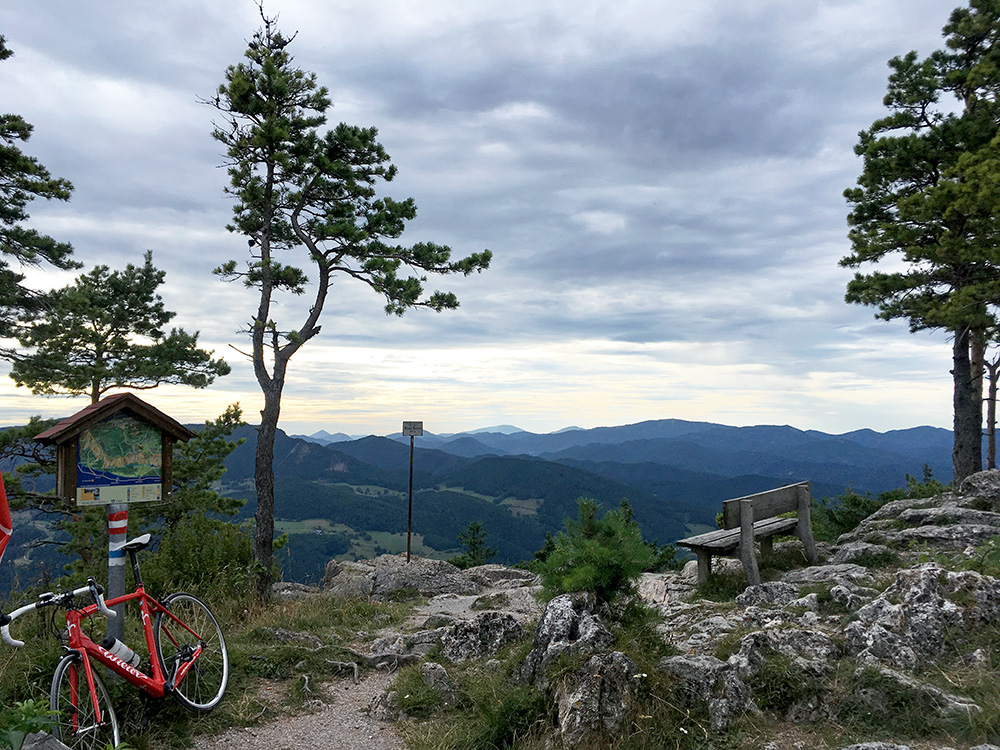 A few more photos as I could not decide which of them to show.
This is the end of the climb. The road goes a little down at one point before the final climb up here.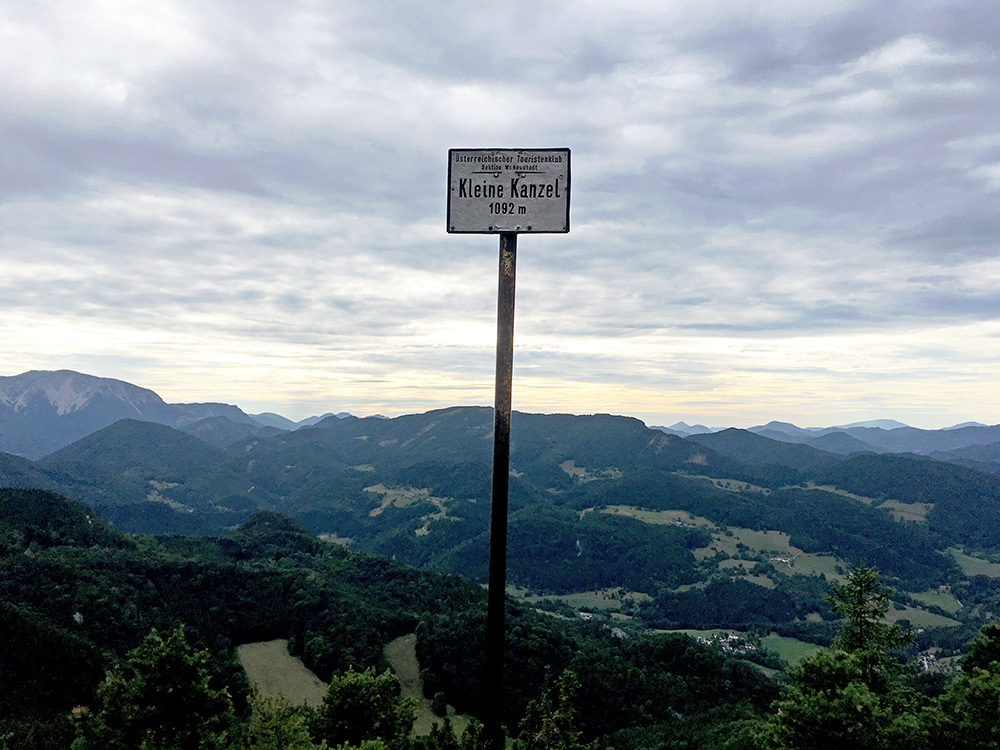 Here is a nice little sign also. The sign gives a higher height, but it is 1065m here (1078m at the high point above).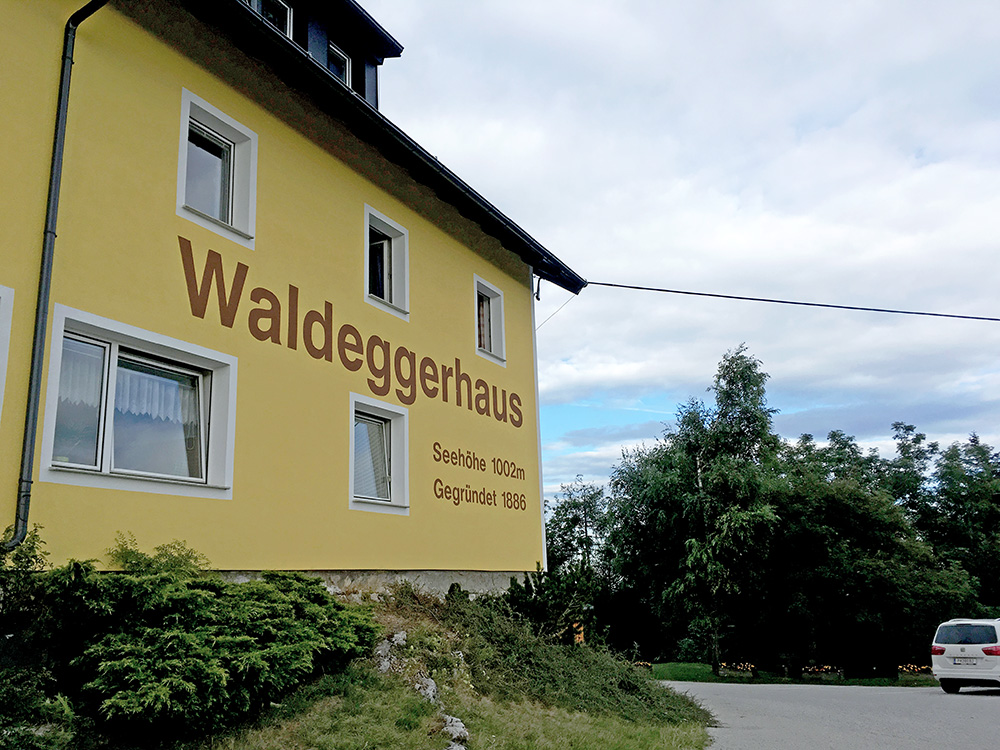 I noticed a side road going up in the other direction near the end and someone cycling up there, so decided to check out this road too now even if it did not seem to go as high. It is a nice smaller road, but it ends somewhat fast at the Waldeggerhaus and it is 998m and not 1002m as it says rather prominently on the house (but maybe on the upper floor).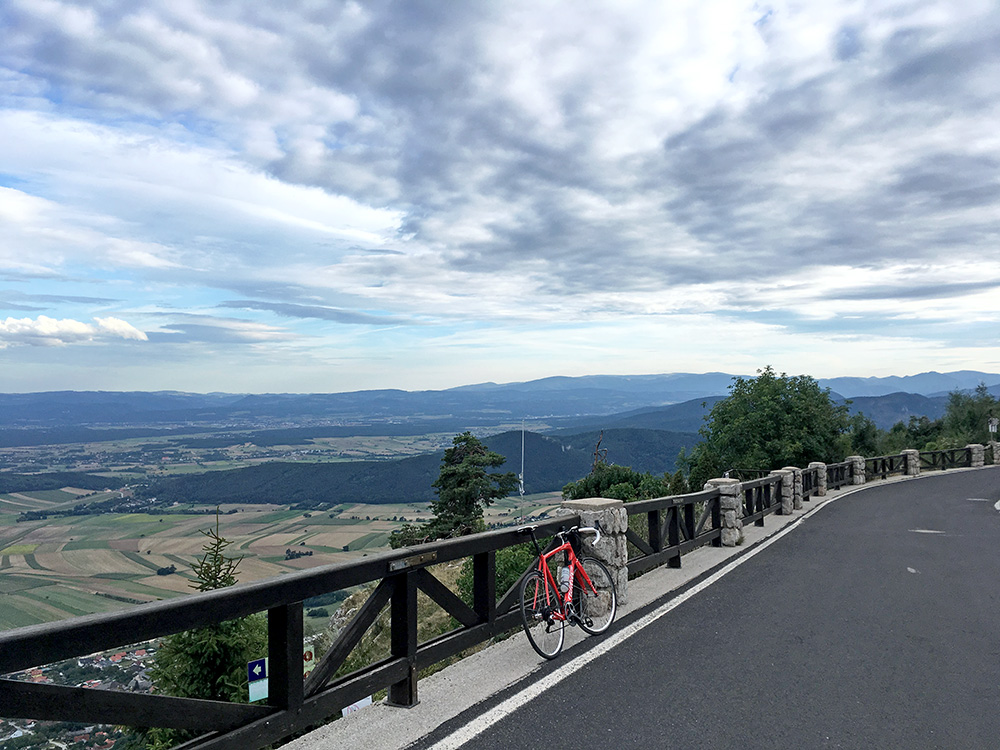 Down again to where the steep part of the climb ends and here is a fairly obvious pass without a proper name, but the side road here, the Wandeckstrasse, is another nice alternative road when coming up here and I went a bit up on it just to see if it offered any good views east. Here at the Kohlröserlhaus where I turned around.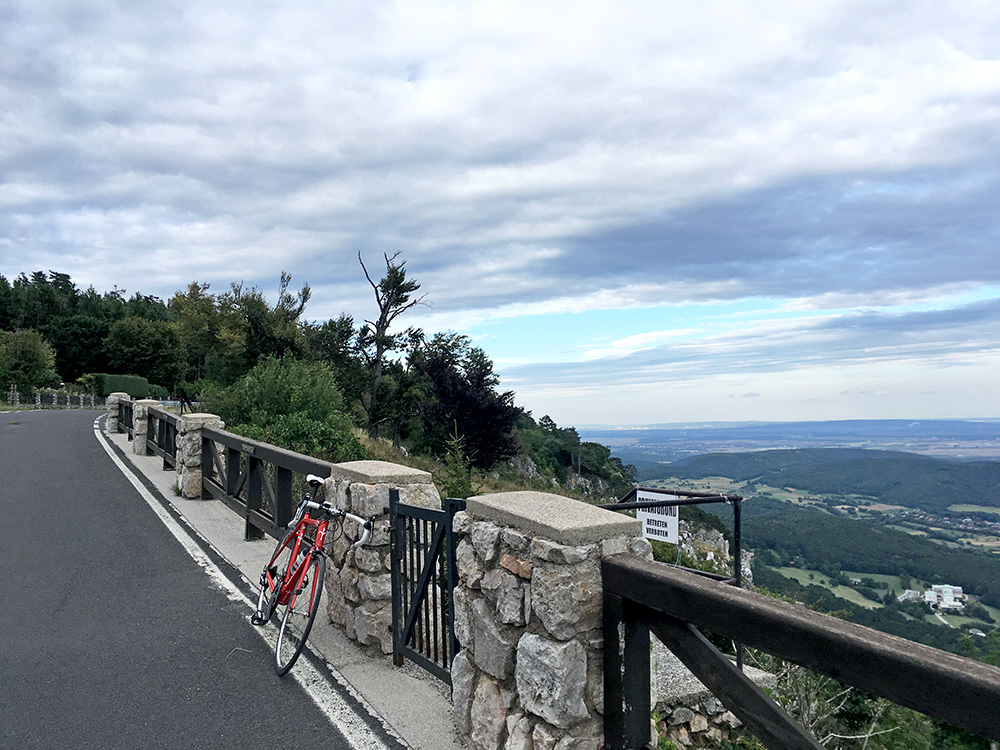 One can almost see to Vienna in the distance here to the northeast.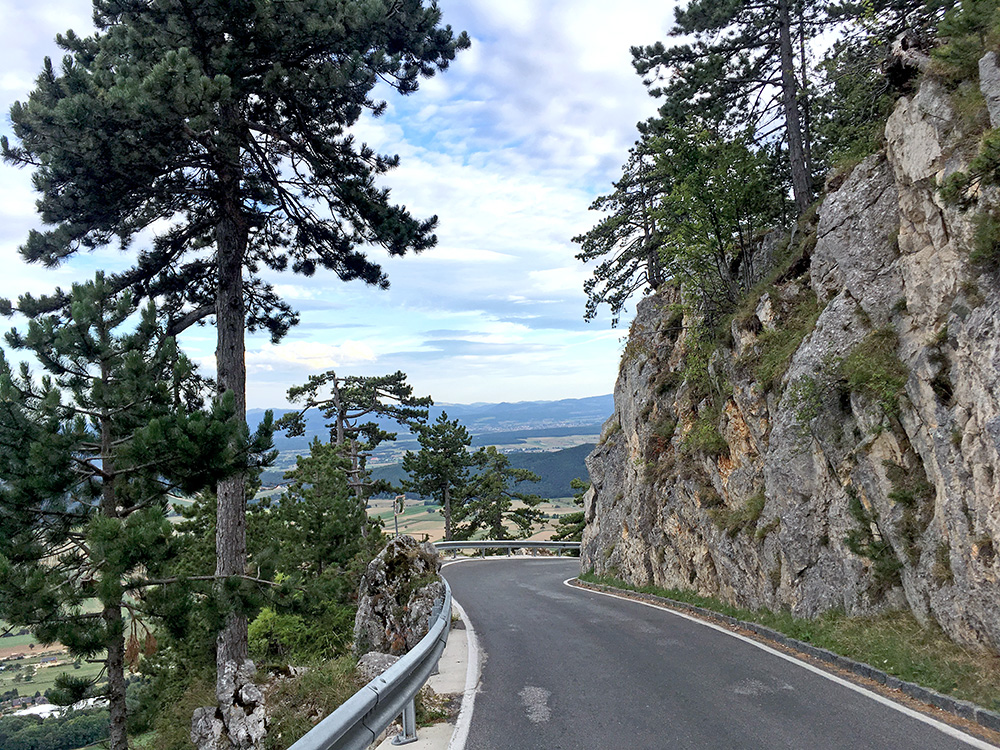 Here is the nicest and only spectacular section of the Hohe Wand road.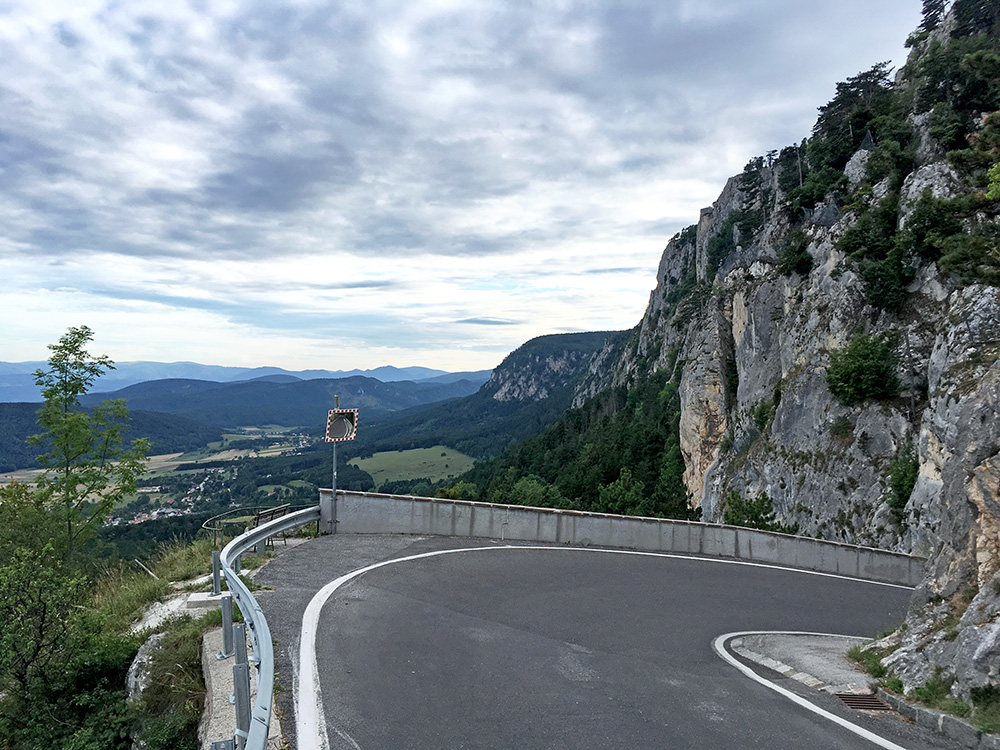 It is also where it is steepest, narrowest and with most traffic. I continued straight south in the direction ahead here in the photo after coming down to the crossroad. (I had planned to go straight back to Wiener Neustadt, but thought I still had some time before I needed to be back for evening dinner).
As I continued I decided to try and climb a small pass before going back and it should be just enough time for it. After some confusions as it was hard seeing the right road where there were many choices, I eventually got up a very steep road at over 20% to another small pass/saddle here at "Sonleiten-sattel" (608m) where I am looking ahead to the pass I was going to.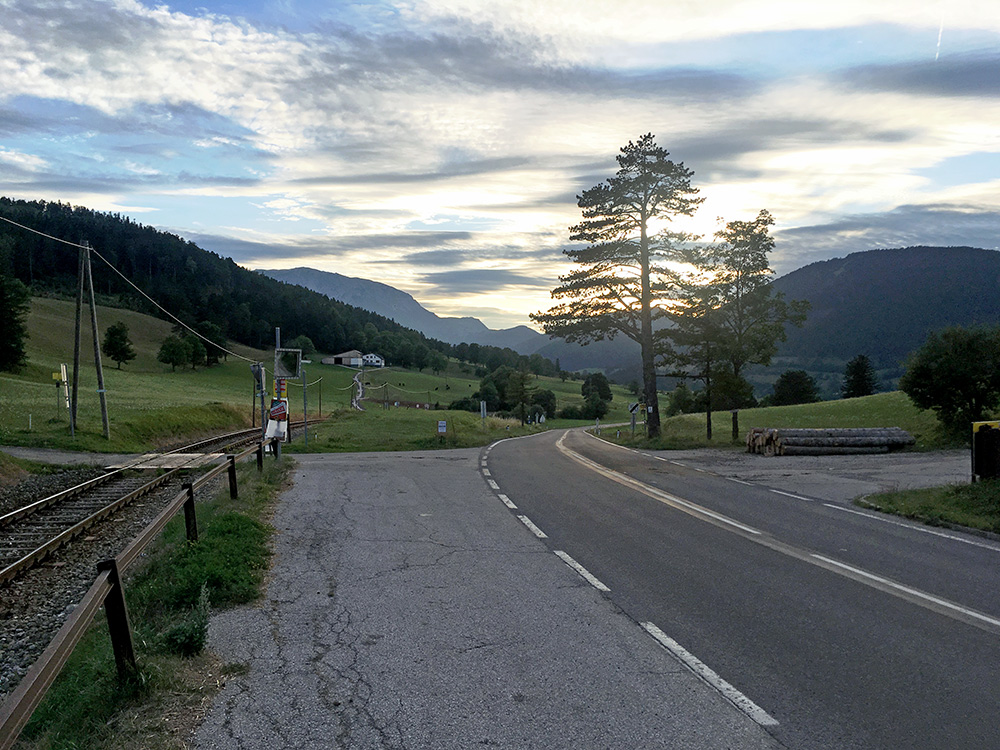 I went down to Grünbach and then the climb is somewhat straight and steep up to Grünbacher Sattel (679m), but it is not a big pass. Here looking west (ahead) at the pass in the nice evening with just perfect weather (no wind) and temperature (ca. 22°C) for cycling.
Then full speed ahead back and had to consult the others who waited for me, but then went ahead to the town to get a table at a restaurant. I found my way there too before they had ordered (I believe) and we had something good (but expensive) to eat. We talked long and walked back to together. We were not so many at the meeting and 2-3 more would show up later. Guess we were maybe 8-9 or so (a small, but nice meeting).