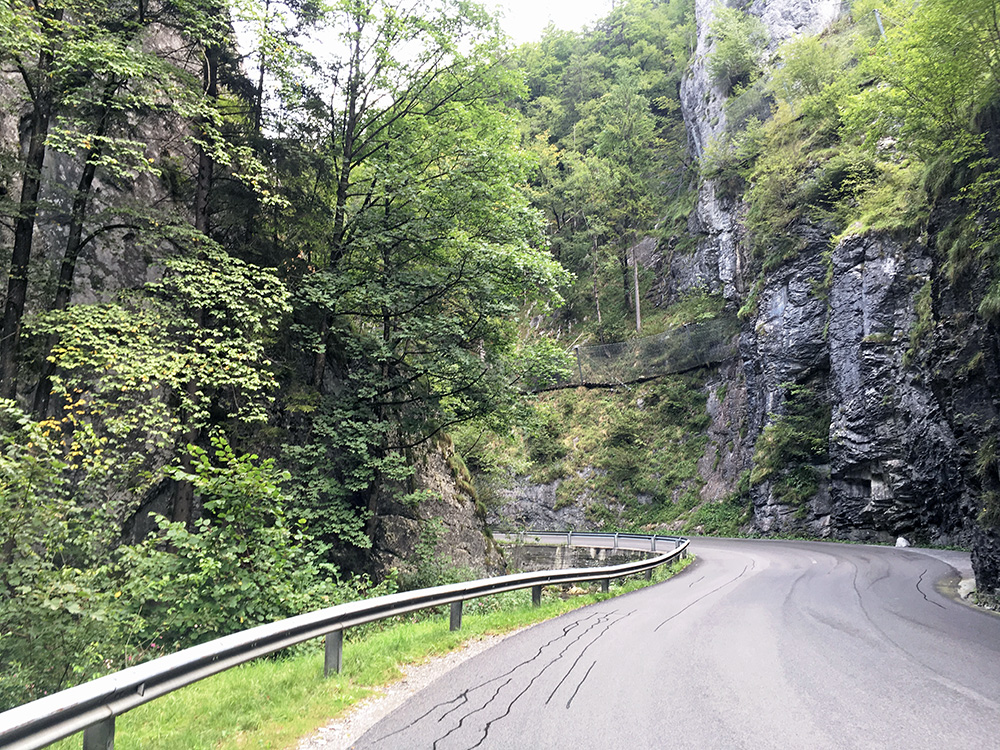 Thankfully I got a little help in the morning when I realised I had been going up a bit too late from our driver, Hans. Also realised I had to change the rear tyre while I had a chance (now going on my own for 2-3 days). Hans drove me up to the top of Bucklige Lärche (1265m) from Gasen (827m) – I nearly had him stop before the pass point where I had passed by the day before as there were a crossing looking almost the same before. This proved to be essential for the planning of this day.
Looking at the map, I had concluded (correctly) that it would be a rather fast way down much of the way to Graz, but the downhill was mostly to Weiz (470m). Photo here is one the way down to Weiz at a gorge far down. I felt relaxed when I got to Weiz and found the right way out of the village/town to Graz. I continued in good speed to Graz and forgot to look on the map again and missed to take the planned road and instead followed the main road (which is maybe shorter, but it had some more height metres to tackle). Still when I eventually descended from the high point it was rather quick down to Graz and I felt relaxed again as I saw the sign for Graz. However, it turned out that Graz was a bigger city than I had thought and the train station was on the other side of town and it took like 20 minutes more to reach the station. When I reached the station I had 9 minutes left before the train would leave. I had booked a ticket just before I fell asleep in the evening before. I bought a coca-cola and jumped on the train and then it left 1-2 minutes after that, so while the planning was correct, it was a close call!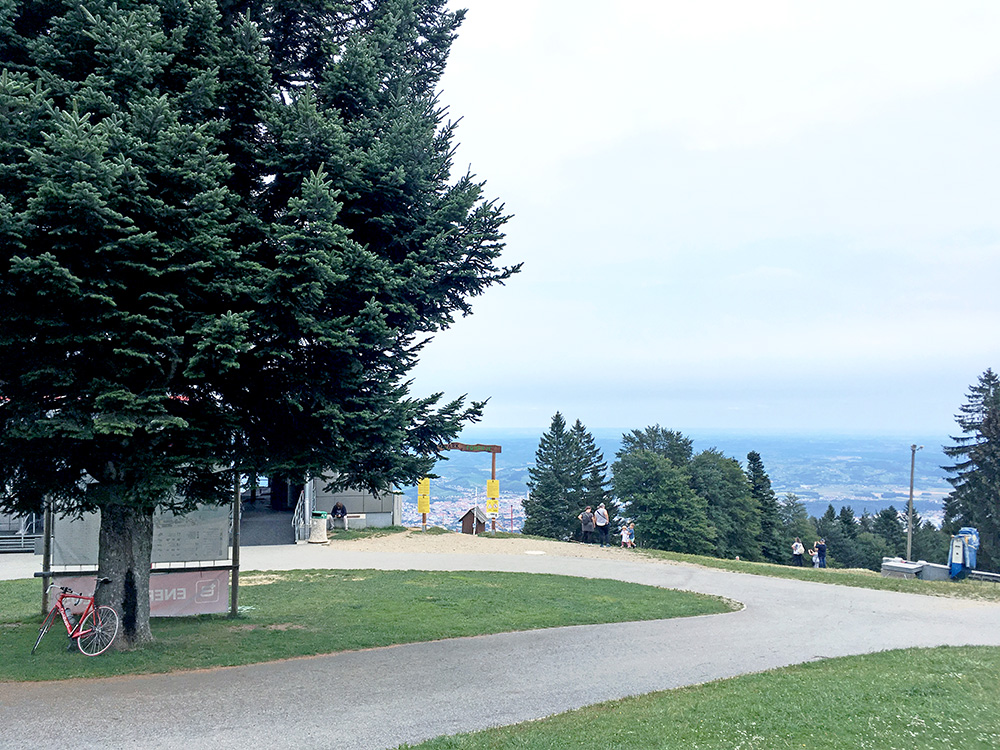 Down at the Slovenian border all the personell was exchanged and it was seemingly a better job to work on the trains down there from the look of the personell, but maybe not such a difference. I wondered if I could not have bicycled as fast down to Maribor from Graz as the train was not very quick, but at least I got a bit rest during the day. The train took only like 1h 15mins, but it would have taken like 2.5 hrs cycling down there (roughly 67 km from where I came).
Maribor looked a little rugged like it used to be in the eastern countries, but once out of the city it was not so different from in Austria. Car drivers was ok, but maybe did not care as much and much traffic in the area. I followed the main road and was happy when I eventually got off it at Spodnje Hoče (277m) a bit south of town (at the end of the long big shopping buildings).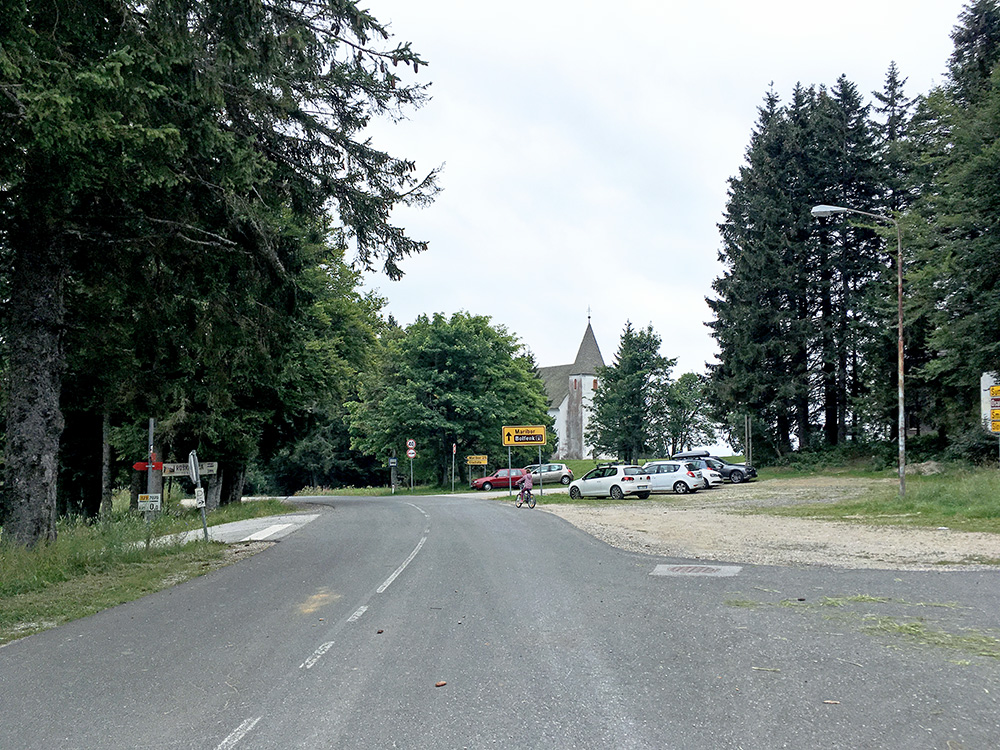 I had figured out a more direct climb to Mariborsko Pohorje (1078m) and a BIG climb (which brought me there). I took a slightly nonoptimal way at first and had to walk shortly on a connecting dirt road to another asphalt road that climbed higher. I knew it likely was gravel the last way up and had seen some comment on it too, but this was the most direct climb and most demanding. It was actually a very nice road until I came to the gravel continuation.
Just there as I stopped looking on the map a nice female local road cyclist came up and I thought maybe she would continue on the asphalt road that maybe connected this rod to the "normal" way up there. But, no, she was only going here and then back down and did not know anything of either of the two roads ahead. Oh well, I had to give the gravel road a try when I had climbed fairly long up here now. It was not so good, but as usual I was thinking optimistically that I might get better. It never did. It was just about rideable all the way up and it was for several kilometres still (well at least 3 km, maybe 4). When I was up it was just a short downhill to the viewpoint area and where a cable car comes up from Maribor, in the photo above).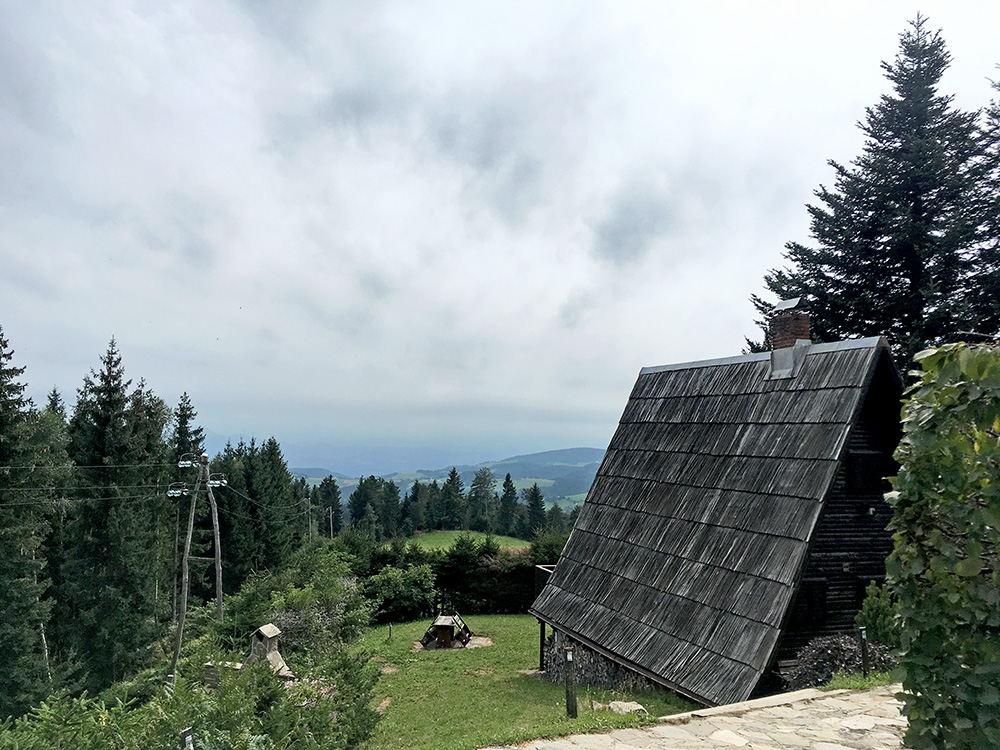 On the way back I was surely not taking the same road and had planned to take another small road down (and not the normal road). I did so, but after a descent and then a fairly good nice climb up to get to the small road, I noticed that this was really the main climb up the mountain here and the road that should properly have been the BIG climb (only missing the view down over Maribor, which was not very outstanding) and also met another cyclist coming down this road. So, I thought since I was near the top, that I should go all the way up here and did so. This road goes to Areh (1250m) (or Sveti Areh/St. Heinrich) (name for the church above and mountain I think).
There is a road which is mostly a gravel forest road from up here that could be continued to the famous Rogla ski resort, but even though I was heading there, it felt wrong to try and go there via this road and wanted to do the real climb up there. I stopped at the restaurant here for a quick Slovenian radler (the Union radler is the best radler drink made in Europe that I know of, comes in a few variants and is similar to English shandy).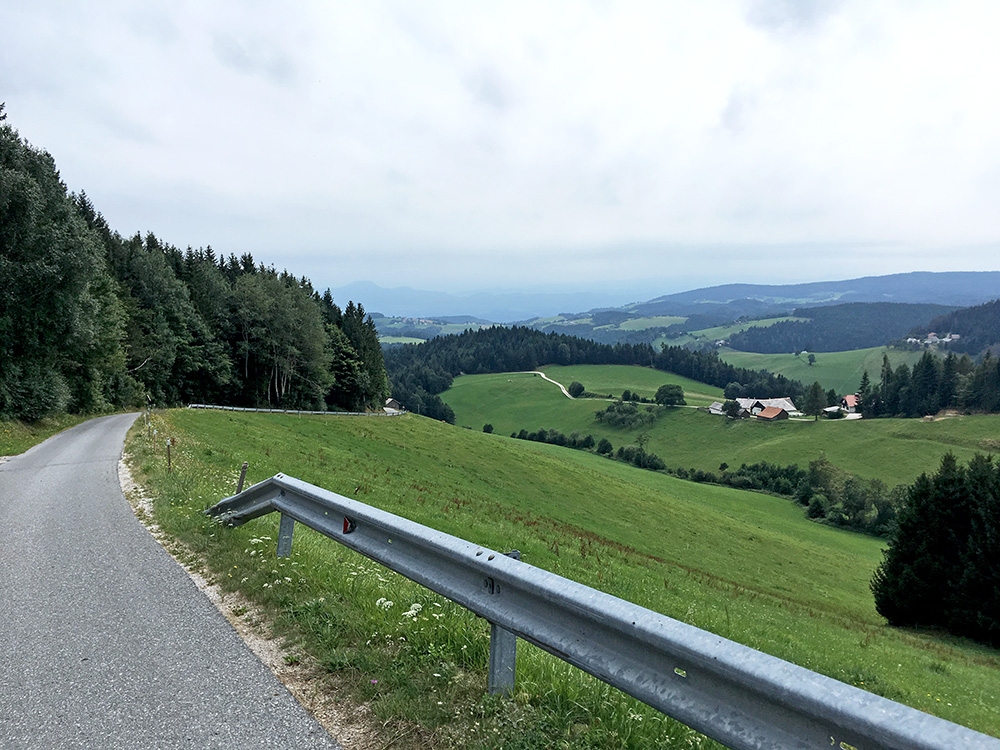 I saw the very minor road turn-off on the way up and found the road going down. It was slightly chilly up at Areh, but otherwise perfect temperatures the whole day. I was a bit worried this road might not either be fully paved all the way and it had been slightly difficult to trace on maps while planning (here I could have had some help with a direction giving cycle computer, but very little point with such a device when road biking normally). I passed by the nice house above early on and first there I got out of the woods above.
In the photo here the road looks just like a dream road to descend and so it was, here, but the road later on was even more narrow and damaged in some places. Moreover some locals were driving up here as they would do on the motorway at the same speed (I know people used to drive like that when I was young at home too and some still does, but not sure how it will go with them), so be a bit careful with local drivers!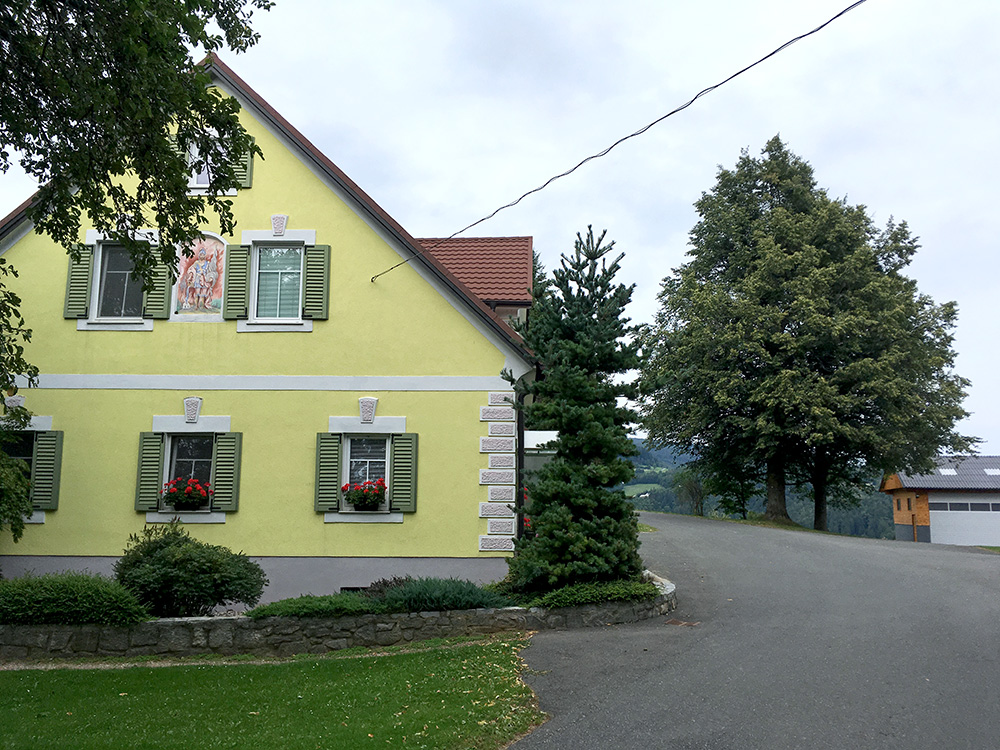 A very nice house (and somewhat typical with these strong pastel colours, otherwise strong light green is the most common colour here) approximately half-way down at a place the road was shortly flat, then it climbed a bit in the partly wrong direction, but I had luckily taken the right road – very hard to understand from looking at the map. I even managed to figure out the last most tricky road choice that made for the shortest paved way down as far to the west as possible (it looked like a subtle road to the back side of a house – chances are ca. 10% anyone else would find it).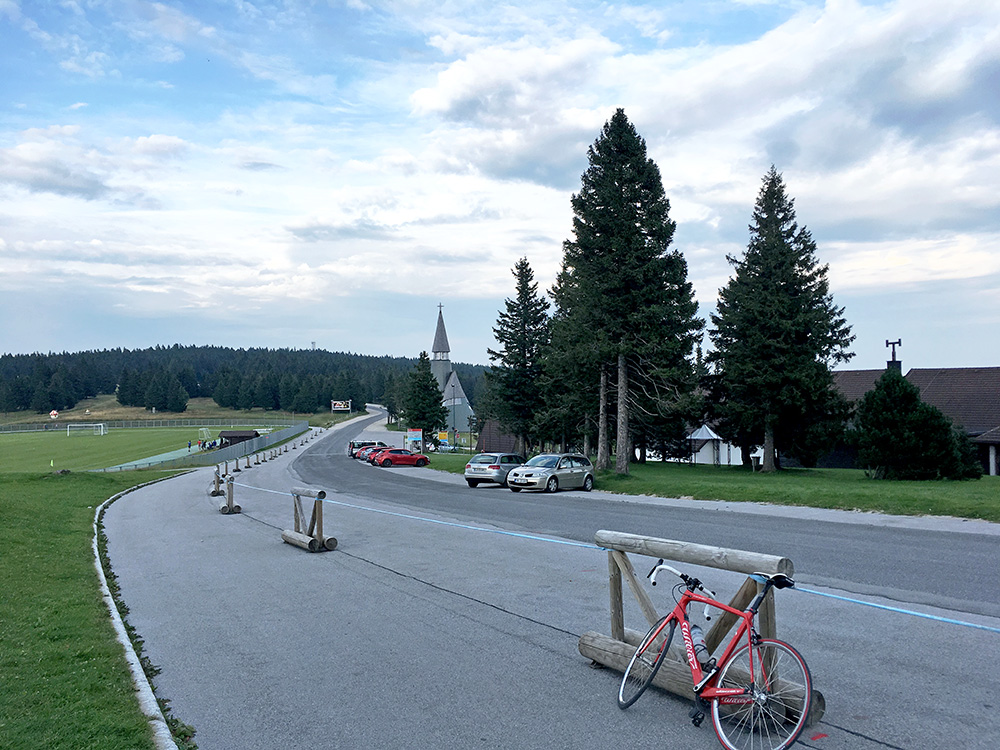 Then it was a much longer road to the start of the Rogla climb than I had thought (maybe I did not check the kilometres involved as it is not so fun anyway). I eventually got to Slovenske Konjice (322m) on a seemingly major road, but it was very much up and down all the time, with one or two hills labelled with 18% signs. I needed to make another stop before the climb to Rogla, but saw no good place here and continued to Zreče where I thought must be some place as it seemed a more touristy area, but also there I saw nothing but maybe a restaurant. I continued and saw another restaurant/hotel at the start of the Rogla climb and stopped there. Heard from another cyclist this was a very good hotel (Hotel Pod Roglo). In the basement they had a simple bar and got another radler here and a sandwich, I think.
Then time to climb Rogla and was happy I had time enough for this climb too. It is a somewhat long climb, but never very steep. I made the 14 km climb in 1h 20mins, but was taking it rather easy both because some noise from the wheel and my knees hurting a bit at times. The road is mostly all fine (and wide) as it is after all one of the most famous skiing destinations in Slovenia.
There is a pass-like place early on, after which the road enters the woods and gets a bit more boring up to the mountain. Near the top one actually visits a proper pass at the last bend, which I later found out when studying old maps from when it was still German speaking territory (then part of the Habsburg empire). Apparently it was the upper class and merchants etc. that were German speaking and even if they made up a sizeable part of the population, the majority were speaking slovenian language (apparently earlier on the Germans were more and decreased toward the end of the empire in 1918 and not sure how many still might be German speaking in Slovenia these days, but probably there are still a few). Anyway the pass is called Weitensteiner Sattel (1428m) and I have not found a Slovenian name for it.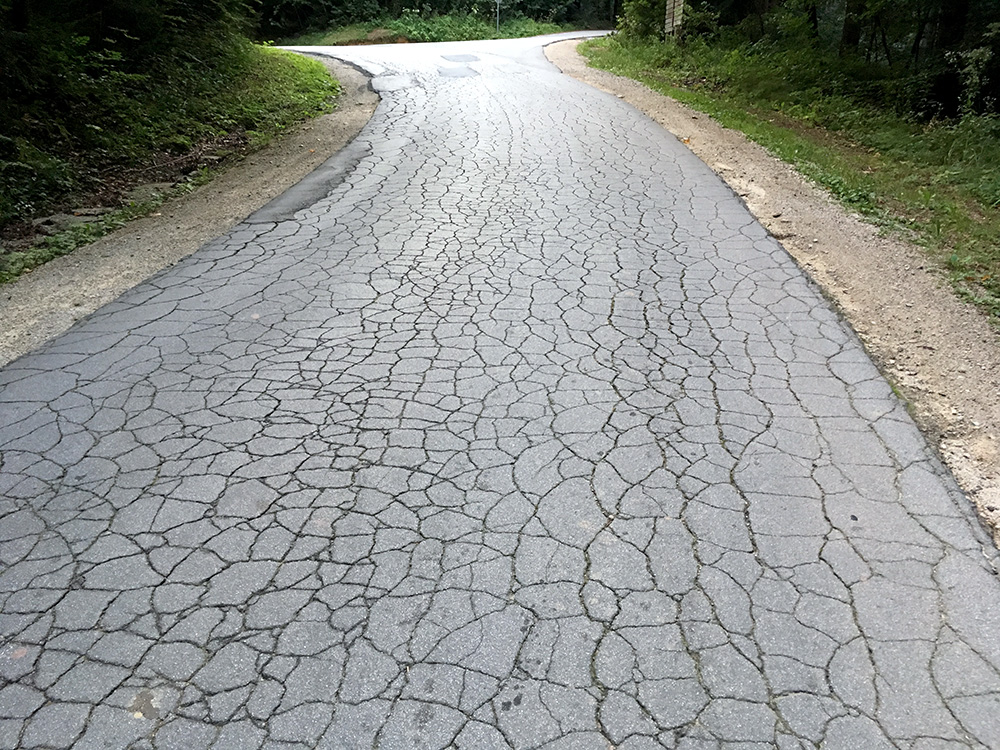 I went up to the highest point, in the woods ahead in the photo here, but it is only slightly higher than here at Rogla. The road ahead continues paved at least to a crossing and it may be a paved pass too, but believe the only fully paved access is from here, so it doesn't count ;-).
Nice evening weather and I was quick down again and found a small short-cut road west as I did not want to stop quite yet and knew of at least one place ahead to stay at for the night, but tried to find some other on the way there, but did not. I asked at a nice restaurant after two minor passes, the first is near in the photo of the cracked up asphalt (so typical of some roads in Slovenia) Preval (549m) and another one not having a real pass name, but looking more like a pass, Firer/Spodnij Dolič (670m). The restaurant had no rooms, so I continued a short way down to the crossing with a bigger road at Gornji Dolič (531m). But, the place looked closed. I saw two people walking along the road away from the hotel and asked them if they knew about the hotel or any other place (it was twilight now) and it turned out they were the owners and thought no one would turn up there any longer this day. They were nice and walked back again and gave me a room and gulasch and beer. Very simple standards, but all was fine for me and the people were nice.