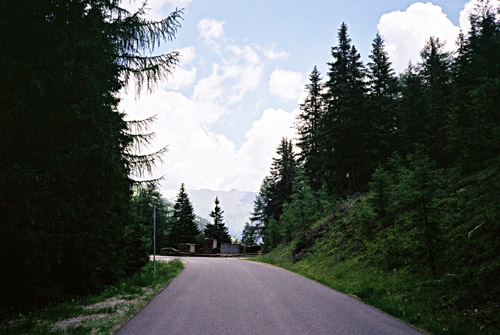 I took farwell of my friend and the nice and cheap place we had been staying at in La Villa. There is no place else in the Alps where you get as much for the money as in the Dolomites.
I wheeled down to S. Lorenzo (outside Bruneck/Brunico). There were still tunnel and road work on the road down here (which I also remembered from 2003) and they probably have another year or so before it will complete. Then I took the main busy road down the Pustertal/Val Pusteria toward Brixen/Bressanone – it is not good to use for bicyclists and it could have been avoided in the upper parts, but lower down there are not any alternatives, I believe (but may be wrong).
Finally I reached the the road taking off to Niedervintl/Vandoies di Sotto (755m) and into the Pfunders Tal/Val di Fundres. Right after the first village this is a very nice road with little traffic and great scenery – quite a different world from the nearby busy main road. At Weitental/Vallarga (860m), I saw some imposing serpentines up the mountainside and guessed that it must be the road I was looking to take. I went into the village and bought something in the grocery store and asked about the road. It was just to continue through the village and then one would see how to get up the pass road. It seems like most refers to the pass as Kiener Alm simply (or the road over to Meransen).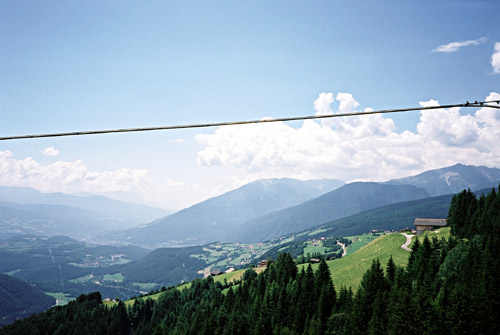 This climb is a very hard one, especially in the first half, with gradients up to 16-18% at places on a very narrow road. It is a very lovely road however. The only place along the road with poor views is around the wooded pass height (first photo). There is one place half-way up where the road even goes down a little on a very long serpentine (ca. 2 km), then it goes up at a regular steepness of around 8%.
As you see in the first photo, the road looks wide and very fine, but this is on the west side. It gets a little more narrow further down at Meransen and then very wide and good down to Mühlbach/Rio di Pusteria (763m) (even if there is not much traffic – it is a better and wider road than some parts of the main road down Pustertal/Val Pusteria).
The climb up the pass took a little longer than I had calculated on beforehand and I started out a little too late in the morning, so now it looked like I had no chance to catch the train from Brixen/Bressanone to Cuneo as planned. I had 45 or maybe 30 minutes from the pass height before the train would depart from Brixen. It did not look like I would be able to get there in time. The road down at Meransen was slightly difficult to understand how to follow and was flat at one section, so I did not expect I would get down in time for the train and took it rather easy. But from here on it was very fast down to Mühlbach and I almost never went under 50 km/h on the whole way down to Brixen, even including the flat parts. However, the train station was at the other side of the town and I was there just when the train left the station.
There were no more train connection that would bring me to Cuneo this day that allowed bicycles on the trains the whole way, but I decided that I would wrap it up and bring with me on the only connection now possible. I just had time to find a shop and buy a roll of big plastic bags and packaging tape, and something to eat on the long train ride. I used all the 10 plastic bags and some tape (the wheels precisely fitted in the plastic bags and I had one wheel in each of two bags). I was finished just 10 minutes before the train would depart. As I waited for the train, a guy who had written to me commenting on my bicycle rides just before I left off for the Alps turned up on the platform wondering where he had seen me before and remembered. I chatted a little with him and continued with e-mails after getting back home.
It was the train from Verona via Milano and Tirano that was the problem. However, since some odd (gay?) guy (who was a dancer, he said) was deciding to change clothes just when the tickets should be checked, I never saw any train personell on the whole ride! Well … I had not anticipated this ;-).
In Milano a lot of busy business people stepped on the train after leaving work and no one would want to share the cabin with a cyclist (did not seem quite right perhaps), but one guy at the end decided that he got more place in my cabin (the other guy changed place on the train earlier). We discussed the superiority of Italian food to French one, which he thought was kind of self-evident. He went off in Norvara and then I was alone until darkenss fell just before reaching Cuneo. It was nice seeing the Piemonte mountains in the distance as the sun was setting.
At Cuneo I had wished to go out the town and find some place to stay on the way to Borgo S. Dalmazzo. However, it turned out that there was no place to stay at along that road and when I came just outside the city, there were no road lights and since I had no front light, I decided to turn around and try and find a place in Cuneo to stay. After circling around the town for a long time and asking people, I finally found a place that was less than four stars. I noticed a sign saying Hotel, which looked like it was pointing to one not so classy hotel. I asked at a bar just where the sign was, where this hotel really was located (as I did not find it right away). The girl thought I meant some of the luxury hotels on the main road and I had to bring her out to point out the sign, which she apparently had never noticed before. Thankfully one of her guests knew where it was and I got there at just around midnight, but the man running the hotel was up late and thankfully it worked out fine (I even got a sandwich or two).