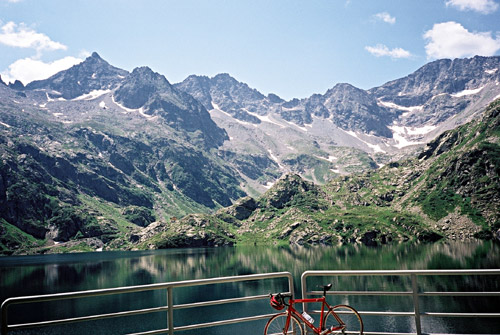 I woke up very early in the morning because of much noise outside. After an hour or so, I just had to go up and see what was going on. It turned out that the area outside had turned into a giant marketplace and commerce was going at full speed. It was a very impressive market and it looked like they must be there almost every day. Right below my window they were specialising in fishing garments and they had a remarkable assortment of such stuff. Ok, I had to go up (not in order to buy fishing garments, though)!
I got a simple breakfast and went on my way out of the city (it took some time to get out of the marketplace). At Borgo S. Dalmazzo I had to be very observant in order to find the right road toward Valdieri. Out of Borgo S. Dalmazzo, I was on a much less trafficated road and closing in on the mountains. Just after Valdieri (774m) there is a road taking off to Entrácque, which I followed until a road went off to the right which was marked as the road for the ENEL (the electrical company managing the dams up ahead). This road is a short-cut avoiding Entrácque. I actually met some cyclists here. (In Italy you can meet cyclists anywhere.)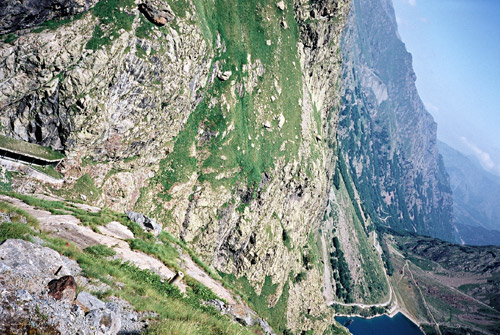 I was planning to go up near the rifugio Genova (to the highest dam). Just where the asphalt road ends a minor pass should be located called Colletto di Laura (1980m). I only found one description on the beginning of the road on the web liguriabike.it and they then describes the strictly MTB or walking variant to the rifugio. I was hoping to use the prohibited and closed ENEL road to the top, seen in the second photo here (had to take the photo on the side to get the whole road in the photo – you do no really see the serpentines before the tunnel, but here you see the first serpentines).
The climb was hard and long. The road is narrow and not very good up to the Rovina lake. It was also very hot and I needed the water I had with me. After a while you see high up above you the dam and it looks a bit unlikely that you will actually go up to it. It is never more than around 13-14% but you will get tired before you reach the Rovina lake. Here the road is flat for a while, but if going up the ENEL road one should take right almost at once and you have to get under or over the locked bar. I cannot guarantee you will not be stopped along this road and you are not supposed to use it, so be careful (especially when descending the road). The road is actually better up here, but there are plenty of drainage gullies that are of the more dangerous variety that had to be crossed diagonally for security (esp. to take into account on the descent).
After a while I came to a crossroad, much to my surprise (I was not aware of any alternative climb up here, but saw it on a detailed map when coming home). However, you should continue in the direction of the dam on a now less good road. After just a little time you reach the dreaded (after reading on the website mentioned above) tunnel. I was a bit afraid of not reaching the dam when I saw it was closed. There was a metal door with some security code panel and a telephone. I was not going to use the telphone for sure and I of course had no code, nor would I wait for someone to turn up. But I decided to see if the door was open and it was! I opened it a little and felt a strong cold wind from inside and shut it again. I looked totally dark, so I took out my micro maglite lamp that I bought mostly just for getting through this tunnel (and for other possible dark places). Then I tried to summon some courage and entered slightly scared the tunnel, which I now saw was actually lit, even if very poorly. The door slammed behind me with a sound effect that no Hollywood effect specialists would consider using in a horror movie as it would have been too dramatic to come across as believable! The tunnel was like a veritable waterfall inside in places and generally not very hospitable. I felt in a bad mood until I reached the sun again in the gallery at the end. (There was a crossroad in the tunnel near the end, but I was not interested in discovering where that alternative road was going … . It probably goes to an elevator up to the dam building.)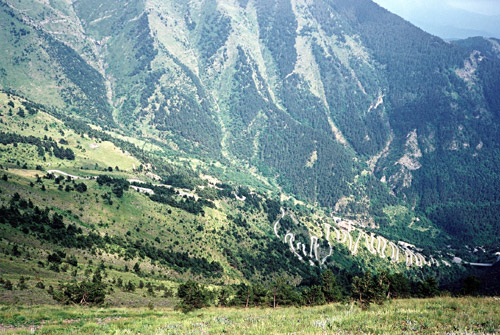 I continued on the last stretch up to the dam and passed by another tunnel where I heard voices inside, so obviously some personell were working there and that might be why the tunnel was open (I just hoped it would still be lit and open on the return trip). At the last bend you actually join the alternative road up to rifugio Genova and if you intend to visit the rifugio, you will have to continue on that mule track/bad gravel road. I continued up to where the asphalt road ends by the dam. Across the dam you can see the yellow rifugio building in the first photo. It was very beautiful up here and the views down toward where I had been climbing was also magnificent (second photo).
I was happy to have made the climb successfully and now returned safely back via Entrácque (904m), where I stopped for a sandwich and icecream at a bar. Colletto di Laura (1980m) is no small climb and it took some time. I originally had ideas of going over to the Colle di Tenda road via an unsurfaced road, but decided that it was not essential and that road might have been hard with a road bike (over Colla di Prarosso/Colle Goderie from Roáschia to Vernante). (– I discussed with a German who had crossed there but who did not believe it was possible with a road bike – you can find his very interesting tour report in the area if you look for his report Von Susa nach Ventimiglia (on day 6 he has a photo from this road where he had a flat on his MTB).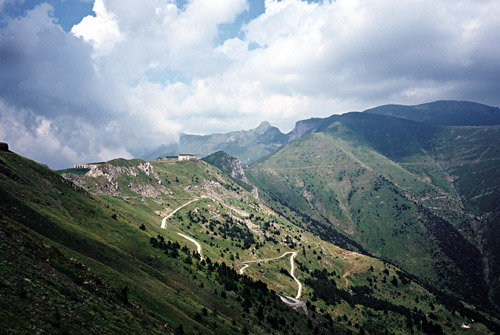 The normal road via Roccavione and the old road up was ok and quick. It joins the new road higher up. I stopped again shortly in Limone (where they also have water). For some reason I took off the main road too early (and did not quite understand the TCI map – one connecting road they show on the map is apparently not possible to use, (at least not in this direction)), so I got to see Limonetto and made a small loop above there on a road where there was some construction work (house building) and the road was officially not open all way. I got back on the main road and continued until the correct place to turn off before the tunnel and to get on the small asphalt road to the top of Colle di Tenda (1871m). It is not the side of the pass that I would recommend you to climb. The French unsurfaced side is much more spectacular and in the first two photos here from Colle di Tenda, you see the lower serpentines and the higher final serpentines respectively on the French side (possible with a road bike).
The climb on the Italian side is moderately nice and moderately steep. Here is also a lot of serpentines, but not as crazily many as on the French side. Just before the pass there is a 200-400m section of not so good gravel road and then a little asphalt before the pass which is without asphalt. Here I went directly up the road to the right (west side ridge). The road up there is a bit bad, but the gets a bit better again. I had thought from 2002 when I also went up thus far, that this road may stay as good all the way, but it got less good again soon and it was just about possible to cycle there with a road bike. Now rain was closing in and I had to hurry on, but after slow going for a long time I had to take shelter under a cattle building. I waited and hoped the weather would be getting slightly better before too much rain would make the gravel road difficult to cycle on at all for me. I knew that there would be some asphalt ahead. After a while when I noticed the weather looked only more ominous and thunder was loud and closing in, I decided to get going when the rain stopped shortly.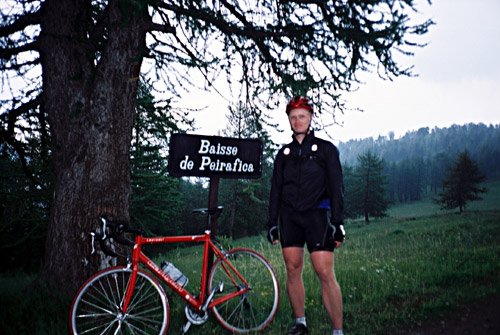 I reached Baisse de Peyrefique (2030m) and asphalt with some light rain and much thunder in the vicinity. A couple came hurrying down the mountain from where the thunder was coming and they took a quick slightly blurred photo of me at this pass before we both hurriedly continued down. (There is also pass between this and the Tenda pass, called Colletta/Col de Pernante (1898m) around where I took the photos of the French side of the Tenda pass.)
It was actually more asphalt up here than I have heard and maybe there had been some newly surfaced parts. I continued down the very good asphalted road directly down to Casterino. However, everything I have heard about this road was that it was not good to cycle on and after coming to the woods the surface became bad gravel again and after a while worsened while the rain and thunder now caught up with me. It was a slight ordeal down to Casterino where I was battling to keep the bicycle in one piece and not getting to wet. I had to walk some short stretches. There is also an unlit but not difficult tunnel. The road is also somewhat steep in some places, making things worse.
Down in Casterino I was simply soaked, freezing and very tired, so even if it was only 7 in the evening I decided that it was time to call it a day. I asked for a bed at the first place, but it was full. I got a bed at the Logis de France (which was not expensive here, they are typically more expensive than other choices otherwise). Casterino is basically 4 cheap hotels and nothing more. There was nothing to do at all, besides walking on trails and I was not in for that this evening. I got a good dinner and wine and went to bed very early for once. I was sleeping long and good.