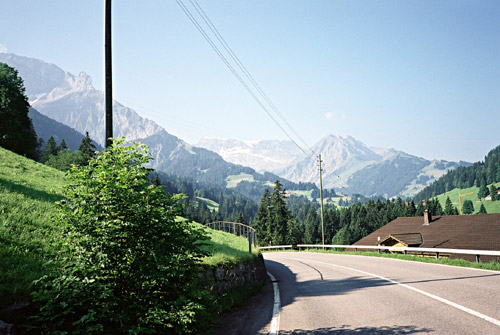 To my surprise I got a decent breakfast at the very simple hotel at Adelboden. Another beautiful day with sunshine all day long. On the way down to Frutigen (803m) I stopped and took a photo up in the direction of Adelboden, which is the first photo here. At Frutigen I went up the next valley to Kandersteg (1170m), where I had some pastry and Coca-Cola before I continued.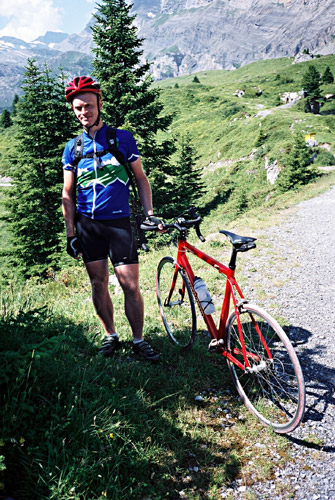 I was on my way to the incredible and famous Gemmipass! I must however reveal for you that I cheated a bit here and took the cable car up from outside Kandersteg as the alternative gravel road was probably too steep for me to cycle up anyway (at least I had heard so). I asked if it was okay to bring the bicycle with me in the cable car up and they wondered a little bit if I really wanted to do it considering that I had a road bike bicycle, but I told them to leave that worry to me! (I had to pay 5 euro extra for the bicycle though.)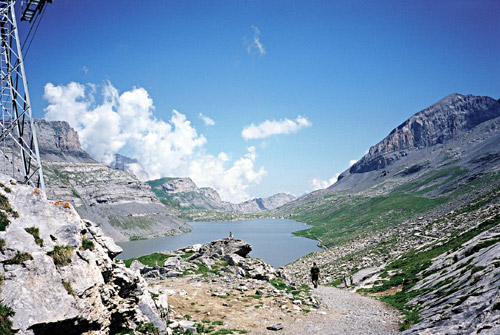 The cable car ride was nice and at the top the road was much easier to ride and I managed to cycle all the way to the Gemmipass (2322m) from Sunnbüel (1934m, lowest point 1872m), even though one stretch was very hard. During this stretch I was so focussed that I only looked down on the ground and did not notice one mountainbike cyclist who stood at the top watching me. He gave me thumbs up when I finished the climb! After this point there was a restaurant (Schmarenbach (2060m)) and then the road turned into a wide walking path, but it was still possible to cycle. Later I passed by the nice Daubensee (2207m) seen in one photo here.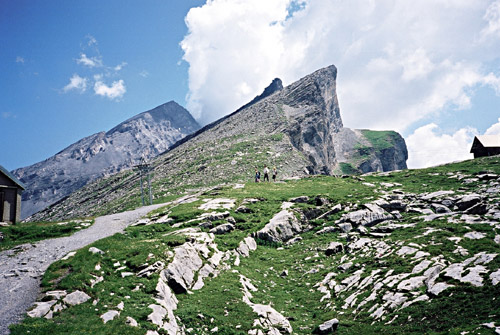 At the actual pass height I stopped to take photos in all directions. I was stepping out near the edge of the mountainside to take a photo down at the first serpentines of the hilarious path down the south side of the pass. I had rolled some silver tape around my bicycle pump before leaving my sister in Chamonix, just for this occasion. As my Kool Kovers were no longer possible to use after the Monte Pasubio walk, I just wrapped the tape around the shoe covers (the wind/rain covers) to protect my cleats when walking down here. Of course it was not ideal as the tape is rather slippery, but I had thought of this and intended to walk down extremely carefully (easy to say, but I managed).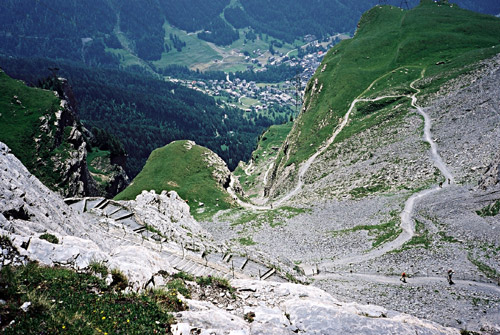 I took another photo as I started out on the first couple of concrete steps in the path down. It is really steep down here – mostly around 25%, even though it may not look so, and it soon got really sweaty! Walking down the pass took around two hours and it was not possible to cycle with a road bike bicycle at all until just before you reached the asphalt road at Leukerbad. I met walkers coming up and they were having a hard time in the hot sunny weather. Here I finally asked to make clear what they say in german-speaking Switzerland instead of 'Grüß Gott', which is 'Grüezi' (I was just a bit unsure as if I got it right or not). There were only a few brief shaded places in the path where it was cut into the rock wall. One could not in this section see where the path was going, nor where it was coming from.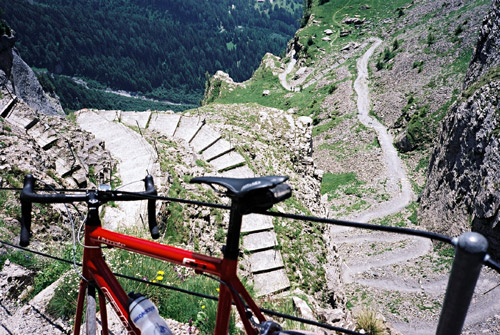 At Leukerbad, I stopped and took two photos (only one here) up the rock wall I had just descended, though one could not see the path in the distance. The road was very good down from Leukerbad, but I was not really happy about getting down on the main road in the Valais valley as it was already very hot up here. I stopped at Leuk (731m) before reaching the valley at Susten (622m) to fill my water bottle. After cleaning my bicycle at a petrol station and going in pretty high speed up the big valley, I stopped again at McDonalds in Visp. At Brig I (again) decided not to take the for cyclists obligatory road through the actual city and instead took the tunnel straight ahead.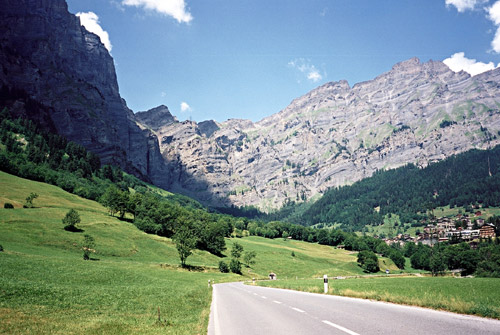 After Brig (675m), somewhat predictably, the wind turned against me and it now went much slower and the road starts to climb more here (up to the higher Valais valley (the German speaking part)). There was quite a lot of traffic even in the much sweeter and calmer upper valley. I stopped a few times refilling my water bottle, but continued up to Ulrichen (1347m) and took the road up to Grimselpass (2165m) which is never very steep, but always nice and I have not climbed it from this side before so I got a few photos from new places on the lower climb.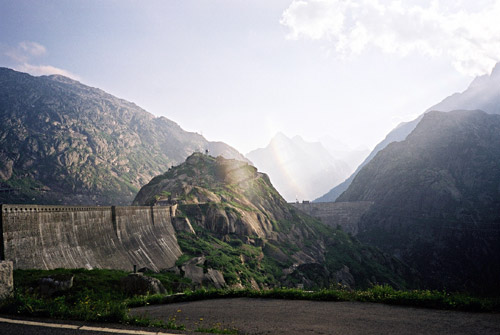 At Gletsch (1757m) it started to get colder, but as I was going up there was no problem keeping myself warm. The pass itself was less snow-covered than last time I was there (when the weather had been bad some days before). I did not really stop as it was rather late and cold and just hurried down the other side. I took another photo that I really like on the north side of the pass where you see a road to a building on top of a big dam here, which is actually a hotel (Grimsel Hospiz).
Now the sun was disappearing and I tried to hurry down to warmer areas, while thinking of where to spend the night. I noticed a hotel at the only real village on the way down this pass in Guttanen (1057m) by the roadside and decided to ask there. It was the most expensive hotel I stayed at during this trip and the cost was like 65 euros, but including dinner and breakfast. I have probably never ever slept so well in a hotel bed anywhere else and the room was really nice, the food was good and the service impeccable, so I could not complain! Before I asleep I read in a book about the history of the famous Aares gorge in Meiringen and it gave some interesting background on the area.