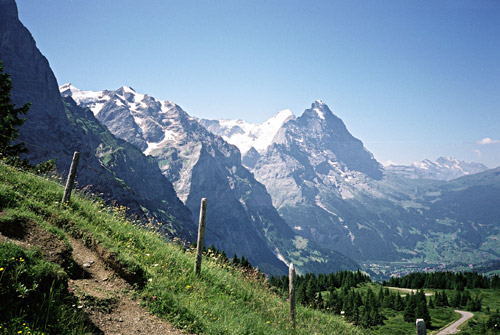 Today was the second to last day on this year's trip. I had realised only two days ago that I did not have as much time left as I had earlier thought. I had originally planned to get over into the Aosta valley and up a small pass on the south side of the Simplonpass (Furggu (1872m)). I had other plans as well, but now I had to do only the main climbs I had wanted to do. One of the most important ones that I could not really do (given the circumstances) on my 2004 tour was the Grosse Scheidegg (1962m) pass.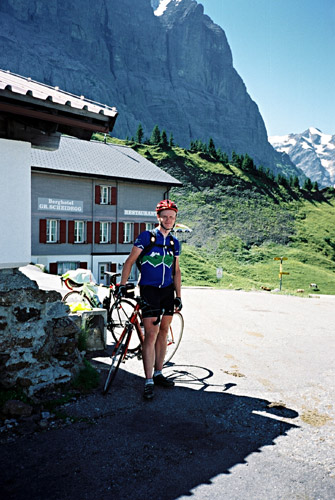 I wheeled down the rest of the north Grimselpass stretch in the morning toward Meiringen. A bit before Meiringen at the Aaresschlucht, there is a serpentine and a little climb, just after this climb a road (Scheideggstrasse) leads off on the west side of the road. This is a very nice and small road that soon gets steep. It climbs for a long time and I had trouble occasionally with biting horseflies here around (also on some other climbs this year). There is one place to stop for water on the way up (and here there are extra much horseflies around). After getting halfway up you reach an upper valley which is nearly flat for more than 2 km to Rosenlaui (1328m). Thereafter it is steep again, with one ramp of up to 18%. Then there are some electrical (?) cattle bars across the road (if you understand what I mean), these are best simply cycled straight through as they then open nicely then. (I saw some other cyclists stopping to open them by hand, which was much more complicated.)
While the views on the climb are nice and you can see the Wetterhorn rise above you most of the time, the views on the top of the pass are really good with views of the whole range of the mountains above Grindelwald. There is a restaurant and berghotel as you can see behind me in the second photo here. The guy who took this photo had cycled to here from his home in Bern – would have been nice to be able to make day tours like this from home! The first photo was taken a bit up the road going higher to the north.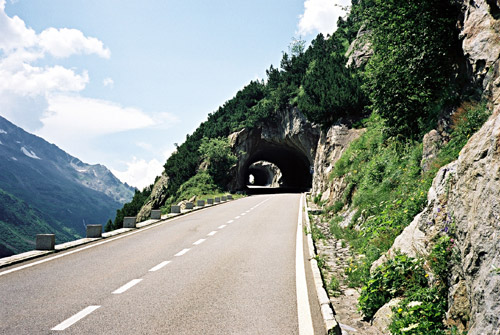 I had to go back the same way as I was on my way in the exactly opposite direction and had no more time for going in the wrong direction. I descended on same road again and followed the same road a little after the restaurant at the top of the Rychenbachfall and then took the Schwendistrasse down to Willigen (621m) (just outside of Meiringen). The Schwendistrasse is very steep and curvy and there is a gravel section on it too. You can glimpse the Rychenbachfall from this road and see the train going up here. The climb up to Grosse Scheidegg would be hardest if going this way up. (There might be another road up directly from Meiringen to the restaurant above the waterfall as I think a sign said Meiringen there, but the road is not shown on any map to go down to Meiringen.) The Rychenbachfall/Reichenbachfall is famous for being the place where Sherlock Holmes should have lost his life. Apparently Conan Doyle had been very impressed by the waterfall on a visit to Meiringen.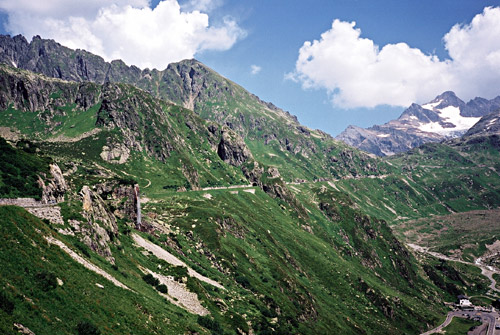 I continued straight back to Innertkirchen (625m), where they had just closed the shops in the village, so I directly started out on the impressively long climb up to Sustenpass (and Sustenpasshöhe) (2264m) which is a climb of 1639m and 28 km. I stopped in Gadmen for a warm Coca-Cola (as they charged a lot for cold ones) and an ice-cream. The Sustenpassroad opened in 1947, which I had read in the book on the Aaresschlucht the night before and they perhaps still have the record number of visitors to this gorge that year. Thankfully it was good weather today as seldom seem to be the case on Sustenpass. I passed over it in snow in 2004 and was too cold and shivering to be able to get my camera out, but now I had several photos.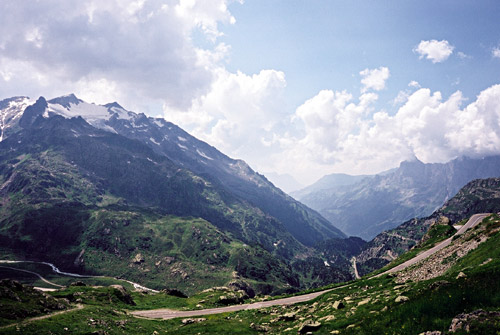 The upper part of the Sustenpass on the west side is quite spectacular, less so on the east side. Sustenpass is a tunnelpass at 2224m and could with some hairsplitting argumentation be called a different pass from the Sustenpasshöhe (2264m) to which an asphalt road goes on the west side (there is another restaurant here). The Sustenpasshöhe is a very nice place for photos down both sides of the Sustenpass. The next to last photo down the west side of the pass is taken from near the Sustenpass on the main road. In the last photo (from Sustenpasshöhe) looking east one could see the very old pre-tunnel road descend the east side (might be cyclable in parts with a mountainbike).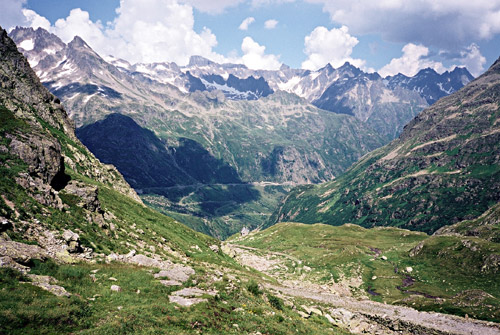 I went back and took the tunnel down the east side. Some tourist buses had come to close to each other and one had his side mirror destroyed which had provoked a fierce debate between the drivers there and caused all traffic to stop. Happily I could just get by between them and get the road for myself down to Wassen (916m). No one passed me by on the way down apart from perhaps two motorbicyclists. It is a very fast road down this side – one of the more hilariously fast in the Alps actually. (However I probably did not go over 80 km/h in speed.)
At Wassen I stopped for a sandwich, yoghurt and something to drink. There are some very cheap lodging possibilities here (should be much cheaper than staying up in Andermatt). I was however on my way to the next pass – Oberalppass (2044m) above Andermatt. The climb up from Wassen to Andermatt was new to me and it is a busy road, but quite spectacular with impressive construction work to succeed in getting a road up this gorge. There is an alternative railway option for cars here.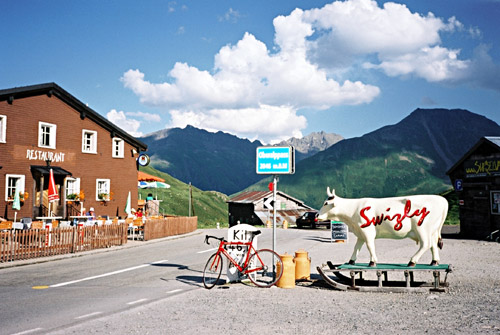 I did not stop until I reached Oberalppass which turned out to be a demanding pass climb from Wassen with 1128m to climb. At Oberalppass it started to get a little chilly for the first time during the sunny day. My objective was to get as far as possible on my planned route for the day and I had hoped to get to Versam, which I eventually did. It is mostly downhill from Oberalppass, but it is quite a long way to go and there are some flat and uphill sections.
I only stopped once for a chocolate bar and a Coca-Cola before Versam. The valley down here is quite nice with many strangely named villages, like Sumvitg and Rabius. It seems like there would be many ideal and romantic side valleys (Val Sumvitg for example looked inviting) to explore here around for tourists looking to escape the more well known places in the Alps. It is both rather cheap here around and among the nicest areas in the Alps, but almost no signs of tourists at all.
I was really hoping to get up to Safien-Platz in the Safiental to be able to surely get back to Aprica the day after, but decided to stop at Versam, which was after all quite far away from my starting-point today. The hotel there was half-decent. It was okay but not the best value for money on my trip. There was nice views from my hotel bed window of the slightly strange landscape in this area, which forces all but trainriding passengers down the valley to climb a couple of hundred metres to get over a big bump in the valley which has a deep gorge where they have managed to build the railway through, but no road. The main road alternative east from Ilanz (698m) (middle sized city) rises to 1111m at an obvious, but unnamed, pass (saddle) before Flims, while the road east over Versam (a tiny road which looks prone to rock slides at some points) rises to 936m just before Versam at another unnamed pass (saddle) in a hilly landscape. I am not sure if I would have reached Safien-Platz before dark and I was not sure if there even was a hotel there (I think they told me at the hotel in Versam that there was one, but they would not think I would get there in time), but I also did not know if they had any free beds so I decided not to take the chance. The next day is the last day, but not the easiest one.