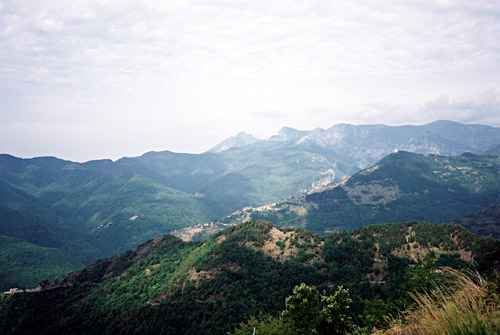 I had originally planned to continue up here on a gravel road over Col del Garezzo (1801m), which would have been interesting (and also with many other cols to collect on the way over to Colle di Nava). However, I was a bit behind schedule and was tired of gravel roads, so instead I took the asphalt road over Passo della Téglia (1386m). This road is marked as bad on the TCI map, but it has been resurfaced and was one of the best roads I cycled on in the area. It starts like a really narrow road out of Molini di Triora, but after Andagna becomes wider and with good views for most of the climb.
This is also a long and hard climb of almost 1000 height metres. At the top I noticed a gravel road/path going off toward Col del Garezzo and noticed on the map there that I could get to a nearby pass – Passo del Pizzo (1398m). It was possible to cycle with a road bike nearly 100% of the around 2 kilometres to this pass (which is 10m from the path) and I took a second photo here looking somewhat similar to the first one taken at the false summit below the Téglia pass (seen in the second photo where the road crosses the ridge below).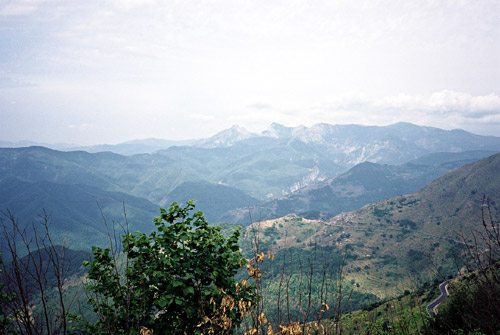 I was again tempted to continue this path to Col del Garezzo, but decided that I should forget about it and the map suggested that it might not be possible to bicycle much of the stretch (with an MTB I guess there would be no problem however).
I headed down the wooded west side on a nice serpentine road. After a while someone stood almost in the middle of the road cutting wood – it is not a trafficated road! I was surprised of how little traffic there was on this wonderful road. Much further down just before Rezzo a woman was collecting wood in the middle of the road and I started to wonder if this was normal here.
I went down all the way to Pieve di Teco (240m) by the busy main road to Colle di Nava (941m) and stopped for a sandwich lunch. It was very hot here and remained so until I came close to Colle di Nava, where it was more cloudy. The climb to this pass is not difficult and the road is fine. Biggest problem is all the cars.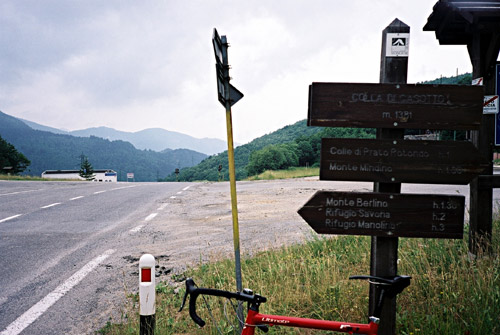 I stopped again in Garéssio (621m) for a coffee and ice-cream. Here one starts to get out on the flat lands above the Ligurian Alps. From Garéssio I climbed up to Colla di Casotto (1381m). This was a much easier pass than the Passo della Téglia of the same height. The road was good, but the views were not very good. I found water on the way up here. No other cyclists in sight here around. It was rain in the air and I wheeled down rather fast toward Pamparato.
I just managed to escape the rain for some time (though I stopped shortly for a shower below the climb). I took a very difficult to describe road from just before Pamparato to the east. I took the absolutely most southern-going road choice that headed east all the time here (there is no easy to follow map of this area and the roads are not adequately signposted in this region). I had printed out parts of the area from the maps at a Cuneo official map site, but even these were hard to follow. Go to Serra (left) and then to S. Giácomo (left again). The later place was a rather big tourist village totally in the clouds and I never seen any reference to this area as a tourist area (quite obscure) – maybe I was hallucinating? (I may have passed by a pass just before S. Giácomo called Passo d'Uomo (according to a sign) at around 1000m height (highest point of the good and wide road). (I think it was some way into a private road there.)
Then I took left again down a fine road and from here it was the second (!) to the right down toward Mondovi. After some kilometres you see a little sign on a little road going off uphill to the left saying 'Bertolini Sopra'. After a short steep climb here you reach a pass called Passo del Morra (728m) (no sign). From here I lost my way and had to take shelter for heavy rain. After some time I continued cycling, but had no idea of where I was going and the signs made no sense to me, nor did the geography of the landscape! Somehow as I decided to go downhill as much as possible, I finally turned up at Mondovi, which, to my surprise, was a very big town.
It just started to rain again and I decided to stop for a pizza at the end of the town and wait for the rain to pass by, but the rain just continued and after a while I just started to cycle again, but was no longer interested in going up the rain-soaked mountains this late in the day. After some time on the busy main road to Cuneo I took off to Chiusa di Pésio and now the rain stopped again.
I decided to try and find a place here to stay at for the night as I did not want to go all the way into Cuneo again. The is only one hotel in Chiusa di Pésio and it was fully booked, but the nice lady at the hotel recommended me to have a room at another lady in town that had private accomodation. Some other people at the hotel was just going to this house and showed me the way through the village. They told me it would be better than the hotel and it probably was. I got a gorgeous room in a very nice old stately house in the village. The lady offered no breakfast, but it was only 20 euro and I was very happy. Later, I went out on the town and had something good to eat at a small restaurant.