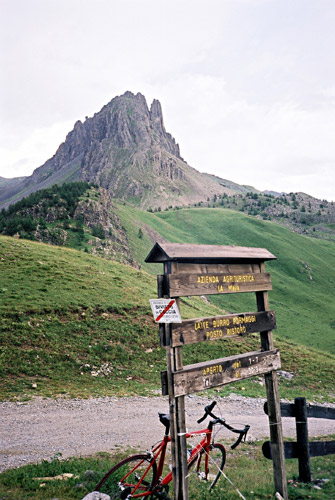 First photo for the day was not taken until around 17 pm and far away from where I started. The weather was good again in the morning and the roads were dry. As I had missed one planned pass the day before which was actually quite close to Chiusa di Pésio, I decided to go back up this pass just to check it out and collect it. Colle del Mortè (708m) was 5-6 km away (and not very interesting) and then I went back the same way and continued to Borgo S. Dalmazzo, where I had been some days before when I started out from Cuneo after the train ride from the Dolomites. I stopped just before Borgo S. Dalmazzo for a coffee, small sandwich and ice-cream (this was the breakfast today).
At Caraglio I went off the main road up the Valle Grana, which could be continued up to the Colle dei Morti (2481m) and Colle di Valcavera (2416m). One could turn right just before these two passes and turn down north to Valle Máira at Colle d'Esischie (2366m). However, I went north before the road up Valle Grana even started to climb and crossed over the much lower Colle di Montemale (931m) to Dronero in the Valle Máira as I had visited the other passes in 2002 already.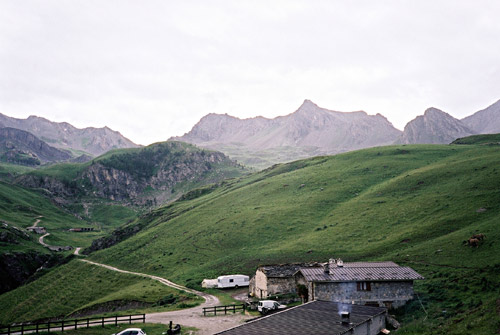 I stopped again in Dronero, after the nice climb and descent over Montemale, for a sandwich. It was still lovely weather, but as I started out on the slow-rising road up the Máira valley I noticed that it did not look good in the direction of where I was going. Shortly before reaching Bassura di Stroppo where I had stopped for the night in 2002, I had to take shelter for very heavy rain (I got almost totally soaked in one minute before I reached the little shop with a roof) and thunder in the mountains. After half an hour I started to move again as the rain shortly stopped, but before I reached Ponte Marmora it started to rain again and I was not dry and it was getting cold now. I stopped there and had another sandwich and something hot to drink (they could not make hot chocolate properly … ), but it was cold even inside the bar there and it continued to rain for quite some time.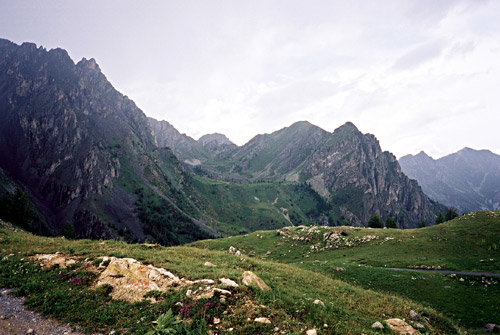 After a while I decided that I could not wait any longer and it had almost stopped raining now. It was past 16 pm and I had three hard passes to climb! First and most importantly I was going to climb the Colle del Preit (2083m), which was one of two asphalted passes above 2000m in the whole of the Alps that I had not climbed thus far. (Since then I have discovered that Männlichen is a paved pass above this height near Grindelwalden in Switzerland.) The climb starts directly from Ponte Marmora (944m) on a small road that branches off to Canosio and Preit while the other branch goes up to Colle d'Esischie (2366m).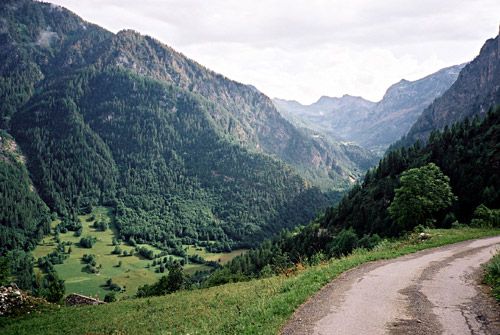 After Canosio the road gets more narrow and steeper. The last part some way after Preit to the pass height is quite steep, with up to 15-16% stretches. The asphalt ends just at the pass which is just before the crossing where you have two gravel road alternative continuations. One goes down to a tourist farm (they sell cheese and such) and then the road continues but eventually it becomes a path not cyclable with a road bike anyway (from what I have heard). The other gravel road, that continues to climb, later gives one the choice to visit the Passo Gardetta (from where there are only path continuations), or to continue this long and winding gravel road over to Colle di Valcavera (2416m) (via other passes: Colle Cologna; Colle Margherina; Colle della Bandia). I had planned to go over to Valcavera this way and descend back to Ponte Marmora via Colle d'Esischie (which is reached via the easy (from Valcavera) asphalt passes Colle dei Morti (Colle Fauniera) and Colle del Vallonetto), but due to rain in the air and being late now, I decided to return back down to Canosio.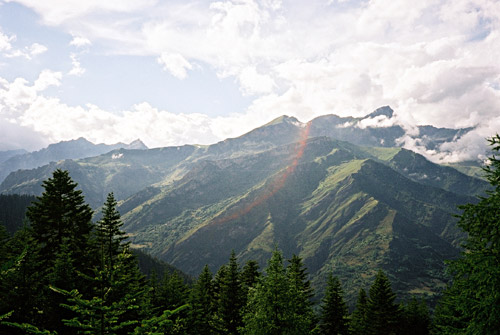 At Canosio I climbed up the asphalt road there to Colle San Giovanni (1649m) and Colletto Canosio (1651m). I am not quite sure I understand why the first is regarded as a pass. The other obvious pass is found by continuing on the flat 1 km road at the top until a grassy gravel road starts to descend the other side – there was a marvelous view from here, so it is worth going to the end of the asphalt road here (my 5th photo was from here, the 4th was near the top of this climb toward the Preit pass (other direction) and the first three are from the Preit pass). I started descending the gravel road but decided after much difficulty in deciding what to do to go back down the way I came from. The gravel road down would have been very nice to descend and was good enough for my road bike in the beginning, but I had to realise that the road would probably be hellish for me down in the woods due to the previous heavy rain and I also had found no report if it was even possible to use to get down on.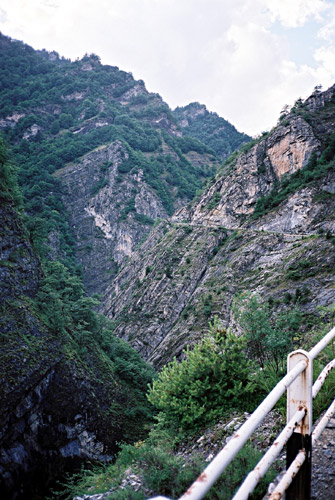 Down at Ponte Marmora (944m) again and I went down the Máira valley road for 1 km until the famous alternative southern approach up to Colle (di) Sampéyre (2284m) starts. This is the road via Elva that was closed when I was here in 2002 and which the hotel owner in Bassura di Stroppo suggested that no sane person would ever use. It was now 19 pm and to start out on this climb now would probably seem a bit insane to nearly anyone. But I had been avoiding other doubtful excursions earlier just in order to get over this pass this day.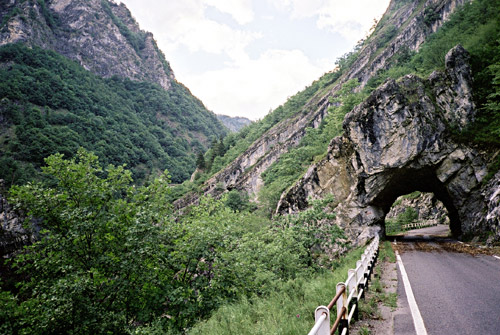 As I started the climb it was cold from the start and I could only see traces of the sun far above up in the mountains. I have heard that dangerous roads are most dangerous after there had been rain as stones often roll down the mountainside as it starts to dry up. This road is more prone to rock falls than any other imaginable road on earth, I would guess and I could not help but to stop and document this with a couple of photos. I was really impressed and thought that anyone climbing this road without some sense of fear was not in their right mind. You can see that I had to zig-zag between loads of stones and debris on the road (and the man in Bassura had told me that the inhabitants of the little village of Elva always brought a shovel with them in the car just in case they had to stop and shovel their way through some rock falls). The surface was perforated by previous rock falls and the safety barriers at the roadside were gone here and there after having been swept away by big rocks. After getting almost through this rock fall passage a sign appears warning for rock falls! –I have heard about pointing out he self-evident before, but come on! The dangerous stretch ends with a madonna by the roadside commemorating victims of the road, which you find on every other road in the mountains in Italy, but here the Madonna has the size of an entrance to a cathedral and has a long list of names including "tourists". (I guess they only included the most prominent victims in the list … .)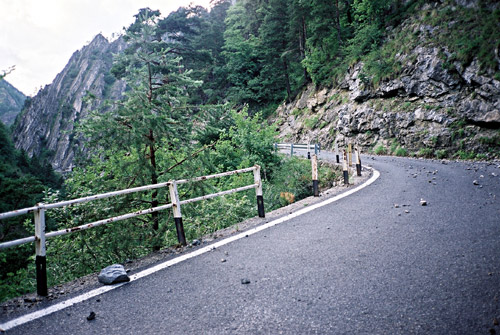 Then the road becomes steeper and passes Elva and another small group of houses. (You should turn right at a crossing.) After some more struggle you will reach the crossing with the road coming up from Bassura di Stroppo and take left here up the last kilometres to the wonderful Sampéyre pass. There is a pass just after (or at) this crossing called Colle della Cavallina (1950m), from where the last photo was taken – here at last I catched some sunlight before the sun disappeared again.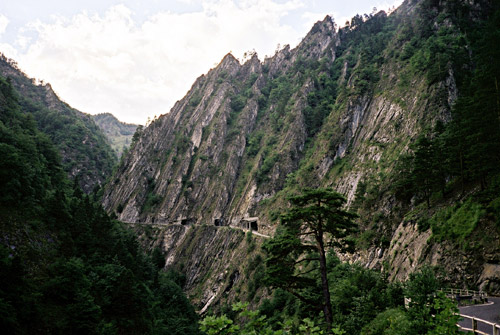 At the pass height I had originally planned to go down the gravel ridge road, that I started out on in 2002, but had no plan then to continue and now it was too late in the day and with rain earlier it was no good idea anyway. It was getting cold and I started on the descent almost at once. Half-way down the twilight started and then I got another flat (puncture). This time it might have been an ordinary sharp stone on the road which was the culprit. I was cold and tired now, but managed to get the new tube on somewhat quickly and started out again, now getting use of my long-finger gloves that I had brought with me but had not used before (it is a good idea to have something such in case of bad/cold weather).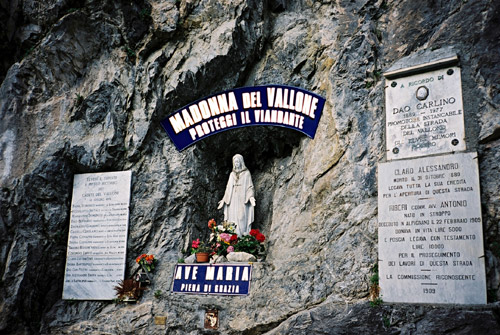 I had hoped it would be easier to find a place to stay at in Valle Varaita than in some of the other valleys in Piemonte, but it was not easy (just as I had heard). There was a three star hotel in Sampéyre and in retrospect I should perhaps have asked there, but I continued down the valley optimistic of finding a good alternative (I also wanted to get to a warmer area). After stopping and asking at three different places in three different villages, it got dark. (Either the place I stopped at was not open or no one was there.) I continued down to Venasca (549m) where I just had to find a place to stop at and it looked promising. I came into the village from a small road and thus had to ask to find the hotel on a bigger road. I am not sure if there was any other alternative, but this was good enough for me. However, there were a very big spider in my shower basin and as I am no friend of spiders it took me some time to grab some courage and slay it with a toilet paper roll ;-) (which got soaked so that almost half of it was useless after – so it was quite a big spider indeed) and then there was only cold water in the shower (maybe my punishment).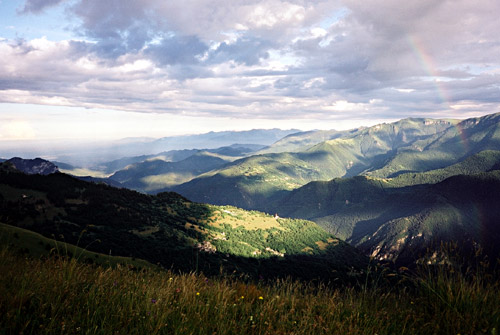 I asked about a place where I might get something to eat this late and was given a description of how to find a pizzeria. I found it just as I started to believe that I had not understood the description. It was a 10-15 minute walk some way out of the village down the valley on the main road (with no sidewalk and street lights), but well there I had a good pasta and pizza and a pitcher of beer.