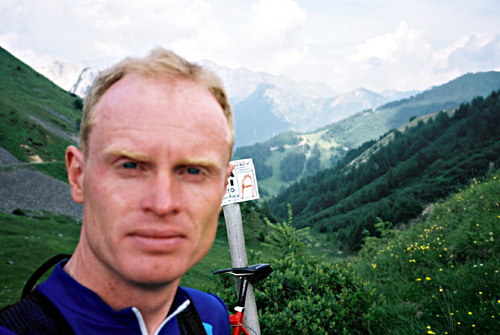 As you might imagine, I was a bit tired after the two previous days now. However, it was nice to be starting out on the real trip with no pre-booked hotel. I only knew I had to be two days later in La Villa/Stern in Alta Badia, where I had booked a room for three nights as I planned to meet my friend there again and take part in yet another race – Maratona dles Dolomites (one of the best organised such races in Europe and in the finest mountains).
It was extremely hot as I came down to Breno (343m) and stopped to eat and drink. I decided to take the road in the middle of the town that is very narrow and very steep at once (there is a small sign there for Croce Dominii). I soon discovered that I had to stop and adjust my chain line for some odd reason. Then I continued. I tried to go slowly as I knew I would easily hit the wall in this hotness otherwise. It got very hard toward the end anyway and I stopped at the good refugio/bar at Passo di Croce Domini (1892m), where I had a big beer and a Solero ice cream.
In the first photo for the day at the nearby pass – Goletto di Cadino (1943m) I was still looking rather tired as you see.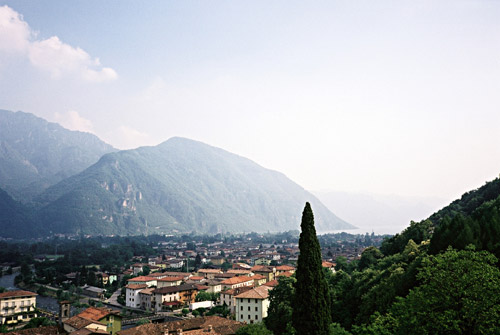 I descended to Bagolino (via the small bump of Goletto Gavero/Goletta del Gaver (1795m)) and went into the centre of village and went up on the small road over Cerreto and Riccomassimo to Lodrone (388m) that I also used in 2003 and which is a nice alternative to the road going down to Lago d'Idro and somewhat shorter if you are going to Riva del Garda.
I stopped again at Storo to eat some more. Then full speed up the small pass of Passo dell'Ampola (747m) (someone passed me by on a mountainbike early on and then I woke up ;-)). It is quite nice on this road over to Riva del Garda. The only problem is that there is a lot of traffic. The long tunnel (that still cannot be avoided due to the alternative road being closed since many years) is not fun, but going this way it was a fast descent through the tunnel and thus no problem. I took the second photo just when I caught sight of Lago di Garda and Riva del Garda. [Actually, the long tunnel could have been avoided, but I did not know that they had re-opened the Ponale road in the Autumn of 2004 – a year after I tried to go up that road. It is a very nice alternative road with nice views of Lago di Garda and nice serpentines. It is partly gravel, but could still be handled with a road bike as I understand from reports.]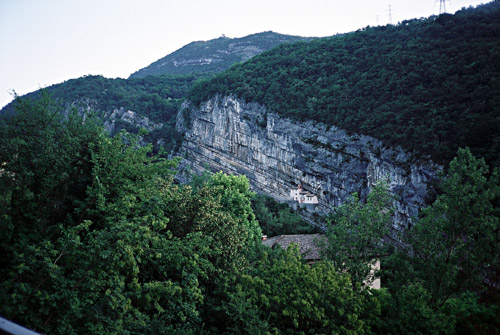 Stopped again in Riva del Garda for a chocolate bar and a Coca-Cola. Then a nice ride out of the city behind a nice girl on a road bike ;-) (– few places where you can find as many nice girls on road bikes as here around I guess – I wish it had been more popular at home!). This is really some sort of centre for tourist cycling in the area, with bicycle shops all around.
I took the main, very busy, road east to Rovereto over Passo San Giovanni (272m) (the lowest pass road in this part of Italy). In Rovereto (177m) I somewhat quickly found my way out on the correct road toward Vicenza. It would seem stupid to most to start out on this road when the twilight was starting to fall and I had no idea of any possible place to stop at for the night along the road.
It was a nice road, but it went a bit frustratingly up and down a lot of times. The last two photos are from this climb up from Rovereto toward Passo Pian delle Fugazze.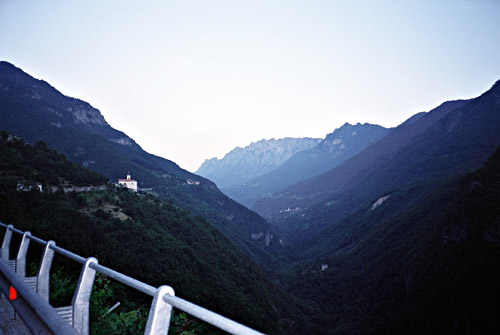 When it started to get rather dark and I got a bit worried about finding a place to stop at for the night, I asked a couple out walking and they told me there was a hotel just at the next place called Foxi. It looked nice, but it was full with motorcycles outside. I went in and they first told me it was fully booked, but then changed their mind and had a room for me. It was good and I even got some food despite being too late for that.
I met an Israeli man also out on a long bicycle trip and it turned out he also enjoyed the same novelist/philosopher as me – Ayn Rand – so we had a long chat into the night there. I guess we could as well have continued longer as I had a hard time getting much sleep since the German motorcyclists was up half night laughing loudly and it was too hot for me to close my window. Eventually they also got tired and I got some sleep. (They actually speak German as far south as this in some parts of the area due to historic reasons.)