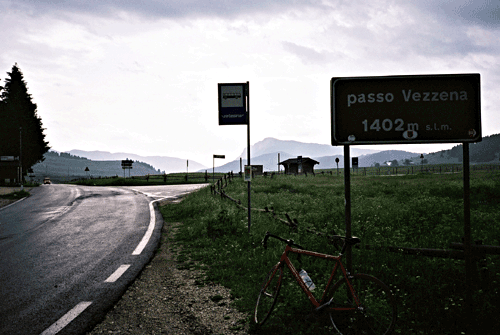 "Are you not going to stay," they asked me at the hotel, assuming I would not want to go out cycling this day as it would rain according to forecasts and by looking outside. Well, I just have to be in La Villa, Alta Badia before the dark falls, I explained, and that I intended to go via Asiago-Énego (which begins with going in the opposite direction). It was quite obvious that there was hellish weather right up toward Alta Badia (the whole sky in the distance was filled with blizzards and very dark skies). It started to rain as I got out of the hotel, but I was not far from Passo di Vezzena (1414m) and my hope was to escape through the pass. And, as my friend Ola sometimes has pointed out – I have more luck than I deserve – deserved or not, I just escaped in the only possible direction of escape that there were, which happened to coincide with my plan.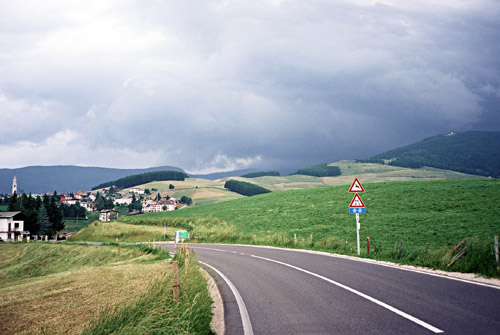 First down in Asiago I decidedly escaped the rain, even though the rain probably got there later (there were strong winds there). Passo di Vezzena is somewhat easy on both sides with a good road. From Asiago I had a very pleasant ride on the nice and sweet plateau on the main road passing several small villages, until finally descending to Énego at the western end of this big plateau. There I stopped for a coffee and ice-cream at a café. I remember the church had some rather odd church bell jingle (there is actually someone who has released a full album of church bell tunes that my favourite musician, Martyn Bates of Eyeless In Gaza (also a website of mine that I just updated and which caused a delay in the writing here), happened to record for me once. I bought some good liquorice in Énego (Mental) that I did not find again elsewhere.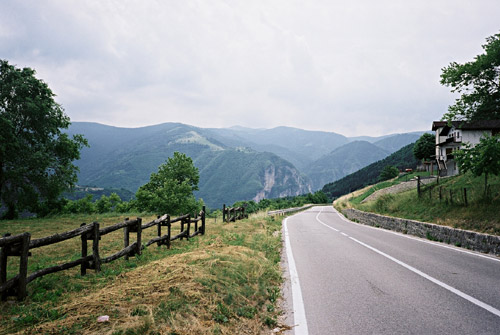 I had said that I should meet up with a person running a bicycle website centered on the Veneto area, but it turned out to be too complicated to combine with my amended plans and I had to ditch that idea, but felt bad that I did not get back to her (I just could not decide when it was too late to try and contact her and now it was too late). The thought was originally to climb the famous Monte Grappa (which is what you should see in the photo here on the descent from Énego) via the steepest approach over Bocca di Forca. There are good descriptions on the different roads up to Monte Grappa on the mentioned website. I was forced due to time constraints here to go up, via Arsiè, to Fiera di Primiero (717m).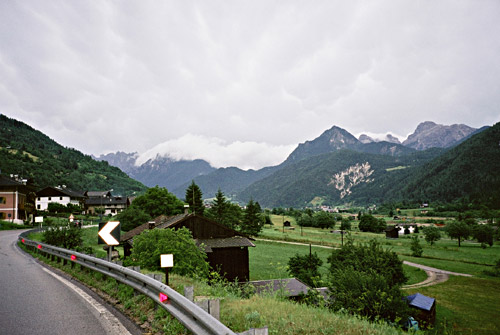 On the way up to Fiera di Primiero, I changed the direction to go north and it was not likely I would escape rain totally this day and after some tunnels on the way up, I simply had to stop for a heavy rain with some thunder and lightening. Luckily I was close to an albergo (Monte Croce) where I got a sandwich and something to drink. (A rustic place.) After this 45 minutes break the rain stopped and I slowly started out up north again. This road up north must be one of the best approaches from the south up to the Dolomites. Upon approaching Fiera di Primiero you see the Dolomite mountains towering up in front of you. Cimòn di Pala and the other mountains looks really impressive from down there. (See the two photos here. Strange cloud formations in the first photo because of the dramatic weather that had been present just recently.)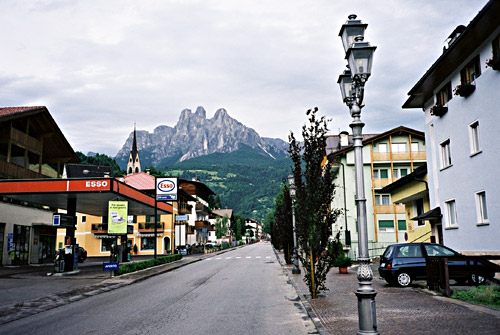 In Fiera di Primiero it had dried up again and I started out at once on the climb up to Passo di Cereda (1346m) – a climb I had heard to be steep. It was indeed quite steep with long sections at around 13%. Even if not so long it is quite demanding. The road is very fine though. The scenery is actually not so good on this western side. On the eastern side it is fantastically nice and sweet! The stretch between this pass and Forcella Aurine (1296m) is quite beautiful. The dip between the two passes is rather brief.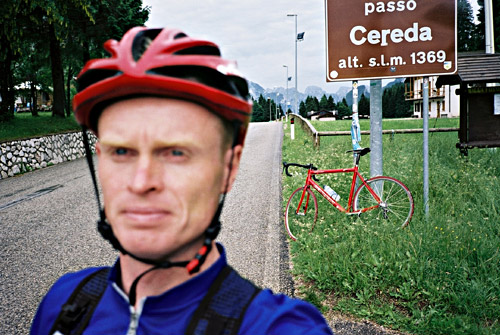 I avoided the main road by taking left just before reaching the main road at Agordo and joined the main road a bit higher up. It is an enjoyable road to go up via Cencenighe (773m) and Caprile (998m) to Passo (di) Falzárego/Fouzargo (2105m) and Passo di Valparòla/Ju de Valparola (2196m). I stopped again in Cencenighe to have another sandwich with mountaineuosly coarsly cut cheese on, before the shops were starting to close. It was getting a little late but the weather was fine and I felt somewhat confident I would make it over to La Villa if I could be in Caprile at the latest around 19 pm. A climb of 1200m usually takes 1,5 hour and then it is half an hour down. (1 hour per 10 km of climbing is usually a good average measure.)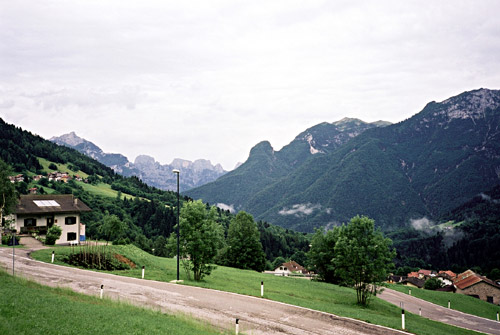 In Alleghe (979m) I saw much of the people that were taking part in (German) Tour magazine's 7 days tour across the Alps, who had apparently stopped there for the night. I first thought it were cyclists that were to take part in the Maratona dles Dolomites, like me in a couple of days (maybe some did). I read later in that magazine that this day had been tough for them cycling in rain much of the time. Well, they could relax half of the day though, I thought, and cycled happily on.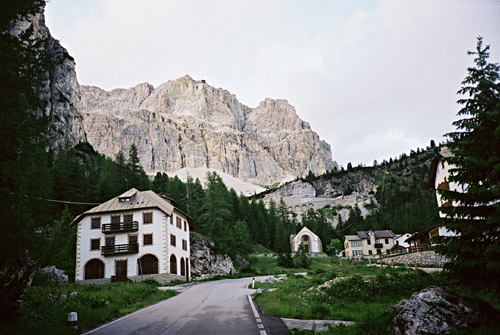 I felt happy about being back in the Dolomites again and the experience of cycling in these mountains is really hard to beat. I think I was already in Caprile around 18.30 and felt I could take it easy up to Valparola. It is, however, a pretty long and demanding climb from Caprile and I got a bit tired on the Falzarego climb. It also got appreciably colder outside now as well. I thought I spotted a strange animal looking like a big cat with two really big teeth walking down the side of the road, but it could possibly have been a cat or some slightly bigger animal with some catch in his mouth. (I took a photo, bit it was not good enough to determine exactly what it was.)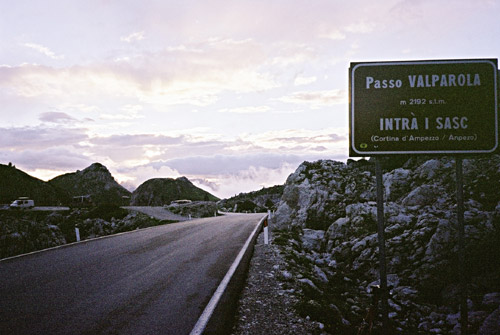 It was down to 8°C at the top of the Valparola pass and it was already around 20.30 now. I had some photos at the gloomy pass (this evening) and there were even a little rain in the air, but still there came up a few cyclists taking an evening tour and who probably returned back to Alta Badia again.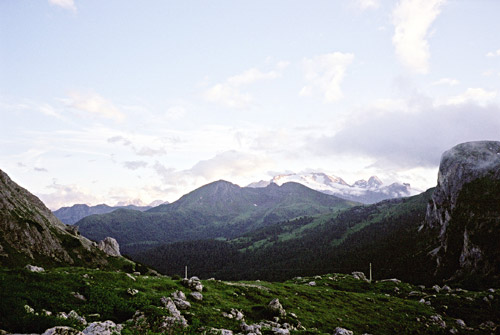 I luckily found the way from memory of a map to the house were I had a room pre-booked and I was there just before it got dark. I checked in and asked about my friend and his girl, but they had gone out to eat (they could not wait all night for me to turn up). The lady in the house asked where I had my luggage and I said I did not have anything more. But where do you have your car?, she asked. Well, I only have my bicycle, I said. She thought it was slightly funny, but she was a nice old lady with total control of everything. They are more extreme in that everything should look perfect here than anywhere else in the Alps here around, including Kärnten and such places. I was afraid of placing the hangers in the wardrobe in the wrong order! ;-)
I went out to a pizzeria and had two pizzas! I did not like that they didn't ask if I also wanted a dessert!