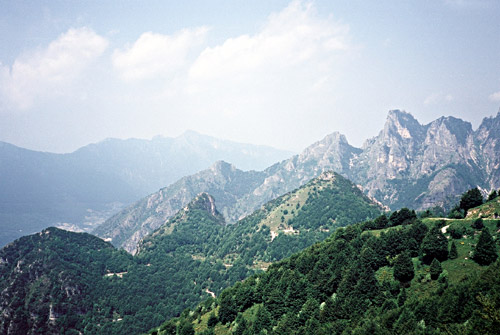 After a good breakfast (with sobered up Germans) I took off a little bit late (also managed to borrow a computer here shortly). The climb up to Passo Pian delle Fugazze (1163m) was of course somewhat easy when starting more than half-way up the climb. Then, with much difficulty before I could decide to do it, I started out on the road of the heroes up to Porte del Pasubio (1928m) and it seemed like it was a fitting name for the road as going up there on a road bike demand heroism, indeed! It was so bad and stone the gravel road I simply had to walk some parts (I guess most would have had to walk most of the time, but it all depends on how much you cherish your tires). After the tunnel where you could only pass if you are walking or have a bicycle, it is no longer possible to cycle at all on a road bike. This pass is truly for MTB only!!!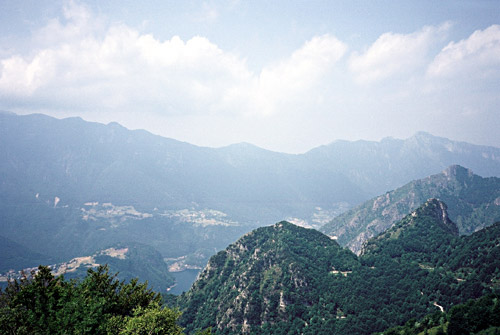 However, I decided that to hell with my plans. It was more important to visit some really nice places than simply going on fine roads and I was hoping I could cycle some way down the other side. (Bringing an MTB bike is of course an option, but 95% of the time I only go on asphalted roads and thus it makes no sense for me to have an MTB, still I do not want to miss out on some real nice places that are mostly just accessible for MTBers otherwise.) The weather was good and I enjoyed walking in this very nice scenery!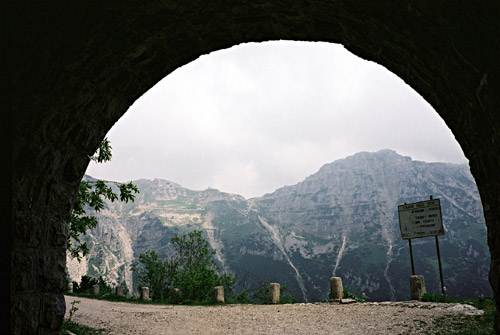 I stopped at the old rustic rifugio Papa and had an apfelstrudel and something to drink (no free water on this pass at all!). Then I saw a sign for Passo Xomo pointing toward the famous Strada delle 52 gallerie, which is a quite impressive path (rather than road), which I could not resist to enter despite its sign disallowing bicycles. After getting my micro Mag light out to find my way up a few tunnels I decided that this could not be the only road down to Passo Xomo and went up on a height to have a look around. I should just have continued on the main road around the corner of the ridge to found the fine road down to Passo Xomo. Some people coming with lights on helmets and full walking equipment thought I better turn around quickly (I guess they were intimidated by me walking around in a cycling outfit up there ;-)).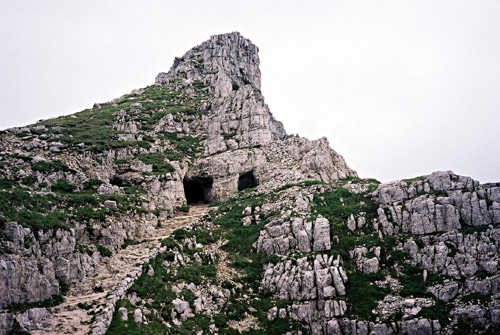 Anyway, I decided that it was nice thus far and that it would probably take me the rest of the day to go the full Strada delle 52 gallerie, so I went down the main road which is not without perils either, with sheer drops of many hundred of metres without any protection. Unfortunately this road was just precisely not possible to cycle down on my road bike (tried some bits here and there, but it was not good for my bicycle), so I had to walk for another 2 hours or so. I think I had to walk ca. 3 hours in total. Still I think it was worth it.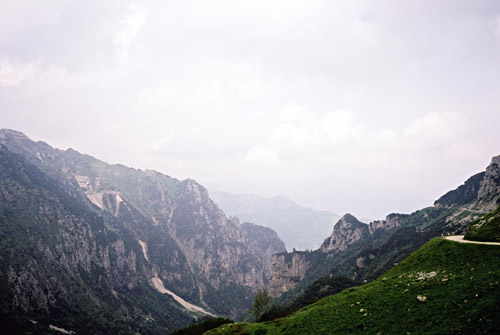 The road is paved again from the parking place and pass Bocchetta Campiglia (1207m) (You will also pass by or close to Bocchetta Xetele (1211m) here.) The short road down to Passo Xomo (1059m) is not recommended to go fast down (some tricky bumps). Then finally water at Passo Xomo and asphalted roads going in four directions. I picked out my map and sat down studying it for a while (as many cyclists came by from all directions, looking confused, but then descended some other road)!
I went down to Arsiero via Posina, which was a nice twisty descent. I met a team of young cyclists going up with a support car following them up. It seemed like a very popular training ground for cyclists around the area.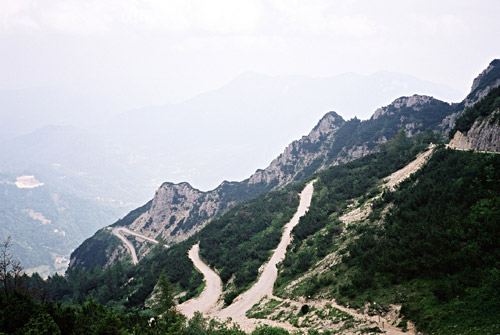 Just before descending the last few metres down to the cooking flat plains where Arsiero at the southern end of Alps is placed, I quickly went back up in the mountains via Tonezza. This road is very fine in all ways – it is really a masterpiece of mountain road engineering and with good views here and there toward the Asiago plateau. I stopped rather tired at Tonezza to eat and drink something (some fruits, yoghurt, etc.).
Above Tonezza (and its small pass Sella (1110m)) the surroundings change again to more open farmland. Then a little while later one is up in the high mountains again. The road continues to impress (wide, well-built, good views and good surface)) and there is not much traffic either.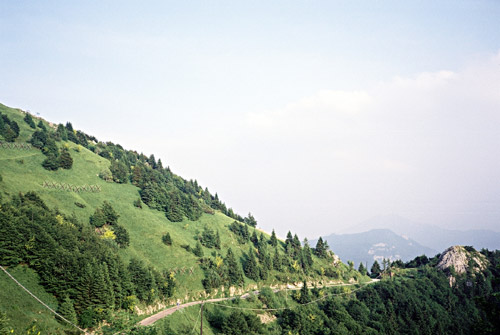 I was looking to visit some passes up here. The southern entrance to an alternative road up here some way above Tonezza was closed to all traffic. However, I later spotted a lonely road that seemed to go back down and over one of the releavant passes and I tried it even though it looked like no one had been using it for several years (much debris on the otherwise fine asphalt road). I soon reached Passo di Vena (di Sopra) (1545m) there is a lower pass visible from this one that I saw another cyclist on MTB was going down over, but it felt pointless going down to collect another pass, so I turned around and went back to the main road. (The photo here is from the Vena pass.)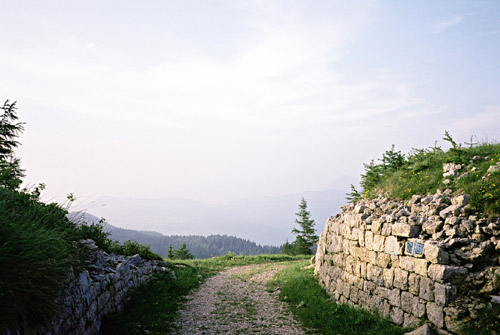 Just where this road meets the main road another road goes off up to Valico di Valbona (1781m) which was one of my main goals in this area as it is the most southern pass of this height in this area of Italy (which is asphalted). One goes through a tunnel early on which is another pass – Bocchetta degli Alpini (1566m). Then it is a very lonely road up the barren mountain with distant views in most directions. I think it is mostly a military road as there are some barracks around.
The pass in the photo next by is the Forcella Molon (1767m) which is reached by a flat, short and very easy gravel road from close to the Valico di Valbona (1781m) on the south side (one cannot miss it). No, I did not go down that way as the road down there was strictly MTB for sure. I went back to Valico di Valbona and took the last photo for the day and then cycled down to Passo Coe (1614m) and further down to Folgaria (1168m) above Rovereto.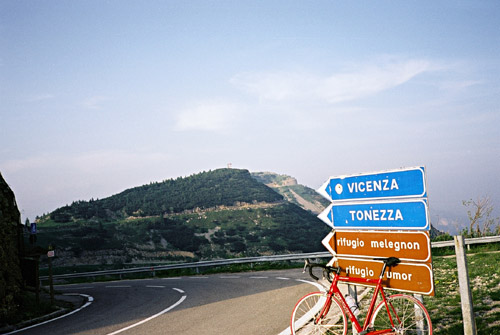 I then continued for quite some time because I could decide upon a place to stay for the night at – the places never looked quite right somehow. I went over Passo del Sommo (1343m) and down to Carbonare, where I almost stopped. Then up to Lavarone via the northern of the two choices of roads (maybe a bit nicer). There were some small villages but none looked quite right.
On the TCI 1:200000 map (very suited for road cycling in Italy) there is a place named 'Alb. M. Róvere' and this albergo was recommended on a Kompass map (121) of all places. I stopped and it looked closed, but decided to get it and ask if someone was there. They were slightly curious about this cyclist showing up at this late hour (around 9 pm), but was happy to have me as a guest. I guess I was the only one and they were very nice and made me a very good dinner. It must have been one of the best places I had been at (esp. considering the reasonable price, arund 40 euro including full dinner and breakfast, but maybe I got it cheaper than usual).
It was quite a contrast to the noisy place the night before in Foxi. Here it was so quiet that I almost could not sleep because of it. I could hear the insects outside, but that was all and only one light visible at some farm in the distance.