Some facts
Another tour of the mighty Alps, which lasted 25 days, with one rest day (a new for me), and two travel days with just some cycling/climbing. So it was only three days less of cycling than last year, even though I had sworn last year not to be away much longer than 14 days next time. Overall I was more laid back about my schedule and had not even finished my plan totally before setting out this Summer. (I would recommend finishing the plan beforehand though, even if you will not stick to it later.)
I cycled only 3615 km this time (around the same distance as the Tour de France) and climbed merely 150 different passes (some more than once) of which 103 were new to me. It added up to a decent amount of height metres – 79544m (only 4000m less than last year). More statistics: 150,6 km/day and 3314m/day (for the 24 cycling days); 158,5 km/day and 3522m/day (for the 22 full cycling days). This might be a new record height metres per day for me, but the rest day makes it difficult to count. I was close to break my height metres record for one day at 5389m (year 2002) (only 5320m this time), but this should be easy to break another time. (It seems my computer is a bit badly calibrated and that my distances get quite a bit shorter than other people cycling the same stretches, but better to state too small figures than too big ones.)
Had the hardest time on: Passo di Aprica in the dark on the third day; Passo S. Cristina the day before and Passo di Croce Domini the day after. Portes de Culet (near Pas de Morgins in Switzerland) was probably the hardest asphalted road I climbed. The only very difficult unpaved passes that I went over this time were Gemmipass and Porte del Pasubio, where I could only cycle some stretches and had to walk long.
Had built myself a new Carbon frame bicycle this year, but was unlucky with much squeaking sounds from time to time and a bad saddle bolt. (Carbon is not ideal for cycle touring!) I had also bought a pair of 'Kool Covers' from Syntace.de so I could use my favourite SPD-SL Shimano cleats and pedals, but the Syntace cleat covers were made of a much weaker material than the Italian ones for the Look cleats and they only lasted for 3 hours of walking on Monte Pasubio. So, I still need something better.
Note: Internet Explorer is not recommended. Instead use a good browser like Opera, Chrome, Safari or Firefox. These pages looks best in Safari on a Mac.
---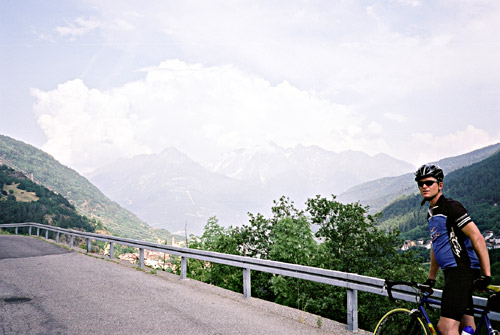 The photo here shows my friend Ola at the beginning of our climb up the Monte Padrio from Cortenedolo/Lombro (808m).
I had travelled the day before with my friend Ola from Gothenburg, via Frankfurt Hahn to Bergamo. We took the train in the late morning to Tresenda via Lecco and Sondrio (we should have changed to bus at Sondrio). From Tresenda we took the bus up to Aprica where we arrived at our hotel in the middle of the day.
We were to take part in the Gran Fondo Marco Pantani the next day (the second time this race, arranged in memory of Marco Pantani, took place). We had decided to try out our bicycles and get a sense for the mountains as fast as possible and took a short ride (38 km), which included one big climb from Lombro down the valley toward Édolo and up to Monte Padrio on the crest where an almost level road goes over to the famous Mortirolo (Foppa) pass. This climb is almost as hard as the famous alternative Mortirolo pass, but I did not want to admit to knowing that beforehand to my friend as he might not have wanted to join me ;-). There are at least two signs saying 25%, but it was, just like Mortirolo, never above 20%. The road is even more narrow than the Mortirolo one and it is more unevenly steep. The highest point in going toward Trivigno and back down to Aprica is 1867m. (A pass known in the Centcols.org guide for Italy as 'Baita Foppa' (1701m) should be near the top of this climb. It seem a bit dubious, but there is anyway a true (unnamed) pass between the highest point and Trivigno when returning to Aprica.) Go the other way at the top and you will pass several passes: Passo del Picco (1870m); Passo di Guspessa (1824m); Passo del Mortirolo (1896m) and the pass known as the 'Mortirolo' pass: Pas de la Foppa/Passo della Foppa (1855m).
This climb is difficult to understand how it goes as there is no perfectly correct map of the climb (as far as I and people at two local tourist offices knows). You should perhaps get the Kompass 94 map for getting an idea of the roads in this area. The climb starts just before entering Cortenedolo, but is not the road shown to go up from there on the map, However, just keep climbing and you should find your way. The road down to Aprica from Trivigno is slightly dangerous and I was happy to notice the problems with the road the day before we were supposed to race down there.
We had a pizza in the village and went to bed, hoping the weather would be fine in the morning. Aprica is also a pass (Passo di Aprica (1173m)).