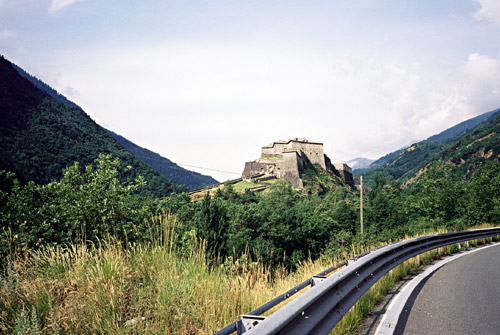 Today I was hoping for a more succesful day and getting further. Even though I had been going down to Susa before in 2002, I could not remember that there were so many ups and downs on the road, before the last descent into the town. As I passed by the well-situated Exilles fort and looked back, the fort looked really impressive (not quite captured on the photo, as always).
Down in the hot Susa (503m), I stopped for a Coca-Cola light and chocolate bar. The climb starts just where the city ends and continues somewhat steeply almost all the way to a point higher than the actual Col du Mont Cenis (2081m). Someone passed me by on his bicycle early on in the climb, but after some time I passed him by and then kept a steady speed up the pass. There was one guy near the top that passed me by and that I could not (or did not care) to keep up with. It is first after a straight flat road below the dam building near the top, and the serpentines that takes you up above the dam, when you get really good views. None of the approaches to the pass are very nice, but the top section is very nice with a big lake surrounded by high mountains. (The photo from my 2002 tour might be nicer than this (but there was also a defect in that photo and it was taken with a less good APS camera).)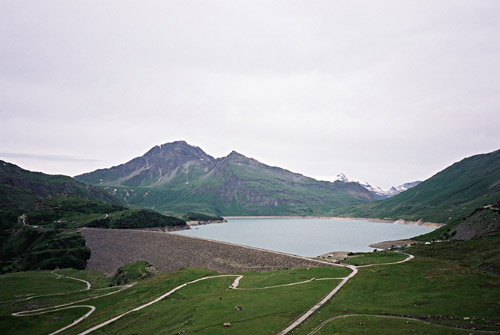 In the middle of the long top section there are some bars and a pastry shop. I went into the pastry shop and bought some pastries (maybe not much cheaper than in the cafés though). It was slightly chilly up here so I soon moved on and went to see the second pass of two unpaved passes above 2000m that I had previously missed to climb – Col du Petit Mont Cenis (2183m). The road to this pass starts just some metres before Col du Mont Cenis (coming from Italy). It descends to the lake and a VERY bad asphalt road, which on the other side of the lake meets the gravel road on the south side of the lake. From here a newly (2004?) good asphalted narrow road undulates up to Col du Petit Mont Cenis in the nice countryside, which is also a popular picnic area. (The last 50m to the pass is still gravel road.)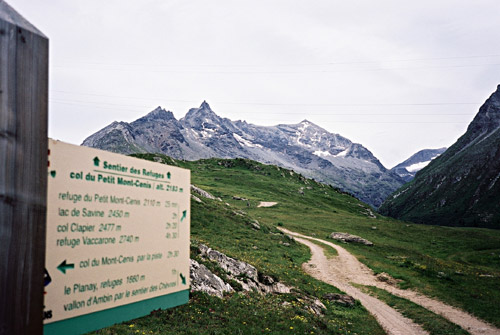 There is only a path down the other side of this pass. The gravel road continues to refuge du Petit Mont Cenis (2110m). I went back to Col du Mont Cenis. Watch out for the drainage gullies in the road and cars! It was a somewhat smooth and fast descent to Lanslevillard (1440m) where I stopped to have a crêpe with ice-cream and coffee (expensive). It was very clouded today and I saw little sign of any sun since leaving Susa behind. People were coming down from the sky in hang-gliders and I watched them as they landed nearby as I climbed the first set of serpentines out of Lanslevillard. It looked like they could easily come in over the road on low height, so I wanted to make sure where they were, but they were obviously not beginners.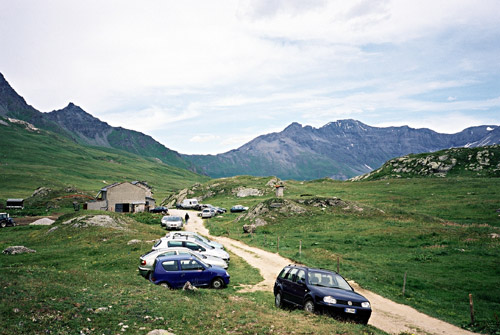 This first part is a bit steep, but then you reach Col de la Madeleine (1752m) (which is not to be confused with the very hard pass of the same name west of here), and here the road is virtually flat until after Bonneval-s-Arc. (You can cycle through Bessans on your way up – this road is also straighter.) I was happy to climb Col de l'Iseran (2764m) from the more beautiful south side for the first time. After filling up water at Bonneval-s-Arc the real climb starts and it is somewhat steep here and there, but on the whole this is not a very hard pass as you start at rather high altitude. At the summit I stopped just briefly and took a photo of an English motorcyclist, who returned the favor and took one of me.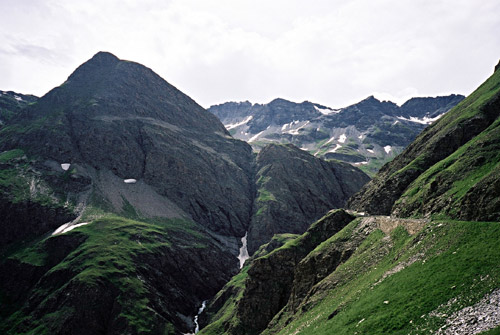 It is always a bit chilly at the top of Col de l'Iseran as it is the highest paved pass road in the whole of the Alps (where an asphalted road descends on each side). It was 12-13°C (maybe 10°C, lowest recorded temperature for the day) but as I was still a bit warm I just went down without putting on any windjacket. I had originally thought of dragging my bicycle up to a nearby +3000m pass – Col Pers (3009m), but it was too cold and I wanted to get a bit further than Bourg-St.-Maurice for the night.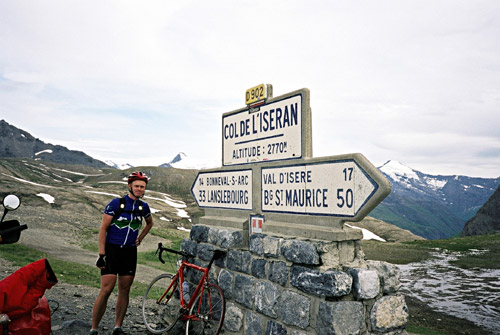 I stopped on the descent to Val d'Isère (1900m) as the view over the area surrounding the village now seemed much nicer than what I thought of it back in 2002 when I climbed the long north side. I had another photo. Full speed down to Bourg-St.-Maurice (I had to brake hard to let a guy cross the road in Val d'Isère as I had not slowed down enough). I was going in around 50 km/h on average for the 50 km down to the big village.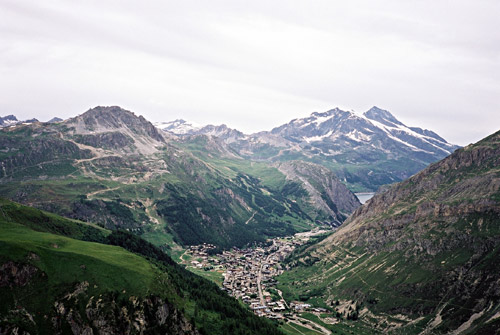 I stopped at MacDonalds in Bourg-St.-Maurice, but it took a hell of a time to get something to eat. There were very many people out in the village as it was the day for the final in the World Football (soccer) championship between Italy and France and people wanted to see it with others at restaurants and pubs. I was happy to escape all this (and heard that the game had been rather boring this time anyway).
I guessed my way through the village, cycling through a central walking road up through the village and continued to Vulmix and Valezan. After climbing this road for some time, it became a very pleasant road overlooking the La Plagne area and I had great views most of the time across the big main valley below over to the Vanoise mountains and ski villages on the slopes.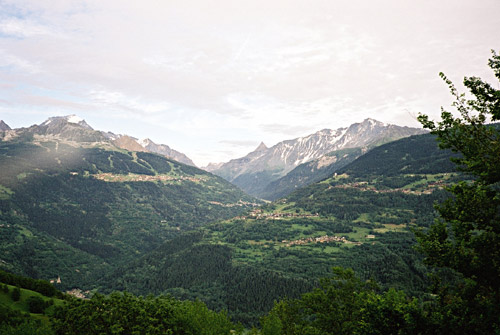 At Valezan the twilight started to appear and I saw a hostel there and decided to ask to stay there. (I had not seen any open place to stay at before here along the road from Bourg-St.-Maurice.) It was a simple youth hostel style place, but it was quite well kept and the price was good (something like 17 euro or some more since I needed a towel and maybe sheets (cannot remember)). I also was able to get cooked food, dessert and beer while sitting outside watching the sun move away from the mountains across the valley – such a view while having dinner could be quite expensive at other places. It turned out that a couple sitting at one of the other two occupied tables also was out on a cycling trip and were a bit interested in cycling in the mountains like me, so I talked for a while with them on this while drinking some wine. Then it got cold and I washed my clothes and went to bed, sharing a 10-bed room with just one well-behaved young walker.