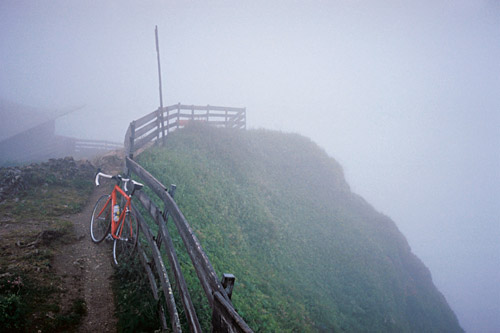 Stay tuned, the Austria days would get better and more interesting eventually, but this day only offered one high point, the climb of the Kitzbüheler horn (1996m), which might be the hardest climb. They have a slightly higher difficulty rating (at salite.ch) than Punta Veleno/Telegrafo by Lago di Garda and also higher than Monte Zoncolan (from Priola) and Edelweissspitze (2572m), that I climbed later. One would wonder what points the climb to Bäregg (2451m) would yield as well as several other unlisted climbs (Täschalp/Ottavan (2220m) from Visp (652m); Nallpass/Alp Nova (2080m) (via Vignogn) from Ilanz (698m); Bärgli (2137m) from Landquart (529m); old Loiblpass (1368m); Col du Galibier via Col d'Albanne etc., but they are likely a little below the really hard four mentioned first).
I took off from a cold Lech (1444m) at climbed slowly back up to Flexenpass (1773m) in rain (luckily there is also a long tunnel on this side). Then down through the gallery-tunnel and up to Arlbergpass (1793m). I had been curious to see in what condition the road up to Arlensattel (2057m) from near the Arlbergpass was in and turned up the first asphalt road to a hotel, but it turned out it was the second road one should take. It was so cold and I was so frozen that I was in great pain and gave up on this attempt. Instead I wheeled down the road, braking a little to try and not get too much wind chill and water spray. I just wanted away from this place now. After St. Anton it stopped to rain and the road suddenly got dry again. Thanks for that! At last I could start to relax a little.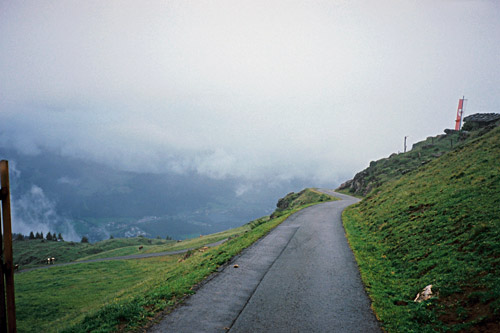 I stopped down in Landeck by a café I had stopped at last time when I was here. (Not especially good or bad.) Then I went to the train station to see if I could get a train out of the area and get east to Kitzbühel, as I had no wish whatsoever to be cycling down the Inn valley past Innsbruck. I had planned several climbs in the area, but nothing was mandatory in my plan and I only wanted to stay as warm as possible right now. It turned out (nice people at the station here) that the next train would be a little over an hour before it arrived here, so I decided to start cycling down the valley and catch the train down in Imst or possibly at the Ötztal bahnhof.
After a while without any rain I started to feel a little bit better again about cycling. In Imst I wondered (as I got there rather fast) if I could maybe collect a pass on the way to a train station in the Inn valley. I was thinking I could possibly get over the Holzleitensattel (1119m) and take the train from Telfs, but I was very likely counting too optimistic on the time it would take. The only reason I never did this however, was because I did not find the proper way out of Imst after trying for 20 minutes or so and ending up on the main road in the wrong direction. I was trying to be clever and go and meet the main road higher up, but made some odd road choices and had to turn around when coming over on the other side of the valley. Then I gave up and thought I better hurry on down to Ötztal bahnhof and take the train from there, which should be easy and simple and I should not really have to hurry so much.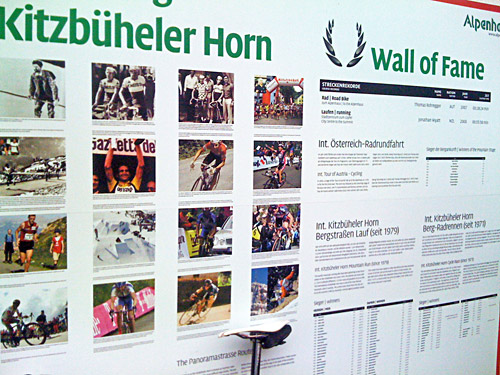 The came two cyclists passing me by on the way out of Imst and I thought I better hang on to them and get going a bit faster. Now given that the guys went pretty fast, I figured they must be on their way down the same way as me and they seemed to know the road well, so I simply followed them. Only, they crossed the Inn river right away and I remember that I would have to cross it too, but did not remember from my last visit that it was not here that I crossed it and I never noticed anything informative on signs as we headed down there. I was a bit curious over the long climb up to Arzl (164m up), but did hang on to the guys and got a little warm. Then we went down on a curiously steep curvy road almost as far down and this was surely not quite like I remembered it. I realised only now that they were on the way up Pitztal (likely), so I stopped and turned around I went even faster back up to Arzl as I now was trying to catch the train down at Imst bahnhof, but it was a hard climb back up to Arzl. I tried to really go as fast as I could and then also on the descent (the guys should have seen me now … ).
But it took longer time than I had hoped even to descend and I could only see that the train arrived and left the station as I came down at the bridge without me having a chance to catch it. So now I could take it easy and roll down to the Ötztal bahnhof. A little irritated as I then could have just as well taken the time to go via Holzleitensattel to Telfs as well, but now I could no longer do so again as I really needed to catch the next train. Ötztal bahnhof is good and there is a shop nearby so I could get a sandwich and other things to bring with me on the train.
I changed train at Innsbruck Hbf and then again in Wattens? (maybe not). I managed to stay on the train until I reached the station at the end of Kitzbühel (738m). The skies had been quite dark most of the time this day and it was not better now, but at least it was not raining. It was a very short ride to the turn-off at Höglern (724m). I thought it should be difficult to find the right road, but there was a big sign announcing the panoramic road to Kitzbüheler horn (maybe I read a very old report a long time ago that suggested it might not be easy to find).
The road starts to climb immediately up through some houses, but then was a bit gently winding its way up to a more obvious real start of the consistent climb. A short break and then I attacked the climb not caring much about what the weather had in store for me as I was determined to go up to the top no matter what and no matter how long time it would take. It was like 17-18 pm or so when I started.
There are some impressively steep sections, especially higher up, but the road is always good and wide and I had nearly no one else on the road this evening. I went in an even tempo very determined to the station at the Alpenhaus at ca. 1670m, which was marked as the 'End', but I knew this was not the real end by any means. I had to jump off the bicycle to get past a bar across the road though, but then a much more narrow asphalted road continues even more steeply to the real end of the road. Actually, the steepest part is at the very end with up to ca. 22% in the last ramp(s), so you better not exhaust all energy before getting there as this last stretch will prove hard for anyone who has not taken a taxi up here. At quaeldich.de they say the last stretch is relatively easy as you will enjoy the fantastic views on this part. However, I could not even see the antenna at the top (1996m) before standing just beside it in the clouds up here, so I did not see where and when the road would end, which arguably made it a bit harder, while also having like 6 degrees Celsius (at least I cannot complain about getting too warm). The top is only like 5m above where the road ends and I carried my bicycle up there.
It was a bit nice going up there in nearly complete solitude however. Only me against the elements and a real mountain peak to climb. Also it is one of the hardest climbs I have done, but given that I had ample of time to rest before this climb, it was far from as challenging as some other climbs I have done. So much depends on circumstances. Still 13% on average for close to 10 km is not something to take lightly. People often talk about high percentage in slopes, but usually it is only the maximum steepness they refer to. The steepest climbs in the world are not steeper than 17% on average and anyone can cycle up a 17% slope, but surely not a road with an average gradient of 17% over several kilometres. People think of Mont Ventoux and Alpe d'Huez as steep roads, but then they are on average only 7.2% and 7.7% (according to salite.ch).
I stopped for a few photos up there and on the way down (most are so bad, that I did not include them here). Then I went down to Kitzbühel, but I was determined to get out of this village/town before stopping for the night and continued on the way up toward Pass Thurn (1274m) looking after places to stay at. I saw some places, but then I saw a little sign for a smaller hotel on the other side of the river and went over there, but it was closed and asked a mother and her son who came walking about a place that was not too expensive nearby. The funny kid suggested I went up to the next hotel on the right-hand side of the main road in Jochberg which was a big 5-star hotel, which his mother understood was not such a good advise but had no real good idea either.
Almost across the 5-star hotel in Jochberg I saw a place that looked more modest though, the Jodlbühel and decided to go and ask for the price there even though they had a loose gravel road going up to the hotel. It looked a bit better when I came closer and was afraid the price would be very high, but then had to repeat the price as if I heard it wrong. €53 sounded too cheap to be true after having stopped by a lousy hotel in Lech paying €85 (which I would never do unless having no other possible choice), so I thought it was fine and stopped there. Later I realised that in Austria even €53 is quite a lot of money for a simple bed and breakfast and I also noticed it was very high standard here (you can judge yourself by consulting the link here). As my sister later told me, that besides Lech, the area I was in is the second most expensive one in all of Austria. Oh well, I will learn eventually. Funnily enough it turns out that they also run the Alpenhaus hotel at the first end of the Kitzbüheler horn and had flyers talking about cycling events up there. I had something good to eat, I think fish, and slept well.