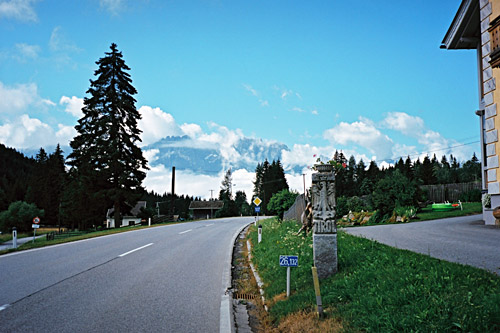 Yes, the weather was good again this morning and almost perfect for going down the valley to Winklern (890m). I regretted that this was not the day for climbing the Hochtor/Edelweissspitze and I met many cyclists on their way up the Grossglockner road. However, as usual I want to move on and not stay in an area for long as that is the real wonderful thing about not being stationary on one's vacation.
Down at Winklern I decided to get up to the Iselsbergpass (1209m) that I have managed to avoid every time being in the area even though it is such an obvious passage to/from the Lienz area. But (and this took me a long time to debate with myself) I had figured out that it would be better going back again and continuing down to Spittal (560m). I guess the reasoning was that the road would be more downhill that way and have nicer views with possibly less traffic. It is not all without effort to go down this side either though and there are a few uphill parts. I suddenly had a lot of power and just went away from a local (?) guy up to Iselsbergpass and he had no chance hanging on to me. I started to loose a little power just as I reached the pass and after taking some photos returned back meeting him again.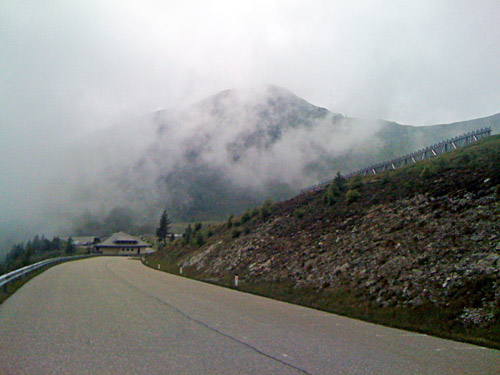 Eventually I got down to Spittal and stopped by at a café there. I think I stopped again just outside the city by a grocery for a sandwich, yoghurt and coca-cola. They are good at making sandwiches even at rather big shops in Austria. I think I did not decide on what to do next until I was here as here I had the most problem making my plan clever and optimal. I actually changed the plan in funny ways, but it made sense in retrospect. Though, I would have wished to go up some more challenging climbs in the area, like the Lammersdorfer Berg by the Millstätter sea, but for another time.
Instead I decided to climb the Goldeck, though I could see clouds up there so was very undecided until I got close and the weather was really nice and hot. There is also a place up on the road which is called Halsl (1662m), which indeed signifies a pass and is the latest asphalt pass above 1600m that I decided to recognise for what it is (a pass). There is a gravel road going up/down on both sides here and the one (better I believe) to the south is used in a mountain bike event up here to Goldeck. I was also happy to escape the heat down at the flat farmland outside Spittal, which I had already had enough of by then.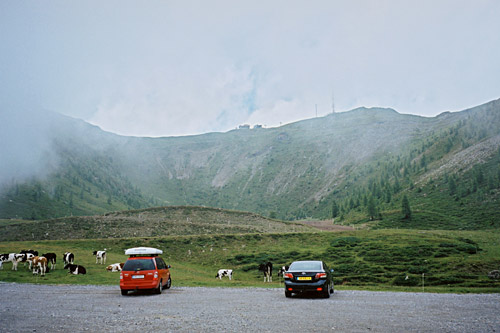 The road climbs steeply most of the way up to Goldeck. If the weather would have been better at the top, I might have tried the gravel road that actually goes to the top and is much used by mountain bikers. The road quality is a bit bad actually after the toll booth where the real climbing starts above Zlan. I told myself to note it here on the website that I thought it was a bit odd that they could not keep it in better quality when all motorised vehicles have to pay for going up here. On the other hand they would not complain as much as we free riders. As usual I do not dare to go down very fast on bad roads like this, but could still descend in a good speed during most of the way down.
On the way up I stopped once for a photo as I thought I might not have any more views, but the clouds slowly lifted away on the return. The highest place of the road is some hundred metres before it descends to a parking and is at ca. 1900m. One does not get any real good views if one does not get up on the mountain top and maybe I should have done so, but the road up there was not very good and also a bit steep and not very short. I went back to Halsl to see how the gravel road down the north side looked and if there were possibly any sign there as there were no sign elsewhere here. I found no signs anywhere, but got a better view from that road. That road soon turned more into a forest track, but possibly it would get better again further down (from looking at maps), but at start it was not usable by a road bike as I remember it.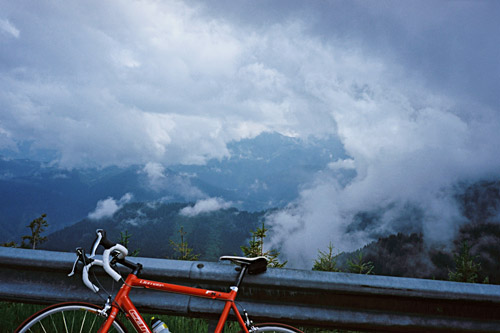 I stopped for some cold water by the only water tap at around 1500m height (a cold place in the shadows in the woods). On the descent I met some other cyclists. From Zlan (795m), I took another road that is nice and goes pretty high up until it descends to Nikelsdorf (540m) and continued to the Feistritz bahnhof (509m) to see if I could take a train east from here, but after some time I realised that I had just missed a train and that it would take over an hour for the next train to arrive here. It was an unmanned train station. Possibly I could have taken the road following the railway and was a bit irritated that I did not try to find out if it was asphalted as it would have been much faster. Instead I went back up to Feistriz village and took the main road that goes very much up and down all the way to Villach.
I had made some notes in my plan on when the train left Villach for Klagenfurt and knew that I had to go fast to get there in time, so I really went as fast as I could for such a long stretch. I navigated into town by intuition and by luck I think I must have taken the shortest way to the Villach Hauptbahnhof despite not seeing it before being reaching it (not even sure the locals would take that road, but possibly). I was lucky and got tickets and had 20 minutes before the train would leave so I just got time to buy something to eat on the train in a nearby grocery.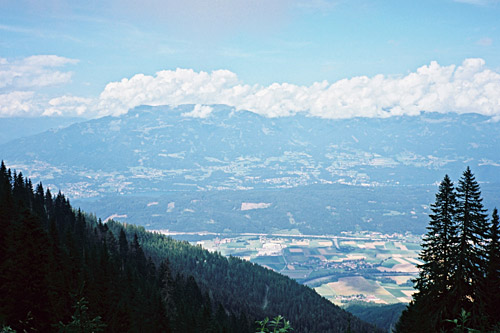 I bought a ticket for Bleiburg though I really wanted to go another stop to Aich, but doubted I could explain that when buying the ticket, so asked for Bleiburg instead, which is a known village. Thereby I jumped over the possibility to go up the Gerlitzen or the Villacher alpenstrasse. The last of these I had been thinking to possibly climb on the return from the east. Instead I had a nice train ride by the Wörthersee to Klagenfurt and then with a smaller train to Bleiburg. Before reaching Bleiburg I asked a passenger if he thought it was possible to simply continue to Aich and he thought it would not be a problem, so I decided to go to Aich as originally planned to save myself a few flat kilometres.
Aich (459m) is just a few houses with just a tiny building for train station. No one went off by me and they even asked if anyone wanted to get off there, which was the only place where they asked this. It did not seem like a train stopped here every day. Instead of going out on the main road, I thought I could try the road going through the houses in the same direction to see if there was a smarter way over to that road. Shortly I was out on the open fields and bounced into an old farmer couple standing by the one lane road and asked them if I could possibly continue on this road and get to Lavamünd. They were happy to report that of course I could. I just had to go straight until the forest and the then right over the wooden bridge (as if I somehow knew about it).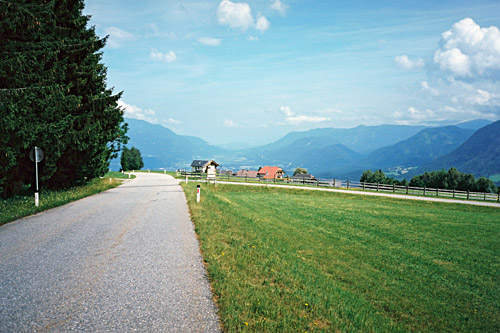 It turns out they have recently built an unusual bridge over here which is apparently part of a plan to for getting bicyclists off the main road, I later realised. But with a road bike it is not recommended to try and bicycle over all of it as you could easily get a snake-bite flat due to the wooded ribbons across it for part of the way. I started out cycling, but went off a little later due to my worries. Then later I could continue again to the other side. The bridge was very nice though and a surprise out here in no man's land. On the other side there was a bicycle lane continuing along the road, but now I had enough of funny bicycle lane stuff and went out on the main road (apparently at least one driver did not like that, but it is quite odd as this road is really very little trafficated (at least it was when I was there) and it is also wide and good).
I did not remember it from planning, but then there is a long slope down to Lavamünd (348m). In Lavamünd, which I visited in 2004 on my first visit this far east in the Alps, I went in the direction of Slovenia (the border is very close here), but then turned off again up on the road to Koglereck (Magdalensberg) (1347m). The time was now already exactly 20 pm at the start of this climb and I was feeling a bit guilty of doing something that made little sense – to start out on a big new mountain climb up into unknown mountains and woods this late. I passed by a house where someone looked a bit wondering after me as I continued up past a house with an Elvis lover – which is where the climb starts abruptly.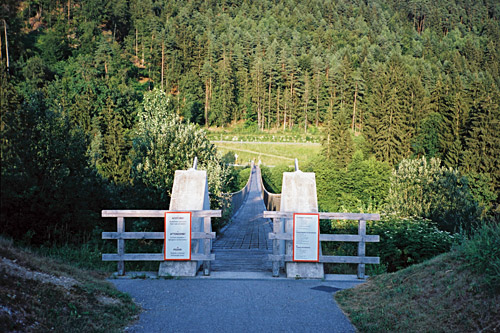 The climb up to Koglereck is like the Holy Grail for motorcyclists from all over Europe (there are few roads anywhere as popular as this by motorcyclists!), so I thought I was clever to go up this late in the evening. They have put up big warning signs for motorcyclists. Apparently they love it because it is a good, wide, steep and very twisty road, with some scenic points. There is an alternative road up here part of the way via St. Lorenzen, which might be a good idea to take if one is going at a time with many motorcyclists on the road. That alternative should have some quite steep parts, but be easier on the whole, so I thought I had no reason not to take the normal road.
Koglereck (Magdalensberg) (1347m) has an average steepness of 9.5% for 10.5 km and 1000 height metres and is steepest in the beginning and the end with over 10% and up to something like 16% maximum. Of course, I met 3-4 motorcyclists who laos had thought to have this road to themselves this late and hoping not to have to brake for a bicyclist. It was a little close with one of them, but no real danger. Unlike many other cyclists I do not really mind motorcyclists that much and some of them are actually nice people – believe it or not! ;-)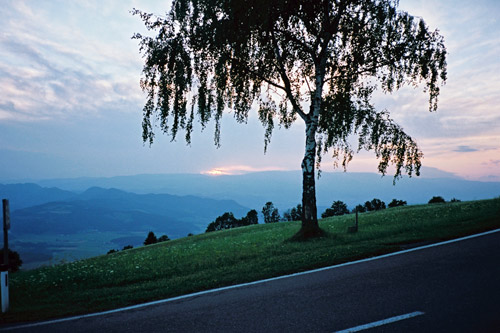 It is quite nice about half-way up at St. Magdalena (996m) where I stopped quickly for a the photo here (this is where the road from St. Lorenzen comes back up). Then the road becomes a bit more boring again as it enters the woods, with long straight sections. I reached the top at ca. 21 pm and it was still not dark. But twilight had started to appear as I made my way down to the big Soboth sea/dam. I stopped for a last photo and hoped to soon find a place to stay at for the night (about time for that). There was a little restaurant here, but it did not look like a hotel so I continued to Soboth village (1065m), where I turned in on a small road. I had thought it to be a somewhat big and maybe a little touristy place, but was surprised to find that there were only a few houses here.
What was lucky was that they did have two hotels out of the dozen houses. The hotels were right facing each other across the road, but I decided to take the one that I had to walk up to as it looked nicer. Both looked somewhat affordable and I guess the other is more popular with motorcyclists. I got a room and even if I was late they were willing to wait for me to take a shower before coming back down to eat dinner (that would never happen in France, I would guess). It turned out to be the cheapest place I stayed at this Summer (now I just forgot what I paid, but I think it was only 19 or possibly 24 euro incl. breakfast) and even though I love the Rinderalp hospitality and what they prepared for me there, this place was maybe the best I have ever stopped at. Terribly good! The only drawback was perhaps the odd men I shared the shower facility with, but it all worked fine without any incident, so cannot really complain there either. (I could have gotten my own shower at a slightly higher fee, but why.)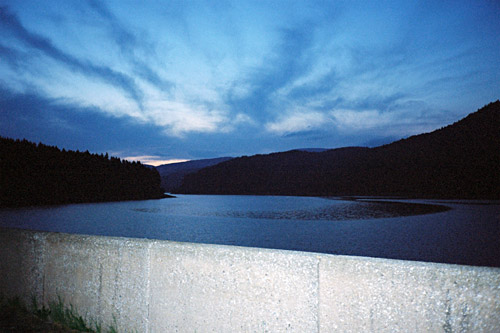 The lady there were very nice and the food was superb. The place was very nice and the views in the morning toward Slovenia was smashing. It is like 5 times better than any 5 star hotel you will ever find. The only "problem" here is getting rid of your money. I was really feeling like I had more luck than I deserved (as my friend joked with me about after getting through some accidents and other troubles on my previous trips). This place is really recommended, as well as this whole area which is quite charming. I found it (despite Google, but also because of them), it is called Gasthof Mörth.