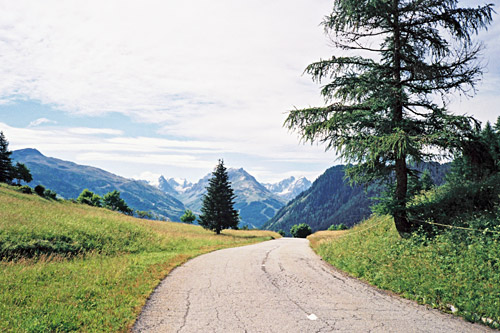 It felt good to be starting already at a good altitude up in Montricher (1200m). The weather was fine. There are two possible roads up here. One can either go via Les Karellis and then back to the direct road on a rather flat road or just go straight up, which I did (esp. since the hotels up at the ski resort in Karellis does not look very inviting). (Possibly one can go on a higher road from Karellis, but it does not look like it is all asphalted.) In a short while I was up by the Col d'Albanne (1652m) (yet another of those +1600m passes), where there are good views and people were out walking.
Then it is downhill through Albanne to Albanette which is seen below in the distance and makes one a little sad that one should have to descend so much before getting back up again. At a bend (1449m) just before Albanette, the road over to Valloire (1428m) where one meets the main road to the Galibier takes off. This stretch is a big problem and is why it is practically never used by bicyclists. One could only bicycle a few hundred metres before the gravel road (that seems to often be wet) is no longer usable. Soon it is not even possible to use the (now) path even with a mountain bike (at least not safely).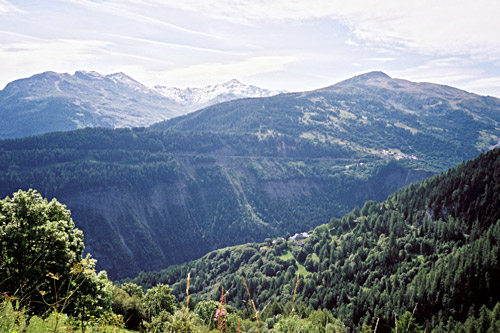 I met a man who warned me that it was going to be a bit dangerous ahead, but for walkers it is not much of a danger during normal conditions, even if there are clear chances that there could be new slides in the mountain and the path is narrow at places. The really bad stretch where it is potentially dangerous is not very long – maybe 250m and it is ca. 500m that one has to walk with a road bike (a little shorter with a mountain bike). Given that this is not a problem for you, then I must say that it is a fun alternative and nicer than the usual road via Col du Télégraphe (1566m).
I took some photos and then came to a turnpike across the road saying it was not allowed to go here with a bicycle – good they did not tell me so on the other side! ;-) Now, I had studied the map carefully and noticed the road going up here to Le Poingt Ravier (1644m) and noticed that it was not only surfaced, but that the top actually looked very much like a pass even if it has no pass name, with a path down the other side. So I decided to add this to my list of passes too. It turned out to be a very nice climb up there on a splendid road and the place itself offered very fine views (there were also water up here). It seemed to be a popular place for walkers. (I actually stood up here ordering a new MacBook Air for a customer as they called me from Apple for an order I had placed the day before via e-mail. It only took a minute or two.)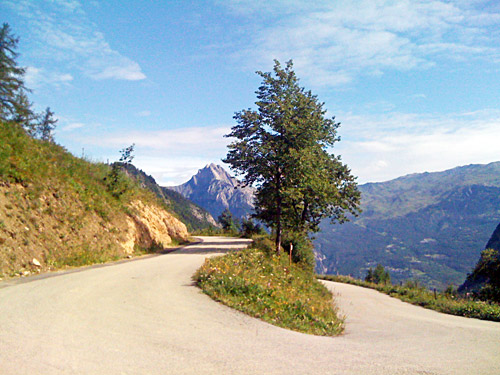 Then back down again the serpentines to the lowest place (1370m) on the road from Albanne to Valloire (1428m). I stopped in Valloire to change the tyre, yes, I had not gotten it done until now I realise (and had carried that extra tyre with me all the way from Liguria), so the first tyre really lasted quite long after all (one could see the weave through it everywhere, I think). Then had a coffee and cake, and then a coca-cola at a shop for a good measure before starting on the climb up to Col du Galibier (2642m). It is a 1200m climb from here, but it felt easier than so. It is only the last 8 km that are consistently steep and then only at about the same steepness as up to Col d'Albanne (1652m) or Col du Télégraphe (1566m), that is a little over 8%.
Already when I started I noticed that the weather was getting worse again and thought that I better keep a steady tempo up and prepare myself for the worst as I really had to get over here now. All was fine until I came to the last 8 km, when it was clear that rain was nearby. I crossed the Valloirette river (1987m) and felt that it would just be fun and that I should get up to the pass just fine, but feared for other cyclists I had passed by on my way up as they were going much slower and might got into worse weather than me. This time I wanted to stop at the pass up here on the way to Galibier called Collet du Plan Nicolas (2405m). A cyclist I just had passed by came by while I stopped for photos, so had to pass him by again later. I passed yet another cyclist just before the top, which kept me warm. There are always cyclists on this famous pass in the Summer even in not so good weather.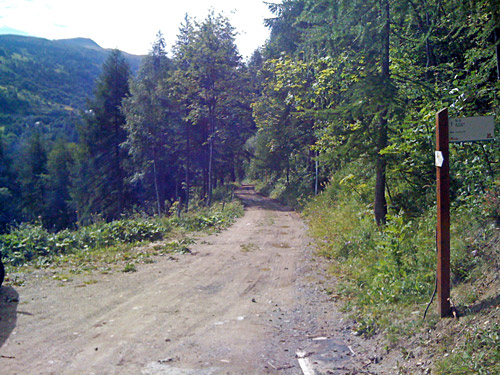 First at the pass I felt some raindrops coming down. It was now quite cold and there were really bad weather now on the other side (it seemed like it had just gotten bad there now too). While I was warm I had a couple of photos and even had one taken of me and I took one of another cyclist. Then on with the wind jacket and full speed down, or as fast as I dared given that it was starting to get wet on the road and it looked slippery. At first it was frozen rain coming down, but soon just very cold rain. Another English (I believe from his accent) guy and me seemed to be the fastest down (no Savoldelli-riders around here now … ) and I said to him jokingly that it was kind of cold. – "Focking cold" [sic] as he aptly answered.
Some people were lucky with waiting cars for them down at Col du Lautaret (2057m) that felt like ages to reach down to, but I just had to keep going until I got out of this. First down in La Grave (1481m), it stopped raining even if there were still a few raindrops then and now in the air still. Now it was up to something like 14 degrees and I could start to relax a little. I had no wis to stop until I got a bit warm, so I just went on quickly down the long valley to Lac du Chambon (1044m), while meeting a few cyclists on their way up to Lautaret and possibly the Galibier, looking a bit uncertain when seeing me coming down looking frozen (I believe).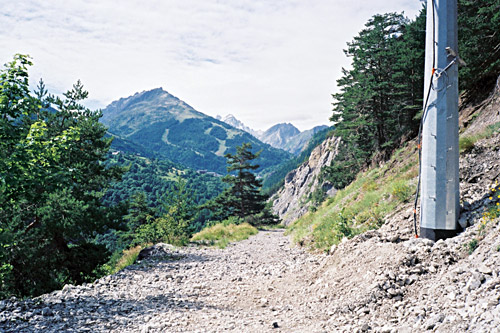 I had very much intended to climb up to Besse from here and then on a gravel road to Col Saint Georges (2245m), but did not even want to think about the prospect right now. I did look up a bit, but noticed it was grey skies and there would be no point or fun in trying to get up there this day. That would otherwise be a good climb that should be quite possible with a road bike and also one of the harder climbs in France. Down the Gorges de l'Infernet to Le Bourg d'Oisans (722m). I finally stopped here for a coffee and cake. Now it was warm, but just as I reached the town/village it started to rain again. Luckily I only got rain for 100m or so before I had cover at the café.
I waited until the rain went away. The roads had been dry since La Grave, so it might not had rained here before now. I was still frozen as I went down toward Grenoble and did not stop to take off my wind jacket before I was down in Grenoble (a cyclist coming up soon after Le Bourg d'Oisans looked puzzled at me as he had nothing but a normal jersey and looked as if it was a hot Summer day. Down in Grenoble it was indeed rather normal temperature. I stopped at Le Pont-de-Claix (243m) in the suburbs of Grenoble and bought a sandwich and two sodas and hanged my bike in a bicycle parking in the square (which I guess no cyclist has used since someone installed them there) – one just put some hangers in the handlebar. Some kids walking by looked with suspicion at this (proper) parking. It does not come across as a very good area (which was part of the fun).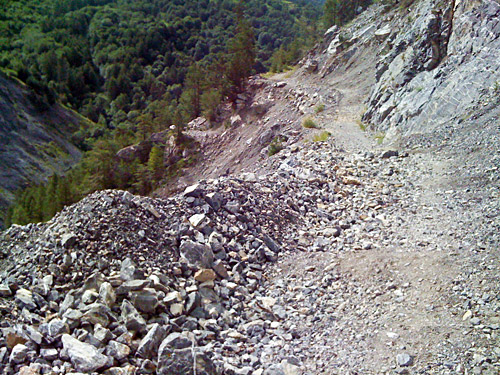 Then I took the same big straight road I have used out of Grenoble before (twice I think). One is not supposed to bicycle on the road and instead use a bicycle path beside it, but as before I did not bother as I got the whole bus lane for myself (I only had to keep an eye out for buses that may come up from behind and be more than happy to get me out of their way). I think even a police car saw me and did nothing, so maybe they do not care too much here (not sure).
I had studied the map very carefully over Grenoble (230m) in order to try and find the best way out of the town beforehand and now it paid off. I did actually find the bicycle path I thought I had seen in satellite photos and managed to get exactly right just on memory. I took a bicycle-bridge over to the other side of Le Drac (the river) and got up more or less right on to Seyssins and then found the right way up to St. Nizier du Moucherotte (1168m). It was starting to get late now, but it was very sweet to be leaving the busy Grenoble below. Unfortunately the weather was not perfect up here either and I got into clouds at the top, so I had no great views in the highest parts of this climb.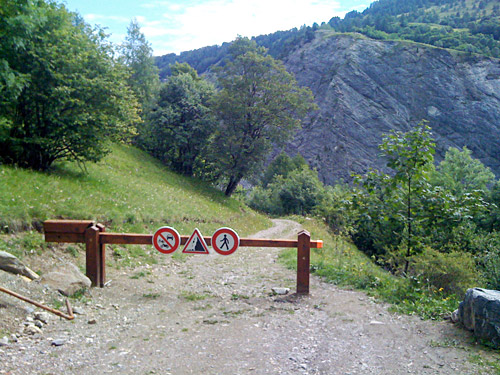 St. Nizier du Moucherotte is a nice climb and it comes across as if it is a pass, but the ridge that one cross does not really have any higher points out north, but the Club des Cent Cols has figured out that there is a place called Le Goulet (1140m) just down a steep little road from the top and that it would signify a pass, so I went down there to be able to claim something on this long climb (but it is not all too obvious a pass either). I thought to myself when getting back up the dead-end road, that the guy that suggested this pass must have had much fun in suggesting it. It is quite a steep slope back up this pointless road (in the context).
It was now quite chilly in the evening air down to Lans-en-Vercors (1004m). I did however stop to take one photo to prove I really went all this way during this day and the views also opened up a bit down here. It was very quiet up here in the evening – a woman walked by road and I said hello, but then maybe one or two cars only before coming down to the village, which is arguably also a huge saddle-pass. I stopped at the first hotel and asked for a room, but the lady only had a room with four beds left, but she was very kind and called another hotel down by the roundabout and asked if they had a room and told them I would come over.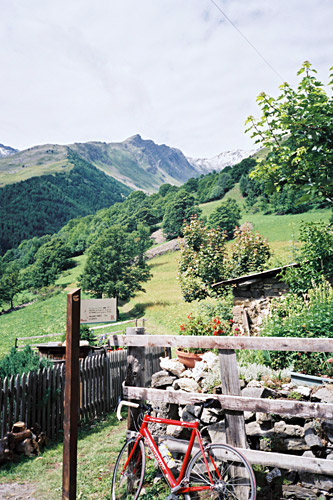 The other hotel was less charming, but cheaper. They did not serve food, so I hurriedly took a shower and changed clothes and rushed back up to the centre of the village where I had noticed a more posh hotel with restaurant. I got there just by 21, when they usually close the kitchen in hotels outside towns in France, but managed to get them to serve me food, which likely was fine as they had very many guests still sitting. I had a soup and meat? for dinner. Unfortunately I broke a bit of a tooth when trying to eat the not so fresh baguette (but guess it would have happened sooner or later anyway). The place looked good, but it was not one of the better places I had eaten at during this vacation.