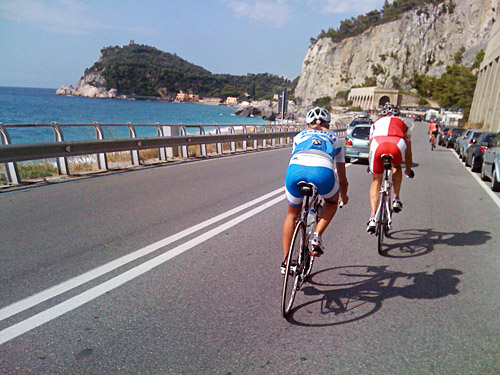 We were to meet up very early (7 am, which is quite a bit earlier than I usually manages to get going … ). I was very tired in the morning, but one quickly wakes up with fresh air on the bicycle. Now Gabriele was in such a hurry that he decided to go down with his car before me to have it there when he got back (he is living a bit up the mountainside). I was here another time when I first met Gabriele in 2009, but now I had forgotten about the right road up and down from his house to Varazze and of course I took a wrong turn at one place and then wondered how I could have missed him. Gabriele was really irritated now and said we might not be able catch up with the others and that they would get angry on us.
We were only like 5 minutes late after Gabriele's furious ride over to Celle, with me barely managing to hang on. So all was fine again and we took off. It was a lot of people of varying age. Like true Italian cyclists, they went full speed along the Via Aurelia – the main road from Rome to Nice (originally from Rome to Pisa (started in 241 BC)) and much later extended along the Ligurian coast into France (the extension was originally called Via Julia Augusta). It was not going slower than any training ride at home really. I was longing for the slopes up the mountains hoping the speed would eventually go down a little. I am not a slow guy on the flat so it was not like I had problems hanging on, but it was also confusing with a lot of traffic and apparently Gabriele was also not happy with the traffic in the Summer here. I managed to have a photo at one of the nicer sections here with only two in front of me then.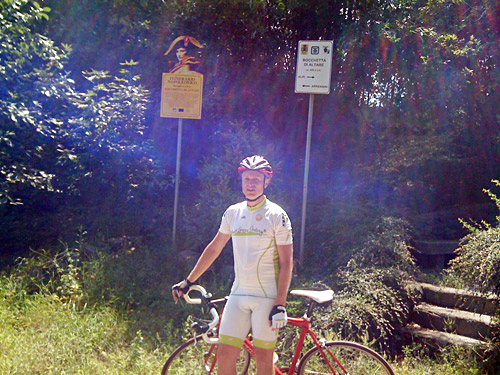 Eventually, after quite some time, we turned off (Gabriele had briefly described the tour before) at Borghetto Santo Spirito (after Pietra Ligure) up to Giogo di Toirano (807m). We slowed down a little and the traffic disappeared. I talked a little with some guys and slowly we started to get up to speed again as the road started to rise. After a while I had moved up to the front and we caught up with some other guys cycling up there and the tempo was raised a bit more again. Now I was starting get warmed up and finally got up to the front to make sure the speed was kept up, before leaving over to Francesca, the only woman with us, but she happened to be the best in the group and Gabriele had hinted about this before we arrived at the start.
Francesca had apparently been among the better or best female triathlon cyclists in Italy and she told me she was involved with arranging Ironman events for women. She did not know the names of the best Swedish female cyclists like Susanne Ljungskog who has been world championship winner two times in recent years (2002-03) and did not think there was a world championship for women (apparently those events do not rank so high in Italy). I forgot the names of any Triathlon women in Sweden however. After a little while it was just me and Francesca left and we took turn to keep the speed up until the pass. (One also passes over Sella di Alzabecchi (693m) on the way up here.) We finished side-by-side and rolled down the other side talking.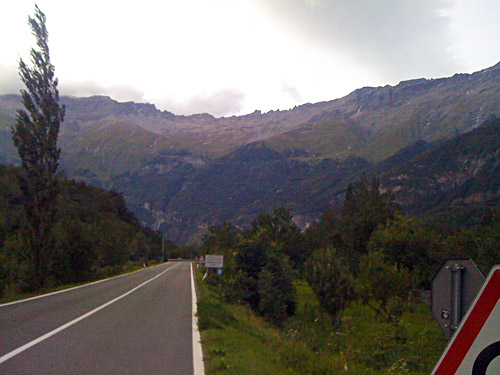 Francesca's mother apparently lived on the other side in Calizzano (647m) and went up there shortly, while I went into a shop to get two sodas and wait for the others. We went over to a small hotel that turned out to have the best ice cream I have tasted in Italy (and anywhere, I think). One of the other cyclists actually bought one for me – thanks for that! Well things always taste better after cycling a lot, but it was truly good, Gabriele disagreed though (but I doubt he is an expert on ice cream … and Francesca suggested it was indeed very good as they used fresh milk and so on).
After a little pause, we continued and now it was time to get back over Colle di Melogno (1028m), which I climbed also last time I was down here, but then from the longer other side. Francesca started out in good speed and led the group up the twisty road. I still needed some warming up, but hurried on a bit so I would not be out of distance up to her and then advanced slowly. The last half of the way it was us two again and toward the end I overtook her and wet away ahead to the top, but in all honesty I had not been in front on all the climb more than perhaps once, so not so sportsmanly as I suggested to Francesca (she said "oh, I don't know" – I think she got my meaning a bit wrong, though technically it is of course smart not to do too much work oneself … ). I said Gabriele brought me there to make sure she would get proper training ;-) (I don't think she got that).
The others came up and while I was thinking of taking a photo, the others hurried on and I had to be quick after so I did not loose them as I was not all sure on the way they wold take. We went down exactly the same way I took on my own when I was there last time via Sella Macciò (944m) and what Gabriele calls in his book on the Ligurian climbs, Colle del Doppio Bivio (980m). (Brunetti's books are two – one for the Levante and one for the Ponente part of Liguria.) Now it was time for the others to make me the loser, the descent from Doppio Bivio to Bormida is on a very twisty road with unusually bad surface and I did not dare to go as fast as even the slowest of them (Italians just do not slow down because a road is bad, no way, and still cyclist at home do not find me very slow, but I do guess I have become slower over the years after accidents and so). I had to push on hard when getting down in order to try and catch up with them.
There were no trace of any of them when I got down, but I knew more or less the way as we should go over another little pass, but I knew the climb was short, so I had to really hurry to catch up. I found the turn-off for Colla del Bresca (588m) and just managed to overtake the last one of the guys as I reached the pass. Then pushed on the way down, but then they had stopped for water soon after. As I tried to rest a little and filled my water bottle, the funny guys went away again before I managed to get back on the bike leaving me to have to chase them all the way back to Altare – well, maybe this is standard down here in Italy to be careful not to wait a second too long when the groups are leaving (it can happen at home too, but usually not). I guess I was going tired also. I kept more or less the same speed as them, which was not really a big problem on the flat road and was back up with them just before they stopped shortly in Altare.
Apparently the group was splitting up here a bit and anyway Gabriele wanted to show me the alternative old passage over the Altare/Cadibona pass, so went alone up there. The old Colle/Bocchetta di Cadibona/Altare (440m) is accessible on a local road (which is more like a bicycle path down to the big road on the other side). This pass is what separates the Alps from the Appenines and is a very historical place. We stopped for a photo. Then we headed down the slowly sloping road down to Savona. Now I decided to show that I can also go fast down on smooth roads and left Gabriele behind and it was also just very nice to go down there fast. I waited shortly at a place where he could not miss me. Now he wanted to show me and ice cream place that he thought was better and it is hard to get too much great Italian ice cream, so we went there. (They had a strange system for buying ice creams with tickets outside the shop, which puzzled even Gabriele, though he had been there before sometime ago.) I still thought the ice cream was better in Calizzano, but not Gabriele.
Now I was going to take the train via Savona up to Torino, but I had to go back to Gabriele's car in Varazze because I had left my backpack there, so we went back and both started to get a bit tired as we came to Varazze. Still, the day was not exactly over for me. We talked a little and said goodbye, and I thanked him for bringing me along despite all the troubles this had caused him. Then I went back to Savona, via Celle where I stopped to get a new rear tyre at the Olmo bicycle shop (we had stopped there on the way back to Varazze, but they had still not opened after the long lunch break). I got a Michelin Pro Race tyre at a decent price, but not in red as I had wanted. I had noticed on the way to Milano that there was not much left of my rear Michelin Krylion tyre (these long-lasting tyres only last for 14 days ;-)). I decided to switch the tyre on the train back or later in the evening.
Now it was full speed back to Savona in order to catch a train leaving just after 16. Gabriele had seriously doubted that I would be able to catch it, but I went fast (at least as fast as before) and guessed my way up to the train station rather well, but it was quite a bit up the city from the coast. I got a ticket properly only one my second trial. The lady could not see a train connecting a bit further up the Susa valley where I had decided to take the train up a bit from Torino, so I would get out of the city before I stopped for the day, but I had to state some other station to get the system to come up with the right tickets (Susa is no good idea as it is an end station!). (One must be a bit clever to get the right tickets at times.) I just had a few minutes to buy a coca-cola and a bottle of water for the train ride, then I was off.
I had gotten a ticket for Bussoleno. Now I again forgot to stamp the tickets (2nd time now or more), oddly two other local cyclists had also forgotten this, sitting near me on the train. We had to pay an extra 5€ per person (sometimes they threaten with a 50€ fine). Bussoleno (434m) is actually quite a bit out of Torino and it was perfect for my purposes. I had originally planned to climb up to Colle Braida (1006m), which I believe is a popular (and hard) climb for cyclists in Torino, but had decided to leave it for another time. From here I started again to bicycle at around 20 pm up to Susa (500m) and continued straight through on the road up to Col du Mont Cenis/Colle del Moncenisio (2081m), but turned off just as one gets out of Susa to take the alternative road that connects high up again to the main road up this pass into France. This pass was all too late to climb this day, but I hoped to find lodging below where the real climb here starts in Novalesa (802m). Now it started to get very windy all of a sudden and the closer I got to Novalesa the worse it became. It was almost like someone did not want me to get there. I went on and stopped for a last photo ahead (you can see the trees bending in the wind). Just before arriving in the village, I saw a hotel by the wayside just there on its own and decided to go there and ask for a bed. They had both a bed and good food. Prices were okay even if it all looked very modern (newly refurbished, I guess).