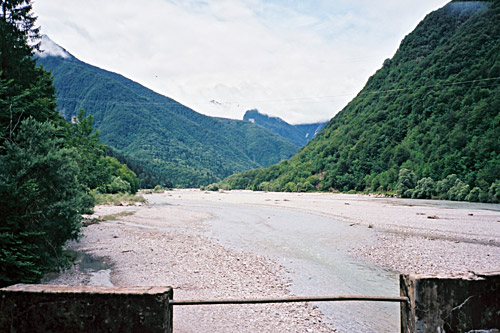 This day did not start well. It was raining and had rained most of the night. I dragged out on time and left rather late – yes, now I remember, I was sitting in the bar waiting while people came and went, looking out the window and trying to understand something from Gazetta della Sport. At least I took off before lunchtime. But it was still raining when I left, but I guessed it was soon ending and it was rather light rain. I went very slowly so I would not get wet without reason this early on.
Slowly down from Raveo and up to Colza and down to Enemonzo (392m), where it stopped raining and now I did not have any more rain until late the next day. I thought I had seen a short-cut road on a map to Priuso from Socchieve, but went down the wrong way and crosses the river bed on an odd concrete road and then had to go back the same way. Some locals wondered were I was going (at least they looked that way and it was understandable). Back on the main road and then turned off to Priuso (451m) and started out on the minor climb to Forca/Forcella di Priuso (652m) on a very fine road. Then it was down to Caprizzi (505m), where I think there was a bar, but in the area I guess there were less than 10 houses all-in-all (from looking around on the next climb).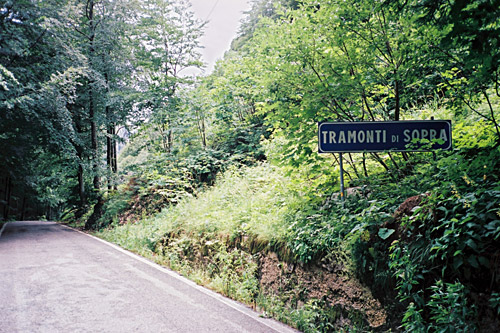 The road up from the Tagliamento river (that I had crosses erroneously further down before) is a nice climb that is not climbed without some effort. The road feels like it is very remote and is a steady climb on a varying road with some views higher up. Eventually it eases off and enters the wood up to Forca di/Forcella del Monte Rest (1061m), where you again get open views south and quite nice views. Then follows a long fun descent with many bends on a twisty road, but the surface is much less good on the side, so it might be more recommended to climb this side (but it is also likely the more hot side to climb in the Summer sun). It had just dried up on the road as I came to the Priuso pass and it was just perfect temperatures at Monte Rest. A couple in a car overtook me and then stopped and so on several times, but there were very few cars up here and no bicyclists in sight anywhere.
I think there were restaurants in Tramonti di Sopra and di Sotto (at least here), but I wanted to go on a bit more this day before stopping. Later it is quite nice by the Lago di Tramonti. Someone working by the side of the road stopped me asking about the time (odd, but I showed him my cycle computer clock). Just before the last descent to Meduno, I turned off on the road up to Poffabro and Forcella di Pala Barzana (846m). I stopped in Poffabro (or before at a grocery by the road crossing up here). The grocery was closed, but the lady was still there and let me buy a few things: fruit, cake, coca-cola and yoghurt.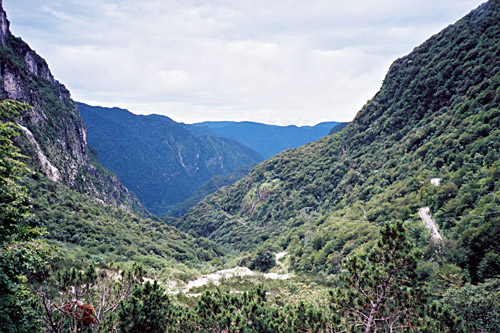 The road goes a bit up and down to Forcella di Pala Barzana (846m). It passes over Pian delle Merìe (548m), which is arguably and then comes the final nice climb to the pass, but without prior warning signs suddenly announced the road was closed. I decided to not give a damn and continued (we are in Italy after all … ). There were some road work and I had to tackle a gravel stretch where they had not yet re-asphalted the road, but it was no great problem getting by here and the road workers kindly let me pass by.
It was nice to have the top section for myself. The pass itself is a quite boring place, but it is nice before and still nicer afterwards on the way down to (Lago di) Barcis. On the way down as the views opened up and I stopped for a photo, I heard a very strange and loud roar from the woods just next to the open field below me, where I saw a small herd of goats(?) looking frightened and clinging close to each other and moving around as if to protect each other with their bodies. I am pretty sure it was a bear that had just attacked them and possibly was dragging one the animals into the woods, though I could not see anything (only heard a lot of noise from the woods and the roar). I was not afraid as it was rather steep where I had stopped, so counted on being able to get down at a fast enough speed so the bear could not catch me.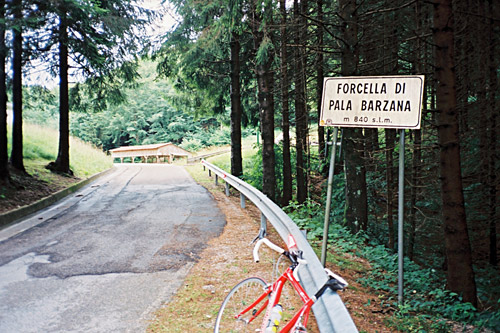 The noises stopped rather quickly and I continued down and soon met a man on his way up asking if the road was ok and I said it was, but wanted to warn him of the (probable) bear in the area, but could not come up with any words to make sense in Italian, but likely the bear had other things to deal with anyway. For some unknown reason (curiosity, I suppose), I decided to take an "alternative" road that I had noticed was likely asphalted via Andreis and Alcheda. It turned out to be an irregularly steep road up for quite some time, before I eventually reached Alcheda, from where a steep road goes down not far ahead of where I started out. I did have some nice views from this road (but no photo).
Apparently it was time to fool around a bit now and so I surely did. I should have consulted the map a bit more, but also knew the distances were not big. I went off the main road and found rather soon the right road over Forcella del Dint (462m), which is a minor bump on the way to Lago di Barcis that avoids the long tunnel that the main road takes to Barcis. Now, however, this road was also closed and it was practically impassable as they were working on it, but saw that I could walk up a path to by-pass the workers and so I dragged myself and the bicycle up a dirty path and got up to the pass. Here were a big fence raised stopping access from the other side, but I managed to get around it and got down to the Barcis lake. Here I had hoped to go down the old road through old tunnels back and down to Montereale on the plain south.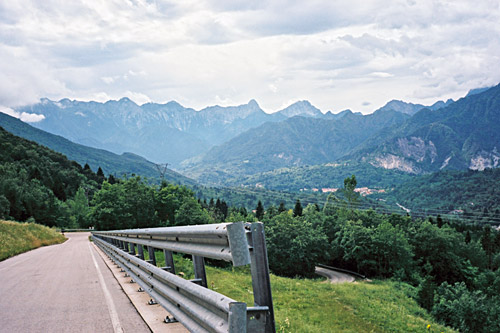 However, now the access to this road was blocked by a gate that cannot be circumvented in any way as it fills a tunnel opening and the door in the gate was locked. That was a real disappointment. I thought about getting back up over the Dint pass road, but now way I would walk down the muddy slope there once again and instead I took the main road tunnel back. Not sure of bicyclists are allowed in the tunnels on the main road, but there were no other reasonable alternatives.
Then I noticed it was again tunnels on the main road south and decided to see if there was maybe another entrance to the old road at the end of a small road going down towards it. Indeed, after a tunnel and a house there is another huge gate blocking access to the old road. This gate also had a door with announcements of opening hours, suggesting it should be closed now, but as I tried the handle it was actually open here for some reason. I decided I must give it a try and I knew it should be nice. I went down there and the road was quite fascinating. I did not see anyone anywhere and was worried someone would lock the gate door behind me. Still I actually thought that it would be possible to get out south on this road and went ahead until I came to yet another gate very effectively blocking the road south and the door in the gate was not open here. One could possibly and adventurously have climbed up the side here and gotten down a bit ahead (not sure), but the road ahead did not look like it had been used recently, so I gathered I would eventually come to yet another gate and turned around.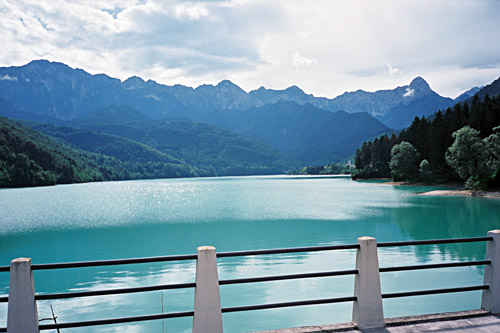 I went back and a little bit on the way up to the locked gate at the Barcis lake and then hurried back up to the gate that was still hopefully open. The door was still open, thankfully! Then it was a pretty boring descent to Montereale with some drivers not too happy about me cycling down through all the tunnels, but I do guess it is allowed (do not know for sure). The tunnels are all well lit, so no problem really apart from the traffic. At Montereale (314m) I turned right/west at once and just continued on the obvious road following the foot of the mountains (Via Pedemontana) and which I had travelled the year before from the opposite direction to Pedemonte/Aviano, where I climbed the Piancavallo and descended to Lago di Barcis from there, which was why I did not take that road again now.
I had hoped to find a grocery along this road, which is popular by cyclists, but found absolutely nothing of the sort. I had originally thought to try and get up to Piano di Cansiglio via a steep road starting in Polcenigo/Coltura (57m) and via Mezzomonte up to a connecting gravel road, but as it was already getting a bit late it did not come across as the best of plans and thus I continued in order to get up an all asphalted climb to Piano di Cansiglio. Instead I turned south to Polcenigo centre to find a grocery before they would close for the day. I asked someone there as I found nothing and was directed to nearby San Giovanni, but the possible shop there was closed and then I tried finding a short-cut back to the main road west, but got to a dead-end at some park area and had to go back the same way I came.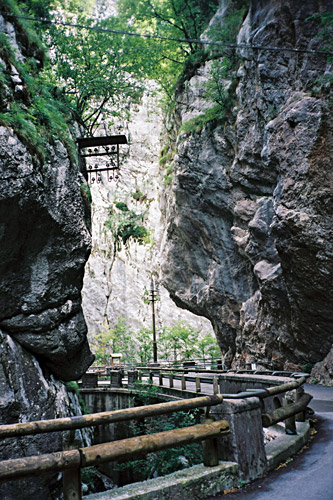 I continued and still found nothing as I turned in on the road that starts to climb up the mountain from 49m height. But first this road passes by Sarone and going into the village, where I found that a grocery was still open and had a sandwich and coca-cola at last. Not feeling too busy even if the evening was going to arrive eventually as I guessed I would at least get up before the dark and should be able to find a place to stay at up in the mountain.
It was nice climbing up the mountain overlooking the Po plain as it reaches the sea down at Venice, which was almost visible, but I could not really tell exactly where the sea started in the distance. I stopped for a photo once before the views got too hazy as the views were actually better lower down. The road is evenly steep and a pleasure to climb. After a long time one comes to the woods, but it is still a somewhat fine road. Shortly before the Passo Crosetta (1119m) one joins the main road up from Vittorio Veneto. Here I passed by a local older man being late up here in the day as well. I asked him about the road to Monte Pizzoc (1547m), but he thought that it was a gravel road, which I am pretty sure it is not (even though the very last part may be so). Anyway, I did not want to go there because all of a sudden it got quite cold outside in the shade of the woods and it was getting late, so I continued down to Piano di Cansiglio (lowest point 982m).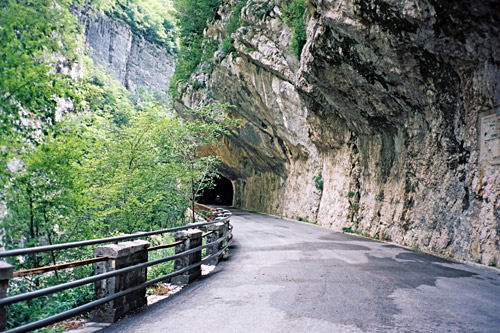 The road is straight with great views across the flat farmland up here and the road descends gently to the north before there is a little climb out of this plateau to Campon (1046m) (not sure if it should be regarded as a pass or not). Then it started to get a bit warmer again on the descent on the other side to Spert (918m). Here seemed to be a good place to stop and I at once saw a very big old hotel in the village that looked like it might be expensive, but then noticed that it only had one star, so I decided to go in and ask for a room. The price was reasonable so I stayed here. I asked about where to eat (as it did not look like they served food) and there was a pizzeria across the street, but the lady said she could make something to eat for me at the hotel as well and I thought it sounded more interesting.
I do not remember exactly what I got to eat, but it was fine with me and I know I got some salami made by someone they knew, which was nice. It was a very good looking hotel with high standard, but the reason it was cheap and only had one star was that they had just bought it from the previous owner and was still doing final work on restoring the previously worn down hotel. She showed me a nice-looking wine cellar that they were going to open soon, so maybe next time I pass by this would be more expensive already. It was a very good place for the money at this time however!