Jerry's Tour of the Alps 2011 – Wednesday July 27th
St. Pierre-de-Entremont — Col du Granier — Pas de la Fosse (tunnel) — Chambèry – train – Chamonix (40km?)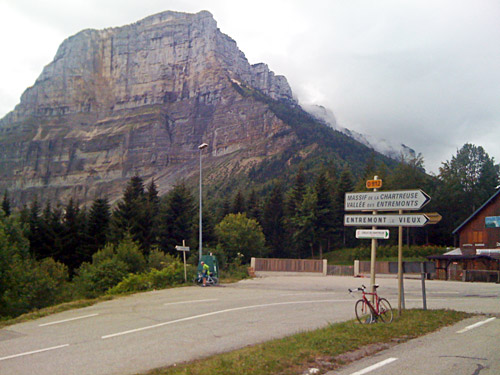 I made sure to get up a bit earlier in the morning this day and told the lady I needed to have breakfast before 8 am as I needed to be on my way at 8. I had looked up the train schedule from Chambery earlier and knew that I had to take a train at half past 10 or so in order not to have to wait another 4 hours and arrive in Chamonix rather late. My sister and boyfriend had no work to do this day so they also thought it was better I came back early.
Everything worked just fine in the morning and I got on my way as planned. I went very careful as I did not want to have any surprises on this last day and since the pressure in my tyre was not the best, I did not like to go very fast downhill. But it started with a nice warm-up up to Col du Granier/Frêne (1134m) in the chilly morning air. I stopped for a photo and another cyclist just came up there too. It is a very nice spot this pass. I had kept a look on my watch while climbing up here as the biggest uncertainty was in how long time it would take me to get up here, but I had kept the schedule very well.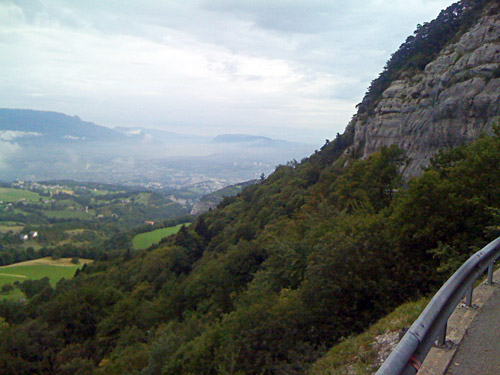 It was a nice downhill ride to Chambery via a tunnel pass called Pas de la Fosse (tunnel) (822m). I saw some more cyclists on the way down here and I guess it is a very popular area to go cycling in. I guessed my way through Chambery (269m) and then found signs for the train station to follow. I got there in good time for the train and got my tickets and went around on the town looking for a place to buy a sandwich and water for the train ride (which I only found when I was almost back at the station again).
I changed train in Annecy and in Le Fayet for the slow-going train up to Chamonix. The weather was not very good this day either and I would likely have gotten rain again if I had continued on the bicycle. There was some rain in Chamonix and it increased during the day. I felt happy to be out of this horrible Summer weather and was happy about the achievements overall given the circumstances. It had been another nice tour! I went back the next day with bus from Chamonix to Geneva airport.