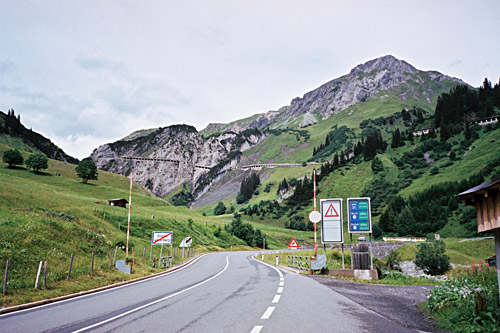 The weather changes quickly in the Alps, but this morning started with light rain and even though I dragged out on time before getting away this morning, it did never stop raining. When I rolled down to Pany from St. Antönien, I thought that the rain was about to stop pouring down as it had almost stopped raining up there. Then I came down to the road-work and it started to rain heavily again and it was an ordeal to get through the section, but I was lucky I got through and the bicycle also survived. Then I took an alternative way down from Pany (not sure if I took the higher or low alternative, but maybe the lower one) as planned, but the rain just did not stop and I had to go slowly down to try and keep a little dry underneath and to be careful on the steeper sections to Schiers (654m).
I was nearly all soaked in Schiers and it just continued to rain, so I went to the train station to try and get away from the rain in a more comfortable manner. Looking at the map, I decided to buy a ticket for Bludenz in Austria, as it would be mostly flat until I got there anyway. That trip would involve two changes though, but we found a connection that seemed to be fine eventually and before the next train left. The train stopped just before reaching the main train station at Landquart and for some reason I thought I should jump off and managed to do just before the train should leave. Apparently the man or woman running the train had seen me jump off and stopped the train just at it started to roll, when I realised I had made a mistake, to let me go back on again. I doubt that would ever happen at home! Thanks!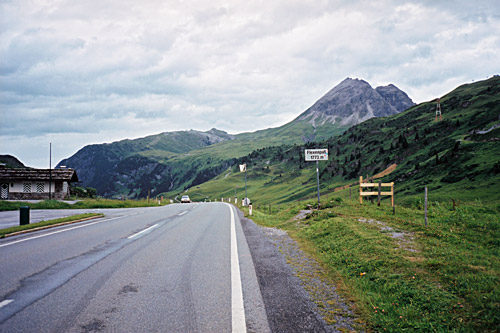 Off again at the obvious railway junction in Landquart. (I would have lost like two hours if I would not have been able to get back on the train.) Then came a bigger train with other cyclists aboard (apparently it is relatively popular to bring a bicycle along in Switzerland, but train rides are not very cheap). Then I had to change train again in Buchs (opposite to Liechtenstein). The rain continued on and off most of the time. When the train entered Austria it was less busy with people. Eventually I reached Bludenz (559m) sometime just after 13 and here the sun was shining and the roads were dry. Yet again I had master-minded the weather. This must have been the only place anywhere near were it was not raining this day and it happened to be along my planned route (well, I had 2-3 different possible routes planned here).
I hoped to find a suitable place along the road out of town to stop for a coffee, but found no obvious place so I just continued up the valley and thought it was better to get going now when I happened to have good weather. Clouds lurked in most directions and I had originally want to get over Zeinisjoch (1842m) on the recently asphalted road from this side, but now had to focus on the only pass I needed to visit in the area to complete my climbing of all asphalted passes above 1600m and I have already visited Zeinisjoch before from the other side.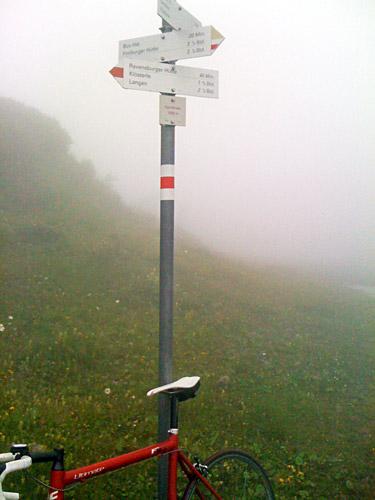 I was going to Spullersee (1828m), that I missed to visit when going to the nearby Formarinjoch (Formarinalpe) (1871m) another time. I had only recently decided that Spullersse actually must be regarded as a pass and it is clearly asphalted to the top. In hindsight it would have been a terribly good idea if I had climbed it the first time I was in the area as it was not going to prove to be one of the most enjoyable days this year, but exactly the other way around.
I hoped again to find a nice café along the road up the valley to Flexenpass (1773m) and Arlbergpass (1793m) and I saw a nice looking one later in Dalaas, but it was closed. The road here is nice with little traffic as most traffic uses the motorway up here and then goes through a tunnel under the Arlberg above Klösterle. Just as I was on the way out of Klösterle (1073m), the rain came back in full force as it had found out about having been fooled by me and was out to take full revenge for it, quite clearly! I took shelter at a house, where I could see up the mountainside toward the Spullersee, which is just above here. But this side is not possible to get up on a bicycle – I see now that there are actually tracks/paths from two places up to Spullersee on this side and they may be negotiable with a mountain bike, but not likely with a road bike. The lady of the house came out and put a cover over her car and we talked a little. I stood there over half an hour at least, before the rain subsided.
In Oberlangen I stopped to use the public toilet by the train station, which is where the train disappears under the Arlberg in a tunnel. As I had stopped a lot on the way I stopped in Stuben (1407m) again for a photo on the way up to Flexenpass (otherwise I still mostly avoid to stop on the way up to passes, but I am not so fanatical about it these days). There was yet again rain in the air as I turned up on the road to Lech, but had some shelter in the galleries on the way to Flexenpass, that has thereby lost of much of the former charm they had. Now most windows are square instead of the earlier curved windows (upper side) and it was a disappointment to see how they have managed to make this road loose its former charm. They were working on it last time I visited.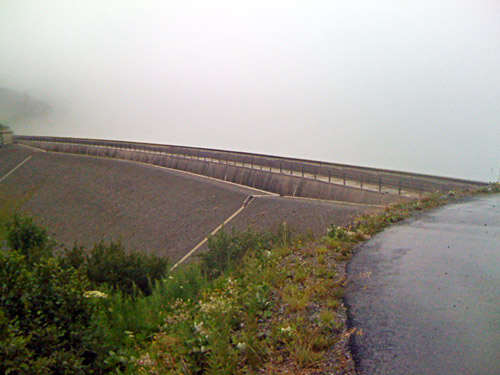 It was almost not raining when I reached Flexenpass (1773m), then it was the same quick descent to Lech. Be warned as I nothing much positive to say for the rest of the day. Zürs (1717m) is an ugly ski resort village with nothing to offer, the same is almost true of Lech (1444m). I went into the café I had visited twice upon previous visits here, but it seems like the service has fallen below that in most major cities up here. The whole place is a rather sorry place and on top of it one of the most expensive places in Austria. More expensive than Switzerland, but with a hell lot of less service and charm (or maybe these things are related as the cheaper a place is, the better it usually is in most respects). Maybe people want to pay for getting treated badly (for all that I know about the tourism business it seems to be quite true).
It was still rain in the air as I left Lech and started on the climb up to Spüllersee rather reluctantly as I had no hope of getting any good views up there. The people were unfriendly, I were unfriendly and the weather was really bad – all in perfect harmony! I continued up to Zug (1510m) and went around the bar across the road there. The rain light rain kept falling, it was almost dark due to the heavy clouds and few people outside. I turned off on the road up to Spullersee where it forks and it is sometimes steep and sometimes not. Someone on an ordinary bicycle passed by me and I wondered if the person could really be that much better than me (a girl also). She stopped and I passed by and she passed me by again even faster without looking the least tired and wearing normal clothes. Then I realised it was a motorised bicycle – I was starting to get worried.
Up at the lake I could not even see the water or nearly anything. I followed the gravel road along the lake to see if there might be an opening in the clouds somewhere along here or on the other side and also to see the sign on the other side. The road was just about useable in the rain, but I went on and stopped by the sign on the other side. I could not see anything, but heard some voices from a house nearby (that I could not see). I went back again and just as I came back to the bus stop by the dam building it started to rain very heavily again, but at least I could take shelter at the bust stop here. There were another guy there apparently waiting for the bus, I later realised. The bus came and went. I guess I waited for close to an hour, before I just had to go before it got dark and I thought the rain was easing off a little. I stopped early down in the rain to take the last photo here just to have something to show.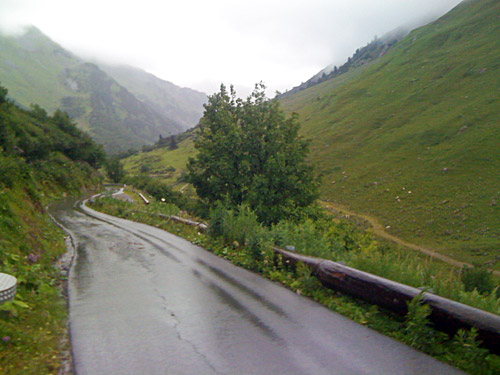 But it started to rain heavily again and then more heavily. There is a restaurant with possible lodging on the way down to Zug here and I stopped, but they had no rooms, but I was allowed to stop there taking shelter for the rain and managed to buy a cup of coffee. It was quite cold even inside the house though as they had the outer doors opened and after a while I moved on. They had no suggestions on where to stay for the night and only suggested I get down to Lech and that I did. I looked around on the way down there, but the places looked too expensive to my taste. In Lech I spotted the tourist information and noticed they had information on lodging there. The best with that place was that it was very warm, so I waited there for a while. The information on free rooms were confusing and I tried to call one or two of the cheapest that seemed to have free rooms, but no one answered. I went out again, shaking as much as when I arrived down here and went down the village on the other side and eventually asked at a place that was open and was given a bed there and got a pizza to eat. It was one of the least good places I stayed at during this Summer and it was also the most expensive one. Go figure!