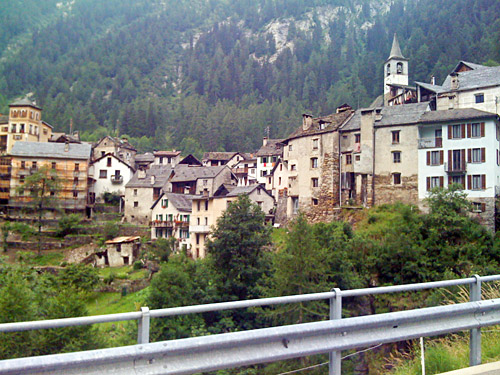 The weather was not the best this morning, but at least no rain. I had heard that they thought weather would be bad in the area, but was lucky to have decent weather this morning. There was worse weather outside Valle Maggia, the continuing Val Lavizzara and Val Sambuco in virtually every direction, it seemed like. I started out from Prato Sornico (759m) and from there the real climb up to Lago del Narèt (2313m) starts.
Upon reaching Peccia (840m) it starts to get steep up through serpentines. It eases off a little as one reaches the Piano della Rèisa and soon one arrives at Fusio (1280m). I stopped for a photo of the signs here and filled my water bottle. Now a narrow road starts to climb even steeper up (after a short while). Here are also some short unlit tunnels, but no light is needed as they are short enough. As one reaches Fontanalba just before Lago del Sambuco (1462m) the climb is easy again. (There is a road at Fontanalba that might be asphalted to Colla (1703m), but even if the name might suggest there is a pass located there, it is more likely just denoting the little spur in the mountain here and there is no path down the other side, so I dismissed this as a possible pass climb, but might be worth climbing for getting good views over Lago del Sambuco (another time).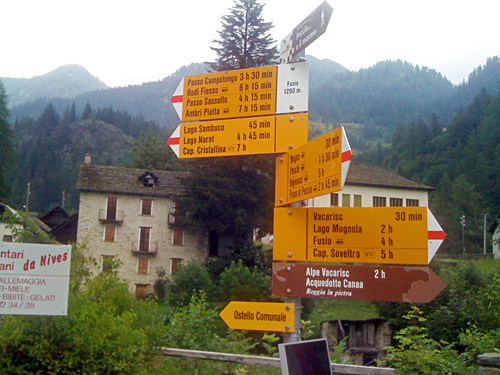 I knew it would be nice at Lago del Sambuco, but was stilled stunned by the beauty. Many that goes up here only goes to this lake. From here the road is a little less good as it follows the lake. When you eventually leave the lake behind and climb into woods again, the steepest part of the climb up to Lago del Narèt starts on a road with only one switchback and gradients up to 19%. You get a chance of recovering a little at Grasso di Dentro (1752m) before crossing the river Maggia for the last time (well, hopefully you get back to cross it more times).
Now it is consistently steep, but irregular to the top of Lago del Narèt (2313m). The beauty will keep you going higher up. There is an insignificant pass at Lago Scuro (2261m), which is not recognised by a name (because it is insignificant). Lago del Narèt is not so terribly nice itself, the main attraction lies in looking back! I first went to the left to see where the asphalt ended and it soon did. The weather was a bit damp and also the road, so no fun in trying to see where you could go on the gravel road this day.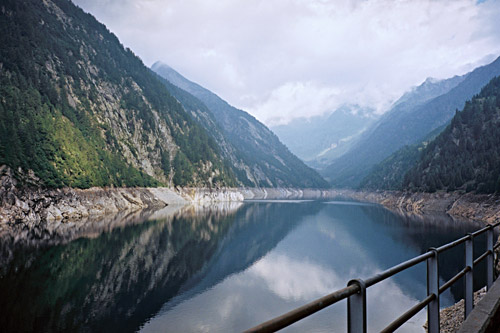 I had not been able to decide whether to walk over Passo del Narèt (2438m) and down the other side or if I should go back the same way. I did some calculations and given that the weather was very good, it would likely be faster to walk for three hours here and then go down a gravel road on the other side (then asphalt), than going back on the smooth asphalt road to Locarno. That is, if the idea was how to get as quickly to Biasca as possible.
I did not decide until getting up here what to do, but the weather looked too bad for it to be fun to trying and walk over here. If I would encounter rain (which looked possible), it would all be much more troublesome and a long ordeal before reaching asphalt again. Also since it was still not raining, there was nothing to stop me from a quick descent back. I went along the road over to the other end where there actually is a sign for the Lago del Narèt (2313m) at the end where a path comes down from the Passo del Narèt. A couple who had been up here fishing came down and took a photo of me. I had also thought of getting up to another pass – Passo del Sasso Nero (2420m), which would likely have been the quickest pass to reach from the lake (in good weather), just in order to be able to claim a pass up here and maybe get some additional nice views, but given the weather it was not a good idea.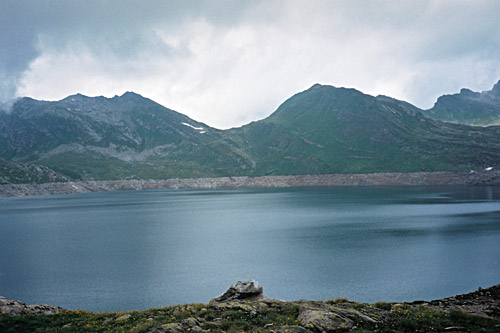 I returned back and stopped for some photos on the way down. I was really happy for my choice of having climbed up here despite the very long detour that this was. Now, as I came back down to Lago del Sambuco, it was clear that I would not escape rain today. It started to rain heavily when I was cycling along the lake and at the dam there is a shelter over the road where I had to stop for some time. I was not totally soaked and hoped it would clear up, but had no real luck there. A little girl (with her family) gave me a small muffins! ;-) Eventually I decided the rain had subsided a little and continued down, but soon after I took off it started to rain heavily again and the descent to Fusio, even though short, was the hardest part and I got nearly all soaked and was freezing like hell.
I decided that I had to take shelter again in Fusio as there was no immediate sign of any relief in the raining. A fine restaurant was open and I went in there and ordered an expensive pasta and tea. Expensive and rather boring place with bad service, but the pasta was good. It was not very warm here and I had difficulties stopping to shake and get dry. Eventually I had to leave after sitting for over an hour hoping for the rain to stop pouring down.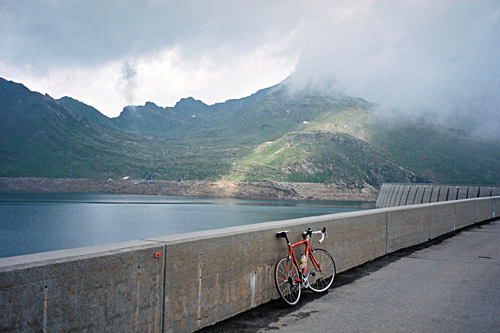 It still rained as I continued down the valley, but not quite as much as previously. Then as I was down the steepest parts and was approaching Prato Sornico again, I had a flat! Bad things seldom comes alone, eh … . I was only 300m above the place where I had spent the night at, so walked down there as I could then possibly wash my hands after changing the greasy tyre.
It turned out that the rim tape had been giving way to the pressure and the varying temperatures. I had had the rear wheel rebuilt by perhaps the best wheel builder in Sweden, but still he had decided to put on a bloody BBB rim tape as he did not have any good such in stock. I got very irritated over this as I had once before experience getting a bad rim tape (a bloody Pedros rim tape). People only cycling around their houses probably can get by with crap like this, but serious cyclists need better stuff, like the classic Velox rim tape! I blame myself also for listening to "experts" and should have changed it before use. The guy even complained about the rim tape that was on the bicycle before, supplied by Tune of Germany when they built the wheel (apparently this master builder had not even heard of Tune), but despite that he had still a lesson to learn, I cannot complain on the building of the wheel as it stayed rather straight during the whole trip this Summer and no broken spokes. Then again, one has to think of everything! (He has built wheels for world champions, but they usually have a car behind them to change the wheel when the rim tape fails, but I have no such support, I am afraid.)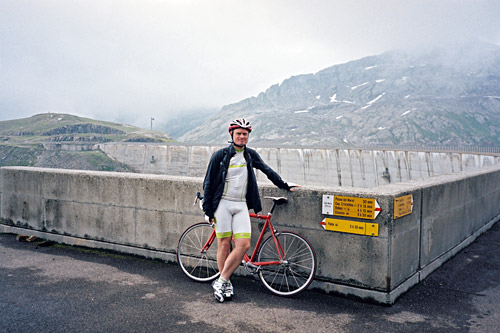 I borrowed a roll of black electric tape from the restaurant, that I folded and carefully added on top of the existing rim tape, so that I could possibly get by until I came upon the next bicycle shop. It was Sunday today, so it better lasted until the next day! I was a bit lucky anyway to get the flat at a reasonable place and not while descending some serpentines in full speed. Pumped the wheel as good as I could – no risk for too high pressure with my little hand pump – a carbon Barbieri pump (which is a good choice) and washed my hands and off I was again.
So the return ride down from Lago del Narèt took considerably much longer time than the ascent. In retrospect I would likely have been better off walking over the pass up there (but I would have missed some of the nice photos taken on the return). Likely I would also have had the rim failure only a little later on. I wheeled down to Locarno in no good mood, but happy enough that I was moving on and that the rain now eventually stopped. It was even dry on the roads before reaching Locarno. I really dislike Locarno from an earlier experience of trying to get through the town and was determined to get through it as speedily as possible this time, but had noticed on the maps that there were some strange things about how to get through when coming down from Valle Maggia too.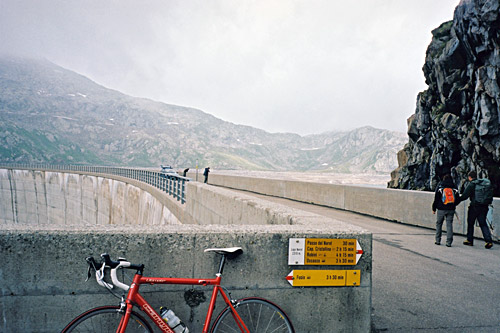 At one place the road that follows the mountainside gives you a choice of climbing Monte Brè, which I first started out up on, but soon decided must be wrong and alternatively going straight into the centre of the town. I went into the centre determined to get back up on the mountainside road as quickly as possible and soon was going on narrow roads that led me to one-directional passages in the other direction, so I decided I have had enough with fucking Locarno and took every one-way road in the wrong direction that I could find.
Then found my way back onto the right road out of Locarno, not slowing down at all in passing by red lights and went in front of cars so they had to stop before red lights. The people of Locarno, their rules and town should be treated with disrespect. Then driving in the middle of the road ahead of a SUV driver putting up my long finger in air toward him while staying in the middle of the road so he could not pass me by for a few minutes (basically because he tried to get passed me at some red lights in an aggressive way, and I was going to teach him what I think of people like him). So, now I felt got a bit better mood again and was out of that mess, called Locarno. I am usually not like this, thankfully, but even I can loose my temper. (They got more police patrols in the area, with nothing to do, than anywhere else I have been in Switzerland, so be careful.)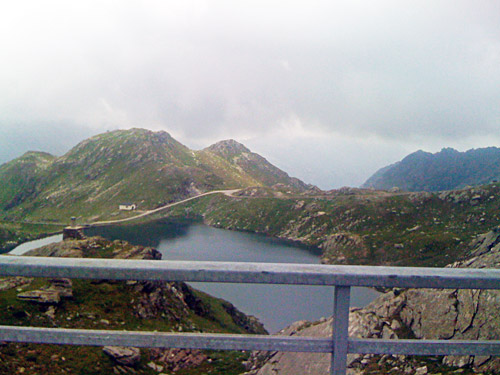 The Italian speaking part of Switzerland is very nice, but the people there are less nice than people up north or south (from all my experience anyway) – they act as spoiled Italians (or try to put on such an image at least …), but maybe it is mostly city folks that are.
The road going up here toward Bellinzona is also very busy, but at least one is allowed to use a bicycle here contrary to the roads down in the centre of the valley (Piano di Magadino). I stayed on the same side and went up through Gorduno just as I had done another time when coming from the south up to Bellinzona. The road on the left side up to Biasca is a quiet road once one passes by Gorduno and an ideal choice for cyclists. I thought that the rain had passed for the day, but when reaching Lodrino, the rain came back, but this time I stopped only for the initial shower (and a local cyclist passed me by – the first cyclist I had seen this day). Just as I got out of Biasca and started on the road up to Passo del Lucomagno/Cuolm Lucmagn/Lukmanierpass (1915m), the rain stopped for good this day. A little after Biasca I took the first alternative road up the valley, which is also a very good choice for cyclists. There is just a 25m descent to the main road after Ludiano (466m).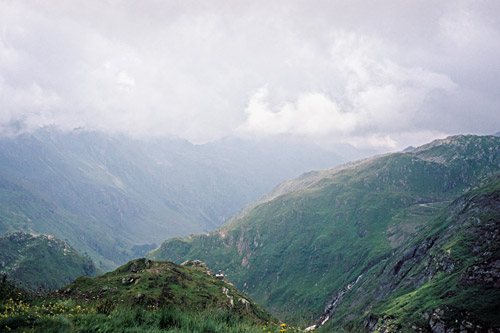 I passed by Dongio looking for a place to stop for the night, but no obvious lodging there, so I continued to Aquarossa (528m) and asked at the second hotel there. It was a simple hotel that I wanted and that was what I got. Nothing much to say about it other than that the locals hanging out there came across as if they could have lived out on the countryside home in Sweden (which I presume is not really praise ;-), but I got food and all was nice and fine). I think there were some more rain during the night.