The tour this year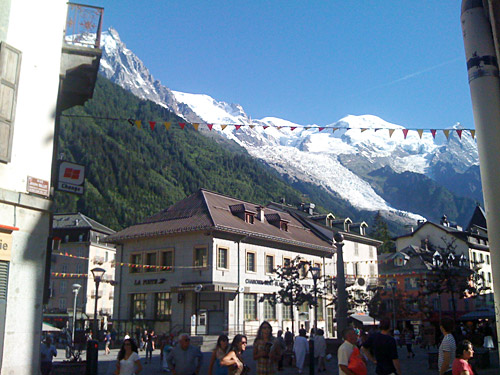 This year I could not complain about having an accident before leaving for the Alps. The only thing I could say is that I had not trained quite as well as previous years during the Winter as it was quite a nasty Winter for outdoor training and I was training less than usually indoor as well. Eventually I got some training before leaving, but no races. This Summer turned out to have significantly less good weather than in the previous years, which made it impossible for me to attain any new records for myself this time. In the end, however, I was very happy with what I still managed to accomplish and completed all the main things I had set out to do during this tour, like finishing climbing all possible asphalt pass roads above 1600m in the whole of the Alps. (I later realised I had forgotten about one little pass in south of France – Col du Lachens (1628m).) So now I have climbed 260 (out of 261) asphalt pass roads above 1600m (according to my own list, which is the most correct such listing available anywhere).
Ca. 3283 km counting all but the last day (which was maybe 35-40 km extra). An average of ca. 143 km/day for 23 days, which is not exactly a record. 78781m up is about what I usually do (there might be some metres included from train rides (esp. on the day from Savona to Piemonte)). 3425m/day is quite fine. Generally I think above 3500m a day is what one should aim for to get a true sense of doing epic rides in the mountains (every day above 4000m is a successful day). Hardest climbs this time was the Kitzbüheler horn (1996m), Sella di (Monte) Zoncolan (1739m) from Priola, Passo del Cason di Lanza (1557m) quite hard on the east side too, Portes de Culet (1787m) from Morgins, Bäregg (2451m), Lago del Narèt (2313m), Sewenegg (1742m), Pertet à Bovets (1840m), Euschelspass (1567m), Edelweißspitze (2572m), Loiblpass/Ljubelj (old road) (1368m), Telegrafo/Punta Veleno (1156m) and walking up through the woods to Chalets du Charmant Som (1669m) … . Climbing Col du Galibier (2642m) felt like a relaxing break from hardships (the descent in frozen rain was worse).
Note: Internet Explorer is not recommended. Instead use a good browser like Opera, Chrome, Safari or Firefox. These pages looks best in Safari on a Mac.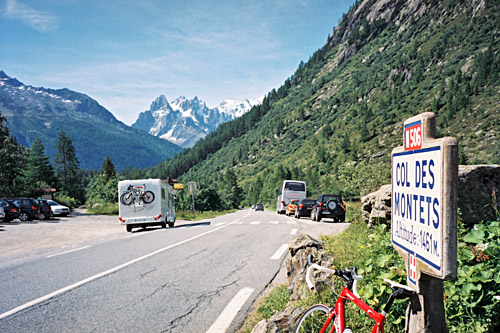 I started and stopped this year in Chamonix, France where I stayed with my sister and her boyfriend (who is working exchanging money right at where the first photo here was taken). I was lucky with perfect weather as I was leaving Chamonix (it had been many cold days before here and it was soon getting worse again). Soon I was on my way the morning after arriving in Chamonix and had no problem getting up to Col des Montets (1461m). Then the (now) usual road down to the border, wehere it continues slightly down to 1094m height before the road starts to climb via the next stumble stone before entering Switzerland properly, the Col de la Forclaz (1528m), which is easy from this side, but a decently hard climb from the other side.
I took an alternative road down to Martigny, wanting to explore a steeper alternative road up here. This road takes off to Le Fays (if taking the first asphalt road down here) and La Fontaine. I stopped on my way down realizing I may be passing by the right turn-off for getting down straight to Martigny and I was right there to stop and take off the road (as another MTB cyclist behind me also realised who also abruptly stopped and went down after me). It is not so very much longer if you should miss this road, but you would otherwise end up at Le Brocard on the way up to Col du Grand St.-Bernard and Verbier.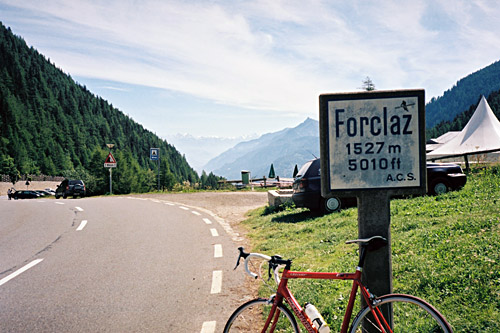 Down in Martigny I stopped for a coffee and to look on the map. The local road over the wooden bridge in the direction of Lac Leman was closed so I had to go out on the big road and then continued via Vernayaz and St.-Maurice to Monthey (424m). From here I climbed the main road up toward Pas du Morgins, but turned off at Troistorrents (744m) up the Val d'Illiez and Champéry. I looked again for a place to stop for lunch before going further up into unknown areas. I went through the village but found nothing along the main road, but stopped by a gas station at the end where they also served food. I got a sandwich and coca-cola and asked if the road to Barme was asphalted, but the lady said it was not asphalted all the way.
I decided to go ahead anyway up on the route de Barme and after a short wooded stretch came to Grand Paradis, here the road ahead was gravel, but a straight and flat asphalt road went left along a river. Then it made a turn up the same way I was heading before and now it started to climb a again. After a while I came to a small parking where the route de Barme splits into two alternative roads, where an elaborate sign explains what kind of vehicles should take the climbing asphalt road (while the gravel road disappearing here is flat). There was a long list of crossed over vehicles, and the idea was obvious that if you do not have a 4-wheel drive vehicle you can forget about the gravel road, which I have found only one reference to on the Internet, suggesting it is hideously steep, so I was curious, but not enough to try it out.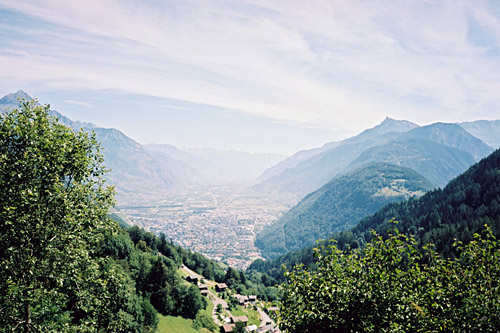 The main road had no gravel sections, apart from a 10m stretch which they were likely fixing after some damage (do not trust local people, they seldom knows much about the roads around them). It is not a very steep climb and the road is mostly in the woods without any great views. I had a few cars passing me by including a police car (maybe something has happened up in Barme and I thought I heard a helicopter too). I went down a bit on the other side in order to try and get a better view, but eventually stopped and returned before getting down all the way, where there likely were better open views.
I tried to find a pass sign here, but only found a little memory building built for three lumberjacks that lost their lives nearby in 1965. This is arguably a proper pass only here named as Arête de Barme (1619m), thus I have included it in the full listing of all asphalted passes in the Alps above 1600m (see above). Going back down the same way, I turned off on a gravel road that crosses the river (1417m) and joins another narrower gravel road continuing up the last part of the valley. This road is fine at first, but becomes increasingly steep and eventually less good. I managed to get up quite a bit before I had to give up and walk a few hundred metres. After a track leaves off for the pass at the end of the valley (1646m), Col de Cou (1921m), the road is flatter and once again possible to negotiate with a road bike.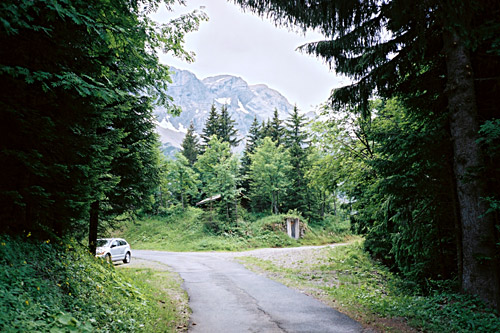 I came to some farms and even met a lorry picking up milk (I believe) before arriving at Les Pas/Col de Ripailles (1823m), from where the road is very flat and better. After a while one comes to the next ridge at Planachaux. The pass at Planachaux (1808m) is properly located a bit down on the ridge road, where there is another gravel road going down to Les Crosets, but that is only good enough for mountain bikers. I count the Planachaux pass as yet another asphalted pass as the road coming up from Champéry is asphalted up to the top of the ridge and only turns to gravel for perhaps hundred metres along the ridge to the actual pass location.
I went back and followed the good gravel road that continues at the same height around Les Crosets. Eventually you come to where one could turn off for Portes du Soleil (1950m), which I went up to in 2009 (steep but possible in good weather). I continued straight ahead and think there was a little bit of asphalt before the gravel started again. The road goes down to a restaurant and I hoped that would continue behind it as it was much better than an alternative that climb up a bit here just before. I had to return, but the bad gravel road was not so bad that I could not use it with my road bike and it turned a bit better when reaching the next pass: Pas de Croisette (1870m).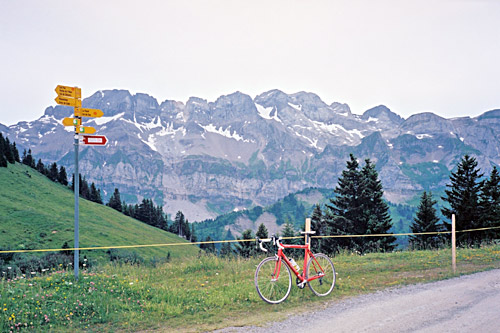 The road ahead was not perfect but doable. I came to another place with a worse track/road climbing and the main road sharply descending, which I had not remembered from making my plans. For the simple reason that the road climbing was simply to bad to get up with my bicycle I chose the one going down and it turned out to be the right decision (it is so boring looking on maps all the time ;-)). Just 25m before reaching asphalt at Champoussin (1701m), the road ahead started to climb up on gravel, but of better quality now.
When one reaches Les Bochasses (1736m) the long gravel road trip was over (for now). A little bit later there is a turn-off for another pass called Pertuis Chetrain (1851m), but the gravel road up there looked a bit too bad for wanting to try it out, so I continued. Just a bit later at La Chaux (1700m) another road climbs up the mountainside and since it was nicely asphalted, I could not resist to try it out. I had not seen it on any map and wondered where it went. It is marked as a private road, but there are only 3-4 houses along the road. It is rather steep, but stays asphalted to near the end. THe part from the last house to the ridge was on bad asphalt that ran out less than 100m from the pass up here at La Foilleuse (ca. 1801m). The road goes to a ski lift. The track down the Morgins side was good enough for mountain bikes, but not for a road bike. I stopped by one of the houses on the way down as I noticed the couple sitting outside and asked them if there could be a pass name for the pass above, but apparently it is only called La Foilleuse like the mountain making this a pass.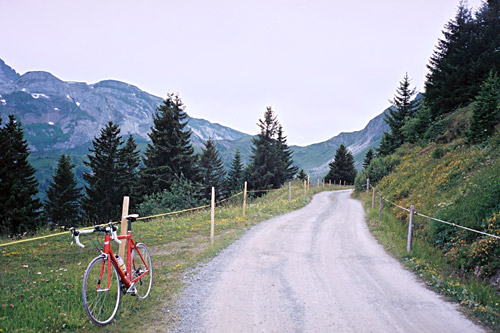 Here the views were the best I have had all day. La Foilleuse is actually the most proper climb destination for cyclists wishing to go up here. I went back and soon turned up another small road to a pass I newly had noticed, called Col du Madzé/Col de l'Abréviau (1628m). This is just a short steep ramp up from the road down. There was a cattle rope across the road where the pas is located and where the gravel starts. The gravel road down the other side here might be possible with a road bike, but I was not in the mood to explore this forestry road and went back.
The road down from here to the alternative road from Troistorrents to Morgins was absolutely lovely and I can much recommend going up/down here! It would likely be a good idea going up here and go down via Champoussin as there should be no problem with the short gravel stretch for anyone. At Morgins I stopped again at a grocery shop (they had closed the Denner shop since last time I visited Morgins in 2009).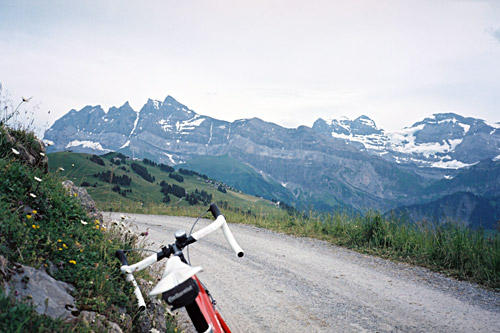 After a short break I was going to attack the road up to Portes de Culet (1787m), that I had descended in 2006 and remembered that it was very steep. Even if Morgins is already high up at 1310m, this climb is very, very hard and you climb 390m in just 2.9 km. I am not sure I was as fit this year as some years before, but I would suggest the ramps are often over 25% and it is relentless, so you will not get time to recover before the next ramp starts. Sort of reminds me of Alpe Vaccaro (the worst climb I have ever been to – Monte Zoncolan feels like a moderate climb by comparison), but thankfully a bit less steep and less long. (Alpe Vaccaro is totally insane, or at any rate, you might well get insane trying to climb it.) Still I got so tired I was nearly giving up here. Someone I met in a car at the first top of the climb asked me something, but I was too tired to comprehend what it was about (maybe some compliments or something).
At Portes de Culet it felt like the worst was over. I descended a little to take a short gravel road (250m) to Col de la Conche (1687m) near the French border and went back again to follow the obscure asphalt road on this north side of Portes du Culet. This side has been documented at the German language Quaeldich site. I descended the winding road until I came to an asphalt road taking off (1340m) toward Torgon, which I had hoped would be asphalted all the way or at least that it would be a good gravel road over there.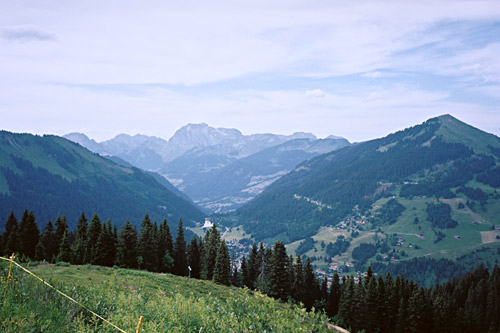 Unfortunately this road turns to gravel very quickly and becomes rather bad too. I continued and it became a little better. Then I came to a choice of two roads, which I actually knew about as I had studied the maps carefully here before, but had not decided which would be the best one to take and I got no indication of this here either. What I did not remember was that the lower going road would be much shorter (although I would have missed seeing a lot of the nice asphalt road up beyond Torgon and I would not even had gotten to Torgon.
The forest road continued on about the same height all the time and was not particularly good, but possible. Eventually I reached the asphalt road after what felt like a very long time. I passed by a place where one cold have a pick-nick and they even provided an axe! I usually do not see axes at resting places along roads! Coming to the asphalt road I followed it up as it should be ending rather soon according to maps I had looked at. I came to a big parking place, but noticed that there was a narrow road continuing steeply up the mountain and it was indeed asphalted too, but here I threw in the towel as the day was soon coming to an end and I still hoped to get a bit up the mountain on the other side of the huge Wallis/Valais valley.
Originally I had of course planned to do more today, like climbing the steepest surfaced road in Switzerland, which starts nearby at Vouvry up to Col de Tanay, but it was hard enough for me from Morgins up, so I had no interest in trying this one today. I went down and over the valley to Aigle and Ollon. In Ollon I realised I would not be able to get up to Col de Bretaye which I had hoped to reach and where I know there would be a hotel. I thought that Villars would be too expensive a place to stop at, so I thought it might be as well to stop in Ollon and asked at the hotel there for a room, but just like another year nearby in Yvorne, they had no free beds and apparently every place around was fully booked, so I was advised to continue up to Villars.
Originally I had planned to take an alternative road to Col de Bretaye (as if the main road is not "alternative" enough). This road goes via Panex and Plambuit (from where the lower road to Villars might be asphalted), but the higher road to Col de Bretaye is gravel and might be possible with a road bike. As it was late and I was not sure I would find lodging in Panex or Plambuit, I decided reluctantly to follow the main road to Villars. I went in quite a good speed in order to try and reach Villars before it got dark. I was getting tired but the road was nice.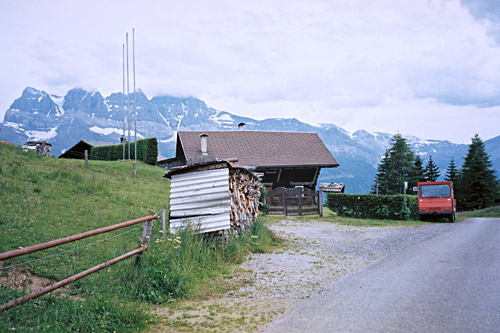 I happened to spot a bed and breakfast upon entering Villars and decided to ask to stay there. Unfortunately the lady of the house was gone, but another woman who had been helping out with something there and eventually she found the telephone number for the owner and I managed to get a bed for the night at a reasonable price. I had a pizza at a bar down the road and went to bed (after washing clothes etc, as usual).