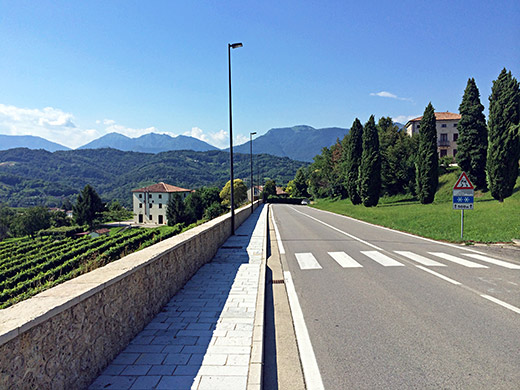 Today it was time for a long, crazy and hot train ride, but also some cycling at the end. First I went back up to the train station in Domodossola and bought a ticket for myself to Milano (not sure if I bought the whole ticket to the end destination) and then went to talk with a cleaning lady at the station and manage to get her to "sell" (I gave her a 2€ coin) me a few big plastic bags to wrap my bicycle in. Then had a pleasant train journey to Milano listening to music as I had brought my earbuds with me.
Then in Milano I went on a faster train to Vicenza and had to stand up for one and a half hour even though it was more expensive. I was lucky to have dressed in cycling clothes as it made more sense than normal clothes on the train this day. For some reason according to notes the train then did not go to Treviso, but to Venezia Mestre where there were lots of confusion for passengers, but not for me. There I changed a final time for a slow and hot train straight up to Conegliano. I was a journey as hard as a mountain climb and I was relaxed when I finally jumped off in Conegliano and put my bicycle together. Now it took some time to leave the city as I realised I had a slow leaking tube that needed to be replaced an asked first at famous Da Marchi that I noticed cycling around there, but they were closing down and directed me to a more basic bicycle shop that helped me out.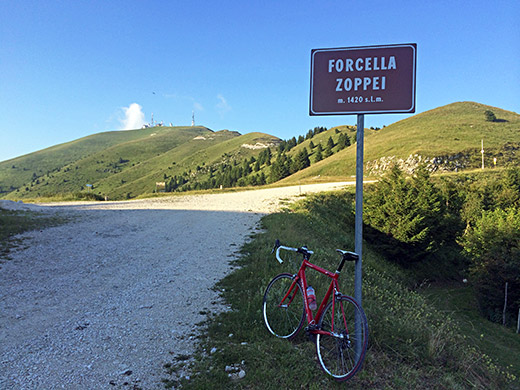 I got a coffee and ice cream before leaving the city. Then took the high ridge road out of the area north via S. Pietro di Filetto, which I am leaving right there in the photo above where I look ahead up the high mountain behind the low ridge in front.
I went down to Corbanese and then climbed up to Tarzo on the low ridge. Another problem had becoming more acute. I had noticed that I started to get an ache in the heel and there were a big hole in the heel padding in my Fizik shoes. I had noticed that my socks had almost been destroyed also. I bought some plaster to put across the hole in my shoes and had to change that later, but it helped making it endurable. (To their merit, I should mention that Fizik later replaced the (R1) shoes without charging me with the next year's model and they still are with me.) I have had the same problem with a pair of running shoes. There is always something that breaks in most products these days rather quickly no matter how good they are in other respects and it is tiresome. If you pay extra for a good pair of shoes you do not come back as customer if they try and cheat you, but it can be hard to tell who is not cheating you and who makes mistakes that they deal with.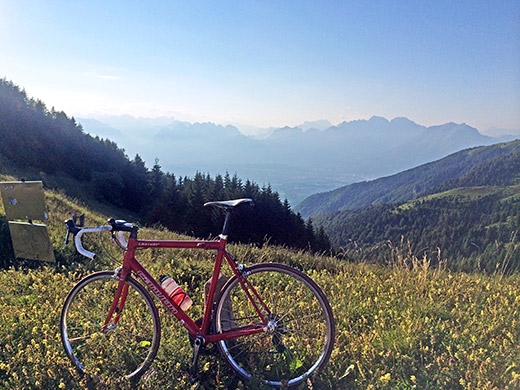 Also had a coca-cola, but then it was time to spend a little effort again. I had hoped to climb up to Col Visentin (1740m) as the gravel road up there had seemed good enough to climb with a road bike. I started out climbing up slowly at first from Longhere (197m), but soon came another guy on a road bike overtaking me and he almost looked like someone from home in Sweden. I hanged on to him and he seemed a bit too comfortable with the climb for being from Sweden (but there are some good Swedish guys who have been down cycling here too, so not impossible). I decided to try and hang on to him with a little distance and managed to keep his speed which was not very high, just higher than my initial speed, but it was good to get up a bit in speed. He was as little talkative as the man on the Mattmarksee the evening before, so never learned more about him. As we came to the last asphalted bend at 1214m height he just turned around and went down without stopping or saying a word.
I continued up to Forcella Zoppei (1417m), but the gravel was really too bad to recommend to anyone with a road bike. I really took a risk at getting a flat on almost every metre up there and the road looked if possible even worse above. A 4-wheel drive car went by me while I stopped for photos at Forcella Zoppei and I saw how bumpy and dusty the road seemed ahead so had enough of this and returned down (I really had enough before, but just wanted to reach some place before going down again and making sure the road did not improve and always nice to claim one more pass and also got a glimpse of the top).
There was an old pass sign laying on the ground where the text started to get hard to read, but the same name. Above you have a nice view at the mountains north of Belluno, while we here have a last look up the Col Visentin.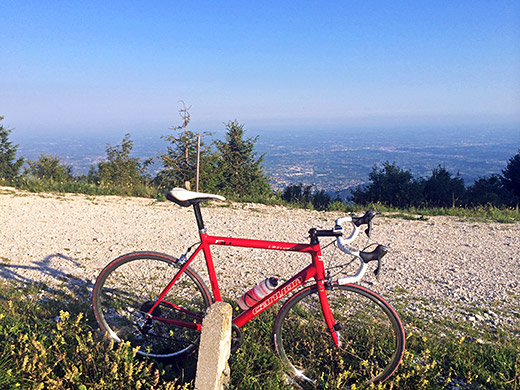 The views down toward Venice and north of there where one could almost distinguish the sea is also quite nice from up here.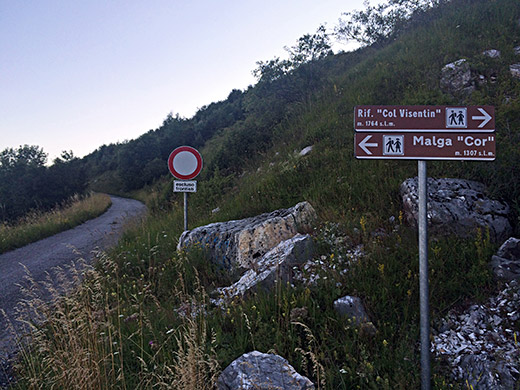 At the end of the asphalt there is however another asphalted road that continues up in the other direction on a private road to Malga Cor (1307m) which might have been a better destination in retrospect, but it was getting late already and I was about an hour or so behind schedule and knew I had some cycling to do this evening, so no time for any more exploration unfortunately.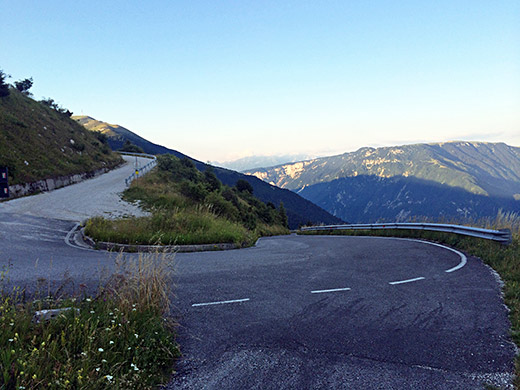 Finally a photo from where you would normally turn around up here, though best would be continuing up to Malga Cor I think.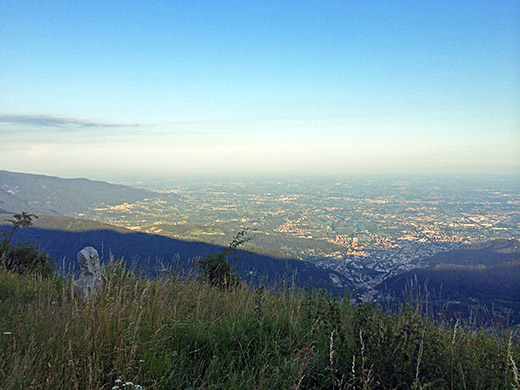 And a photo over Vittorio Veneto and beyond. Now I had to hurry on and before I knew it it was too late for any more photos this day. I was going to take part in the Monte Grappa Challenge the next day for the second time, but surely not riding all the 5 climbs as I did the first time in 2010 (with 277 km and 8272m up, which is still my record number of height metres climbed in a day and quite enough). Still I needed to get close to the start in the morning as I had to be up before 06:00 in the morning.
I tried to hurry on to get as far as possible before it got so dark I had to put my lights on and then hopefully be in more lighted areas. I took the nice road over Combai and by the time I descended to Valdobbiadene (251m) it was getting dark. I continued until I turned in on the main road near Pederobba and then put on the lights. It goes dark much faster down here in the Summer than what I am used to from home in Sweden. I continued on the main road to Possagno and thought the road was longer than I had remembered from before. Eventually I arrived by the Albergo da Romano, which I sort of remembered from 2010 as the first control was here on the first climb that also starts here in Quattro Strade, so this would have to be good enough now. Now it was no longer supported by MGC apparently and probably because they moved the start and finish into Bassano del Grappa from Romano d'Ezzelino (closer to here).
The place was thus not fully booked at all (there was at least one more guy taking part in the MGC I learned the next day at the hotel). No problem eating late here as it was also a pizzeria. Both the hotel and food was good and the price was good too. Still a bit away from Bassano del Grappa in the morning, but from here it is downhill mostly to Bassano. A long day, but it worked out fine in the end. Think it was a bit of a struggle to wash my clothes before going to bed.