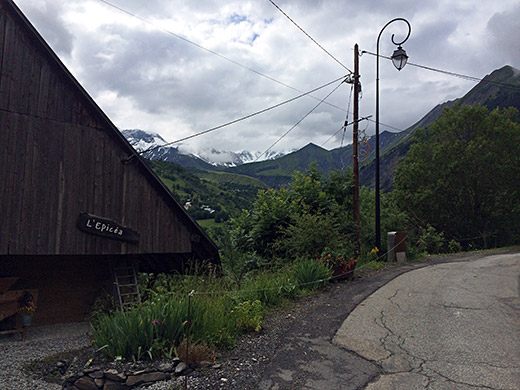 Well, the day started after breakfast with a car ride down to Saint-Jean-de-Maurienne (568m) and the roads where now dry. It was still gloomy weather. I got to a bicycle shop that opened somewhat early and had to wait some, but eventually got a new tyre and tube, adjusted the brakes and again left the village not to return more during this tour.
It was good weather for the climb up to Col de la Croix de Fer (2064m) and I took the higher going road in the middle section, that I had not used before here. The first photo here is shortly after the fork between the valley road and the higher road through St-Jean-d'Arves.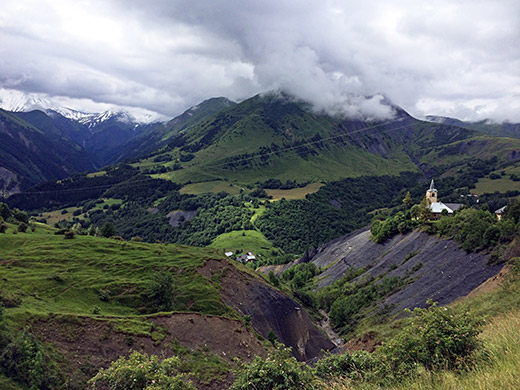 Here are great views just before St-Jean-d'Arves. The church seems very optimistically situated next to the scree slope … (Ravin de l'Église). After a short downhill ride I came to St-Sorlin-d'Arves. I thought about stopping, but think I continued right away (might have stopped for a coca-cola).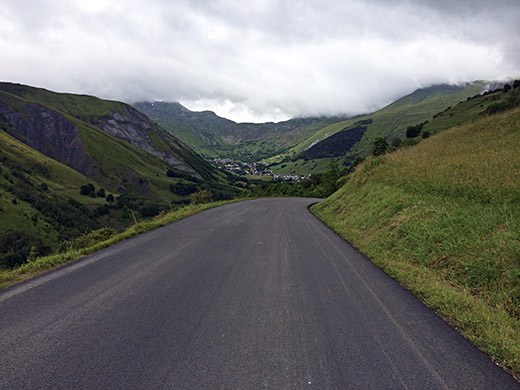 Here is the nice view on the downhill section from St-Jean-d'Arves and one sees St-Sorlin-d'Arves and can guess where the Col de la Croix de Fer above might be located. The road becomes narrower up from St-Sorlin-d'Arves and steeper, but this is a moderate climb. The problem here is the length from down the Maurienne valley (1640m up and 28.4 km).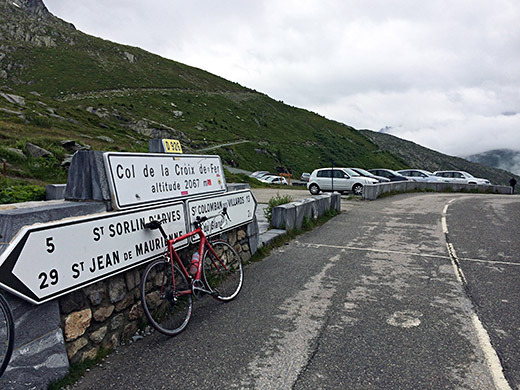 At the nice pass sign – seems like newly changed or cleaned as people tend to plaster all those pass signs quickly with stickers on popular passes like this one.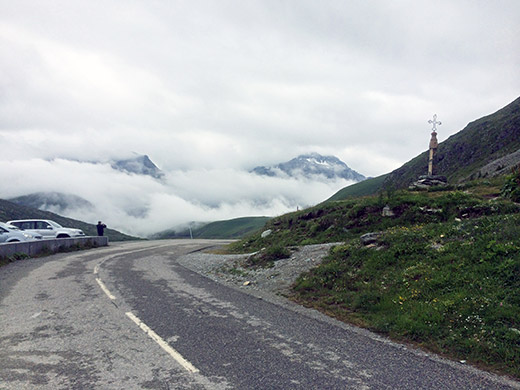 And here we look ahead (same direction as above) and see the 'croix de fer' itself.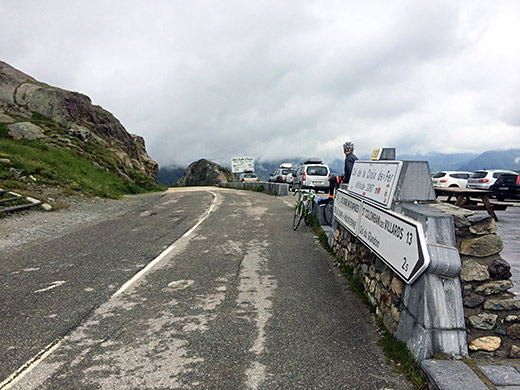 Here a last look back from the pass.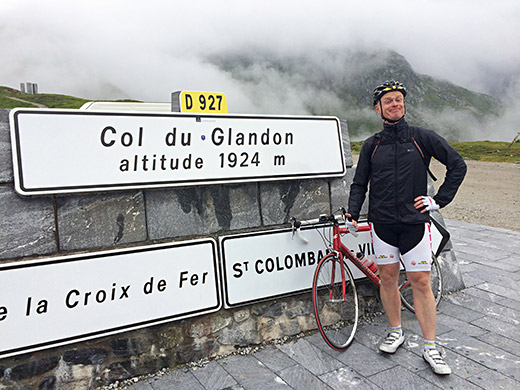 On these roads you are seldom on your own in Summer even with less than perfect weather. I went up the short slope to Col du Glandon (1924m) just to get a photo as I have been here before and bounced into a few cyclists and one took the photo here. I felt good now having gone through the previous hardships and things were starting to feel good now. A bit chilly here, but soon I was on my way down the south side.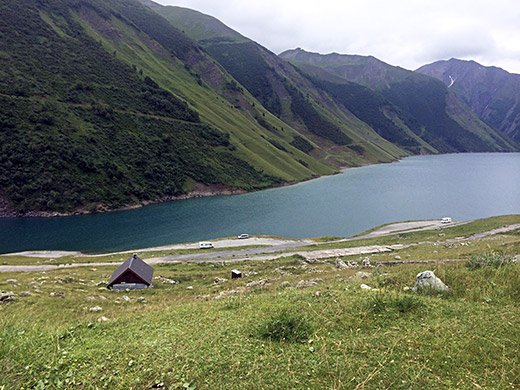 Stopping for a photo of the Lac de Grand-Maison dam on the way down. The original road up the south side went at the bottom of this dam and since the dam was not built until around 1967, the road in the dam is asphalted, so I was looking down there to see where it was likely going into the see (and it is down there).
As I came down the south side Summer suddenly arrived and what a relief! Went through Le Bourg-d'Oisans. I had originally planned to get to Oz for the night and then go up Alpe d'Huez again and above to Lac Besson/Lac Rond (2080m), but skipped this now.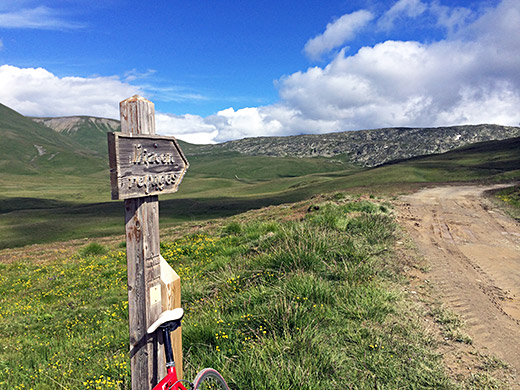 I continued up to Lac du Chambon on the road to Briançon, but turned up on the road to Besse (it is quite steep first up to Mizoën, but after turning off from the road to Col de Sarenne (1999m) it goes down to cross a river before a somewhat steep climb to Besse (1548m).
I was now on the way up a gravel road I had long looked into doing one day and now I was lucky that the weather was just right again. The climb up to Col de Saint Georges (Chalet Josserand) (2245m, road height 2271m) is one of the hardest climbs in all of France even if it would only had been asphalted, but now it is gravel for ca. 10 km to the top. As I have heard this gravel should be rather good and people have made it several times before on road bikes, and it was indeed all possible to climb with a road bike, even if there were a few short places a bit less good and this usually varies from time to time of course.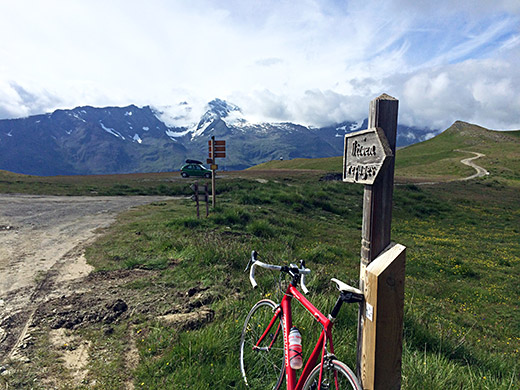 Above I am at the Col de Saint Georges looking ahead into Hautes-Alpes (from Isère) and over the Plateau d'Emparis (which is actually what the road is sign-posted for in Besse). Here I look over the pass opening and at the mountains to the north.
The asphalt continues a bit after Besse to 1682m before a sudden turn as one comes to the end of the valley. From here it is fairly steep, but evenly so for 6.4 km and 9.2% on average up to 2271m just a bit before the road descends gently to the pass.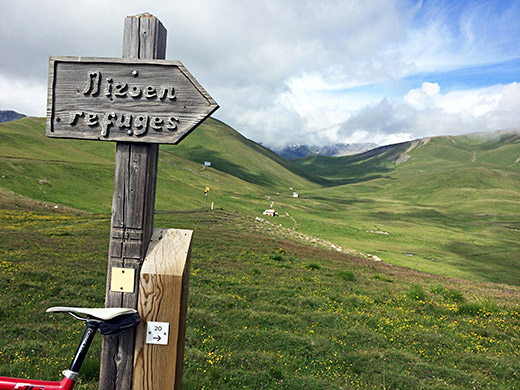 Here I look straight up the valley where the gravel road continues for a while and then a path continues to La Cabanotte (2274m) (obviously a pass too). But for those mountain bikers going across here to Le Chazelet and La Grave, the road to right and across the meadow over Col du Souchet (2365m) is the easier way (as I understand it).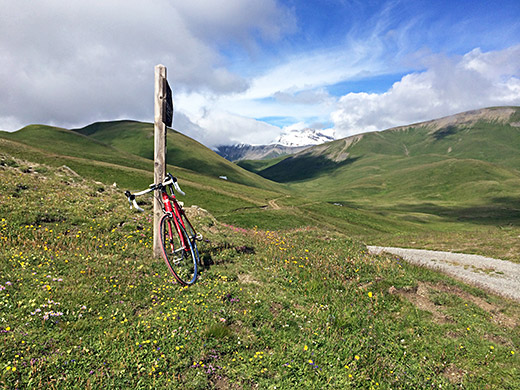 Here I have cycled over the pass gap to Chalet Josserand just to see if there was better views and a pass sign there.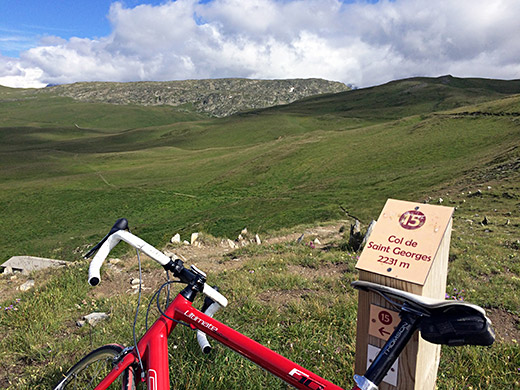 Looking a bit down from the pass along a path down the other side there was a mountain bike sign for the pass strangely located.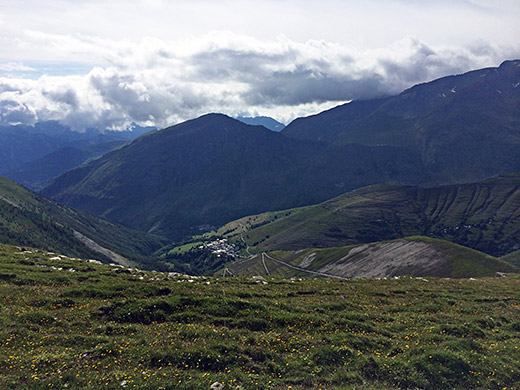 There is a very interesting loop road that one could follow back to Mizoën from the pass, but it was getting late and I had not been able to find any good accounts of the quality of that road, so guessing since I have not heard of any road bike cyclist having done that side that maybe it is not good enough and thus I decided to return back the way I came up.
Here looking back down to Besse from the highest point on the road. You see the long serpentines down in the photo and after the last one the asphalt starts again.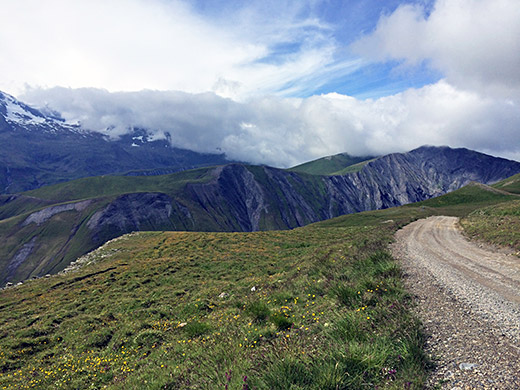 As you see here the road is rather fine and the views too.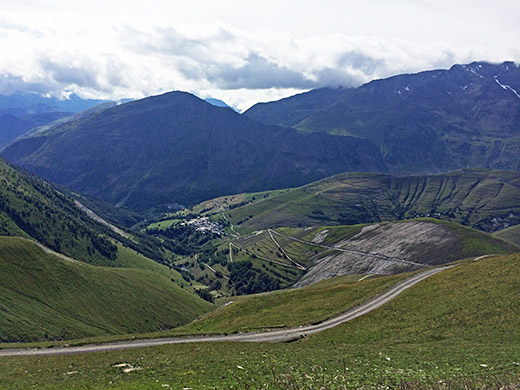 Here you see the serpentines better in close up.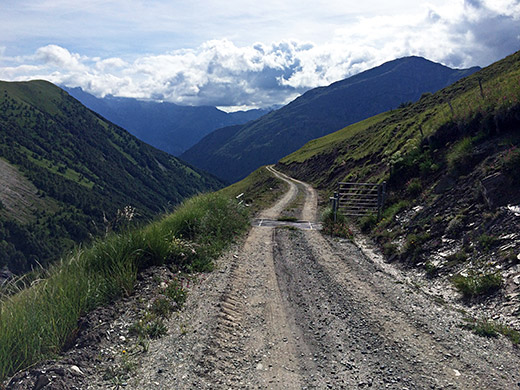 And here the road is a bit less good, so better take a bit care when descending.
I stopped for a quick coffee in Besse on the way down and then continued down to Lac du Chambon (1044m) and then took the main road via La Grave (where I stayed in 2004 when taking part in the La Marmotte gran fondo) and up to Col du Lautaret (2058m).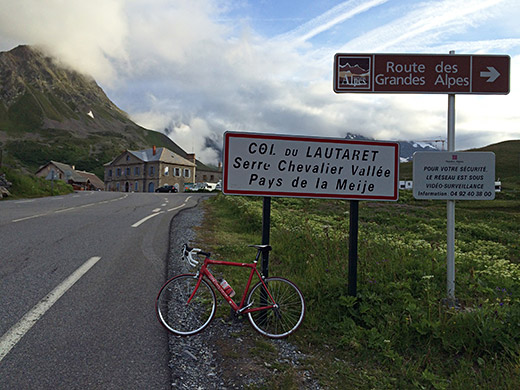 At the pass I could not find any proper pass sign this year, so the sign here would have to do.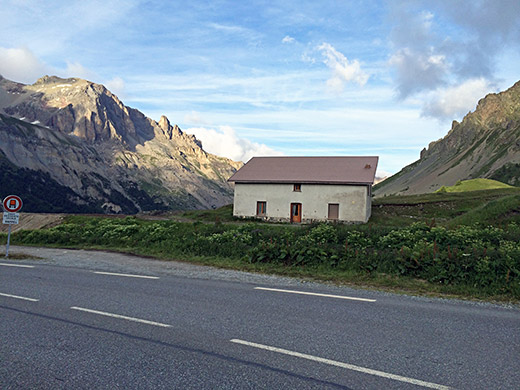 I stopped just after the pass for a nice late evening photo before descending full speed down the nice road to Briançon. Well down at Briançon it was almost dark, but I really did not want to stay there for the night and decided I stop at the next possible place after the city.
Fooled around in a small village asking for a place to stay, but think the the place here was closed and asked a guy selling pizzas if he knew something, but apparently I would have to continue on to L'Argentière-la-Bessée. There were some ups and downs and when I arrived there it was decidedly dark. Looked first for a second hotel announced, but soon had to get back to the main hotel in the square as it was the only one open. It was quite okay though and was in time to have dinner too. Quite a successful day at last!