The tour this year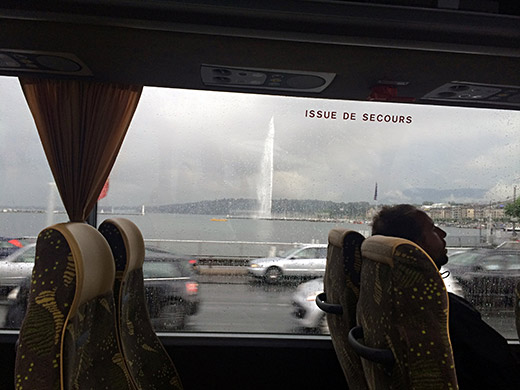 This year I again went to the Alps for another tour – and already now it looks like this might happen yet again next Summer, but by then I should start to run out of very exciting new climbs, but surely there will nearly always be more possibilities. The Alps are filled with mountain roads quite unlike any other mountaineous part of this size in the world, followed by the beautiful Pyrenees.
This year it was a little shorter than the very long tour in 2013. Most notable was the exceptional bad weather this year in the whole of the Alps and the photo from the bus here after arriving in Geneva tells it all. It was however one of the warmest and sunniest Summers ever back home in Sweden – I guess it was payback time for escaping the often bad Summer weather home in Sweden.
This meant that my statistics were not as impressive this time as some years before. Moreover I was also quite unfortunate with problems with the bicycle this year. Also had some minor accidents. Still 3094 km and 73140 height metres (140.6 km/day & 3325m/day). Excluding the two shortest and most rainy days it was 3012.44 km and 71270m up (150.62 km/day & 3563.5m/day), which is more like it even if still a bit short, but the height metres on average over 3500m is in line with my general goals.
Note: Internet Explorer is not recommended. Instead use a good browser like Firefox, Opera, Chrome or Safari. These pages looks best in Safari on a Mac.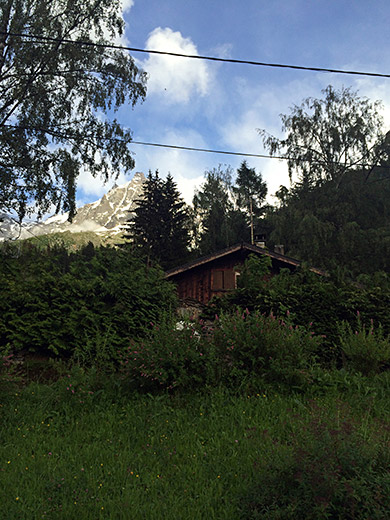 Another story I did not get to write down until now in 2017, but better late than never. Took the plane to Geneva and from there the bus to my sister in Chamonix. Here in the photo I stand below the Aiguille du Midi in the evening after arriving in Chamonix. Some sun breaking through, but would have to wait long again for the sun to reappear.
So, the morning on the first cycling day started with rain. My sister and boyfriend anyway had plans to go down the valley to Sallanches so I got a ride down to Le Fayet/St. Gervais. This is the place I also suggested as the starting place for a Dream Tour of the Alps in my book about making a Grand Tour of the Alps released in the Winter 2015/2016 (available everywhere and directly from me through the cycloclimbing.com website) and that I hope will stay as the definite guide for making tours like mine through the Alps (and in other mountains).
I took the small alternative and more direct road up from Le Fayet to Megéve bypassing St-Gervais. Thus I kept myself warm and it was nearly not raining now. Then just to continue over the Seuil de Megève (1107m) and down to Ugine and Albertville, but about half-way down to Ugine it started to rain heavily and I was almost totally soaked as I came down to Ugine when it again eased off. Luckily it was lower here and thus a bit less cold.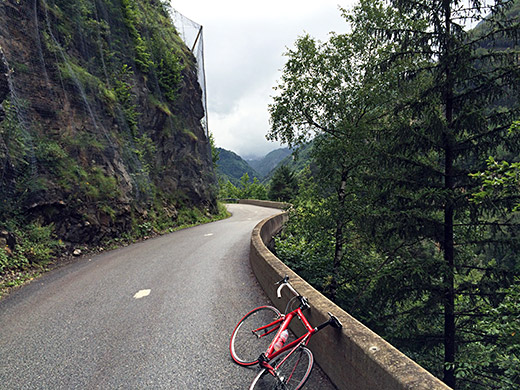 Turned around the corner in Albertville (337m) (after eventually finding the right road for cycling down to Albertville (not exactly well sign-posted (that is, not at all)). Here there was no rain and I started to dry up again and now it was thankfully soon uphill again. Well, it is a bit up and down to get to Moûtiers (480m).
Still not raining, but wet, I continued a bit reluctantly but hoping the weather might at least not get worse up to Val Thorens (2370m). Now that is a quite long climb quite high up. At first it was all nice and no problem with wet roads with climbing and easy to keep the warmth up. Took the minor alternative road up there and this photo is from a nice section of this rather narrow road. The weather does look ominous in the distance though, but such things always change quickly in the Alps.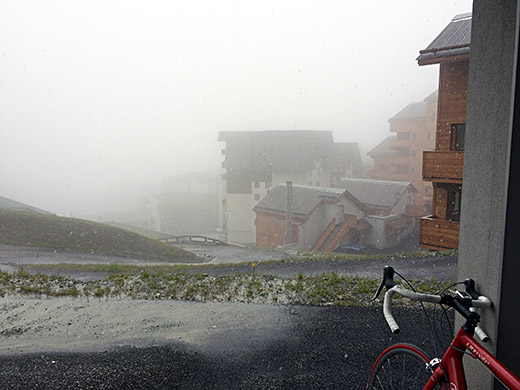 It was not until I eventually reached Val Thorens that it started to rain and upon entering the village it started to snow and then more and more as I reached the absolutely highest asphalted point at ca. 2370m from where this photo was taken. I was now cold even before starting to descend. It was +1°C. Not much views up here now, but then again it is not the most scenic of places and basically only a boring ski resort. It is however one of the higher asphalted roads and longer climbs in all of the Alps, so had to be done.
I went down to the last grocery store before leaving the village. It was cold both outside and inside. I got some half-dirty piece of cardboard/paper to tuck inside my wind jacket to provide some kind of extra shelter on the descent. Eventually it got slightly warmer again, but not sure I reached +10°C until I came all the way down. Went a bit slow and think I made a short stop here and there, but mostly one doesn't want to stop at all in weather like this. The snow and rain stopped thankfully on the descent.
I was supposed to do another climb to Courchevel altiport (2035m) this day, but that was of course totally unrealistic and I was anyway all too late for that. Instead of going to Moûtiers I decided to go to Brides-les-Bains in case I wanted to go to the Courchevel altiport in the morning and it also looked like a more nice place. I could not spend all evening fooling around asking for prices, so ended up at the biggest old hotel in the village, which was a charming hotel, but unfortunately with the old charm mostly purged from the place by modern "improvements", but it was still an agreeable hotel, but perhaps slightly expensive to my taste (and as usual you get less the more you pay for hotels in the Alps).