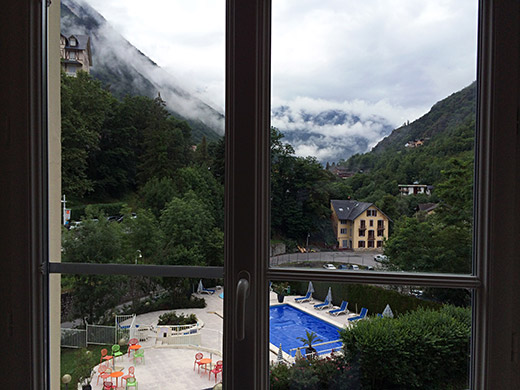 The weather did not look more inviting this day either and I had checked the weather forecast and there was not much reason for optimism about the weather for a long time it seemed like. One could still always hope the weather would get better when I got out of the area, so I reluctantly got on my way, just making sure to do the most important things I wanted to make this Summer and follow the plan in general as well as I could.
Looking out the window – no weather for the swimming pool … . It was again almost not raining and it stopped later on the first climb, but not all the time – very much on and off, but not any heavy rain during this day. I skipped the Courchevel climb (did not even think about it). I took the main road up from Moûtiers (480m) and then turned off for La Plagne in Aime.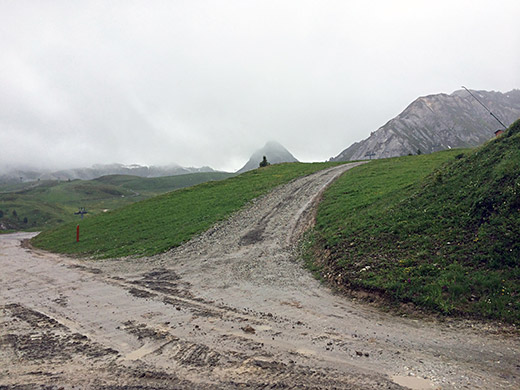 La Plagne (2120m) is a big well-known ski resort with maybe three distinct ski villages near each others. The central area of La Plagne has a road that is asphalted highest up here to ca. 2120m. But here a road continues up to a little cheese producing farm which is asphalted (even if not so well). I had heard that the road that continues up to Col de la Grande Forcle (2266m) should be gravel, but that turned out to be somewhat false. It is mostly asphalted in fact even if badly with a few missing places. As seen in the photo here it is not al that clear whether there could be some asphalt here or not and I first thought not as it was hard to tell even when being there. Much dirt dragged out by bad weather, vehicles and animals.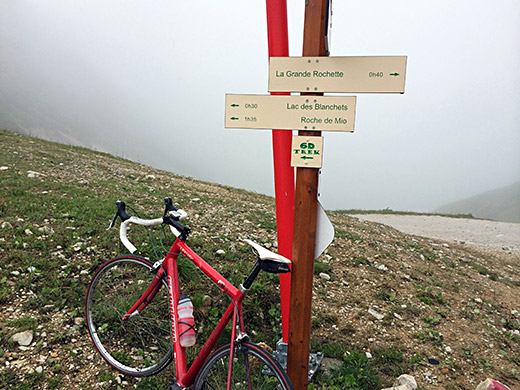 First I thought it was useless trying to get up to that pass in this weather on a road looking like this with a road bike and a weather threatening to get worse. But the road was flat and rather hard here so I went on a bit and it improved and then was clearly asphalted. So I decided to try it. There is then a long steep ramp up to the pass which was asphalted enough to be rideable, but it got harder closer to the pass and on the last few metres the asphalt was gone totally, but fairly asphalted to the top. Could not decide whether to include it in my list of asphalted passes without seeing the road in better weather, but it is possible, especially if they eventually put on new asphalt up the last stretch. As it was this day it would fall just outside the scope of an asphalted pass by my definition (that it should be max 550m easy gravel or if shorter it should not be very hard, but this was a bit rough at least on this day). Maybe I will have to get back there one day to check again as it is very hard to find any meaningful accounts of this climb on the Internet (and mountain bikers usually do not care much about such things).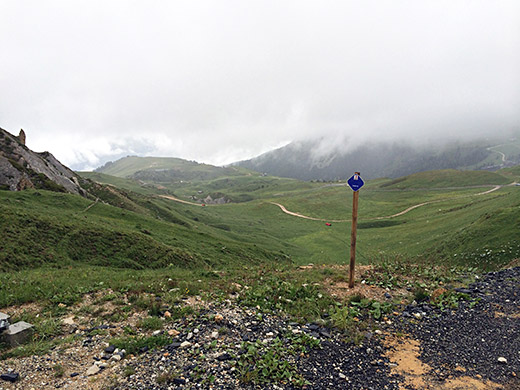 Here I am looking back on the limited views I had this day, but at least it was not all foggy. It is not the closest road you see in the photo (which is just a track), but just behind it you can vaguely spot the contour of it. Unfortunately I did not catch the last ramp up to the pass in the photo. A father and son came up on mountain bikes, which would be the more recommended bike up here, especially if you want to explore the many nice gravel roads continuing from up here (and if the weather had been better).
I got down and went slow, but not so slow as I would be dirty anyway this day, but did not want to get the shoes full with water, so not too fast either. I continued into Bourg St. Maurice (813m) on the main road where cycling is allowed (though not all car drivers seems to think so and there are alternative roads, but no problem this day with bad weather and not so many cars). It started to rain a little again and guess I here reached the top temperature for the day at around 15°C (maybe shortly above even), but it would soon get colder again. I did not want to stop anywhere this day as it would just make it harder to get started again, so just went through Bourg St. Maurice and starting on my way up to the highest of asphalted passes in the Alps (with both sides fully asphalted), the Col de l'Iseran (2764m).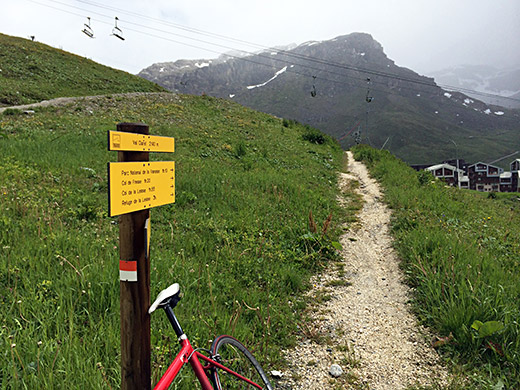 Now I had planned to visit some side roads up to this pass that I had overlooked on previous visits to Col de l'Iseran. The two side roads are basically on opposite sides of the valley before reaching Val d'Isère. I decided to climb up to Val Claret/Tignes (2140m) first as the turn-off for Tignes is just before the turn-off for Le Saut.
Here I am by a sign for Val Claret just above the the highest asphalted point above Tignes (the ski resort).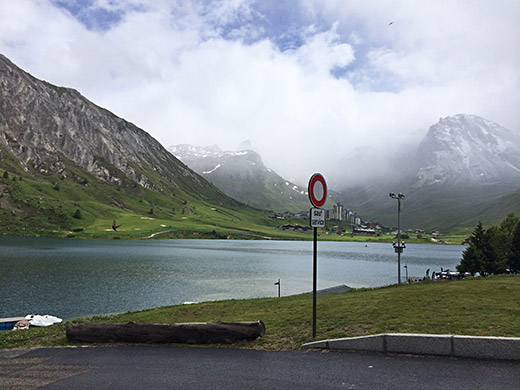 I was a bit lucky now as the sky opened up just a little so I even got a short glimpse of sun and stopped at a grocery in Tignes for a coca-cola and something more. I was hopeful, but not too much, but it helped me go on with the day. Even almost got the mountains cloud free on the way back down from the highest point as you see here and it indeed looked rather nice.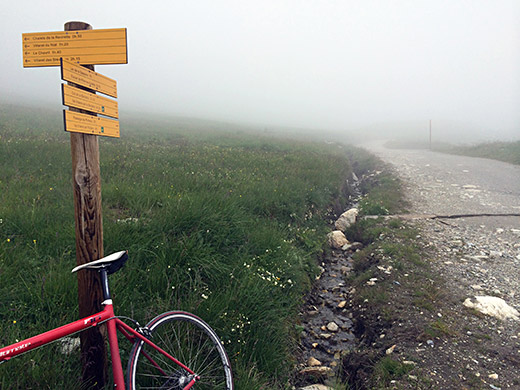 Back down to the main road and then up on the much more exciting road to Le Saut (2280m). This is a much narrower road and also a much steeper climb and it goes higher.
Here I am looking ahead just after the end of the asphalt runs out. Hard to tell if the road would have been good enough to continue on in good weather or not with a road bike, but it did not look meaningful in this weather at least, so I turned around just like I expected to do.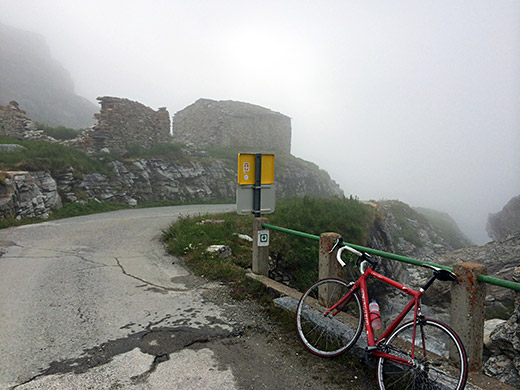 This is where one comes up on the twisting road and it looks kind of nice, but it was foggy up here or else there would have been good views ahead also. I had to go lower to go under the clouds to get a glimpse ahead.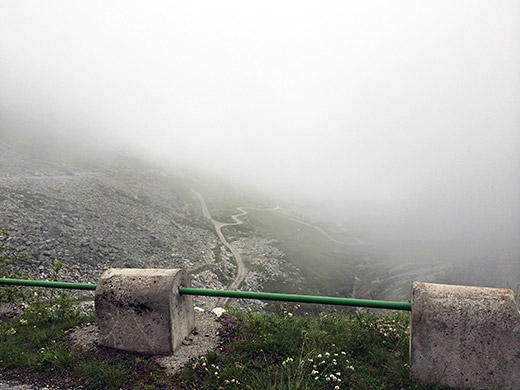 Here you glimpse the last steep section up to Le Saut.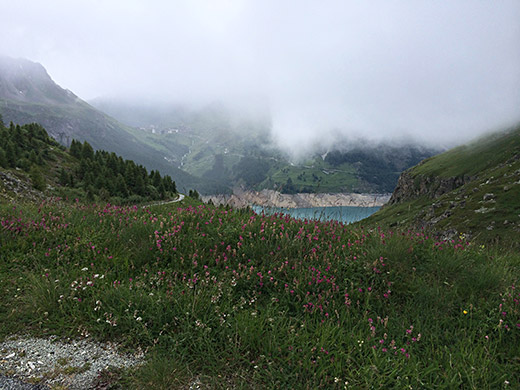 Here finally under the clouds and you can see across the Lac du Chevril to the road up to Tignes that I climbed an hour earlier or so.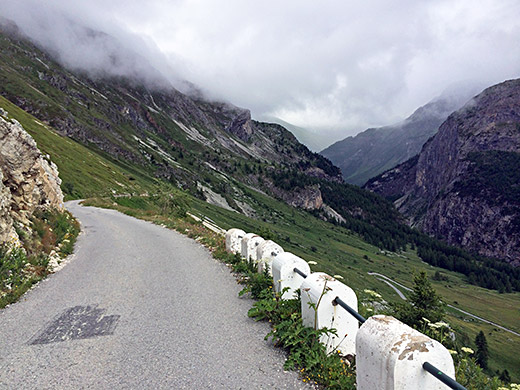 Here is the section with the long serpentines which was quite nice. Here looking up toward Val d'Isère.
Then directly up through the bumpy road through the Val d'Isère village and to the waiting high point for the day.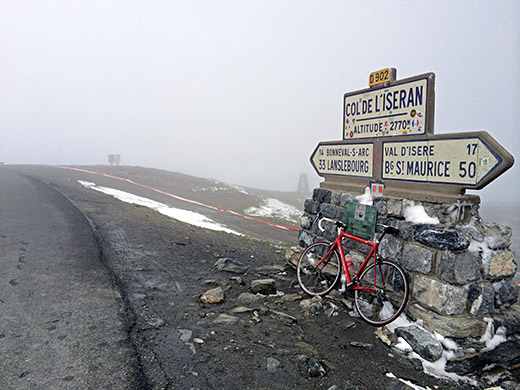 Here two photos from the Col de l'Iseran (2764m). Looks fine?!? Oh well, just a bit cloudy, BUT it was 0°C and I had 1°C for the last couple of kilometres up to the pass.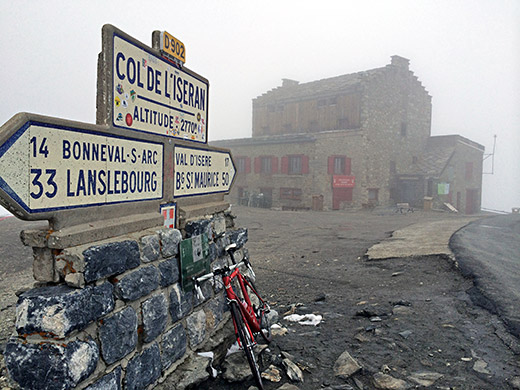 Now the descent on the other side was the part to be a afraid of and it turned out to be even colder and worse on the south side, so all hopes of going to the warmer south side was firmly crushed.
I wished I had someone with me that could take a photo between the pass height and the place for the next photo, but I really could not take a photo on that long section as it was simply too cold. It looked more Wintery down there than it ever looks in the Winter itself – there were only two colours and reducing the colours to black and white from colours would not be possible to see afterwards. There were no cars (well maybe 1 or 2 on the whole way), no cyclists (of course), no motorbikes. Summer in France … .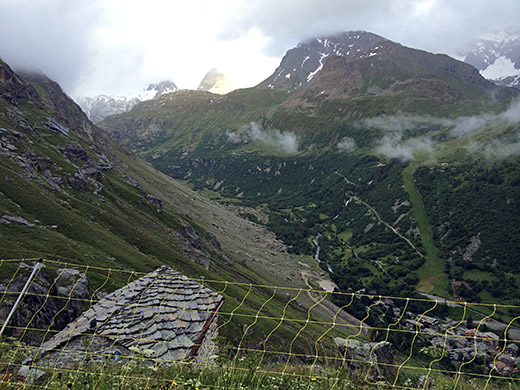 When I stopped for this photo I had to wait to stop shaking first. The skies opened up here above Bonneval a little for the last time this day. It was now getting late, but I got over the pass and did all I had planned this day. Sometimes you get further if the weather is too bad for stopping!! When the weather is nice you want to stop and enjoy ice cream and everything and you need to stop and drink, but not needed in rain and cold.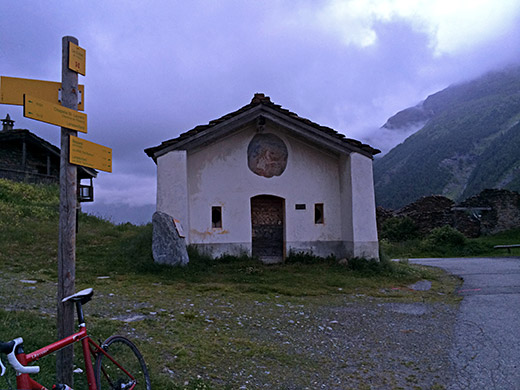 I went through Bessans where I thought that maybe I could find a place to stay at for the night, but there was no obvious place that looked inviting and I thought it was anyway too bloody cold up here (just still 7°C or so). So I continued and took the minor road over the Le Collet/Col de la Madeleine (1752m) where I stopped to document this little (rather pointless) pass before descending to Lanslevillard where I know there should be hotels.
It turned out the the hotel I had stopped at the last time here was no longer there. The gîte I had seen there was also gone. Another gîte I noticed was not open (are they ever open when you get there?). So it had to be the main hotel in the centre as I also looked but did not find any alternative hotel on the other side of the bridge. However the main hotel, the Hôtel L'Etoile des Neiges was quite agreeable and the lady was nice and I had something good to eat in their warm restaurant after I had a shower. So all fine in the end on this rather demanding day.
I think it was this evening (or the next) that I talked with Mattias Reck, cycling friend from home who is working as a trainer (currently (2017) for Trek-Sega Fredo) Pro Tour teams and they were going to La Plagne the day after I was there. Sent him some suggestions on places to go training, but given the bad weather in that area they had to train some indoor, but they also trained a little on the start up to Col de la Madeleine (not my recommendation, but a classic road, so … ).