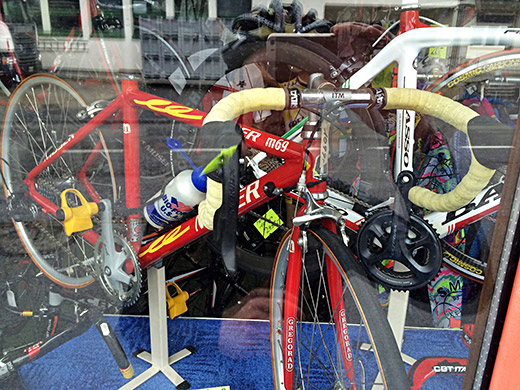 The day started in a somewhat similar manner as it ended, but the rain was only very light at start. When I went down to enjoy the self-served breakfast (that the lady had instructed me about for some time in the evening before), I managed to fall in the slippery wooden staircase and landed rather badly and got some bad pain. Not sure if had fractured something or not, but the pain went away later.
I took the road over the Hirschensprung, which was a place with a long history I had read in a book at the hotel the evening before. On the way down from there it started to rain heavily again. I stopped shortly and then continued to nearby Oberriet (420m) where I again took cover by a bicycle shop (closed as it was Sunday). A nice little road bike for children in the window here.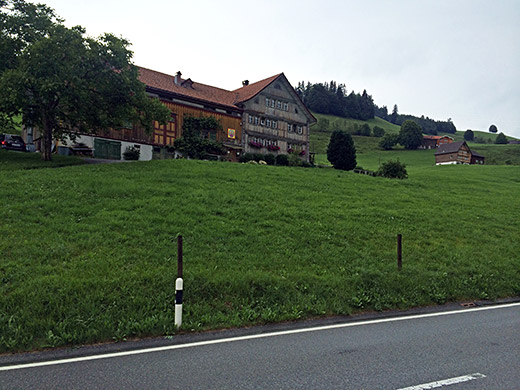 I had given up on the Hoher Kasten climb and instead went on over to Appenzell, but had stop soon again up at Eichberg dorf (529m) taking shelter at a bus stop for quite some time. Then I could eventually continue up to Eggerstanden (884m) whis is a pass, but no pass name. The road is slightly steep. Then down to Appenzell and with all the cafés there I could not help but staying again for a coffee and cake. Then had a hopeless (yes, even in her own words) customer call and stupidly spent an hour on her.
Got on my way again and now the rain was gone for now thankfully. First I went over the Gonten (904m) (also a pass) and down via Urnäsch (831m), where I stopped to take a photo of one of the typical nice buildings of the area. Very nice around Urnäsch! Hard to really see much of the house in the little photo here though. There were more colourful houses nearby. Now the roads were nearly dry.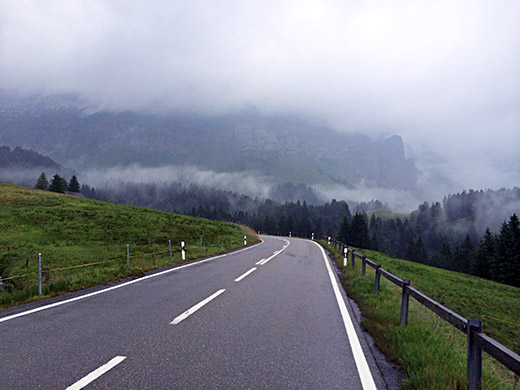 I continued to Schwägalp Passhöhe (1299m) along my planned route. Not much view here of the otherwise nice mountains near the pass.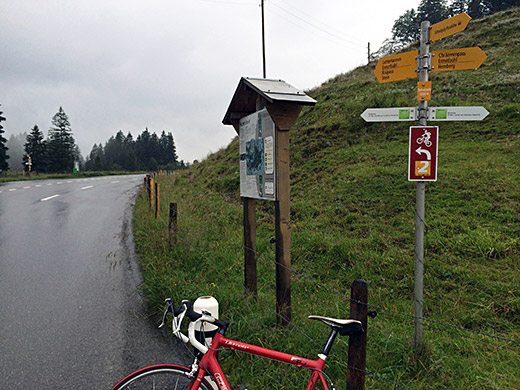 Rain came back on the way up to Schwägalp, but never too much to stop and take cover. It was cold up at the pass. I had heard that the nearby Chräzerenpass should also be a paved up to, but for all I could see there was just a gravel road going up there, and in the weather had no desire to go up the woods there, but now I see the gravel only last for about as far as you can see and behind and after a bend the asphalt returns after 120m of gravel (still it is lower at 1267m).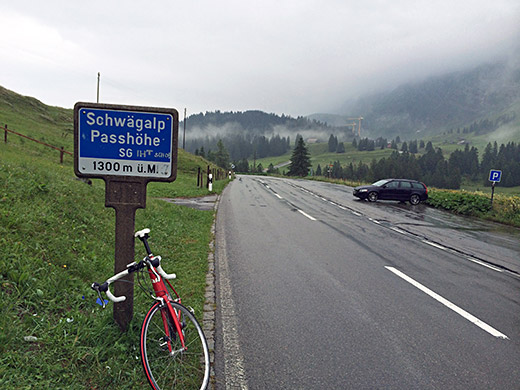 I just continued down from Neu St. Johann and went down through the Ebnat-Kappel village to have a coffee and cake at a café.
Then I took the main road down through Wattwil (615m) where I crossed the Thur river to climb up to Rickenpass (795m), but somehow I went up a small road here (think it was the Ibergstrasse) that soon got quite steep, but got second thoughts about whether this road would rejoin the other road higher up as I had thought so went back down and followed the main road up (also a bit steep in places). I see now that I could have continued up on this road and then descended to the Rickenpass from above.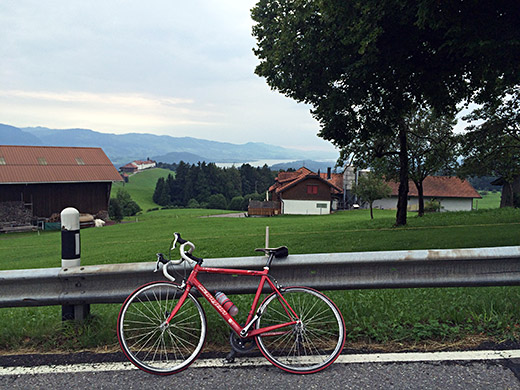 From Rickenpass I followed the slightly smaller road to the left and noticed a nice building I was not aware of – the Berg Sion kloster overlooking the Obersee. Very nice downhill ride from here. You can glimpse both the kloster and the see in the photo here.
Down by the see it was not as idyllic any longer. Over Gommiswald to Uznach, then to Pfäffikon (415m), which was a busy boring place, but it is also the start for the last climb of the day. The infamous climb to the somewhat low Etzelpass/St. Meinrad (950m). 535 height metres could not be that hard? Oh well, it turned out to be a pretty hard climb indeed. At first it was quite steep and then it was less steep and then it got really steep. I had to fight to get up through the woods higher up, but it felt within reach so I continued up.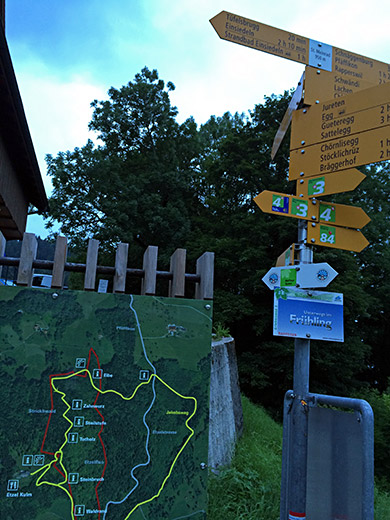 It started to get late, but there was no way I would stay down in Pfäffikon. But once up at the Etzelpass I saw the hotel there and thought that maybe this was it for this day and I had come up to a quiet place. The sign here says only St. Meinrad and that is the most used name for the pass.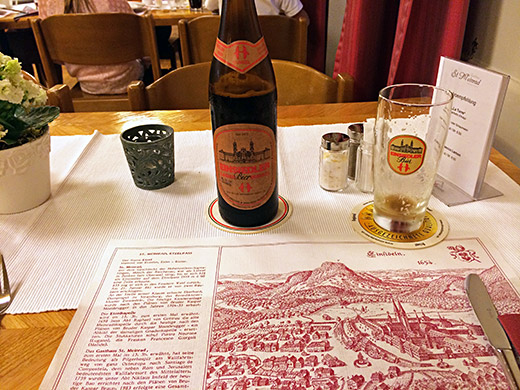 The price was agreeable even though a good hotel and not so far from busier places. I had a good dinner (I think it was wienerschnitzel) and a nice local (Einsedler) dark beer. It says St. Meinrad/Etzelpass on the nice dinner tablet and there is a history about the pass and the area. Did not get so far this day either, but at least I moved on in the right direction and without using trains.