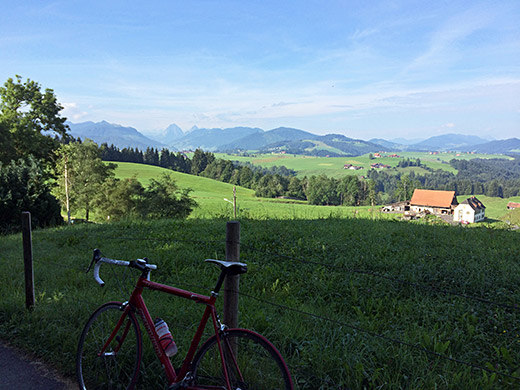 Again a new day that started with nice sunny weather and fine temperatures. I first went up a bit on the side road to the west of the hotel to see if I had better views there, but not much down the side of Pfäffikon and Zürichsee/Obersee, but I had better views ahead over the area I was visting as you see here.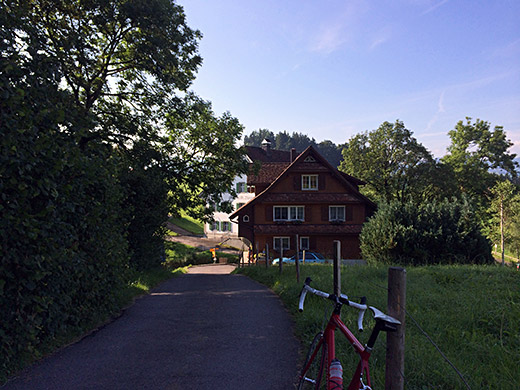 Also I got a view of the hotel I had stayed at, behind the wooden house on the other side of the Etzelpass road.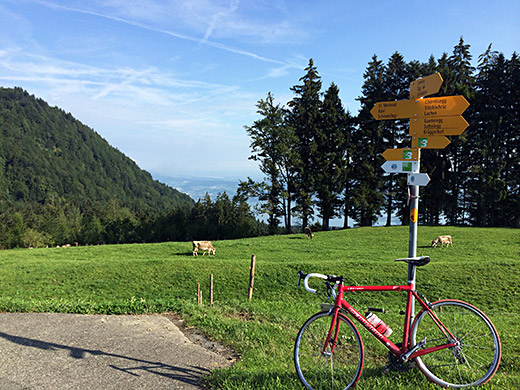 Then I noticed an asphalt road continuing on the other side of the hotel along the ridge and decided to try that road even if I was not supposed to go there according to the plan, but plans are for breaking. Here I could get a glimpse down the Zürichsee at least. It turned out this was a nicer and also fully asphalted road down to Egg (857m).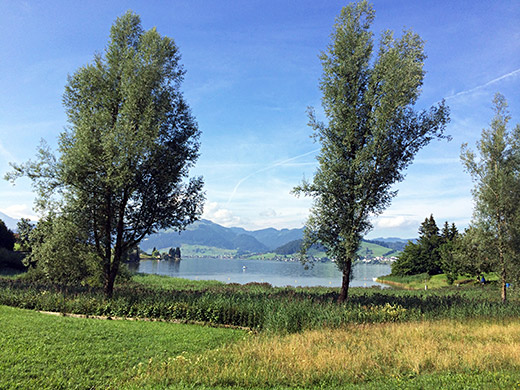 I then continued on the nice road meeting another cyclist down and along the Sihlsee. The road along the east side is quite nice and the views are good as you see here and below.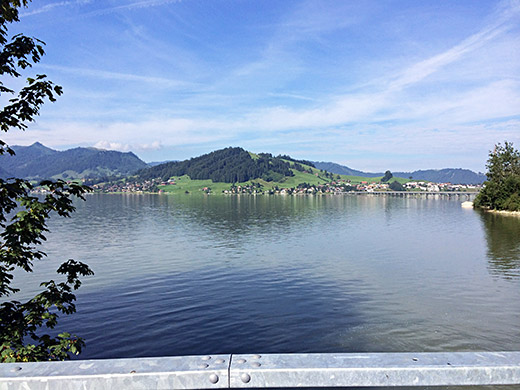 I then came across a bicycle shop along the road in Tschuppmoos (after the long bridge over the see and after Willerzell). Must have been Kälin velos that I now see in Google maps. The man there helped me fasten the front derailleur again in a similar manner to what the Italians in Malè had done. Told him about it and he thought that it was likely all he could do as well, but tried his best to secure the derailleur a bit better and it now lasted until I eventually fixed it myself with pop rivets and glue some time after I came back home (and that still works fine now).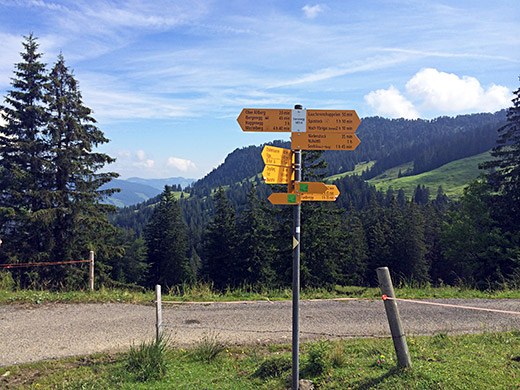 I had planned to do so much I had to leave out, like the Tierfäderenegg (1431m), but came back the next year to do that climb. I asked the man at the hotel at St. Meinrad/Etzelpass about this climb, but he did not know where it was even though it was nearby, but the locals usually do not know their area very well (and I am sure I am unaware about some roads at home too for that matter).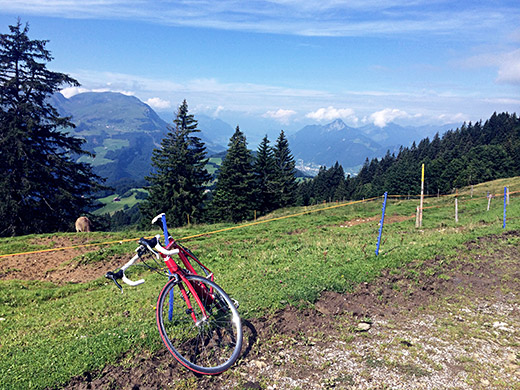 I went on to Unteriberg (924m) and started the climb up toward Ibergeregg (1406m), but this time I was neither going there, nor to the nice Nühüttli (1664m) pass that I visited an earlier year, but instead I planned to visit a third asphalted pass along the same ridge. This is the Sternenegg (1498m). This pass is found after the last turn-off on the road before the Ibergeregg to the left. It is a nice short asphalted road up through the woods. The pass sign says 1499m in the photo above.
Here you see the great views down to Vierwaldstättersee.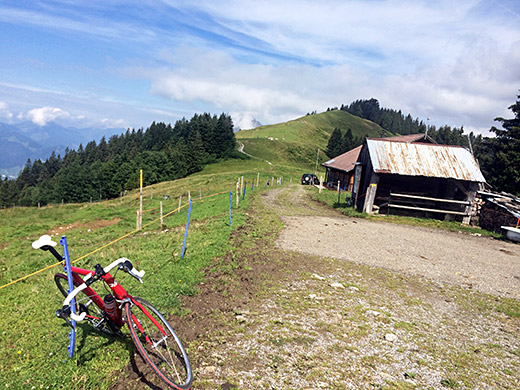 Here is the view toward the Ibergeregg and the way I took here.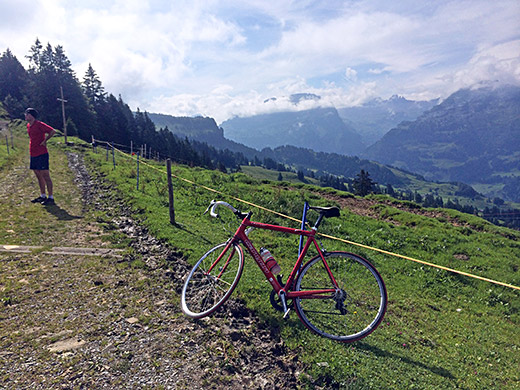 This is in the opposite direction looking over Muotathal and the mountains beyond there.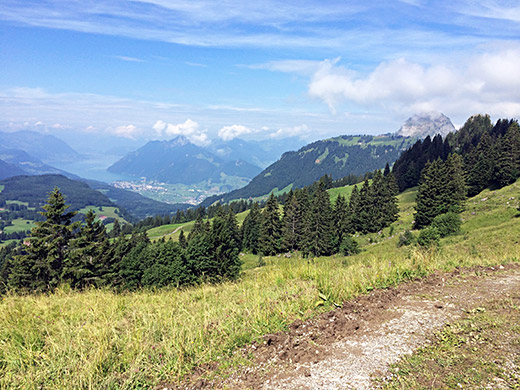 I had noticed on the map that there was a rather short walk down the other side to Ober Altberg (1433m) where a road would take me down to meet the main road coming down from Ibergeregg, so started out walking down there. First the track goes up a little and then it is steeply down, but not so long.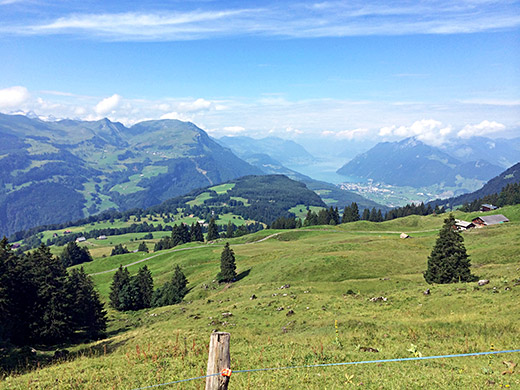 The photo above and the photo here I had along the walking path and here the views were the best. I think it is the Ober Altberg you see in the photo here to the right.
I got down there and shook out some dirt from my cycling shoes and said hello to the owner who was outside. His young kid was also out there on his bicycle. From here a concrete road descends. Now maybe he should have warned me and maybe I should have known better, but concrete can be very, very, very slippery if water goes over it and the surface is blank. Wonder if they never had noticed this themselves even with the car going up and down here. But as I came to a sharp turn where it got steep water ran over the surface and I fell off without any chance whatsoever to do anything about and not sure if it even could be possible to get across there without falling (you have to be damned lucky if so). I hit my head a bit and got some scrubs on the elbow, but all was fine as my speed was close to zero.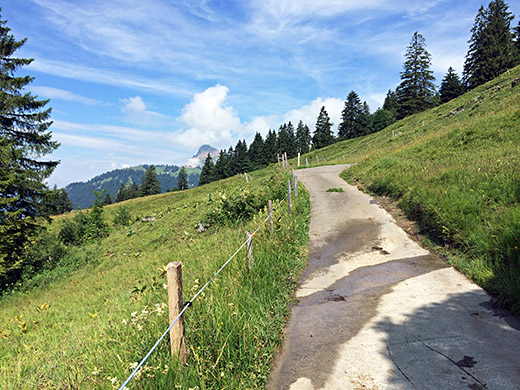 However, I got very worried continuing now and soon again I saw water across the road and even if it was straight and very little water, I jumped off and walked over the place you see in the photo here. Just to check it out I put the tyres on the water here and I could not even lead my bicycle over without it slipping away here. Sounds unbelievable, but you better trust me or you can try it on your own. I felt really uneasy now about nay steep descents especially if they would be on concrete pavement. However, I am not sure I have ever seen quite as slippery concrete as here before as it is purposely usually made with a bit rough surface and often ribbed to provide grip for cars on steep sections. Hope the kid take care! Ice would be less slippery.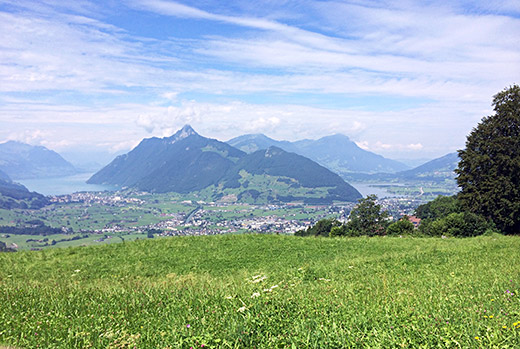 I thought I should take the road over Huserenberg down to Schwyz as I had failed to take that road going up to Ibergeregg and turned off there, but soon found myself on very steep narrow roads again and felt the shaken up from before and hardly dared descending there. Stopped for some photos and there are many hilariously steep roads in the area like the one up to Haggenegg (1414m) on the other side of the Mythen peaks.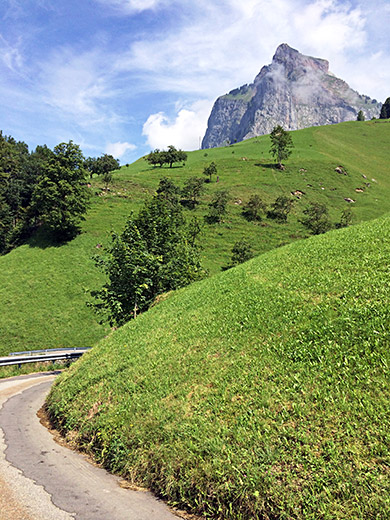 Looking back up to Grosse Mythen before the final descent to Schwyz. I was very relieved when I eventually got down there.
I stopped down in Seewen by a café to have a small sandwich and coca-cola, I think. Then I continued along the Lauerzersee up to Bernerhöhe (555m) (a vague pass). Now as if I had not had enough with tricky and steep narrow concrete roads, I now had on the plan to climb the Rigi mountain, which should be the worst possible place to visit if being afraid of such roads. Oh well, better cast that fear of quickly now. It had been a bit difficult to obtain any really accurate information about the roads up this mountains, but some information is given at quaeldich.de with many photos.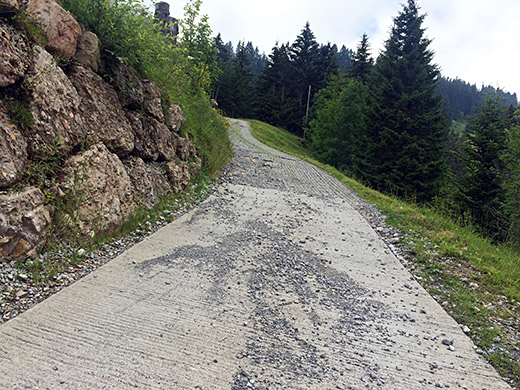 I started out on the road which is nice and ordinary at first, but then you come to the forest and the road climbs a bit desperately up until you reach more safe ground again and where the only place the road is not very steep on. However the road also now turns to gravel, and I had heard it was gravel for some time up here in the middle, but I noticed that there were some asphalt beneath the stones almost all the way, so it was semi-asphalted really and anyway it was easy going here.
So what is in the photo here you would ask, but the thing is that I had decided, maybe not wisely, but I was lured to take another way up than the normal road right ahead at Klösterli (1302m), because of two passes one could claim on the other way up there. At Klösterli the pavement returns and there is also a train station for one of the two train lines going up the mountain. The road ahead here climbs steeply up on concrete more directly to the mountain top, while I took the road up behind the station and at first I managed to climb up a +20% ramp, but when I came to the place in the photo it was time to give up. Even though I really wanted to have gotten up all the way only cycling this ramp was just too bad to be worth trying.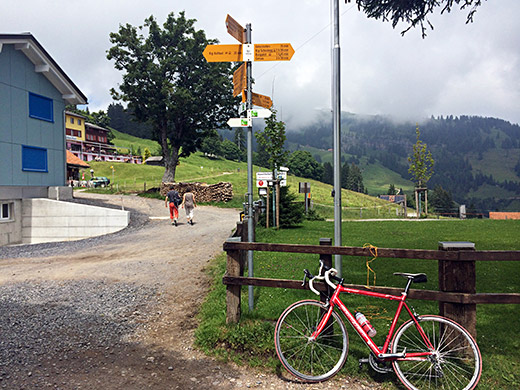 I walked maybe 200-300m and the cycled up the last part to the first of the two passes, which is Firstgatter (1454m) (not sure that is a proper pass name, but fine with me as it is clearly a pass). Unfortunately I could not call it a surfaced pass esp. not with that bad ramp in the photo here and there were also no asphalt at the pass itself that I had thought that there maybe was.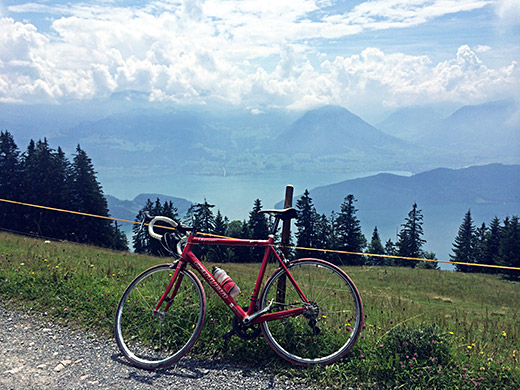 From First a nice flat scenic gravel road that takes you to Rigi Kaltbad (1436m), which is the main resort village up here on the mountain where the train from the Vierwaldstättersee comes up.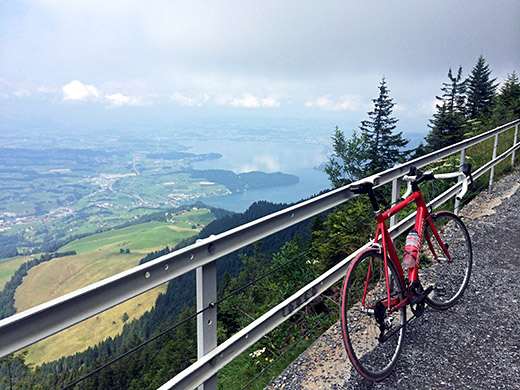 From Rigi Kaltbad a steep narrow asphalted road takes you up to the next pass, Rigi Staffelhöhe (1557m). I had a photo of the sign near a stand selling ice cream, but now views there so continued on. One here follows a road that also turned out not to be asphalted along the railway to Rigi Staffel. This is fairly easy to cycle on with a road bike too, but many tourists up here walking in fine weather (esp. Japanese).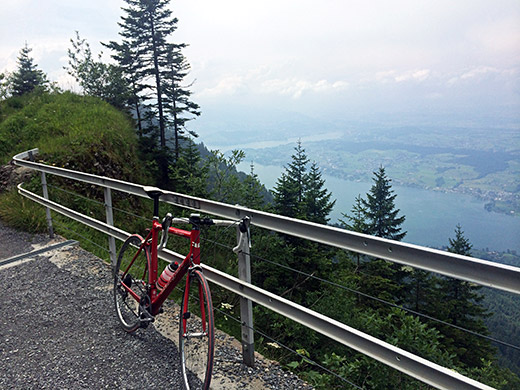 There are great views along this gravel section again and the photo above and the one here is from that section. Just when reaching Rigi Staffel, where the two railway lines meet, one has to cross the railway line and the lines are awkward, so I recommend jumping off the bike and leading it over as I was close to getting a flat there when cycling over. Then it is asphalt up to a big restaurant and I think you cross the lines again.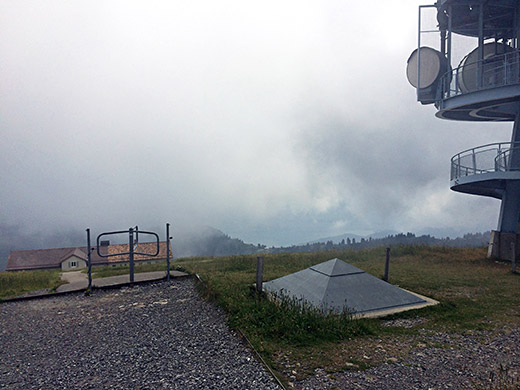 Now you only have the last stretch left up to the Rigi (1798m), but it is on a very steep twisting and wobbly narrow concrete road with lots of walkers. It is up above 20% again at some places and when I had done that I for some reason took the first turn-off straight up to the mountain (there is a less steep ending road up) and that ramp was again likely over 20%. This is indeed a tough climb, but if I ever do it again it has to be the normal road up and the normal road down, as we shall why!
In the photo here you see that last ramp where I came up and one can cycle on the side of that walking gate so no need to stop before getting up here.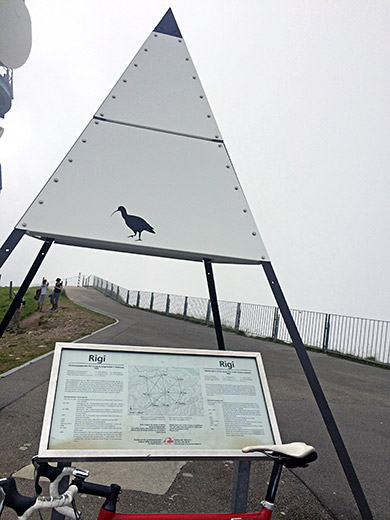 Here a photo by the sign for Rigi. It was a bit cloudy up here, but I almost got free sight in most directions after waiting a while, but not really perfect weather up here now.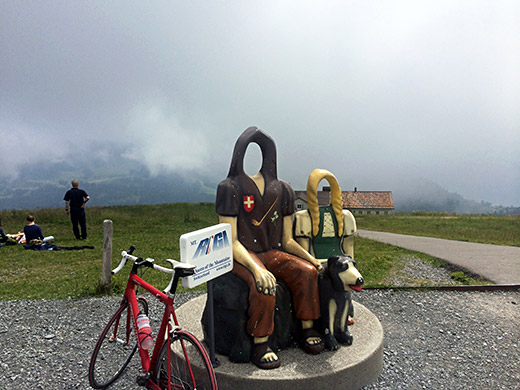 Fun for all the family and you see the road up here again.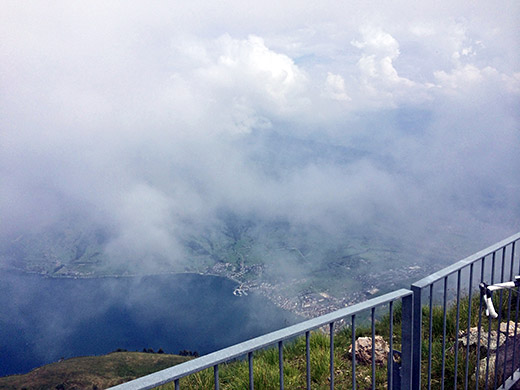 Yes, can almost see down the steep side of the mountain to Arth (417m).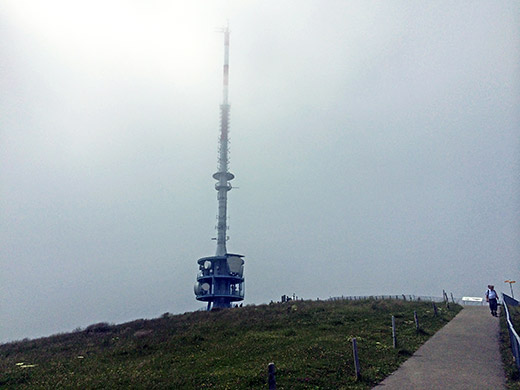 Backing away a bit I could get the sender in the photo too. Then I went down the easier road that goes down behind me here, but just the first 300m or so, then it is the same concrete road down and really took it careful down and also stopped for several photos.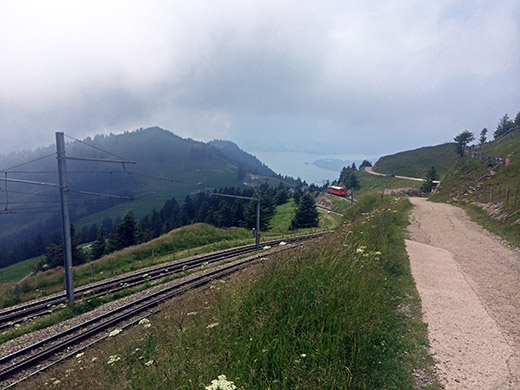 Here on the first more straight, but steep, concrete ramp down.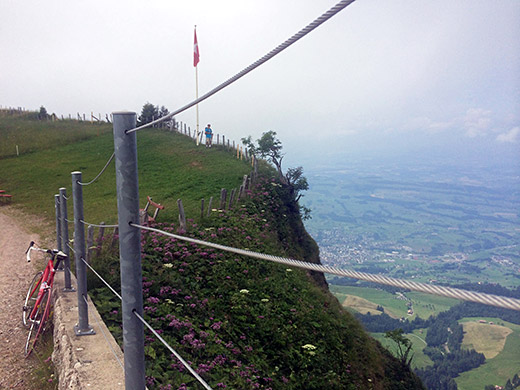 The mountain is pretty steep on the side here. Just a little below the top the views were clear again.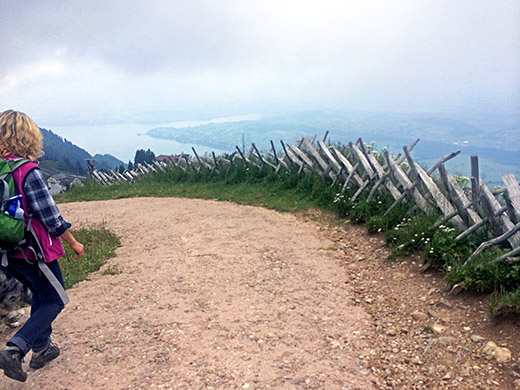 One nice bend with great views and a kid rushing down too fast for me so he had to take part in the photo but that is only suiting with the many families up here.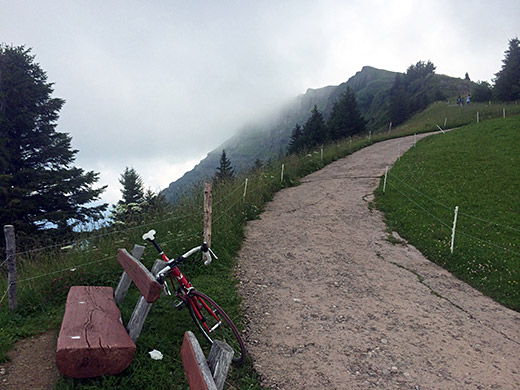 Looking back up and you see how the road sort of balances on the ridge.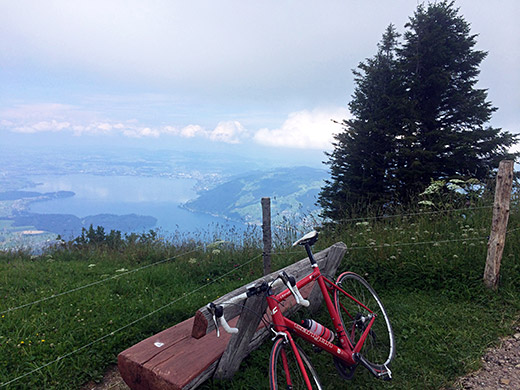 A good resting place (if it wasn't for all the people walking behind your back here).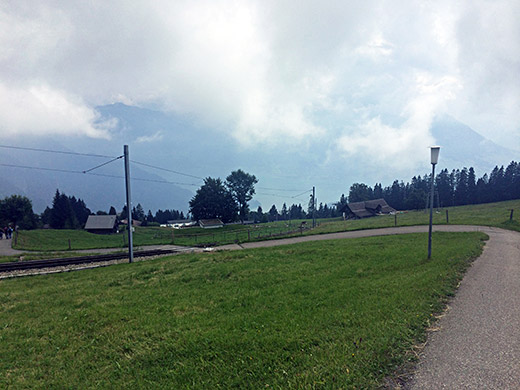 Here is one of the tricky railroad crossings.
Now this turned out to be less than smart, and curiosity can be a problem at times, but I had decided to go back to Rigi Kaltbad and from there descend the other side of the mountain to Vierwaldstättersee at Riedsort (436m). I had noticed that there was seemingly a road all the way up from Riedsort, but gravel for quite a stretch, but I was hoping that maybe it was good enough to cycle most of the way from looking on fuzzy satellite images and a very few online photos. First I took the wrong road when following the asphalt road that went the furthest down and had to go back again.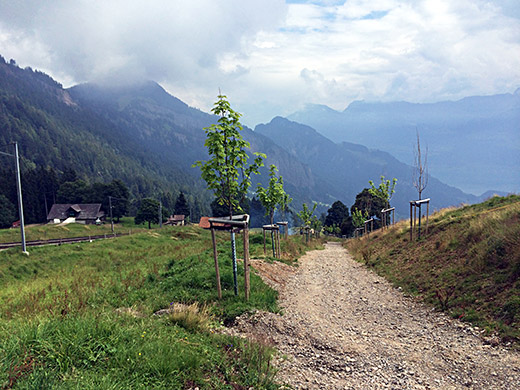 As you see here it is a feat even to descend here with a downhill bike, though I am sure downhillers would be delighted. Had to walk really carefully down here as it is like 25-30% and a bit of a walk. Then one comes down to some houses at Romiti (1198m) from where I had hoped that the road ahead would be possible to cycle on and initially it was indeed possible, but only for a quite short while. Mountain bikers likely go down on the other side of the railway line, but the track down from there continues steeply down and is only a track almost all the way down.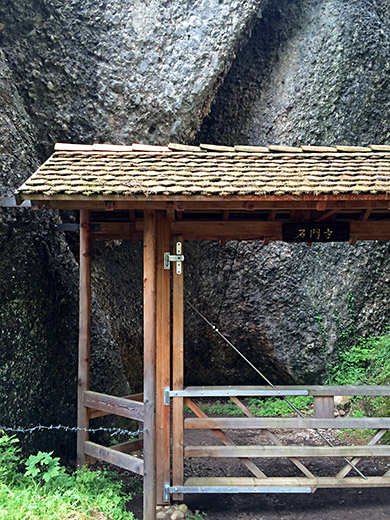 I caught up with a polish family walking down my choice of "road" and even though I could cycle a little here and there, they had no problems keeping up with me all the way until we reached asphalt a long time later.
Here is a curious passage along the track and clearly not worthwhile with a car ;-) (nor a road bike). It is the Felsentor.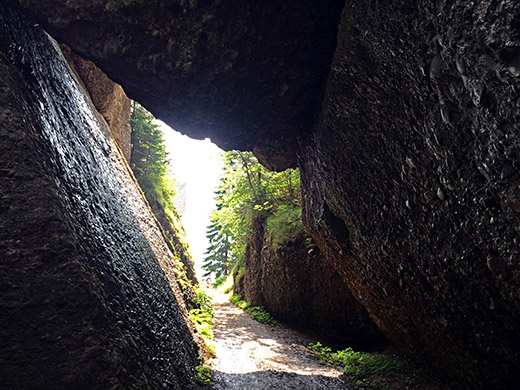 All right, it was a bit of a nice trek here, but I would have preferred cycling a bit more.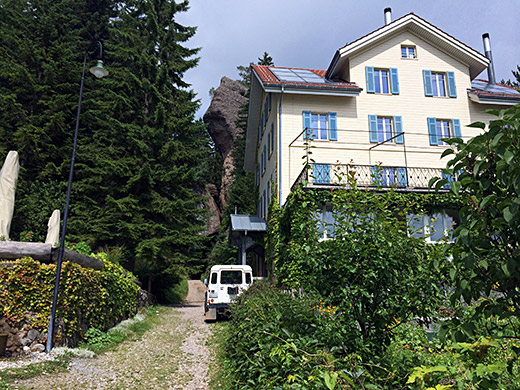 Here the nice building on the other side of the Felsentor. Not sure who owned it, but some botanical (?) organisation and the map says it is a restaurant, but I saw no trace of that.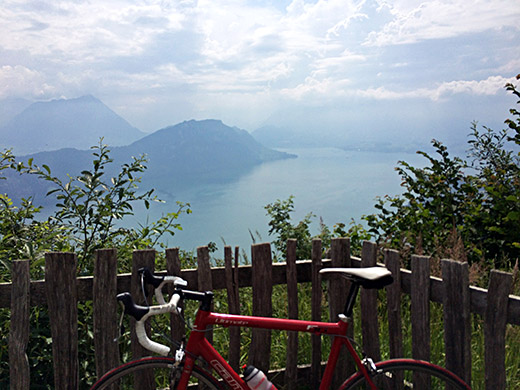 Here one finally gets some nice views across the Vierwaldstättersee again, which had been hidden from sight since leaving Rigi Kaltbad.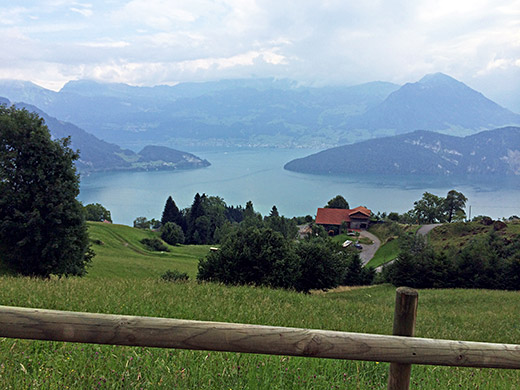 Here I am just before reaching the asphalt and even the last stretch of gravel down was a bit harsh cycling down (could have gotten a flat there).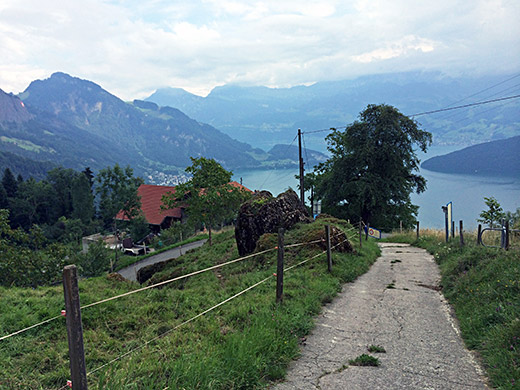 Then finally after over an hour of walking I had solid ground under my feet again. The asphalt road you see a bit below here goes up higher, but is not useful getting up to Rigi on.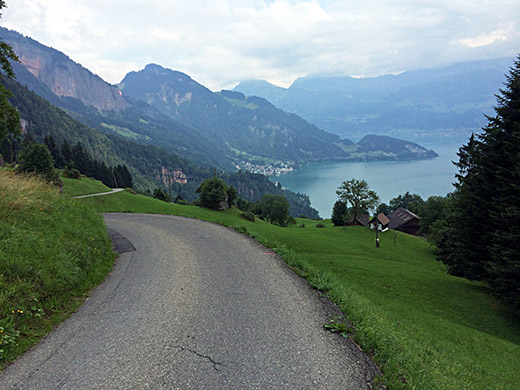 Nice views, nice asphalt and still able to use my road bike shoes. There are many high nice asphalt roads up nearby documented well at the mentioned quaeldich.de site.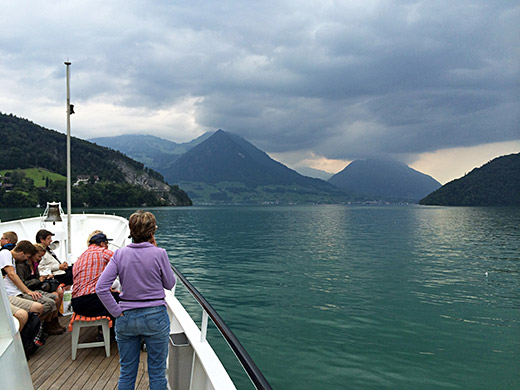 Then full speed down to the ferry at Vitznau (435m) just ahead in the photo above and then over the lake to Buochs. I had originally hoped to go to Beckenried and then climb up to Klewenalp (1593m). But as we got out on the see I noticed that bad weather was coming into the area and realised I was rather late, so gave up on that climb too and did it the next year instead.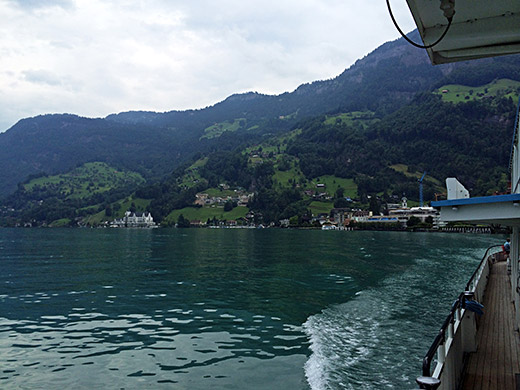 Looking back up to where I came down from Rigi.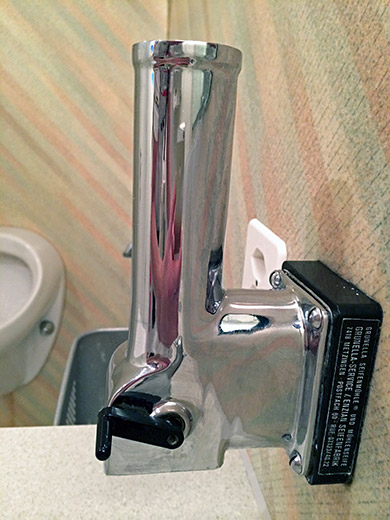 An different "soap shaver" in the toilet on the boat – I much prefer hard soaps over the liquid ones and feel they are usually more effective and hygienic contrary to what I hear many young people say (but it depends …).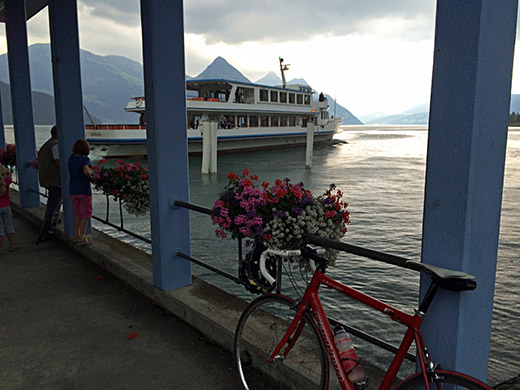 Back up on the boat I notice I better get off in Buochs or not at all as the rain was very close now and the clouds looked threatening. I just managed to see the boat leave here before all hell broke loose. Not sure if I have ever seen quite such an intensive rain, but maybe. There was no way I could leave the place and luckily I was under a big roof and it needed to be big with the winds. As I wrote: "the birds couldn't fly and even the ducks fled to take cover ... ."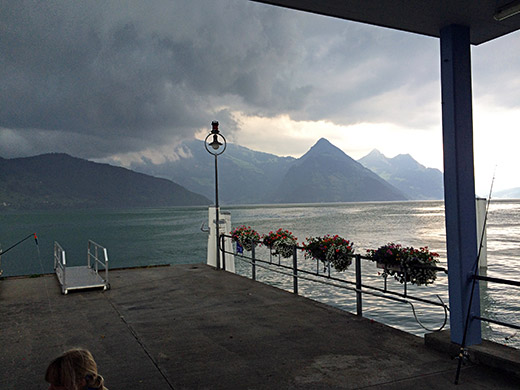 Here it comes. Had I been quicker, then maybe, but likely not, I could have gotten to some place in Buochs, but now had to wait like 45 minutes before I could move again.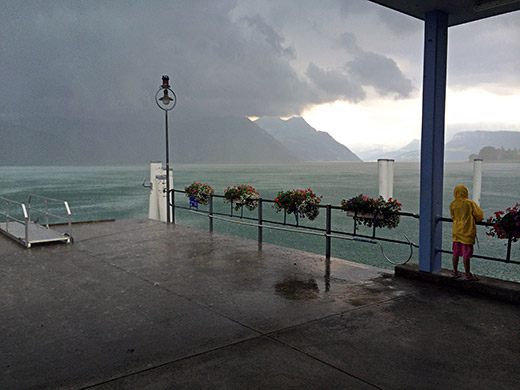 There was a guy out in the water with a board (of some sort) having a hard time getting up in time and two children and an old man stood here fishing a little until someone came and picked them up. I went away as fast as the rain subsided. I got to the train station in Buochs and just thought about trying to get as far as possible in the direction of back home for the last day in case that also would be like this day. They had just closed down the ticket office when I came there, but the people saw me and opened it again to let me buy a ticket – kind of nice I must say!
I got a ticket for Interlaken as that was about as far as I could get a ticket for at this time in the right direction.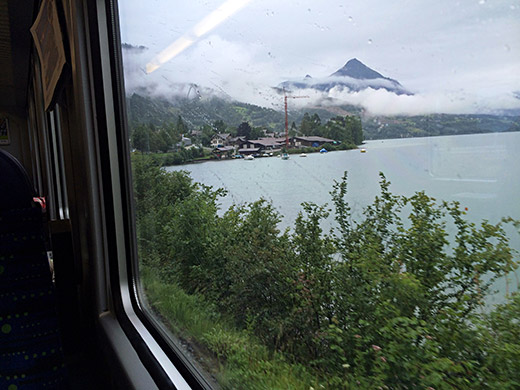 On the train to Interlaken the rain started again and had this photo out of the train window (probably over the Sarnersee). I felt a bit lucky escaping the rain.
Before I got close to Interlaken I thought it would be a bad idea to stay in Interlaken which most likely is a rather expensive city for lodging, so I decided that I had to jump off the train at some smaller village before and think I the stop in Niederried seemed like a good place and I had seen a hotel there that did not appear so expensive. Now that hotel was apparently closed, so I had to continue on toward Interlaken. It was now dark, but at least it did not rain now. Oddly I did not find anything open in Ringgbergen either, but just thereafter I found a small hotel (Burgseeli) along the road. It was not so cheap and a slightly odd place, but it was fine. Think they had mostly Thai food and maybe that was what I had to eat. I spent most of the evening trying figuring out exactly how to spend my last next day and how to manage to do at least one +1500m pass I wanted to do this year (Col de Prafandaz). I had to skip almost three days of planning at the end, but always too ambitious plans for what is possible for me.