Marteltal/Val Martello was on the schedule for today, having once again decided to skip the climb to Kurzras/Maso Corto (Schnalstal/Val Senales) (2030m) that starts right across from Tabland/Tabla where I woke up this morning.
Today it was going to rain again. I went away and I think it was not raining then or just light rain. I went on mostly small roads up to the turn-off for Marteltal/Val Martello and then continued up a little without too much enthusiasm in the grey weather. There were some guest workers up the valley picking strawberries, but not so much activities as it started to rain now. The road climbs up in stages. After a few serpentines higher up and a little tunnel you arrive at a big lake, the Zufrittsee/Lago Gioveretto (ca. 1850m). I passed by an American tourist on his road bike – and older man from California on his way up this segment and tried to encourage him and he surely got up too.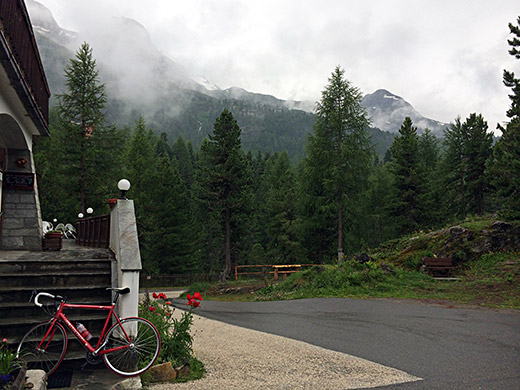 Along the lake the road is flat and with great views in good weather. After the lake a sign appears with 14% and you would have thought you were basically up near the end now, but there is still the last climb left. The end of Marteltal/Val Martello (2072m) is reached after a series of 8 numbered hairpins where it is steep. The road comes to an end with a parking, but continues a bit further and goes down a little to cross the river and then it is gravel road a bit longer toward the abandoned Paradiso del Cevedale hotel, that I actually could not even see a glimpse of even though it is big a red and I also did not want to continue on the muddy bad gravel road.
The first photo is up the mountains right ahead at the very end of the asphalt road. Not any good views there really. Looked a bit better when being there with some waterfalls (also a waterfall in the other direction that I also took a photo of, but waterfalls tend to look boring mostly in photos anyway). I figured out that at nearby Hotel Schönblick I might be as high up on asphalt and from there I could get better views, which is where I am in the photo here.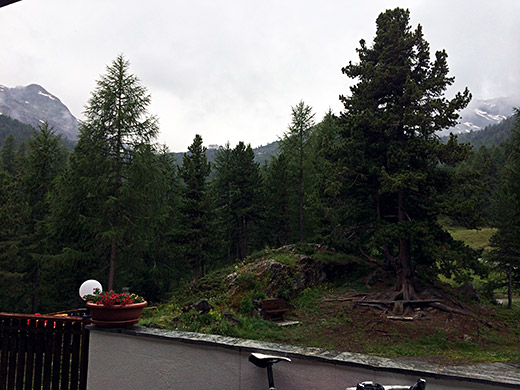 In this photo you can actually see the Zufallhütte/Rif. Nino Corsi that is visible already down by the lake and looks impressive in the distance. You see it right in the middle. It would have been fantastic if there had been an asphalted road up there.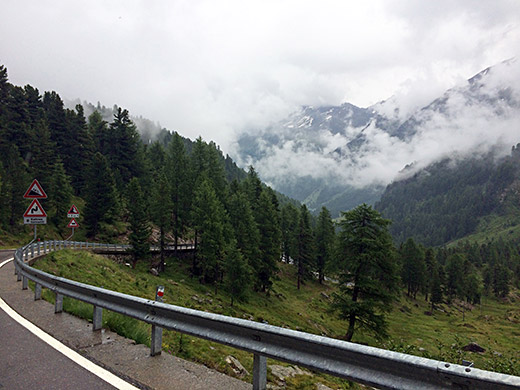 Here just after leaving the Schönblick before I got too cold and stopping for the 14% sign warning on the way back down again. Just down the serpent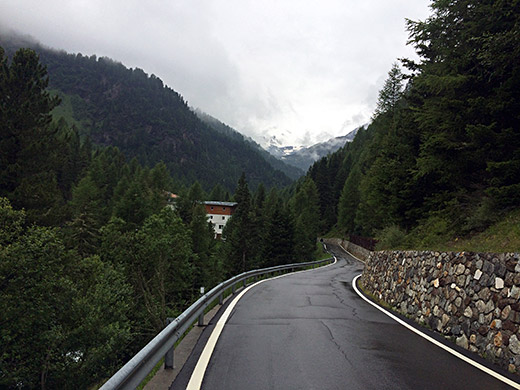 Looking back up a last time. It was raining a lot along the lake I now remember.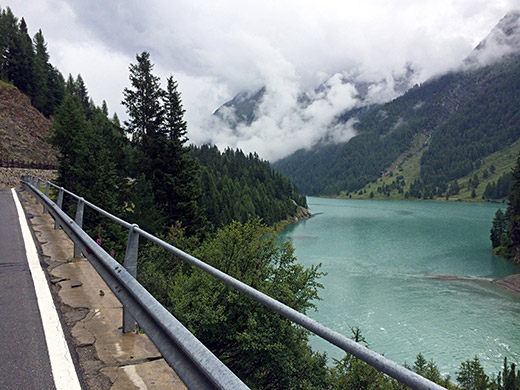 I stopped anyway along the lake as it was nice here even in this weather.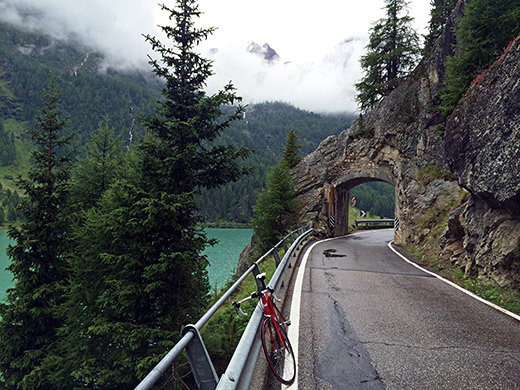 One more photo further along.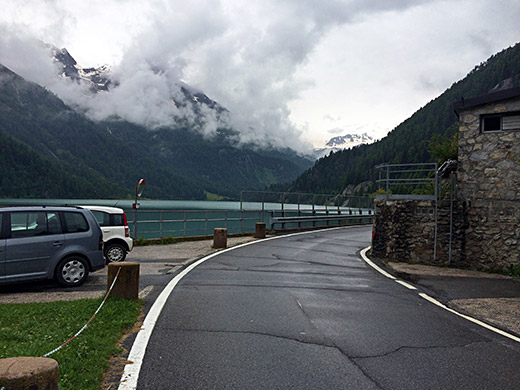 Here the last photo of the Zufrittsee/Lago Gioveretto and the first view you get when coming up here. It was then a long ride down the valley and guess I did not feel very good when coming down, but at least I had made it.
Not sure what I did from coming down to getting up the next pass much later in the day, but wrote around 15:00 on Facebook "Rain, rain, rain – payback time for so many bad Swedish Summers that I had escaped while being down here." Yes, I think I took the main road up the Vinschgau/Val Venosta and did not find any nice looking place to stop by at and just when going through Eyrs/Oris it started to rain more heavily and had to take shelter by the bar at the gas station there, where I must have written this. Had something to drink here and had to wait some time.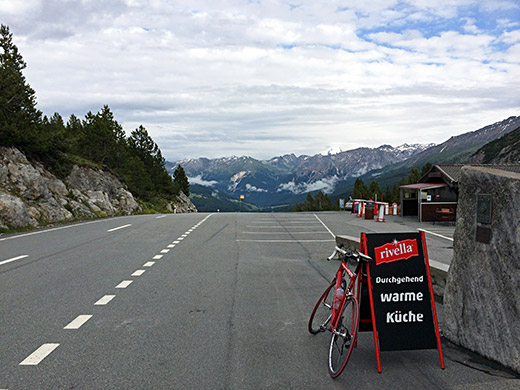 Eventually I got going again and went up through Glurns/Glorenza and then climbed up to Switzerland and Ofenpass/Pass dal Fuorn/Passo del Forno (2149m) from where this photo was taken much later at 18:45. It is a fair climb up here from Glurns/Glorenza (908m). Now the roads where dry again thankfully. Here looking back down toward Italy.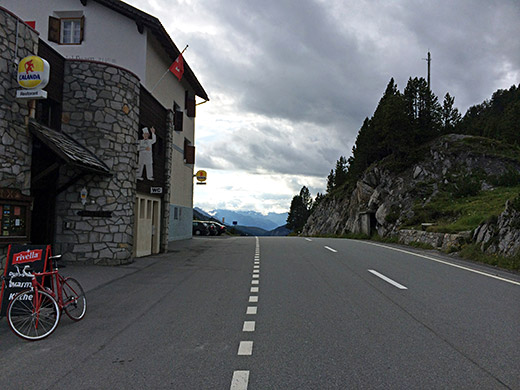 Here I am looking ahead at the same point.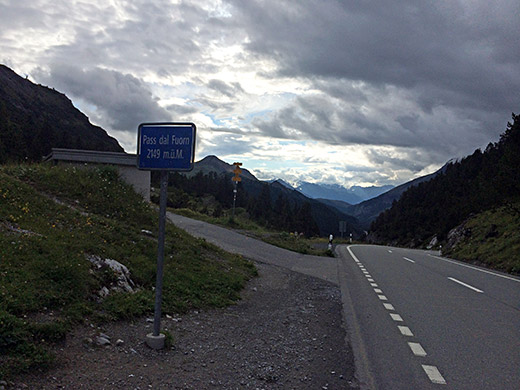 A bit ahead here is the pass sign and you see the asphalt road going off the main road.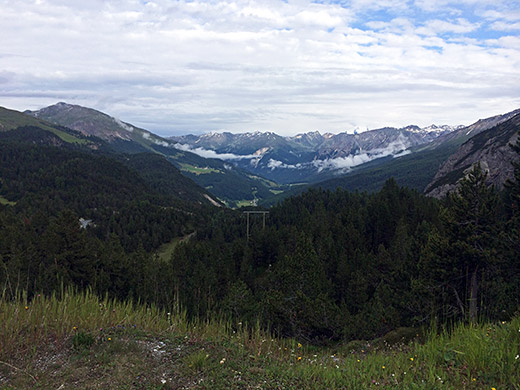 I had noticed that you could get as bit higher up here on asphalt to 2169m from where I took the last two photos this day. One here gets a bit more open view down the Val Müstair (from where I came up).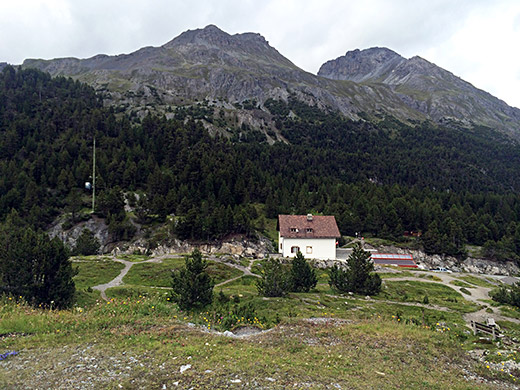 Here is an unusual view over the pass sideways over the Munt da la Bescha. (There is a parallel pass behind them on a path without a pass name.)
I continued down to Punt la Drossa (1711m) and were remembered that I only had the low chain ring in front to use. Then climbed up to Ova Spin (1883m), which is a pass of sorts too, but without a real name (one could disregard it as I first did, but it is really a good climb from the north by itself and looks like a pass even if it descends to the same river). I got rain again when going up here and pushed on to try and get up and over before I got too wet, which was more or less successful. Then got down to Zernez and the took right to Susch (1426m), by which time I was frozen and it was getting very late, so decided I had to stay there. I was a bit worried the prices were high here, but the Hotel Flüela (also pizzeria) by the road crossing was fairly priced (and I later learned there were not many more options in Susch). Bad Internet connection, the staircase was a bit tricky walking in, but otherwise the place was good.