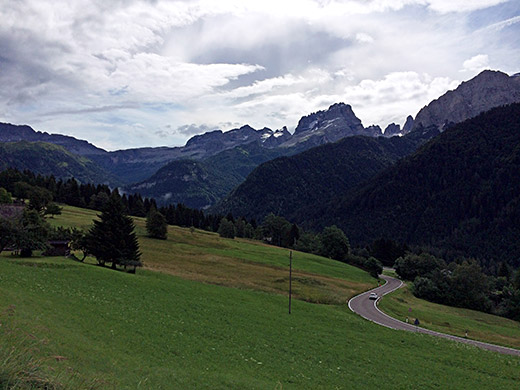 Today was time to sort of loop back toward where I came from before down in Trento, but not quite that far down. First I went up to Madonna di Campiglio stopping to take this photo and the one below. Chilly in the morning, but it was uphill so I soon got warm and no rain now even if still a bit cloudy.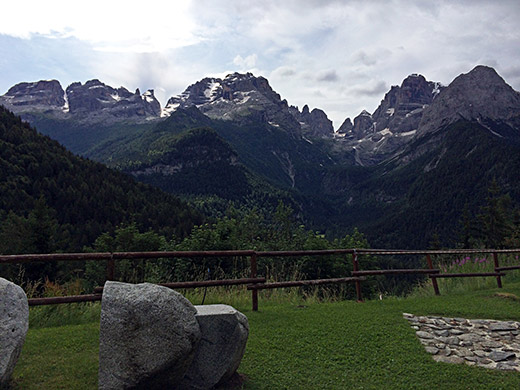 There is one very good viewpoint by a hotel on the way up and that is the place for this photo. This is the Brenta dolomites group of mountains.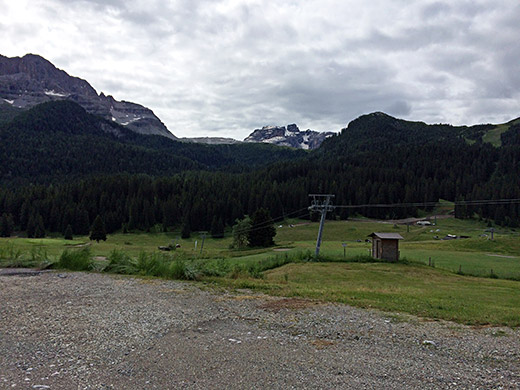 I continued up through the village of Madonna di Campiglio, well-known world cup village for skiing, but a little boring place in the Summer like most ski resorts. A bit above the village one comes to the Passo Campo Carlo Magno (1683m) where I have been before and it is natural way in the area where the road choices are few.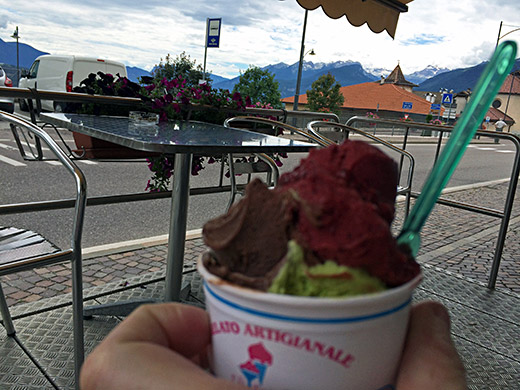 It look greyish, but the temperature were quite perfect this day. After descending to Dimaro I started looking for a bicycle shop to get a new tube, but also needed to get the front derailleur fixed so I again to could use the big front ring and cycle more normally. Also the rear wheel were not quite true (some constant sound) and the fix in the bicycle shop in Visp was not keeping up well.
The sports shop in Dimaro could not help me, but told me there was a shop further down in Malè. I found the Andreis repair shop (also a Specialized concept store). The wheel truing turned out to be quite problematic as some spokes had been adjusted badly and they were sweating for long, but not giving up and thankfully got it rather true and it kept like that until long after I got home. So, that was great. Tubes they got and maybe I changed the rear tyre also now.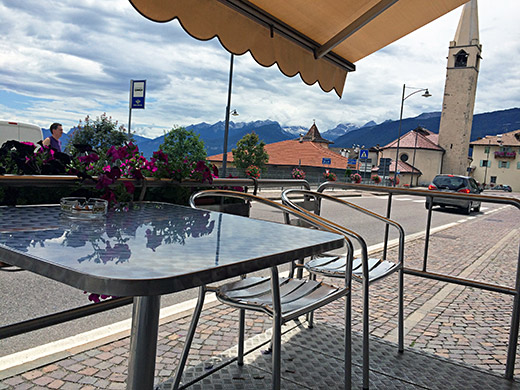 Now, the front derailleur they thought they did not dare to fix with new rivets and instead used a seemingly smart way with plastic ribbons for closing bags to keep the derailleur securely fastened to the frame. It all worked nicely for some time until it eventually fell off anyway – quite weird but the chain clanged on to the derailleur and with such force that very little could keep it on the frame.
Then I happily went on again, even if it took more than an hour at the shop. After coming down to Lago di Santa Giustina (583m), I turned before the first bridge off and went up to Revò (725m) (the road goes first up to 634m and then down to 552m). In Revò I decided to stay for a last Italian ice cream as I intended to soon move over to (predominantly) German speaking areas. The ice cream was quite good and a it was a nice little stop on the way up to the next pass.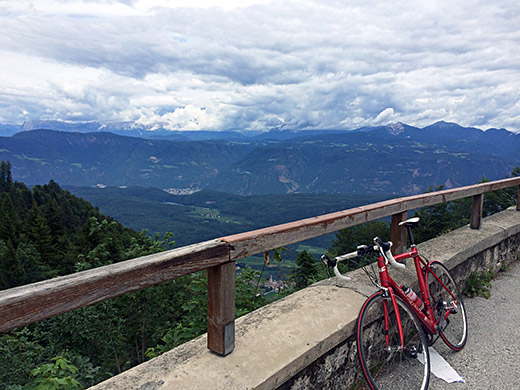 The next pass was the Passo della Mendola/Mendelpass (1366m). Yes, I remembered to take the shorter more direct road from Fondo (which goes a bit down and the steeply up) instead of the slow-rising main road. Because of the long service stop before I now felt I did not have time to go up to Torre Belvedere del Pénegal (1726m) as I originally intended and partly because it was too cloudy up there.
Instead I spent some time taking some better photos than before from the pass itself, which has a nice little vista with a hotel/restaurant and great views over the Val d'Adige/Etschtal. I also checked how far the road was asphalted in the opposite direction of the Pénegal road, but only goes a kilometre and offers no views or another pass, so returned again (oddly another cyclists seemed to look there too curiously this day).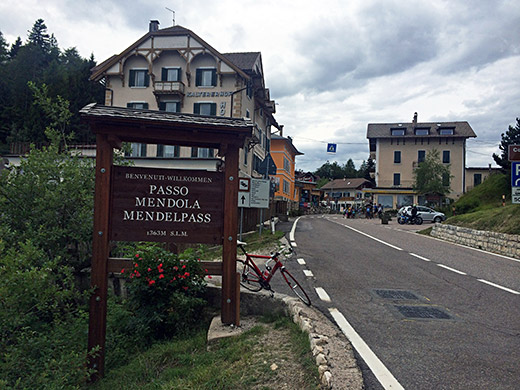 Here I painstakingly made sure to take a photo of the wooden pass sign (think it is rather new) in the best possible direction. Then a nice descent on the road that I first descended on my first tour in 2000 and it was the highest and most spectacular pass thus far then. Now it felt a bit more ordinary … .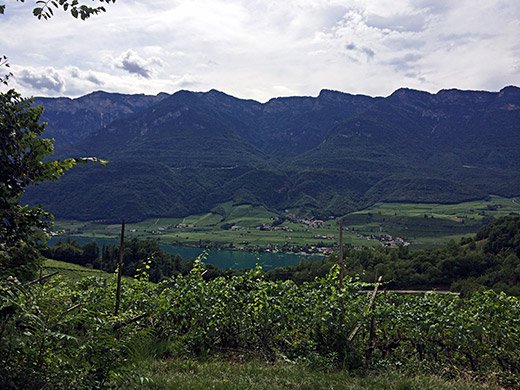 At Kalterer Höhe (670m), I turned off the main road to Bolzano/Bozen/Bulsan to go south down through Kaltern/Caldaro and down via the Lago di Caldaro/Kalterer See to climb the very minor Kreither Sattel (392m) (apparently also called by some cyclists (?) Coyotenpass). This pass is low and the climb is short from this side, but up to 12% or so, but it is well-known among cyclists for being quite surprisingly steep (maybe max 15-16%) on the other side from Val d'Adige/Etschtal and the road is quite narrow even if strategically located..
Here I have a glimpse on the climb of the see.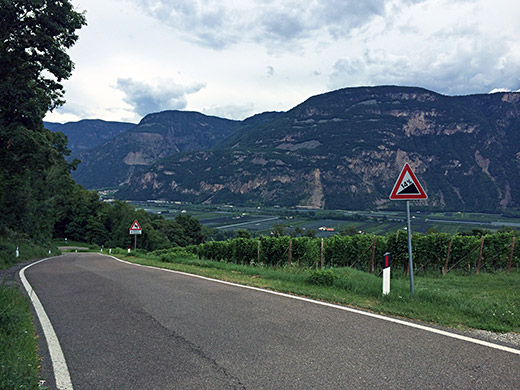 The sign says 14% down the side to Laimburg.
After coming down to Laimburg I followed the road going north again.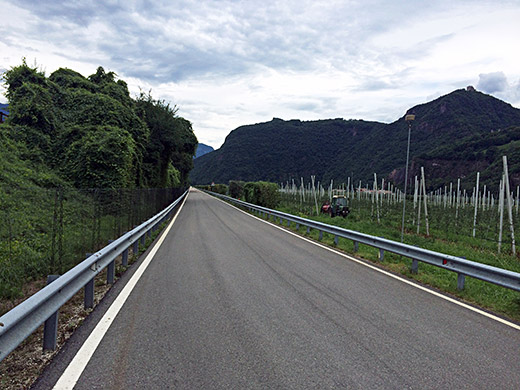 And I couldn't help stopping to take a photo of this road, to prove that in the Alps all roads are not necessarily twisty up or down. (Guess one could technically exclude the valley itself from the Alps though.) Seems like the perfect place for time trial club races (of the sort time trialists home in Sweden enjoys)! Also very little traffic here, but that had partly an explanation I later learned as the road that I should take over to Bronzolo/Branzoll was closed, but as I remember I managed to walk over the bridge anyway.
When I arrived in Laives/Leifers (238m) on the big road up the valley (SS12) I stopped by the pastry shop just in centre by the turn-off I was to take later up the Breitenberg/Montelargo. I had a cake and a coca-cola. Now it was warm outside and a little sunny, but it was never too warm or too cold this day anywhere.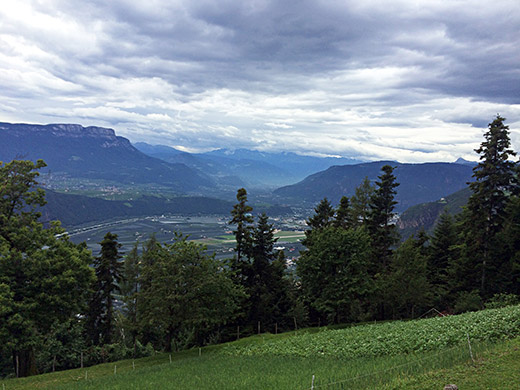 One follows the Via Pietralba/Weissensteinerstrasse out of the village and into the very narrow valley. After a while the mountain road up the Breitenberg/Montelargo takes off to the left and shortly goes through a short tunnel. It is a narrow and steep road at ca. 10% on average for 7 km, but rather evenly so. Thereafter a gravel road continues up and is as steep. It was just about fine with a road bike when I went there, but later on there were a few short passages that were a bit difficult and the road varied a little in quality, but I could cycle it all.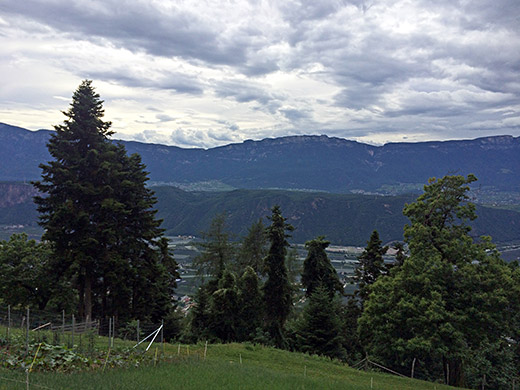 The photo above and the photo next by is from high up on the asphalt serpentine road. There are several houses up the road and kids on mopeds came by.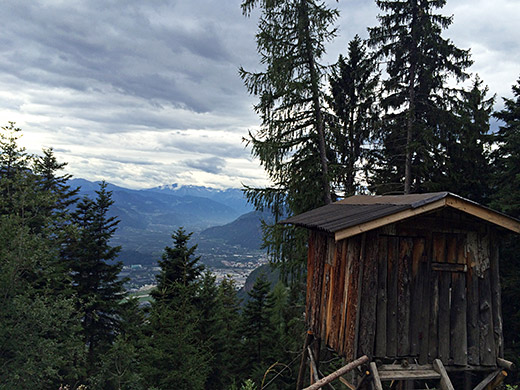 The gravel road has a long section going into the valley where it is not so steep and at the start of this section I took the two photos next here.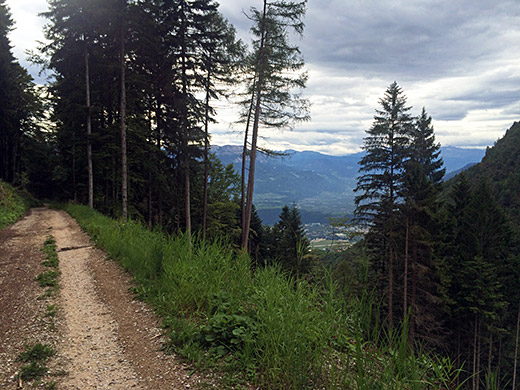 This is a bit further into the valley and it was really only at the two points I took photos on the gravel road where there were any good views at all. After this photo the road goes into a more dense part of the forest and then the road is a bit steep and not so good again, but then it is also close to coming up on the asphalt road.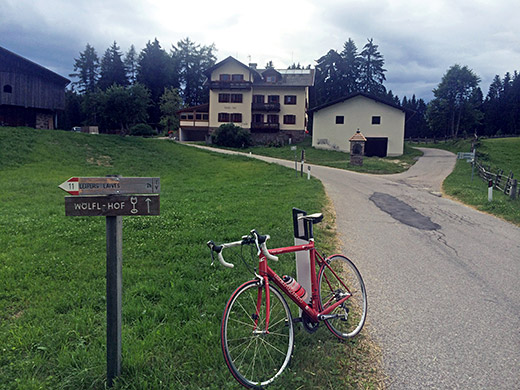 One arrives at asphalt at the Wölfel/Lupicino place in the Manä/Manee area (1285m) where the Wölflhof is located. This is also a sort of pass really (but only paths/tracks going down the other side). The whole gravel section is a private road not allowed for motorised vehicles. (The Via Pietralba/Weissensteinerstrasse straight ahead up the valley from Laives/Leifers might be possible too, but likely that road is less good and I have not found any image of it, which also suggests it is not so good.)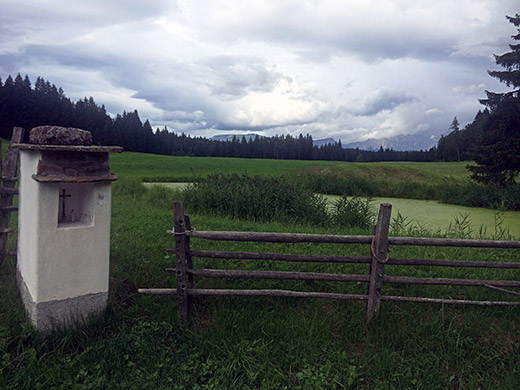 Everything is quite different up here from down in Laives/Leifers and it feels like coming to another country coming up from the Adige valley. Now the climbing continues up to Deutschnofen (1361m) (also arguably a pass itself). From here I was not certain what to do first, but normally one would have wanted to continue the climb straight up to Laab alm (1649m) for a 1411m climb in all. (There was also a little descent into Deutschnofen, so slightly more even.)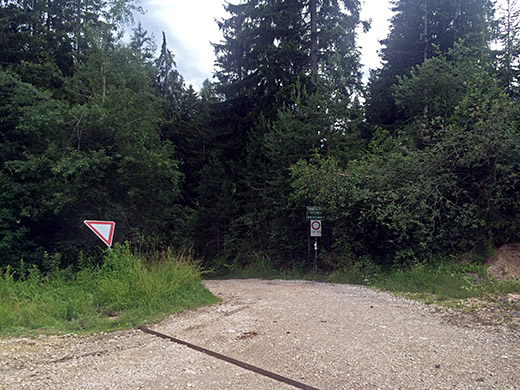 I think this full climb would count as one of the hardest climbs in the Alps, esp. if done on a road bike with normal 39-28 gears and 23mm tyres. I was exhausted when I came up to Manä/Manee and later in the evening wrote on Facebook about how to tell if a climb is hard: "if you know the feeling of your hands slipping away from the handle bar however hard you try to hold on then you know what a hard climb is like."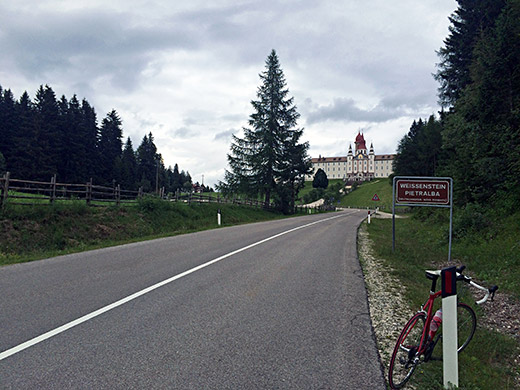 Anyway, it was getting late and the main reason for going up here was to have visited the main attraction in the area, which is the the Weissenstein/Petersberg/Pietralba (1520m), so decided to go there first. It is an impressive building in a nice location.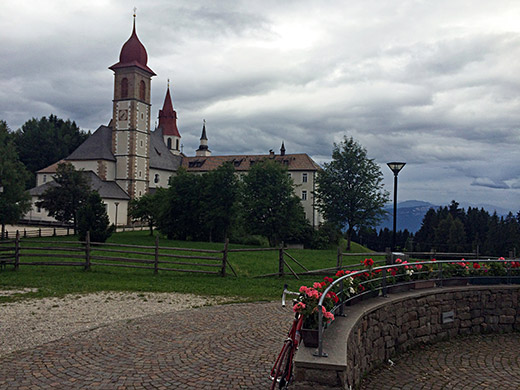 This pilgrimage sanctuary basilica also has an adjoining hotel and more (apparently, not evident when I was there and I never went inside the big building). I took some more photos.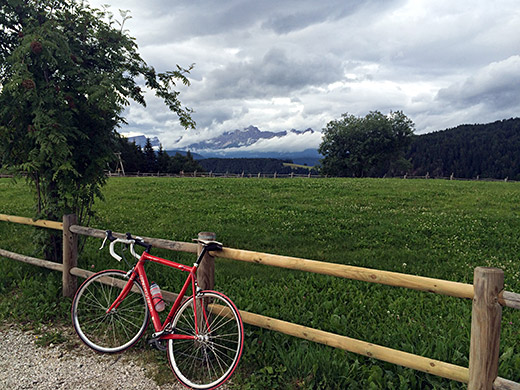 This photo is in the direction of Laab alm (1649m) where I was going next.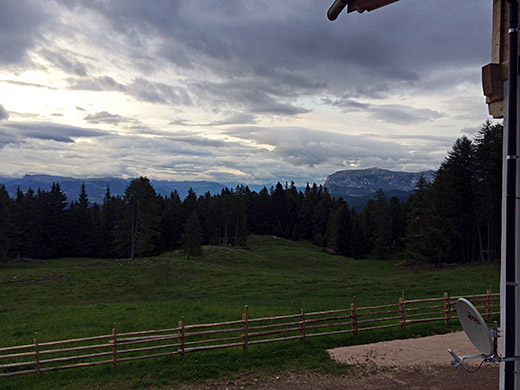 From Deutschnofen a road climbs upp among houses and from an unnamed pass at 1454m to the Laab alm the road was quite steep and the surface was a little damaged in places, but the road was all surfaced. This alm is a restaurant, but it was not open now.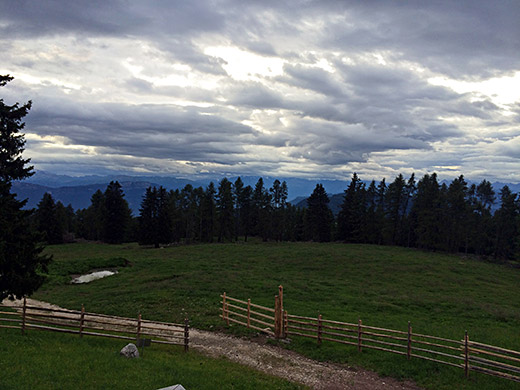 The views from the alm are far reaching but the trees could have been a bit less high for even better views.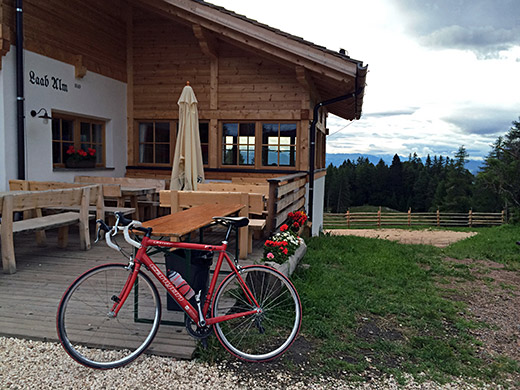 Lots of tables outside and inside here on the newly renovated alm (or so it looked).
However, it was getting late now and first of all I now needed to find a place to sleep at.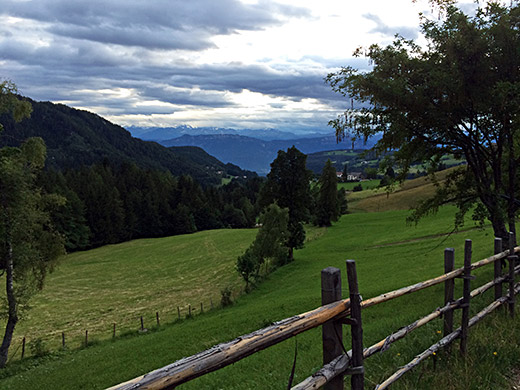 I went down the road again and stopped for a last photo lower down where the views was very good. Then got down to the centre of Deutschnofen, but there were no lodging there. There were a big expensive boring hotel nearby where I went in to look, but think the price was too high and it was more like a busy fashionable inner city hotel. I asked for advice, but guess the people did not know the place. I moved on.
I as went up in the direction planned over Obermooser/Pian di Sopra (1421m) (another unnamed pass so common in the area) I saw another expensive looking hotel and continued down the other side. Now there was an even more luxury 5-star hotel and I who have thought to be out in the countryside … . I continued down to the fork for Eggen/Ega (Stenk) where I went in and got a room at Hotel Mondschein, but was not happy about the price here either, nor the place. It was endurable and it was getting dark, so it was good enough for this night. Did not get as far as I had hoped yet again, but was very happy to have climbed up from Laives/Leifers as it was clearly more fun than the normal roads up to Weissenstein and Laab alm.