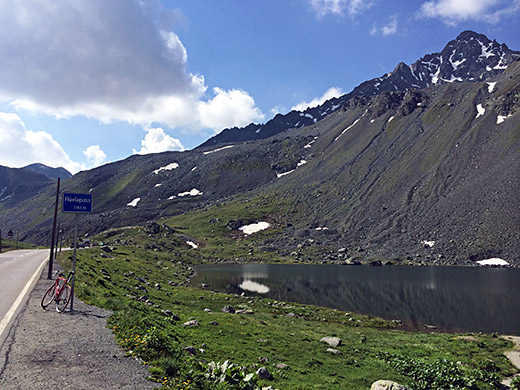 Better weather back again and a very successful day. Still only riding on the lower front chain ring, but you get far on that in the Alps as it is usually either up or down steeply enough so that you do not have to pedal anyway. And you could get up to like 30 km/h without much problems on the low chain ring – I have sometimes heard criticism from my better cycling friends that I do not use the little chain ring enough when training, but setting that straight now.
A bit chilly in the start up to the Flüelapass/Pass dal Flüela (2384m) from Susch (1426m). A high pass, but you start pretty high up on either side. I had only passed over this pass once before (from the north side) back in 2003 in very grey weather, so was delighted to see it in fine weather and it was not at all as gloomy looking as I thought back then now. A fast local cyclist passed me by in a speed I could not quite even attempt to match and think I met him on the way back up again on the descent on the other side.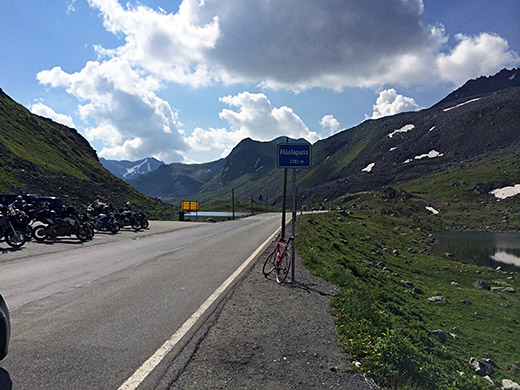 Above I am looking back at the pass height and here again from a better angle perhaps (included both photos).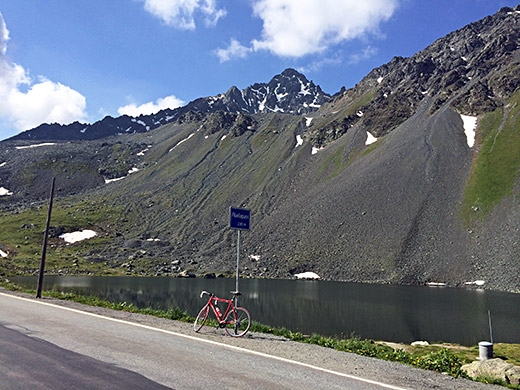 Maybe I should have substituted the first photo with this, but let's have them all.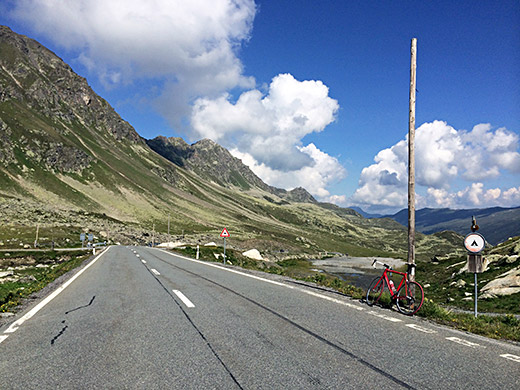 Here I look ahead down the north side before starting the descent.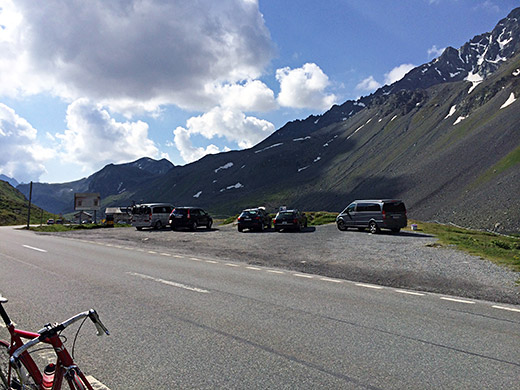 A last looking back at the restaurant at the pass.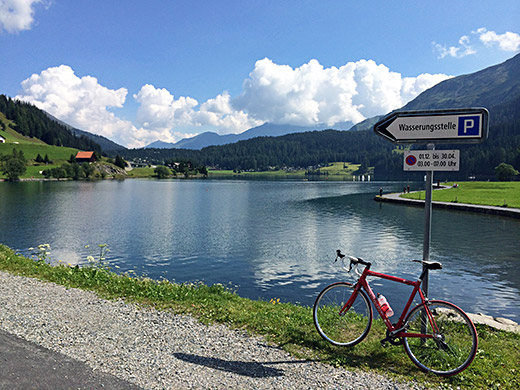 Down at Davos and here is how it looks over the Davosersee almost in the centre of the big village. The village itself is a mixed experience.
This time I went down from Davos to the west for the first time passing by the long Landwassertunnel, which one could bypass on a gravel road that should be good enough for a road bike, but no point in trying that road out on the way down here. After the tunnel there is a bit of climb up to Davos Wiesen (where I have been before coming via a forest path from Filisur).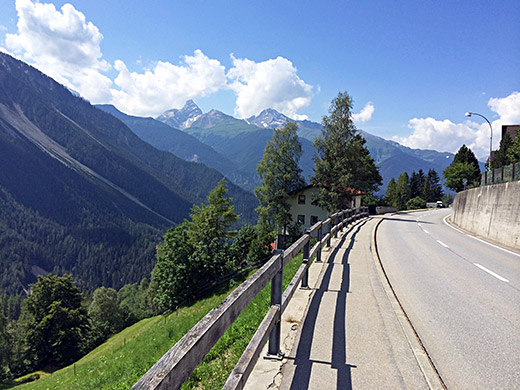 Here is the view west of Davos and lovely weather here this day.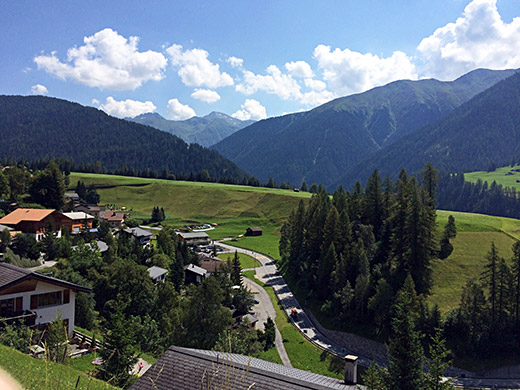 This is near the high point of the road through Davos Wiesen. From here it was (mostly) all down to Tiefencastel/Casti (851m) where I stopped for a cake and coffee by the pastry shop at the low point on the main road.
From Tiefencastel there is a short climb and then it is downhill through tunnels where the road is rather flat and busy with cars (but here you are allowed with a bicycle although they are otherwise quick to try and forbid cyclists anywhere near tunnels in Switzerland, but let us not dwell on that or the damned idiots will forbid cycling here too). Through the last tunnel into Thusis you are however not welcome as a cyclists and I have never went through that tunnel either. Just before that tunnel one goes down to Sils im Domleschg (683m). This is a good place to fill up water (water fountain just as you come down to the road going to Thusis).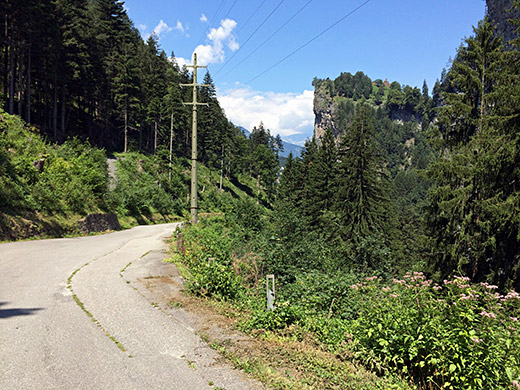 I was now going up again toward the Splügenpass/Passo dello Spluga/Pass dal Spleia and Passo del San Bernardino/St. Bernhardinpass/Pass dal S. Bernardin, but was not going to any of those passes this time. There are three roads up there from Thusis and this time I wanted to explore the least used old road up there which is still all asphalted, but not allowed for cars. Unfortunately the road is not maintained and cleaned, so there is a lot of debris and stones on the road, but it was passable on my visit. It is the nicest of the roads, but not the fastest. The motorway is obviously not allowed for cyclists, so it leaves the replacement for this road, which like the motorway goes through a long tunnel (but shorter than for the motorway), but here you avoid all tunnels at the expense of the poor and slow road.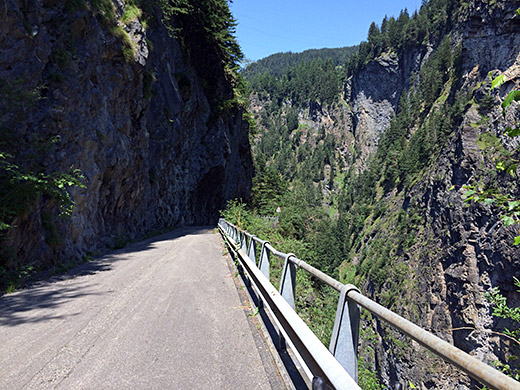 A second photo from the nicest and best section of the viamala road. There are still proper signs along the road as for any highway (not sure when it was taken out of service as a road choice for cars). You soon join the main road and obviously there never were two roads further up the valley (besides the motorway).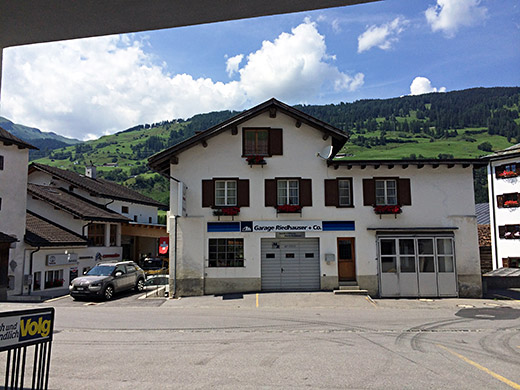 I stopped again up at Zillis/Ziran (935m) to prepare myself for the next climb (not counting the section up to here from Sils which could be added too). Yoghurt and coca-cola at the good Volg grocery overlooking the mountain to be climbed.
The mountain does not look very impressive or steep from down in Zillis, but the climb up to Alp Anarosa/Tguma parkplatz (2345m) is one of the hardest climbs anywhere in the Alps. I had carefully studied the maps and there are some variants of this climb, but I of course wanted to take the shortest paved way up and that mean taking the road via Casti (1171m) to Wergenstein/Vargistagn (1487m). After Casti the road surface changes to concrete strips for the wheels of cars, which effectively prohibits zig-zagging your way up. I kind of like those "anti-cheating" strips! But in the curves the concrete covers the whole road and makes room for some short rest on the way up. The road is quite steep, but I had honestly expected it to be even steeper. The concrete is good and there are drainage gullies, but there is no problem going up on this road.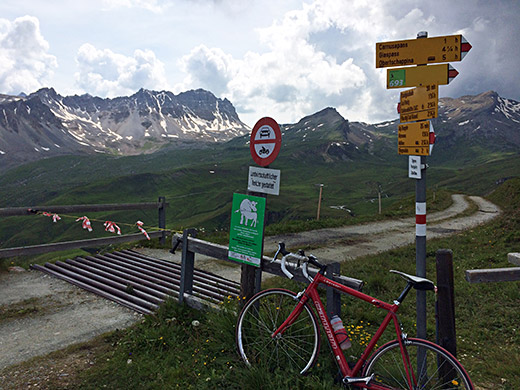 In Wergenstein the asphalt returns. Here I got a bit confused as I had not remembered that I was supposed to go toward Mathon/Maton, but that is the case, but you soon again have to turn off that road and follow the sign for Curtginatsch/Dumagns, none of the names I had remembered from the maps so had to double-check the map on my iPhone again, but from here there are no risk for confusions. Curtginatsch is the name for the first of the two farms up at Alp Anarosa.
The road is terribly nice a bit up and that only gets better the further up you get. The asphalt runs out temporarily for 100-200m and then runs out for good at 2325m ca. 100m before the high point of the road, where I am at in the photo here. The sign says Tguma parkplatz (2340m).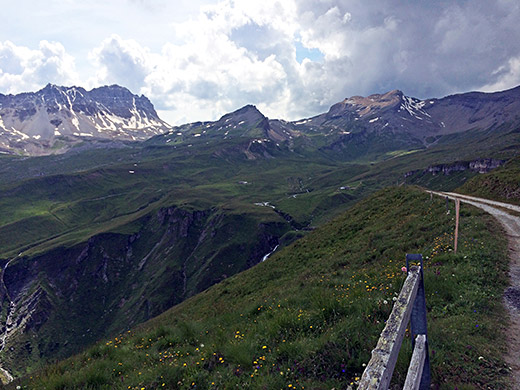 I did not bother going down to the Curtginatsch farm even if the gravel road was seemingly fine down there. Really great views up here and had problems making my photos really capture the grandeur of the place.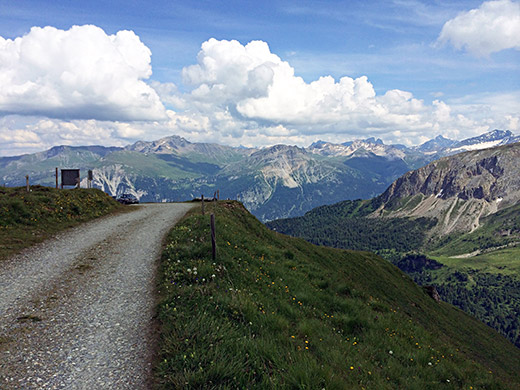 Had to take many more photos before descending as well as some on the way down.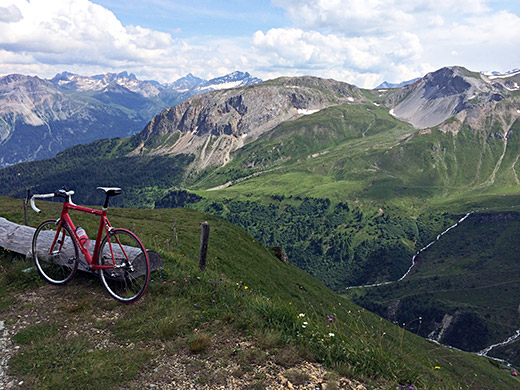 No roads on the other side of the valley up here or else one could have made a nice loop ride up here.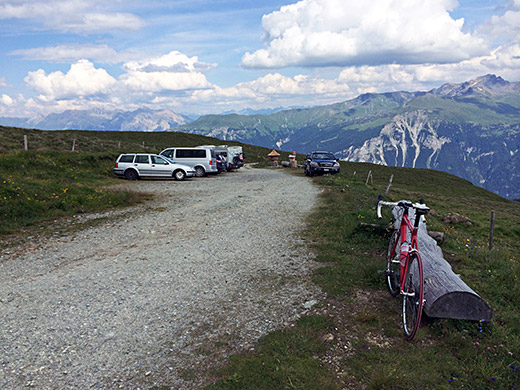 The parking and where you arrive.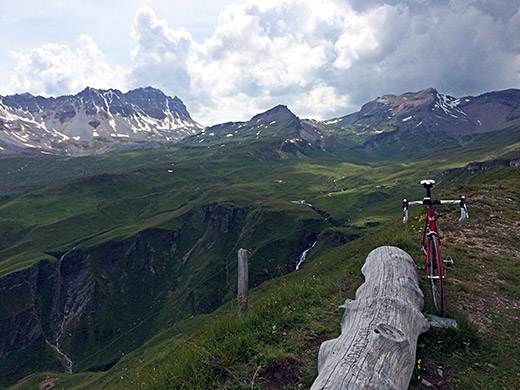 One more photo showing there is no chance building a road straight up the valley here.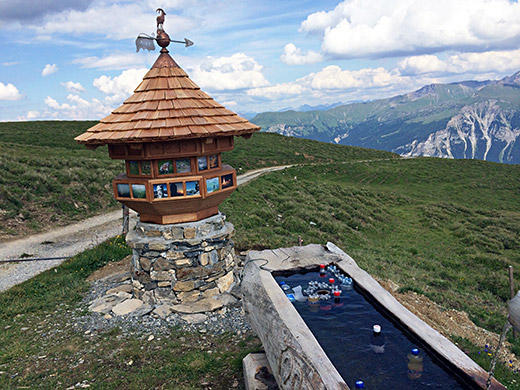 Here you have a welcome self-service pick and coca-cola, beer, water or what you like and pay for it.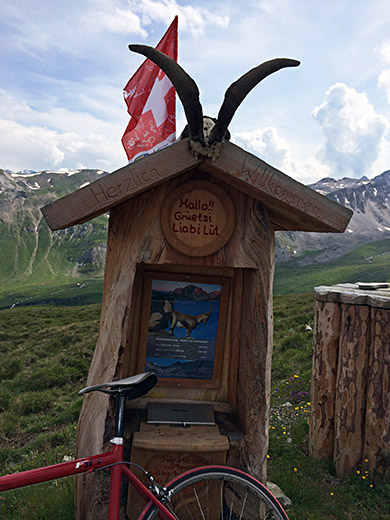 Here is where you put your money. Actually I did not really need anything more to drink than the water I had with me, but very nice with a service like this and really hope it is not misused!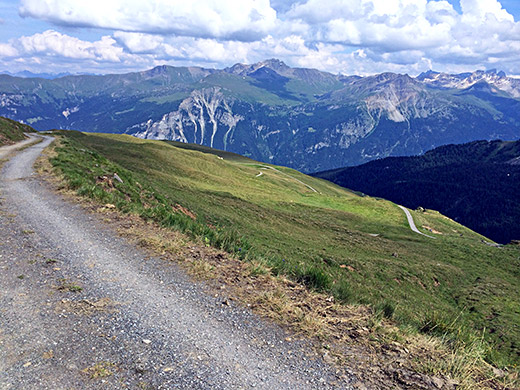 Here on the last gravel stretch which is all fine for road bikes.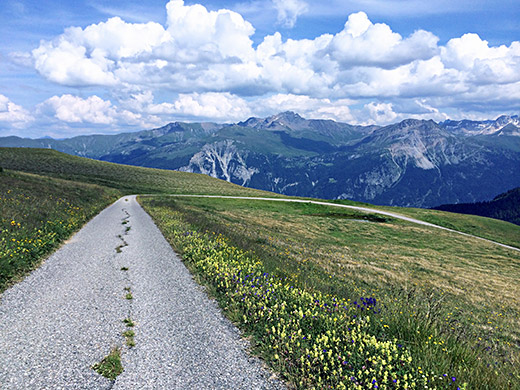 And back on the lovely narrow asphalt road with flowers growing in the middle through the cracks.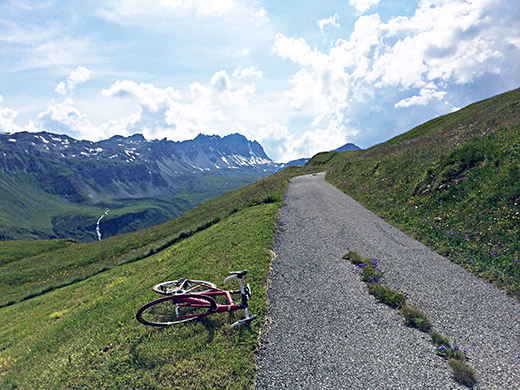 This is my favourite photo further down which was supposed to show the flowers on the road, but hard with the colours in this photos and hardly see the flowers so obvious when there. You better go there and see for yourself! Met a mountain biker up here, but not so many tourists.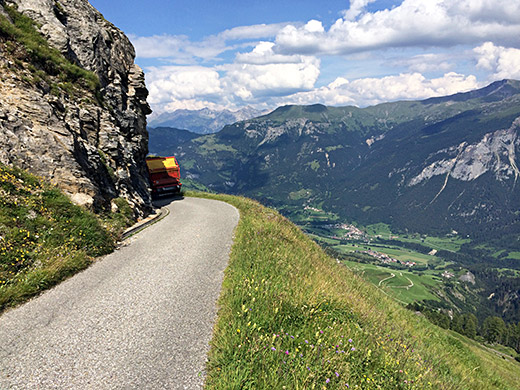 I caught up with a slow descending farming vehicle, so stopped for another photo as there was no way to overtake that vehicle on this narrow road. He later stopped to let me pass by!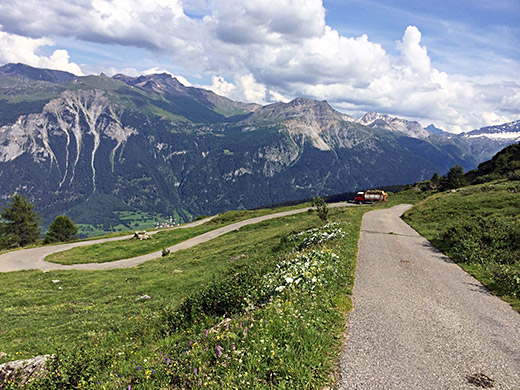 Here he is still ahead of me and maybe where he caught sight of me.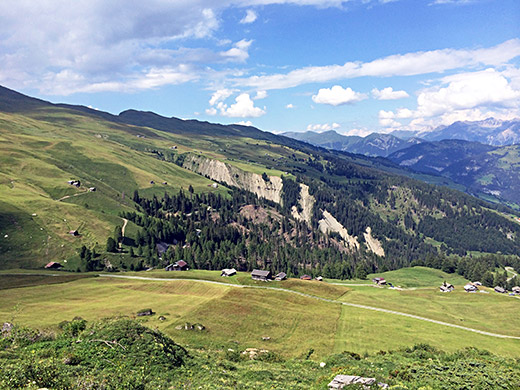 Another photo in the direction of a possible alternative climb up here, but less nice I think, to Limartsch/Lünartsch (Mursenas) (2035m) which also involves sections with concrete strips.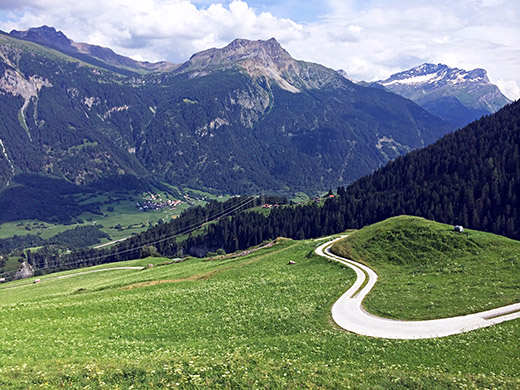 Taking the same road back via Casti I had to take a photo of the concrete strips section.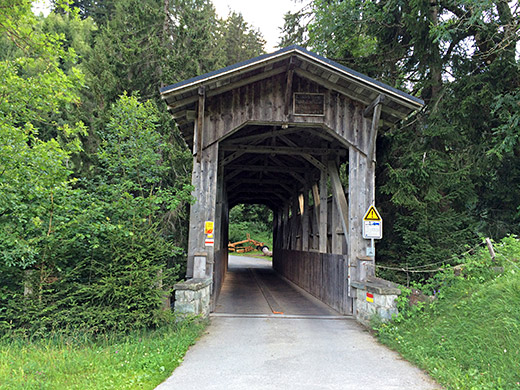 Just before coming down to Donat I took a nice alternative road up the valley via Clugin/Clugen and crossed this nice wooden bridge. Mountain bikers continues on the road from Clugin/Clugen, but as it turns to gravel here I descended to the main road and continued via Andeer and up via Bärenburg/Balanburtg and then after the Roflaschlucht/Puntcrap hotel I turned off up to Juf (2128m), which is often said to be the highest village in the Alps where people live all year around (which may not be true and also there are clearly not many people living here and the few living here seems like they were moving out).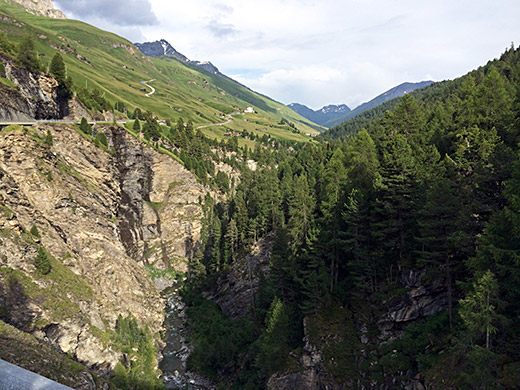 They have constructed some really impressive bridges just to reach the very high section of the valley up to Juf with very few inhabitants. Here I am standing on the biggest and last of them (Lezibrücke) up to Cresta Avers (1969m), which is the main village up here and the only place that really could be called a village. The road descends a little from here to Pürt (1922m). Then the road climbs consistently up to Juf on a road that seems like it never ends (a long way up here).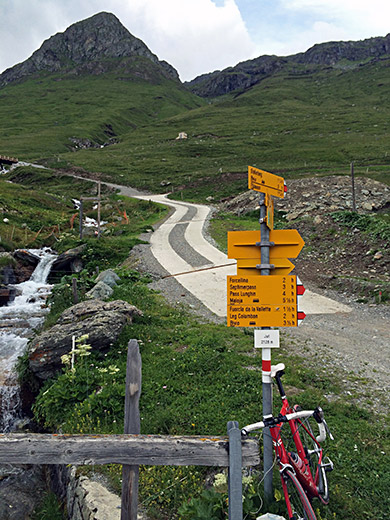 In Juf one could go up a steep concrete ramp seen here to reach 2150m where no paved road goes higher up in this valley.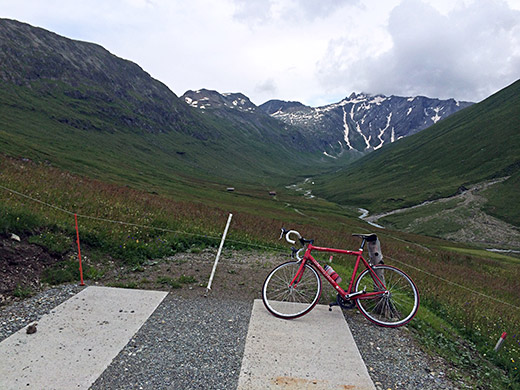 Here at the end of the concrete strips overlooking the valley ahead which still continues for quite some time and the road could have continued further up here too, but only a gravel track continues up there.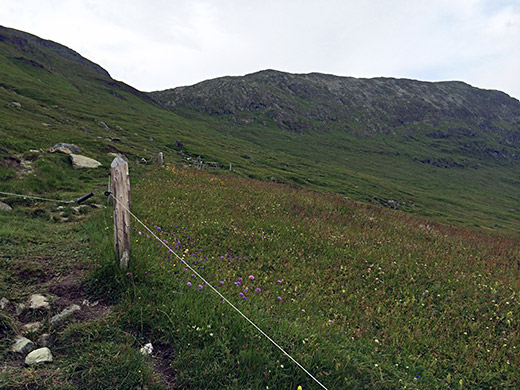 Here a path continues up to the Stallerberg (2579m) pass with a long trek over to Bivio/Beiva on the Julierpass road.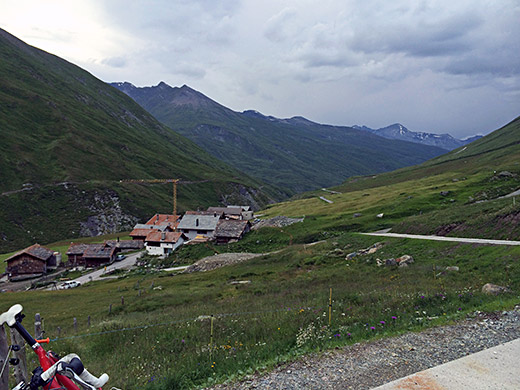 Looking back and no all of a sudden the weather looked less good. I hurried back down.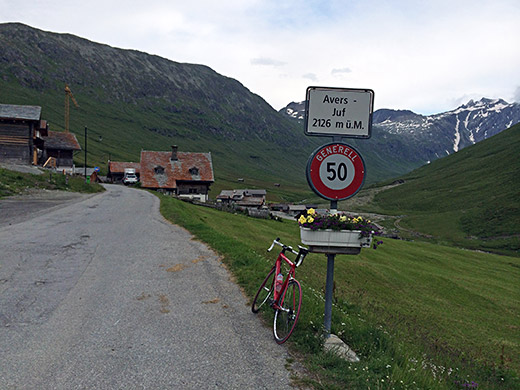 But first a classic photo of the road sign when arriving in Juf (another BIG climb and one I had long thought about seeing).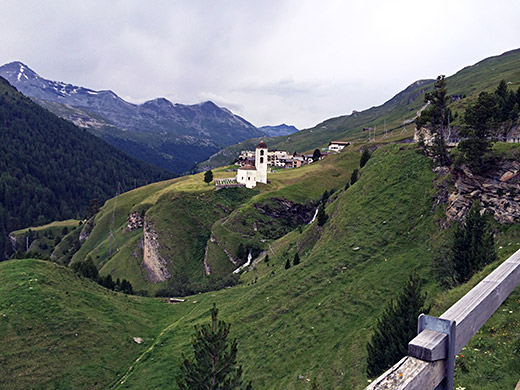 Very nice views on the way back at Cresta Avers. Just as I came back down to the Roflaschlucht/Puntcrap it started to rain, but I decided to keep descending and it never got too bad and eventually stopped as I made my way back to Thusis (720m) where I decided to end the day. There are several hotels in Thusis, but they are all somewhat expensive and does not look very attractive, which is a pity as this village is likely the best place to use as a base for visiting passes in the Alps after Bourg d'Oisans (or probably before that village really), but one could stay nearby if wanting to make many tours without backpack from one place. At least there are few places you can reach as many +2000m paved passes in the Alps in day rides as from here.
I choose a hotel a bit further down the road in Thusis with a busy restaurant. They had rooms and were not the most expensive, but still a bit high and hence the service and quality was of course less good than at cheaper hotels as always in the Alps. The food was ok, but Internet did not work and the room had problems. Oh well, I survived.