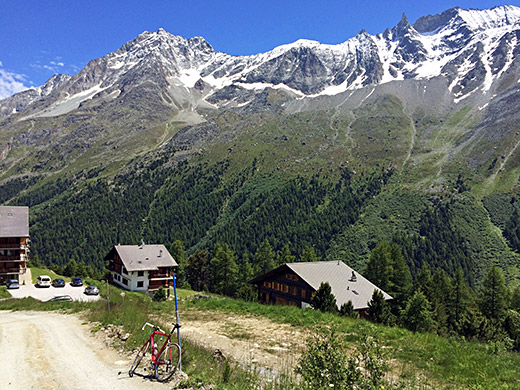 A bit chilly up at Pralong (1608m) in the morning, but I am never away very early (unless I have to). Today the exploration of the many side valleys in Valais/Wallis continued and first up was to go to Arolla (2109m).
So First I wheeled down to Euseigne (982m) and then climbed up the Val d'Hérens through Evolène, where I think I filled up water as I know they have a good place there since before and maybe I stopped for a coca-cola too. I got the tyres up to good pressure again borrowing a pump in a shop. I then came to Les Haudères (1454m) where I contrary to last time here took the road up the Val d'Arolla. It climbs a bit steeply at first, but is then just a nice valley road up to Arolla. Here I am in Arolla (2120m) just above where the asphalt runs out.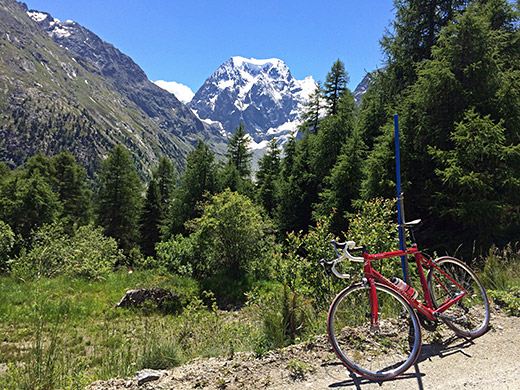 Looking ahead from the same place I now had nice views of the Mont Collon. If one continues up this road and continues on the path one comes to Col de Riedmatten (2919m) over to Lac des Dix, which should be a relatively easy pass to traverse on foot for its height, but it is a long trek.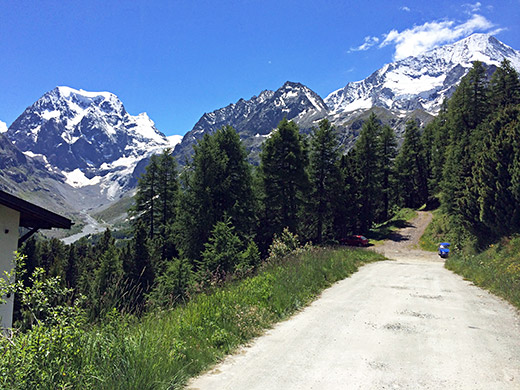 There is one stretch of gravel below where the asphalt ends seen here and maybe the views were even better here so stopped for another photo.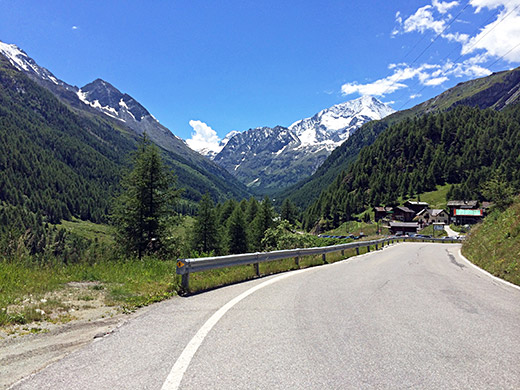 Looking back up the Val d'Arolla before descending to Les Haudères.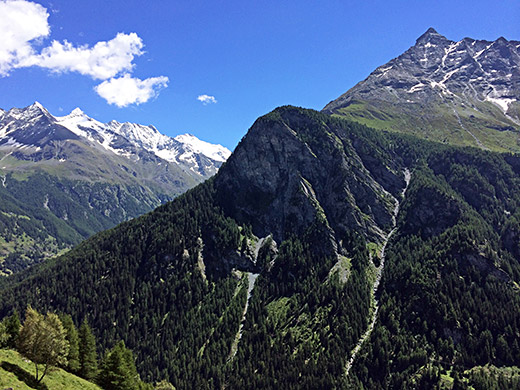 Ok, some more photos from the same place. Here looking at and around the Dent de Veisivi separating this valley from the main valley going up to Ferpècle (1891m).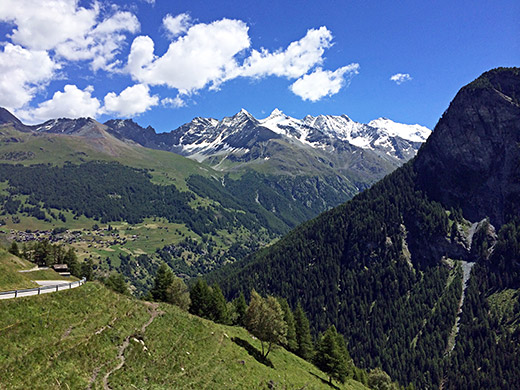 Here we also see the village, La Forclaz (1731m), which was my destination the last time up there in 2008 as it is also a minor pass, hence the name (the bus sign says Col de la Forclaz).
I continued down to Mèjonèche (1114m) (fast down to here from Evolène on the almost straight road) where I again turned up the mountainside to escape the heat down the Valais valley and to enjoy better views and maybe save some climbing (but the road goes up and down).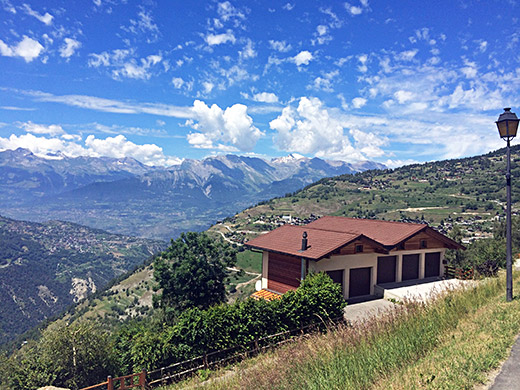 Here I am just after the highest point in Suen (1430m) and the views are quite okay this day. It felt almost like a bad dream the early days on this tour now.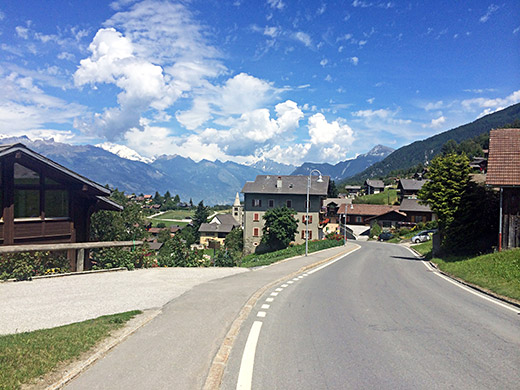 After a descent to 1132m I again climbed up to Nax (1297m) (possible to regard as a pass too) and took this photo on the way out of Nax out east. (Last time I took the longer and rather high road via Vernamiège (1558m).)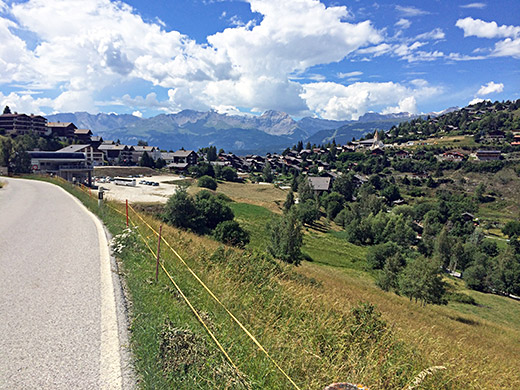 Descent again to Loye/Itravers (892m) (there is a little short-cut, but I forgot it), then the road is pretty steep especially at the end up to Vercorin (1322m). This village is indeed also a pass and that's what I try to capture in this photo after leaving on the only road going up from here (that takes you down again eventually). Searched for a pass sign in the village, but no luck :-).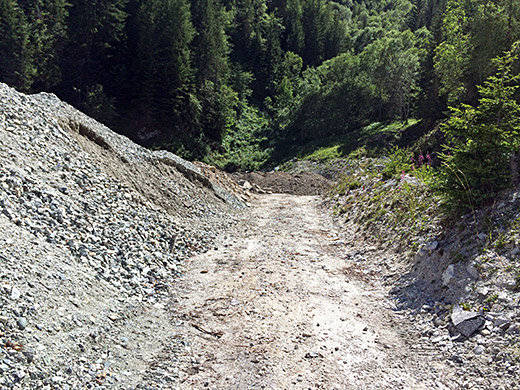 Soon my luck was over. I think there were some suggestions that the road ahead had problems in Vercorin, but thought I could pass by. And after having climbed again to the high point on the road from Vercorin, Giettes d'en Bas (1469m), the road ahead was blocked, but I thought I could probably pass by and going around would take me an hour or so extra, still it soon appeared it was not that easy. Lots of work and some big loose dirt piles to traverse around the corner in the photo here, but I got through eventually. The workers being both a little amused and maybe slightly irritated also.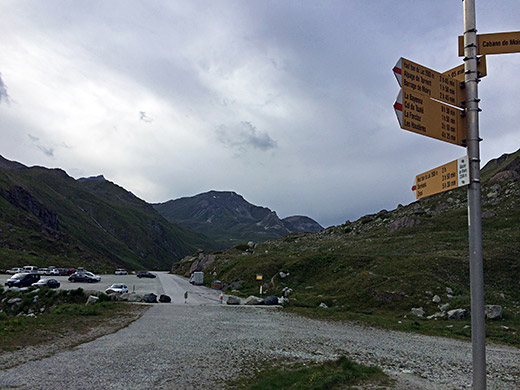 Before coming down to Mayoux (1193m) it was nice asphalt again. From here the climb to my next destination started and this time it was one of the highest asphalted destinations in the Valais area, namely Glacier de Moiry (2351m) and the highest asphalted road left on my list to visit (also a BIG climb, just like Arolla). So even if cheating by not climbing from down in Valais, it was still a 1158m climb up there.
I stopped for an expensive apfelstrudel in boring, touristy Grimentz on the way up.
Here I am eventually up by the sign for Glacier de Moiry and now the weather looks a lot more gloomy. I was also in a more "gloomy" mood as one spoke on my newly rebuilt rear wheel (by an "expert") broke between the Lac de Moiry and the end of the road here.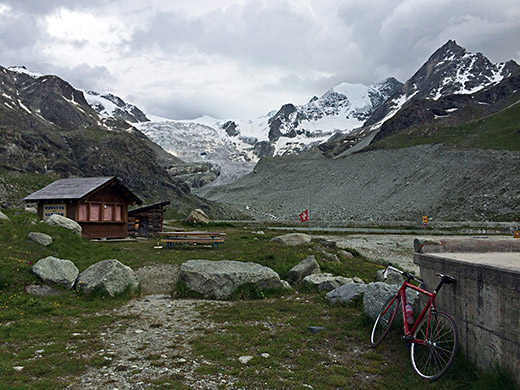 Here a view of the glacier and the little Lac de Châteaupré.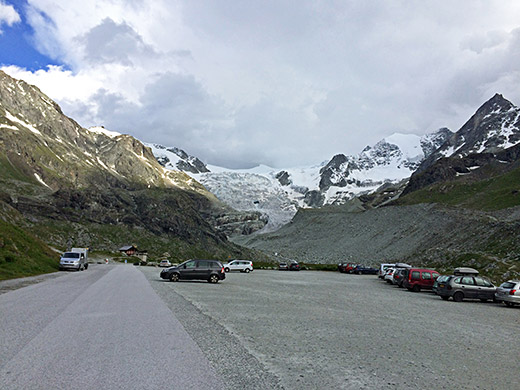 Turning around a last time some sun came into the scenery and made things look a bit happier.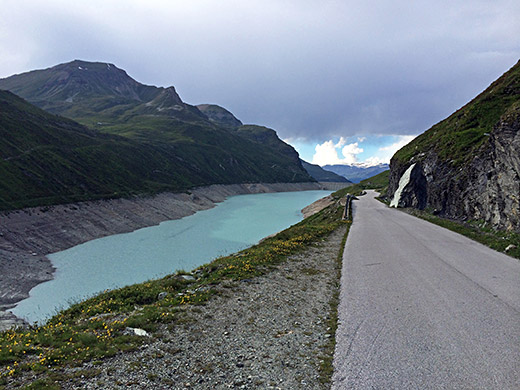 Back down by the Lac de Moiry and now I had to take care when descending so the wheel would keep up with until I got down to Valais and had to find a bicycle shop to replace the broken spoke as quickly as possible.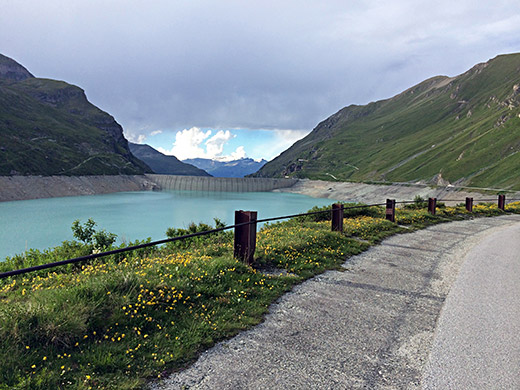 One more and sunnier photo with more flowers.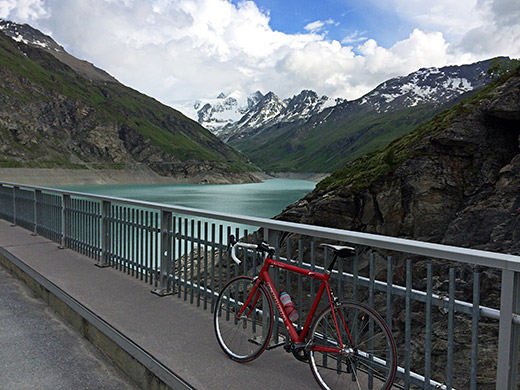 Trying here to get a photo as far up toward the end of the road and the glacier, but the road curves a bit more to the left to be able to see the glacier from here.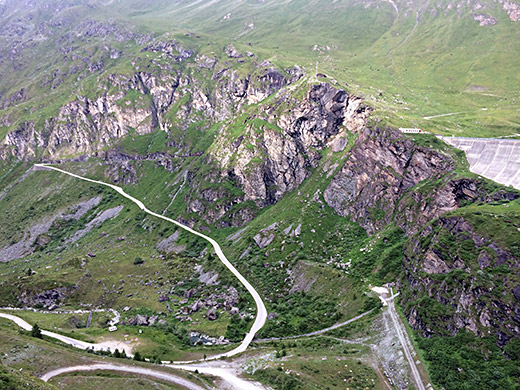 The last section up to the dam was a bit steep and it looks nice from up here.
I was getting late and would not be able to get to a bicycle shop this day. I decided to go to Leuk to stay at the Schlosshotel in the village that I found good and virtually not used at all by tourists despite being well located and inexpensive, but it is run by some foundation helping people get work that are unable to get normal jobs due to handicaps, but it works very well here.
No problem with the hotel and got there in good time before it got dark, but as I hoped to go to the good Italian restaurant I visited last time there it turned out to have closed down and the other options were not so good, but had a decent wienerschnitzel and beer at the other restaurant in the village. Tourism is a bit low in Switzerland these days apart from the most obvious places (for good and bad). So another day with mixed feelings, but got two good climbs this day and no rain.